When Do You Need a PA Homeschool Affidavit?
When mulling over if you should homeschool your child, you need to consider different aspects, such as whether someone else can do it instead of you or if homeschooling is easy in your state.
You should also get familiar with state laws, mandatory and optional subjects, the number of required homeschool hours per day, the cost of the whole process, and the requirements for homeschooling your child.
If you're not sure how to create the required PA homeschool affidavit, you don't have to worry. DoNotPay has the information and can help you prepare this document in a matter of minutes!
Want To Start Homeschooling Your Child? File a PA Homeschool Affidavit First
Before you can start homeschooling in Pennsylvania, you need to submit a homeschool affidavit—also called a letter of intent to homeschool. According to state laws, you need to file the affidavit:
Once you've notified your school district of your intent to homeschool, you can withdraw your child from school (if they're already enrolled in public school). You can start homeschooling in the middle of the year, provided that you file the affidavit before taking your child out of school.
Keep in mind that according to the Pennsylvania Department of Education, if your child turns six before September 1, they are required to do one of the following:
Attend school
Start a homeschool program that year
In case your child turns six during the school year, you might need to file a PA homeschool affidavit by the:
Child's birthday
Following year
You should contact your school district's office to check their requirements if you have a child who hasn't attended school and is turning six soon.
What To Include in a PA Homeschool Affidavit
To get a better understanding of what a PA homeschool affidavit should contain, check out the following table:
What To Include
Details
Supervisor's information
You need to provide the name of the person who will be responsible for the homeschool curriculum and program. That person could be a parent or teacher
Child's information
A PA homeschool affidavit should include the homeschooled student's data, including their:

Name
Age
Immunization and health evidence

Homeschool program details
Your affidavit must contain information about the home education program site, such as:

Keep in mind that you've got to state that the:

Program you'll use to homeschool your child is in compliance with the law
Subjects that are required by law will be taught in the English language

Educational objectives
You should also include an outline of educational objectives of each subject area
Certification about criminal convictions
A homeschool affidavit needs to include a certification that the legal custodians of the homeschooled child and other adults living in the same home have not been convicted of criminal offenses in the previous five years
How To Prepare a PA Homeschool Affidavit
Here's how you can obtain the required homeschool affidavit:
Create it yourself—If you get familiar with homeschool law, you could create and file an affidavit on your own
Use an online template—You can download some online affidavit forms, but make sure they comply with the law as many don't
—We know legal requirements and can create a homeschool affidavit for you without any problems! DoNotPay saves your time, energy, and money
DoNotPay Can Generate a Homeschool Affidavit in a Flash
Our AI-powered app can be your affordable yet efficient pocket lawyer for various administrative matters. We offer lots of helpful features to meet your everyday needs, and one of them is specially designed to help you start teaching at home.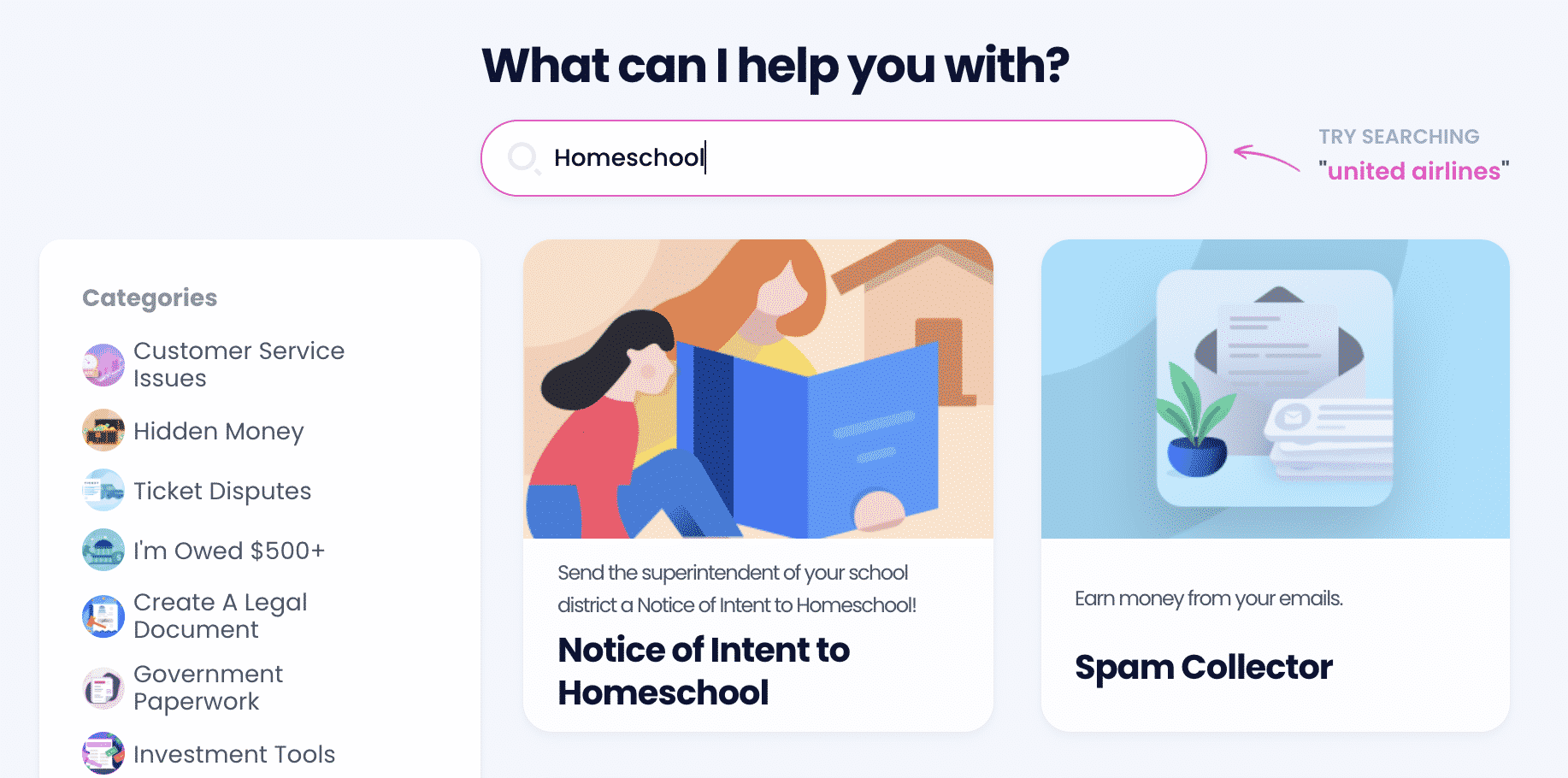 What do you need to do to get a rock-solid homeschool affidavit? and take the following steps:
Choose the Notice of Intent To Homeschool product
Enter information about your school district
Provide details about your child and yourself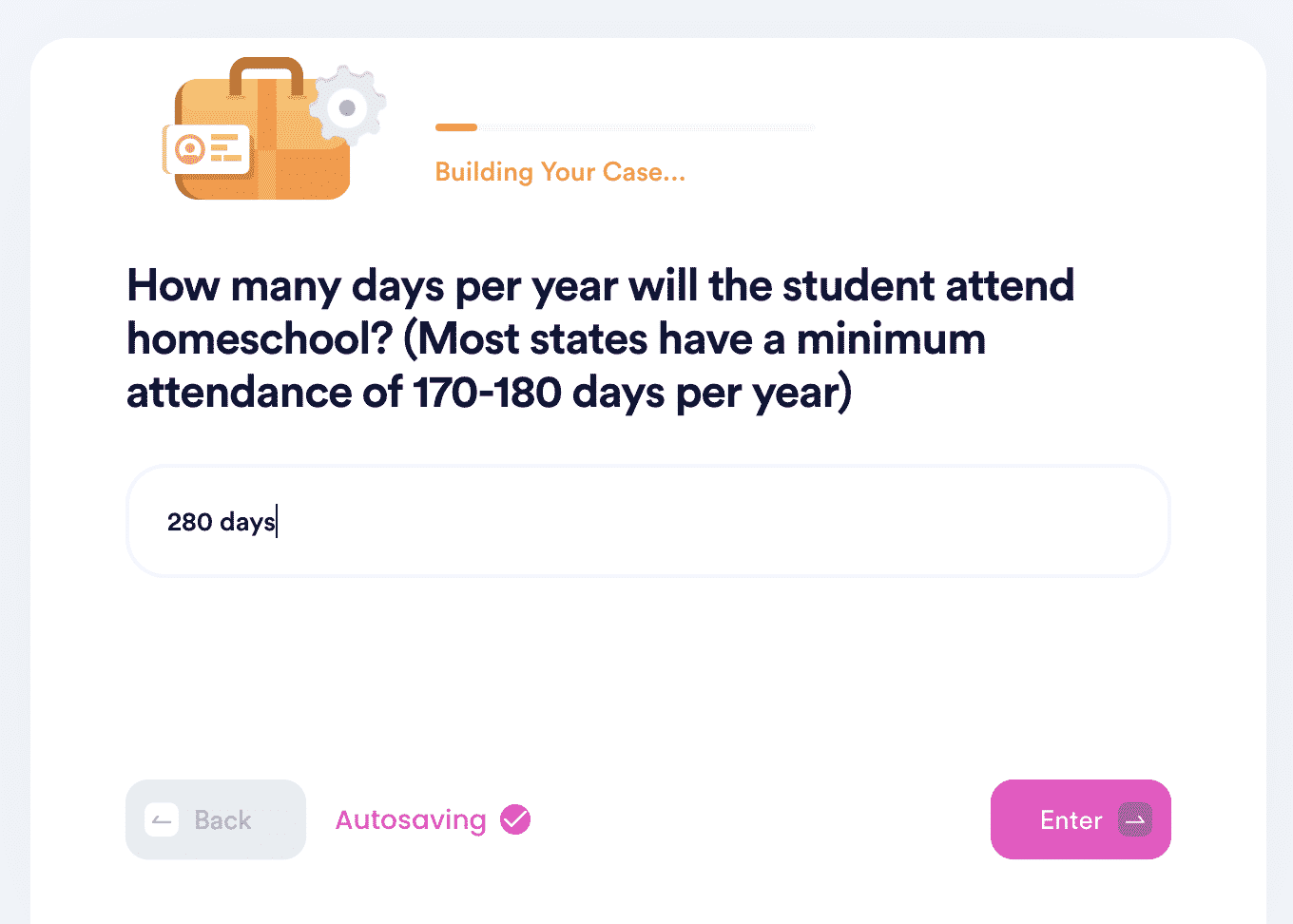 Once you've inserted the required data, you can customize the affidavit for your specific needs and choose to:
Have your letter notarized
Allow DoNotPay to send it on your behalf
Receive a PDF file that you can file by yourself
Where To File a PA Homeschool Affidavit
While you should file your homeschool affidavit with the superintendent of your school district, you need to be aware that different school districts might have different procedures.
To make sure your affidavit gets to the right person, you could:
Get in touch with your district's administrative office to ask where to submit the document
Let DoNotPay send your affidavit to the right address fast
Want To Explore Homeschooling More?
If you'd like to prepare well for homeschooling your child, you should collect as much information as possible. To do that, you can use DoNotPay's vast knowledge base as we have lots of useful guides.
Take a look at some:
There Is No Shortage of Tasks DoNotPay Helps You With
If you find finishing administrative tasks tedious, you can rely on our app to assist you through the entire process and make it a smooth-sailing experience. Check out the table below to find out what DoNotPay can help you do:
| Deal With Companies By | Get Rid of Pesky Spammers By | Get Help With Your Studies By |
| --- | --- | --- |
| | | |
Buried in Paperwork? Not for Long!
Is creating legal documents giving you a migraine? Not everyone is acquainted with the law and legal jargon, which is necessary when writing documents, such as:
Divorce settlement agreements

Powers of attorney
Luckily, DoNotPay can draft your legal documents in minutes! Why waste hours doing it yourself or hire a lawyer when you can have our app do it in no time?
Creating anonymous HR complaints and demand letters for your inconsiderate neighbors is also something our app does best!