How To Write a WV Homeschool Letter of Intent
Most U.S. states—one of them being West Virginia—require parents to submit a letter of intent to homeschool to be able to homeschool their children or even withdraw them from public school.
If you live in West Virginia and plan to start homeschooling your kid this year, make sure you read this simple guide prepared by DoNotPay. We give some useful tips about writing a WV homeschool letter of intent and homeschooling in general.
Notice of Intent To Homeschool in WV—What It Is and How To Write It
A homeschool letter of intent informs the Department of Education that a child of compulsory school age will be homeschooled rather than attending a public or private school. Compulsory school age begins:
Upon enrolling in a publicly supported kindergarten program or
In the school year in which the child celebrates its sixth birthday before July 1st
A letter of intent protects you and your children from being charged with truancy and relieves the school of the responsibility of providing an education for your child.
A WV homeschool letter of intent should include the following:
The name, age, and address of the homeschooled student
A statement that the child will attend language, reading, science, arithmetic, and social studies classes
An assurance that the child will be assessed annually
The person in charge of homeschooling doesn't have to be a certified teacher but must submit a:
High school diploma or equivalent
Post-secondary degree
Certificate from an accredited institution
West Virginia state laws require the letter to be sent to a county superintendent or board of education before the home instruction begins. A full list of county superintendents can be found on the WVDE website.
If your family moves to another county, you must notify the previous county superintendent. You will also need to send a new letter of intent to the superintendent of the new county of residence.
Not up to dealing with all of this paperwork by yourself? Avoid the tedious task of writing a letter of intent to homeschool by .
DoNotPay Can Draft a WV Homeschool Letter of Intent in Minutes
If you're too busy to write a homeschool letter of intent or don't want to take this task upon yourself, don't worry. Our app specializes in drafting all kinds of formal documents, and we can generate your letter of intent in minutes.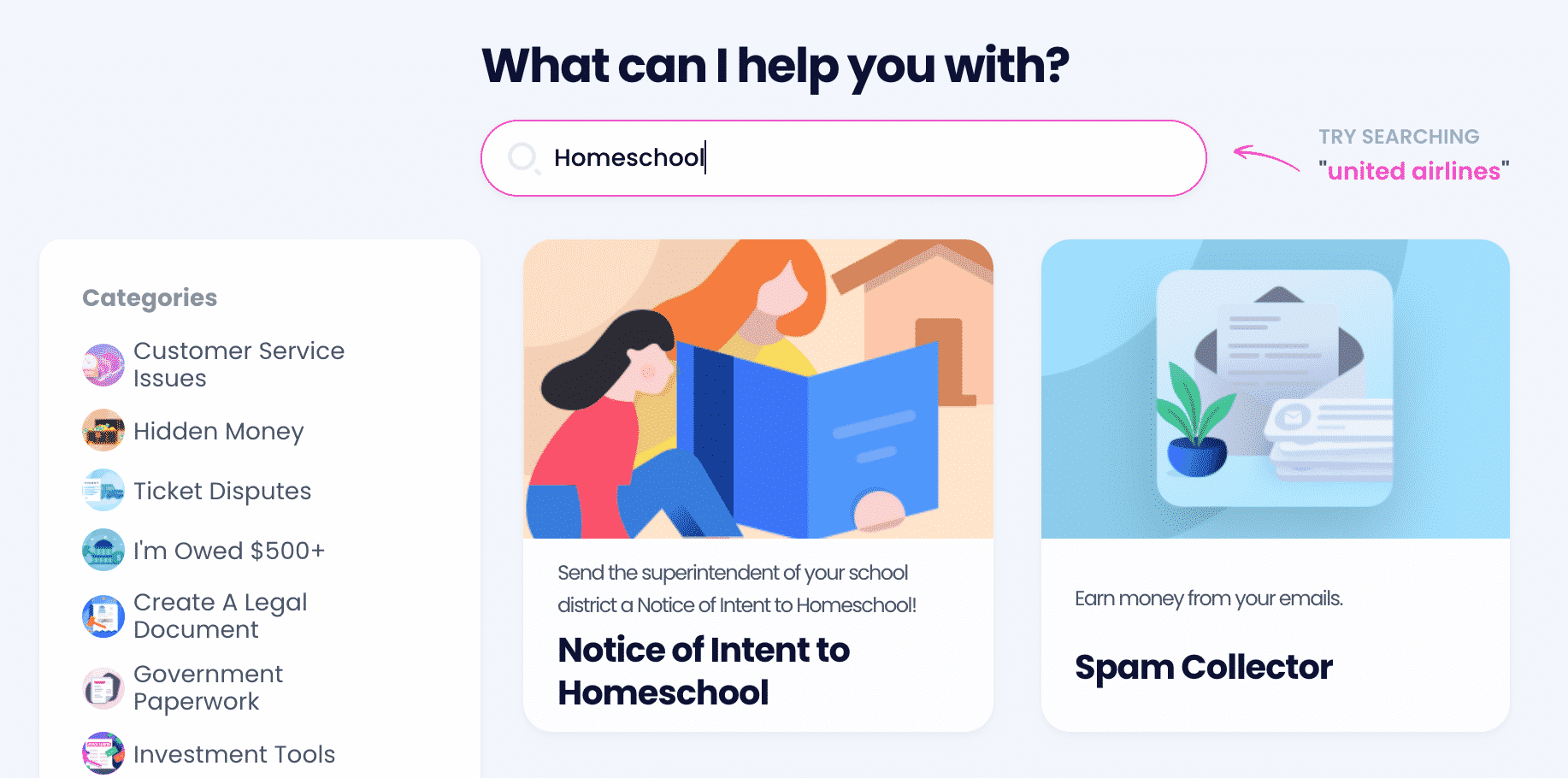 What you need to do is take three simple steps:
from any web browser
Look for the Notice of Intent to Homeschool feature
Provide us with info about you and your child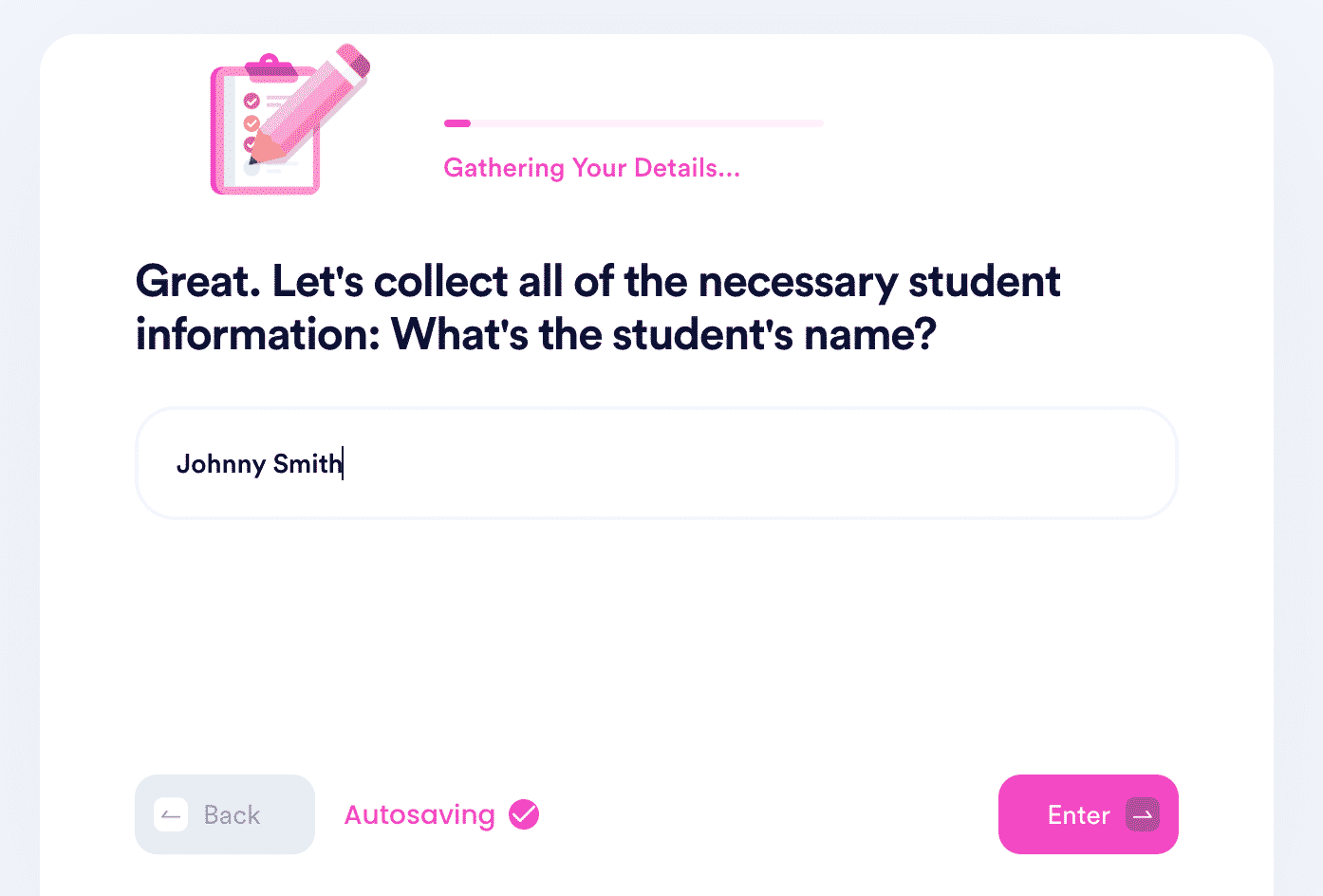 You can get your letter of intent notarized virtually (if there's a need for it). We can also send the document to your school district or county on your behalf. If you want to send it by yourself, a PDF is available for download.
How To Start Homeschooling
To be successful in homeschooling, you shouldn't focus only on the state homeschool laws. You need more than paperwork to get started.
As a beginner, you'll need to research homeschool curriculums, subjects, teaching methods, and homeschooling in general. There are many sources offering advice to homeschooling parents, some of which are:
Books
Blogs
YouTube channels
Forums
Websites
Facebook groups
You can start homeschooling whenever you want—even in the middle of the school year.
Here are some steps to consider taking when starting your homeschool journey:
| Actions | Explanation |
| --- | --- |
| Choosing or creating a homeschool curriculum | There are many types of curriculums you can buy, and they usually cost from $300 to $700. If you have time and will, you can create your own curriculum |
| Defining a homeschool schedule | The beauty of homeschooling is its flexibility—but without a defined structure, it's easy to become distracted and lose focus. You should homeschool your child between one and five hours each day (depending on their age) |
| Creating a designated learning space | Living and learning in the same place can rapidly devolve into chaos. Reserve a special corner of your home for teaching and keeping study materials |
| Setting learning goals | You're more likely to achieve your goals and align your day-to-day curriculum if you have a vision and a plan for where you want to go |
Challenges of Homeschooling and How To Overcome Them
Once you put all the pieces together, homeschooling might start to seem harder than most people think. Some challenges you could face as a homeschooling parent are:
Being solely responsible for your child's education
Joggling home, work, and homeschool obligations
Staying organized
Dealing with feeling overwhelmed
Handling attitudes
Managing finances
Still, the situation is not as dire as it may seem. Ensuring your kids have the best education can be a bit difficult, but you can take certain actions to make the process smoother:
If you're too busy to teach your kids by yourself, you can hire someone else to do it.
Another option is to join a co-op or a homeschool group in your area. That can enable you to connect with other homeschooling families and organize different events, excursions, and field trips.
Resolve Any Other Issue You Have Swiftly With Our Assistance
The world's first robot lawyer is capable of tackling any legal or administrative task in your stead. We can draw up any legal document for you—including a power of attorney, child travel consent form, and divorce settlement agreement, to name just a few—help you sue any company or individual in small claims court, send a letter of warning to your noisy neighbors, help you reduce your property taxes and utility bills, and a lot more.
Sign up now if you want to stop email and text spam, claim any insurance or warranty, appeal parking tickets, schedule a DMV appointment in a flash, mail anything worry-free, find your missing assets, create passport photos, or contact embassies and consulates effortlessly.
Let DoNotPay Guide You Through Any Obstacle
Are you tired of corporations not taking their customers seriously? So are we, and that's why our nifty product will assist you in suing any company or individual in small claims court!
If you don't want to have any online service take advantage of you, you can sign up for any free trial completely risk-free with our virtual credit card's help, cancel any membership on time, and demand a refund or chargeback in a split second. DoNotPay can also draw up an airtight return request and send it to a company of your choice quickly.