How To Compose an Arkansas Notice of Intent To Homeschool
If you want to learn how to homeschool your kids in Arkansas, read our breakdown of the enrollment process. DoNotPay can help you compose the Arkansas notice of intent to homeschool and get started in homeschooling.
Homeschooling laws in Arkansas are pretty straightforward. The declaration of intent is one of the few legal requirements parents have to meet.
If you , you'll be able to fulfill that tedious yet necessary task with ease. Keep reading and find out more about the process of taking your child out of school.
A Breakdown of the Homeschool Laws in Arkansas
The Wonder State is incredibly homeschool-friendly, allowing parents to call all the shots when it comes to their child's education.
Here's a quick breakdown of the homeschool laws in Arkansas:
You must file the Arkansas homeschool letter of intent with the proper authorities
The compulsory age for school in Arkansas is 5–17 years. Your child needs to attend home school within that timespan
It's not mandatory for parents or legal guardians to obtain a certificate to teach
You can hire someone else to educate your kids
The coursework is entirely your responsibility since there are no mandatory subjects or designated homeschool hours. You can design a custom curriculum and use all kinds of materials
You don't have to keep records, but homeschool organizations encourage parents to create a portfolio. A homeschool transcript can serve as proof of completed education, along with a parent-issued diploma
Homeschooled students are excluded from standardized testing. You're free to employ other learning assessment methods
What To Include in an Arkansas Letter of Intent To Homeschool
To successfully submit the Arkansas notice of intent to homeschool, you need to provide the following information:
Info
Explanation
Child's information
Write down the:

Name
Date of birth
Gender
Grade level (elementary school, middle school, high school)

School district
If you want to remove your child from class to start homeschooling, name the institution they attended and the school district
Information about the parent/legal guardian
State your current address (i.e., the address of the homeschool) and provide a phone number
Statement of responsibility
You have to declare yourself responsible for continuing your child's education
Information about the supervisor
The person in charge of homeschooling needs to sign the Arkansas homeschool letter of intent. It can be the parent/legal guardian or the homeschool teacher
Optional
Some parents include the educational goals of their program. You can write down the GED you're aiming for and other similar details.

You can also state whether your child will be partaking in interscholastic activities with public school students
How and When To File an Intent To Homeschool Form in Arkansas
You can submit the Arkansas homeschool intent form by following these steps:
Create the document yourself or download a template from a credible source (e.g., the Arkansas Department of Education web page or DoNotPay)
Enter the required information
Submit the letter of intent via mail or electronically
You can also deliver the notice of intent to homeschool in person
The deadline for filing the homeschool intent form is August 15. You're required to do it annually.
You can switch to homeschooling in the middle of the school year. In that case, you'll have a five-day window to turn in the notice of intent.
If you move while your child is in homeschool, you'll need to resubmit the form. You'll have 30 days to complete and send the Arkansas homeschool notice of intent after officially changing residency.
DoNotPay Offers the Quickest Way To Generate Legal Documents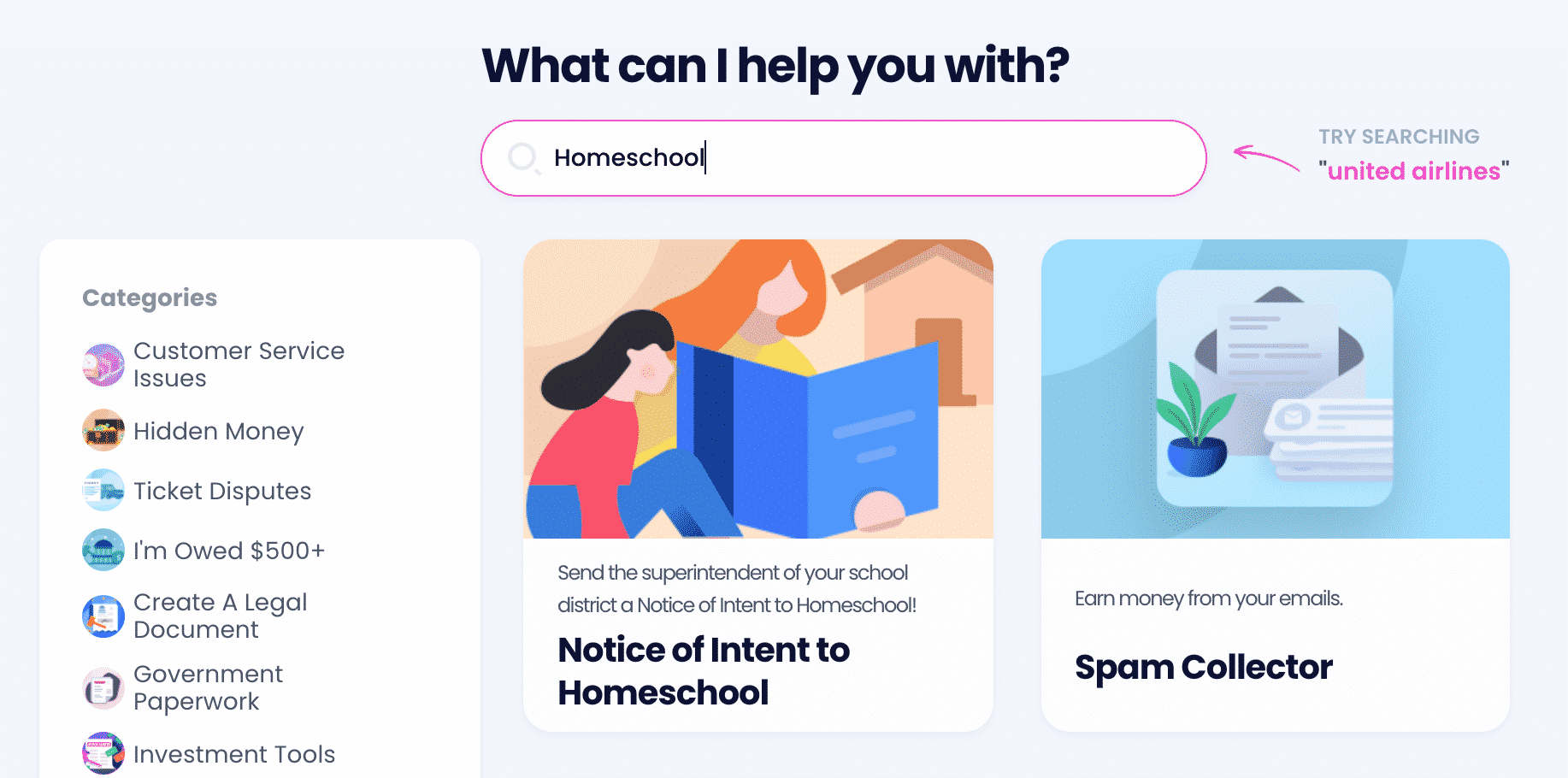 Since there's no official template for the Arkansas notice of intent to homeschool, there's plenty of room for missteps. You can try navigating the confusing website of the Arkansas Department of Education, or you can do it the easy way. With DoNotPay's Notice of Intent to Homeschool product, you can make the first step toward home education.
Here's how to use this incredible feature:
Locate the Notice of Intent to Homeschool product
State the school district you belong to
Answer questions about your child and yourself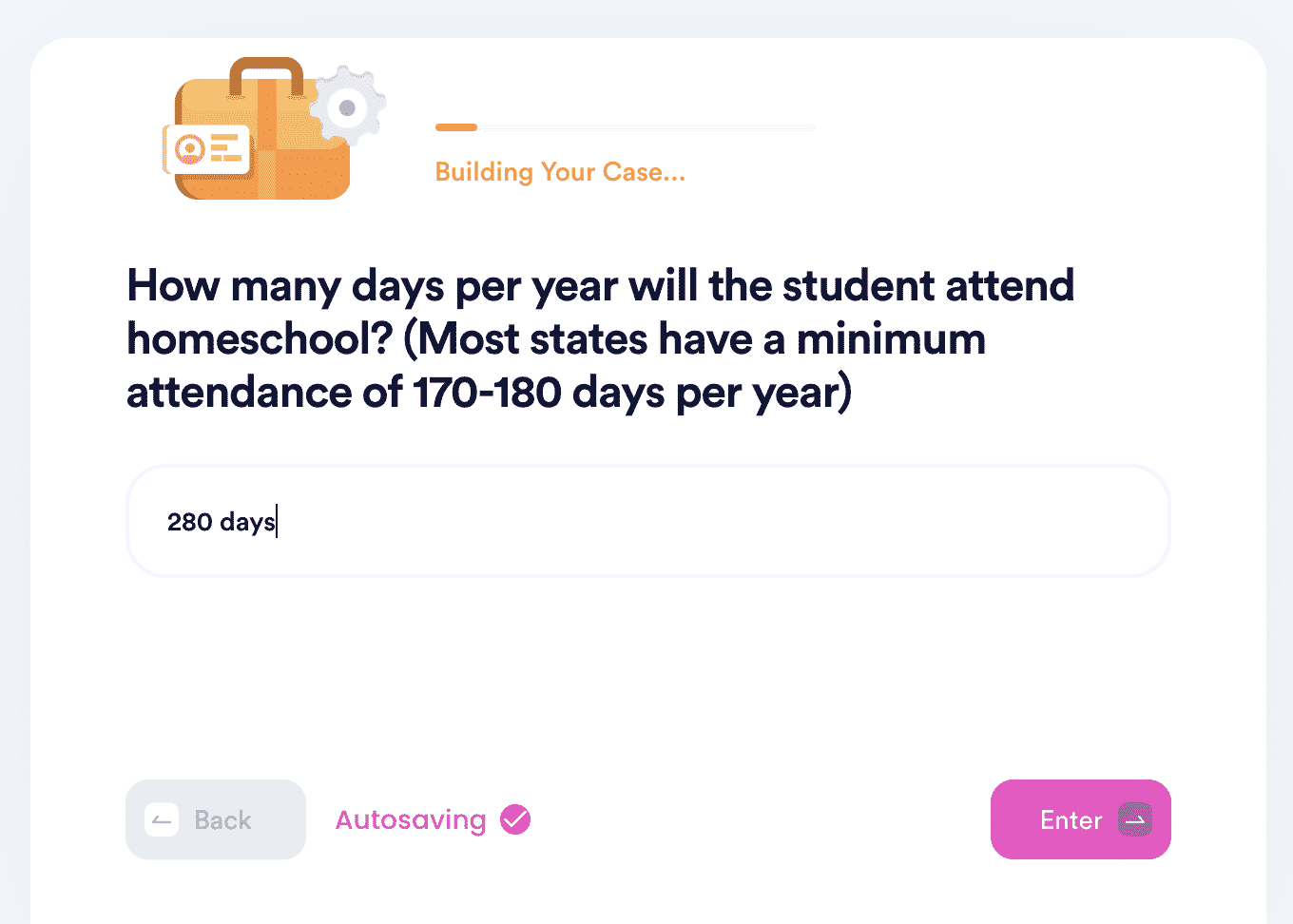 DoNotPay will forward your letter of intent to the competent authorities with speed and accuracy.
You can rely on our pocket lawyer for other administrative tasks as well. Use our Notarize Any Document and cancel the appointment at the notary office.
Are There Any Homeschool Organizations in Arkansas?
Not every parent is certain whether homeschooling is the right choice for their child. If you need guidance, consider consulting a homeschool organization. The Home School Legal Defense Association (HSLDA) is among the most prominent in Arkansas.
The goal of the organization is to provide families with accurate and relevant information. You can get answers to some crucial questions about homeschooling, such as:
Don't Stop There—Check Out DoNotPay's Product Range
DoNotPay has many tricks up its sleeve—no matter the admin or legal issue at hand, our AI-enabled app can power through it in a split second. Look into our product range to find out how you can:
What Else Do You Need? DoNotPay Will Provide!
If you want to cancel a subscription before your free trial expires so that you don't get charged, you can count on our virtual credit card to do it in your stead! We can also make sure that you get what's rightfully yours—be it a refund, insurance, warranty, unclaimed money, flight refund, raffle ticket, or gift card cash back.
You no longer have to go through legal or administrative hurdles on your own—as soon as you sign up for DoNotPay, you'll get access to our app's assistance and will be able to use it to fight injustice.