Get Ready for Class With Your Florida Homeschool Letter of Intent
If you have decided to homeschool your child in Florida, you have enough on your plate thinking about the curriculum, teaching hours, and the resources you will need.
Admin is an extra hassle, but you need to make sure you stay within the law by informing your school district of your intention to homeschool.
The process in Florida is fairly easy, and DoNotPay has all the info you need to help you draft and send your Florida homeschool letter of intent.
Are You Ready for Homeschooling?
Homeschooling your child is a major step, and you should be certain that it is the right decision for your child's upbringing.
Taking children out of school and assuming the responsibility for educating them yourself requires preparation and forethought.
Parents elect to homeschool for many reasons, including:
Dissatisfaction with the local public schools
The cost of homeschooling versus traditional education
Religious convictions
Difficulties balancing work schedules with school times
A child's special needs
Whatever the reason, before you take the plunge and begin homeschooling, you should consider:
What curriculum you are going to teach
What resources you will need
How well you will cope with teaching, or whether you will need outside help or online lessons
How you will organize the timetable
Whether there is a co-op you can join or start
What Are the Legal Requirements To Homeschool in Florida?
Florida makes homeschooling an easy choice, with few requirements for you to fulfill.
You can teach on your own, join an umbrella school, or use external teachers to deliver your child's education, but Florida stipulates that your child should be taught "sequentially progressive educational activities."
This means that you should teach the same subjects your child would learn in a public school.
You also have to submit an annual homeschool portfolio, and your child has to take a standardized assessment test every year.
Your records have to include:
A log of lessons taught
Samples of work, tests, quizzes, or projects your child has completed
To graduate from homeschool, your child must fulfill whatever criteria you feel are appropriate—taking standardized tests and being evaluated every year means that your child's homeschool diploma has the same validity as a high school certification.
Before you can even start, though, you have to notify your school district of your plans.
Notifying Your School District
Before you are allowed to remove your child from school, you have to tell your local school authorities that you intend to do so.
You can do this at any time during the year, but your letter of intent has to be filed at least 30 days before starting your homeschool. It should be hand-delivered or sent by certified mail.
The details you need to include are:
Your name, address, and contact details
The name and date of birth of each student to be homeschooled
The proposed starting date of your homeschooling activities
The good news is that DoNotPay can take this administrative burden off your plate—we can and send it to the correct address, giving you one fewer detail to worry about!
DoNotPay Helps With Your Letter of Intent To Homeschool in Florida!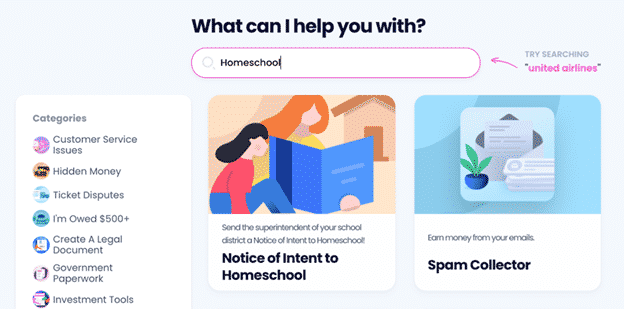 DoNotPay is here to take care of the admin while you concentrate on the important parts of your child's education!
Our Notice of Intent to Homeschool feature generates the letter you need in Florida to make sure you comply with the law. In a few clicks, we can have your letter ready and even deliver it for you, if you choose!
Here's what you need to do to get your letter of intent:
Go to our Notice of Intent to Homeschool feature
Answer a few questions with the details we need regarding your homeschool plan
Your letter will be ready in an instant—you can print it out and deliver it or let us handle that detail. You are then free to work on preparing your homeschool for action!
What About Choosing a Curriculum?
Although Florida expects your child to be assessed every year by taking the state's standardized tests, the choice of how to teach is yours.
You have two options to design your curriculum:
Building Your Own
Designing your own curriculum can be a challenge, but this approach gives you the freedom to choose—and even mix—the teaching methods your child best responds to.
Examples of these teaching concepts are:
Traditional, classroom-based teaching
Active learning
Buying a Ready-Made Program
Off-the-shelf curriculums are easy to find and offer the convenience of a one-stop shop.
All the material, lesson plans, teaching aids, and assessment tools are usually included, so all you need to do is make sure you are prepared.
Ready-made programs come in all forms and can cater to almost every need, such as:
The choice is yours—the route to take is the one that best excites, stimulates, and educates your child!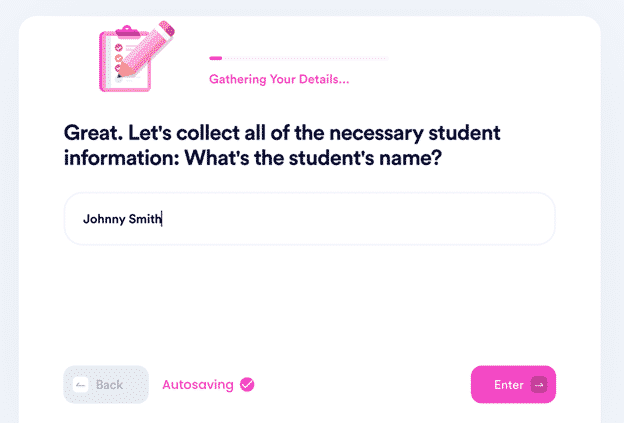 Don't Let Admin or Legal Issues Wear You Down—Hand Them Over to DoNotPay
Do you believe you may have some missing assets? Use DoNotPay's nifty product before the government claims them! Have you ever wanted to enter sweepstakes without purchasing anything? Our app will sign you up for them quickly! Trying to figure out how to reduce your property taxes or utility bills? DoNotPay can show you the way. Want to avoid getting charged for free trials that never fail to auto-renew into paid subscriptions? We'll help you cancel them before they expire.
Anything else you may need? Check out how our app can:
Check Out Our Other Robust Products
It doesn't stop there—DoNotPay can help you send a defamation demand letter, create passport photos, get gift card cash back, get any document notarized, request access to public records, claim insurance and warranty, request a college application fee waiver, appeal parking tickets, and much more.
Sign up now to get access to any of our products for one low monthly fee!