Montana Homeschool Letter of Intent—How Should You Create It?
Although Montana is an easy state to homeschool in, you still need to meet certain criteria before you can start homeschooling your child. If you decide to take your child out of school, you will need to prepare several documents for your request to be approved by your school district's superintendent.
One such document is a letter of intent to homeschool. In this guide, we'll explain what you need to do to homeschool your child and how to fill out the Montana homeschool letter of intent.
Montana Homeschooling Requirements
If you want your child to be a homeschooled student, you need to abide by Montana's homeschooling laws and fulfill the following requirements:
Homeschooling in Montana doesn't require parents to have a degree in education, so you can cut your homeschooling expenses by not hiring a professional teacher. As your child's mentor, you will be in charge of:
Building the curriculum
Giving grades and deciding on methods of grading
Scheduling classes and selecting the place that will act as a classroom
If you feel your child won't get the best education with you in charge, you can hire someone else to do it.
What Is the Montana Homeschool Letter of Intent?
When you decide to homeschool your child, you need to let the authorities know you want to take your kid out of a public or private school and educate them at home. Montana doesn't have a state agency in charge of homeschooling, so you will have to formally inform a superintendent of your intention.
The Montana homeschool letter of intent is a legal document with which you do that. You may come across some other names for the letter, including:
Notice of intent
Declaration to homeschool
Affidavit
What's Inside the Montana Homeschool Letter of Intent?
As it's a legal document, the letter of intent needs to contain valid, up-to-date information on several elements, as shown in the following table:
Letter Section
Description
Child's details

Full name
Age and date of birth
Grade
Address

Information about you or the teacher

Your relationship with the child
Full name
Address
Phone number

Homeschooling plan

Planned school hours per day
Planned school days per year
Curriculum (including subjects other than the required ones)
The beginning date—next academic year or the middle of the current one
How To Make the Montana Homeschool Letter of Intent
You have several options at your disposal when it comes to drawing up the letter of intent:
Write it by yourself—This is the cheapest but the most time-consuming option. While you won't spend a dime, you will have to do research on what the letter should consist of and how you should word it. If you're not familiar with the document, you should skip this as you might leave out important details
Find a template—Many associations offer you to download a template once you become a member. The template will help you with the structure, but make sure you add all the necessary information
Hire someone—This is the most expensive option as lawyers require substantial compensation for their services
Use DoNotPay—Our app can help you create a tailor-made letter of intent in a matter of minutes. When you and provide the information we ask for, we will generate the letter that's ready to send without any revisions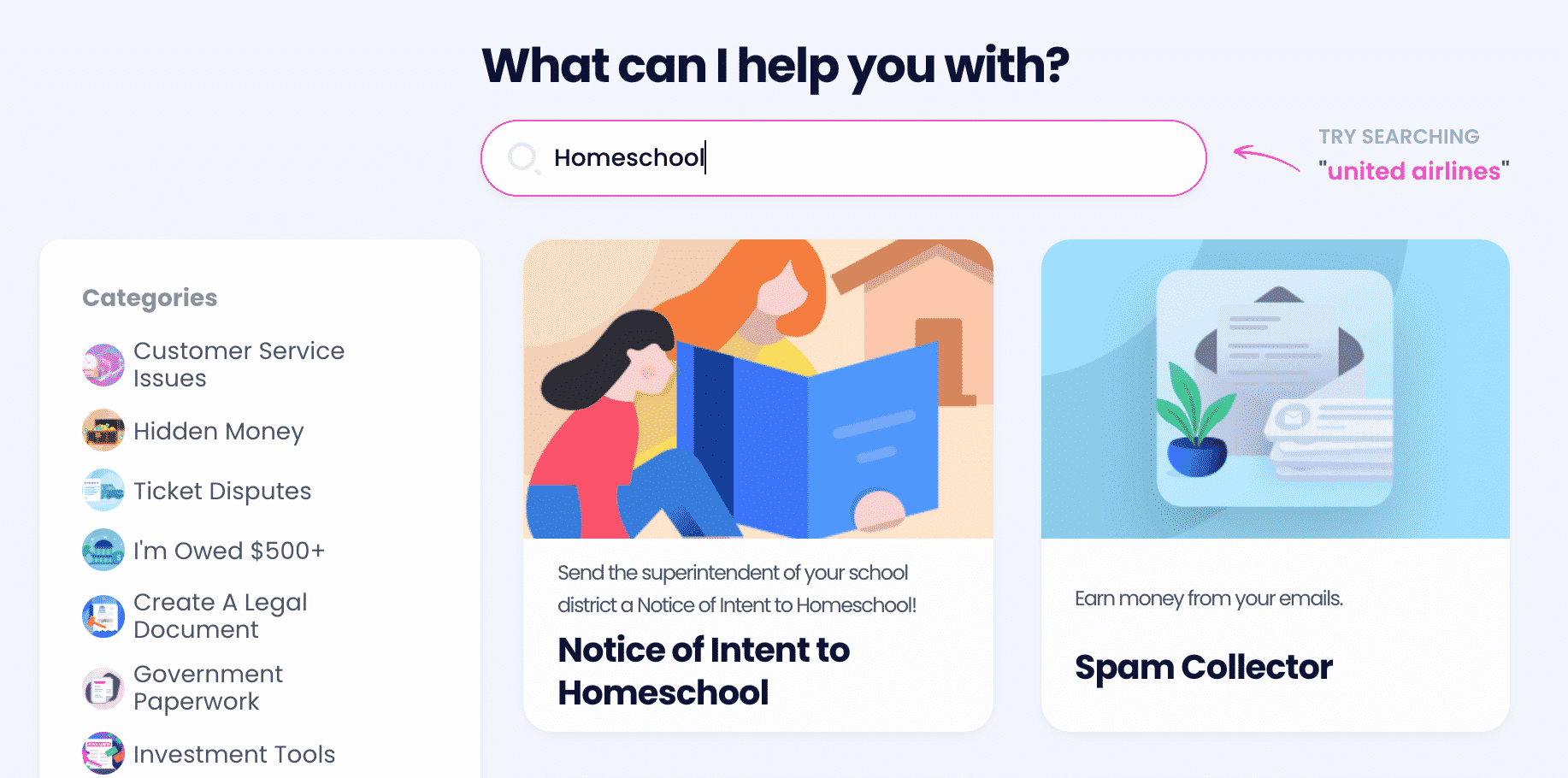 Creating the Montana Homeschool Letter of Intent With DoNotPay
Parents who want to homeschool their kids already have enough on their plate, so adding anything on top of that can be nerve-racking. DoNotPay offers you the chance to save time on creating a letter of intent on your own and money on lawyers who would do it manually for you.
Our app will ask you for all the necessary information so you don't have to stress about leaving out any details. All you need to do is:
Use your browser to
Navigate to the Notice of Intent to Homeschool product
Answer a few questions from our chatbot
We will take it from there. Using the answers you provide, our app will generate a letter in a matter of minutes. If you don't want to deal with contacting your district's superintendent, you can instruct DoNotPay to do so in your stead and send the letter automatically.
You can also download the PDF version of the letter and send it yourself. If you wish to get the document notarized, you can do so directly within the app, thanks to our integrated Notarize Any Document feature.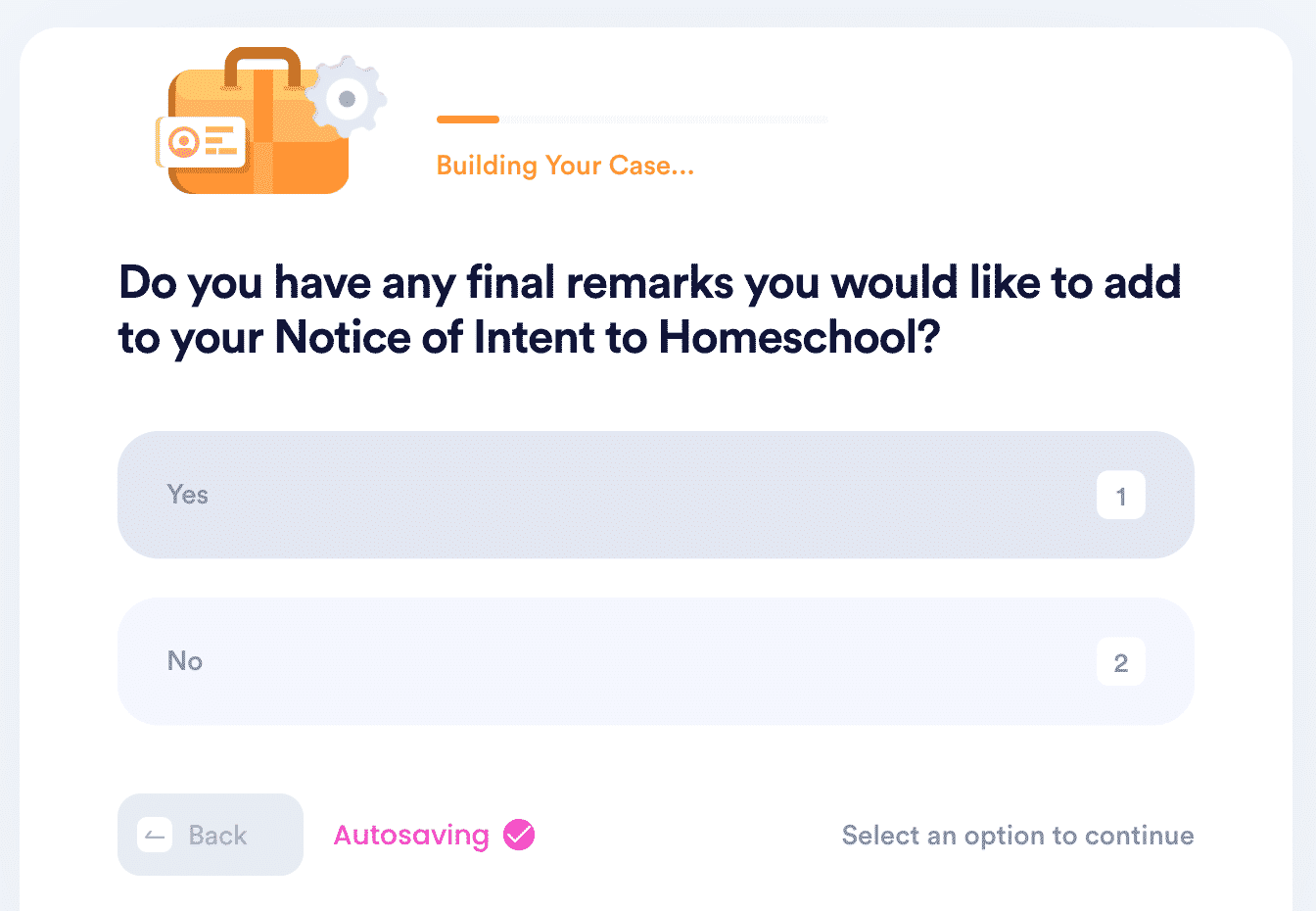 Say Goodbye to Boring Tasks
When a task takes up too much time, you may give up or procrastinate incessantly. We have a solution—use DoNotPay to manage numerous administrative or bureaucratic errands.
No more waiting in neverending DMV lines or staying hours on the phone waiting for a customer service rep to pick up. You can even skip going to the post office. We can help you send letters and even online faxes in a flash. If what you're sending needs to be notarized, use our app to schedule an appointment with an online notary.
Traveling soon? Get your passport photos ready, apply for a tourist visa, contact embassies, and draw up a child travel consent form—all within the same app.
What Else the World's First Robot Lawyer Can Do for You
When you need legal assistance but you can't afford to hire a lawyer, rely on DoNotPay. With our legal expertise, we can help you do the following: