DoNotPay Helps You Draft a Maine Homeschool Letter of Intent
If you plan to homeschool your child in the state of Maine, the first step is to submit a Maine homeschool letter of intent. In this guide prepared by DoNotPay, you can find essential information about Maine state homeschooling laws and learn how to write a letter of intent to homeschool.
Want to avoid the tedious task of drafting a notice of intent to homeschool by yourself? because we can do it for you in minutes!
Maine Homeschooling Laws
Maine homeschooling laws apply to children between seven and 17. When you decide to homeschool, you must teach your kids for a minimum of 175 days a year. You are allowed to start whenever you like, even in the middle of the school year.
If you want to begin homeschooling after the school year has ended and your child is officially enrolled for the following year, you should withdraw your child from school.
Regarding your homeschool schedule—one to four hours of homeschooling a day is usually enough, but the details depend on the grade level.
Keep in mind that in Maine, homeschooling parents are not required to keep records of their child's work unless they intend to use them to demonstrate their student's progress when submitting year-end assessments.
Maine homeschool laws do not specify any prerequisites when it comes to high school graduation. Parents are in charge of issuing a high school diploma.
Homeschooling in Maine—Mandatory Subjects and Extracurricular Activities
You are required to teach the following subjects in at least one grade:
English and language arts
Math
Science
Health education
Social studies
Physical education
Library skills
Fine arts
Computer proficiency must be taught in one grade level—from grade seven to 12. Homeschooled students can borrow books from their local school as well as participate in extracurricular activities. They still have to make a written request and meet the following criteria:
Abide by the rules of participation
Comply with immunization, physical examination, insurance, semester, and age eligibility
Meet academic standards
Abide by the same transportation policy as the enrolled students
Do You Need To Be a Certified Teacher To Homeschool Your Child in Maine?
To be able to homeschool their children, parents or guardians do not need any formal qualifications. As long as you do the necessary research and stick to a good homeschool curriculum, there shouldn't be any problems.
If you feel like you're not competent enough for teaching certain subjects or you're too busy to homeschool by yourself, you are allowed to hire a tutor.
Note that even without hiring one, the cost of homeschooling is pretty high.
How To Write a Maine Homeschool Letter of Intent
As a parent or guardian who plans to provide home instruction, you should submit the following documents to your school district within ten days of the beginning of home instruction:
A written notice of intent to provide home instruction
Year-end assessments
SAT results
A letter from a Maine certified teacher stating the student's progress or results of a test created by local school officials
An annual letter stating your intention to continue homeschooling (in case you wish to continue with it) by September 1
The notice of intent to homeschool must include the following information:
The name, address, and signature of the student's parent or guardian
The student's name and age
The start date of homeschooling
A statement that indicates the parent will provide instruction at least 175 days a year and teach mandatory subjects
A statement indicating that the homeschool program will include an annual assessment of the student's progress
The letter can be submitted either online (through the Home Instruction Portal) or by sending a paper form to the resident Superintendent's office.
DoNotPay Is the Solution You Need
You don't have to bother with writing a letter of intent to homeschool if you don't want to or you're too busy to do it. Instead, you can sign up for our app and let us generate a personalized document in no time.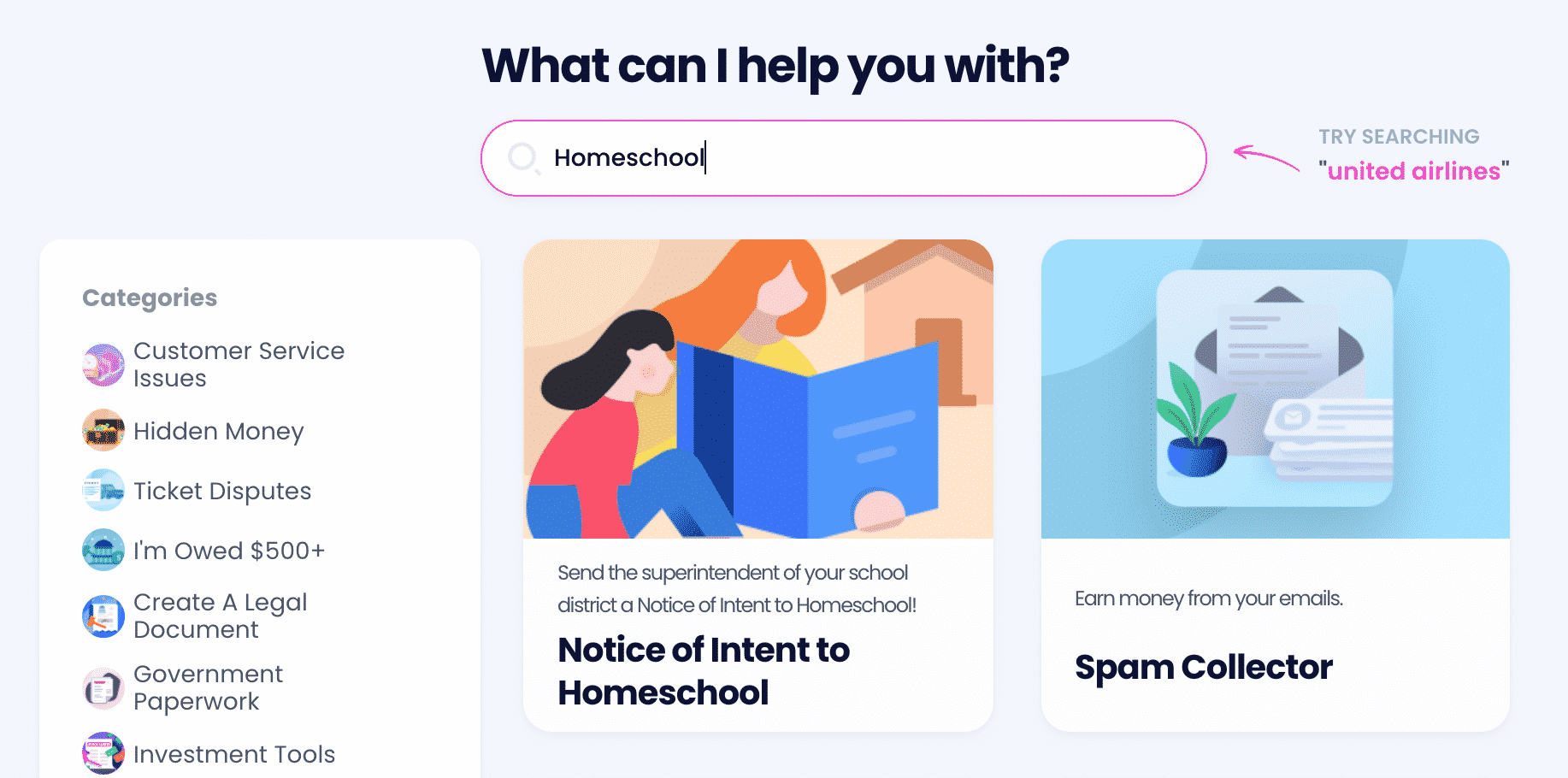 This is not all we can do—we can also send your letter directly to your school district superintendent on your behalf. All you need to do is take four simple steps:
from any web browser
Look for the Letter of Intent to Homeschool product
Provide us with details about:

Yourself and the homeschooled student
The start date of homeschooling
The details of your homeschool plan

Click on the Submit button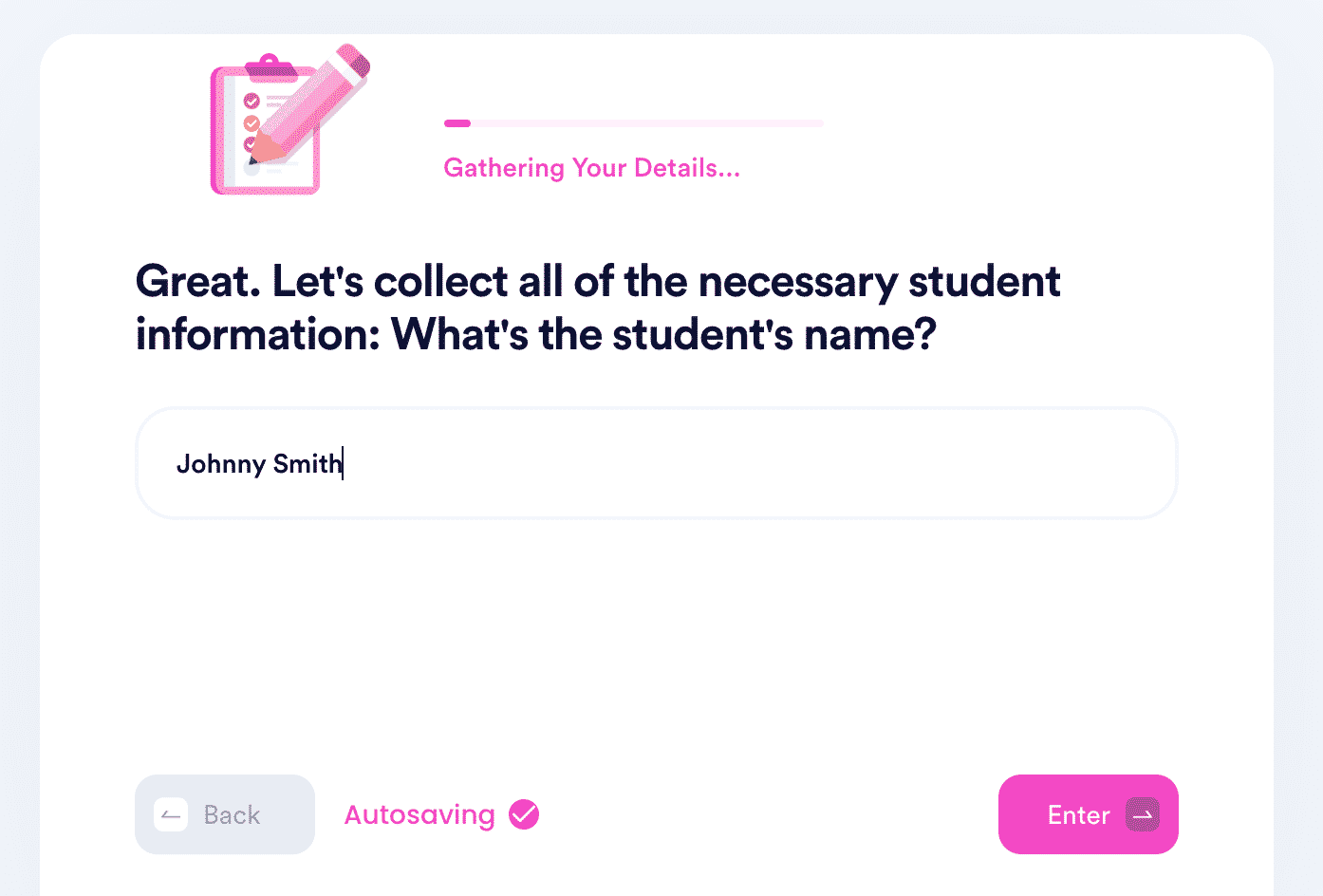 If you don't want us to submit the generated letter in your stead, you can download it and submit it yourself. You can also get it notarized virtually through our app.
To check out homeschooling laws in other states, take a look at the table below:
Resolve Any Other Issue You Have Swiftly With Our Assistance
The world's first robot lawyer is capable of tackling any legal or administrative task in your stead. We can draw up any legal document for you—including a power of attorney, child travel consent form, and divorce settlement agreement, to name just a few—help you sue any company or individual in small claims court, send a letter of warning to your noisy neighbors, help you reduce your property taxes and utility bills, and a lot more.
Sign up now if you want to stop email and text spam, claim any insurance or warranty, appeal parking tickets, schedule a DMV appointment in a flash, mail anything worry-free, find your missing assets, create passport photos, or contact embassies and consulates effortlessly.
Let DoNotPay Guide You Through Any Obstacle
Are you tired of corporations not taking their customers seriously? So are we, and that's why our nifty product will assist you in suing any company or individual in small claims court!
If you don't want to have any online service take advantage of you, you can sign up for any free trial completely risk-free with our virtual credit card's help, cancel any membership on time, and demand a refund or chargeback in a split second. DoNotPay can also draw up an airtight return request and send it to a company of your choice instantly.