Draft a Virginia Homeschool Notice of Intent in a Flash!
You might have chosen to homeschool your kid for any reason—religion, personal conviction, or bullying problems. Whatever's behind your decision, you need to get the right information on your state laws so that you can withdraw your kid from school hassle-free.
The process entails some paperwork and preparation. If you're wondering how to draw up a Virginia homeschool notice of intent, DoNotPay offers relevant info and an efficient solution.
How To Start Homeschooling in Virginia
You need to take the following steps to start homeschooling according to Virginia homeschool laws:
Follow These Steps
Details
Understand your choices
You can choose to homeschool in Virginia based on the following laws:
Prepare a homeschool notice of intent
Make sure you draw up this document in compliance with the legal requirements since the superintendent of your school district will review all provided information and documents
Take your child out of school
Keep in mind that you first need to file the notice of intent to your school district to be able to withdraw your kid from school
Prepare a curriculum
If you haven't already done this when preparing your notice of intent, you should do it before you start homeschooling. Here's what you can do:

Choose a curriculum from the existing ones
Create one tailored to your child's learning styles

Begin teaching
Once you've submitted a Virginia homeschool notice of intent, you:

Should connect with homeschool groups, co-ops, and associations to keep up to date with all relevant information
The Specifics of a Notice of Intent To Homeschool in VA
When preparing a Virginia notice of intent to homeschool, you must demonstrate compliance with state laws. The following options are at your disposal:
Enclose your:

Virginia teacher certification
High school diploma or transcript
Additional proof that you can provide an adequate education for your child

Provide a curriculum or program of study
As soon as you file a Virginia notice of intent to homeschool, your child is legally considered a homeschooled student.
Keep in mind that you:
Must file your notice of intent to homeschool by August 15
Can start to homeschool at any time, i.e., at the beginning or in the middle of the year
How Detailed Should Your Homeschool Curriculum Be?
You don't have to supply a comprehensive description of the curriculum to fulfill Virginia laws on homeschooling. A list of subjects you plan to cover with your child will be enough.
Note that:
The superintendent of your school district will not assess or approve your curriculum
You can provide a curriculum:

Together with the notice of intent
30 days after you've filed the notice of intent to homeschool (if you haven't decided on a curriculum at the time of filing)
To find the best homeschool curriculum, consult with other homeschool parents or various organizations supporting home-based education, such as the Virginia Homeschool Convention.
How To Send a Virginia Homeschool Notice of Intent
You should send your notice of intent and additional documentation to your school district's superintendent using one of the following methods:
Mail it with a return receipt—Send the notice by certified mail with a return receipt to get proof of delivery
File the notice of intent personally—Head to the superintendent's office, hand-deliver the document, and ask for a signed receipt
Email the notice—You can check if your school district offers an email address or online submission
—Not only do we know the most efficient way to send your notice of intent, but we can generate this document for you without trouble!
Use DoNotPay To Create a Notice of Intent To Homeschool
Our AI-powered app can notify the superintendent of your intent to homeschool on your behalf and take the unnecessary administrative burden off your back. We can also draft the document for you following the appropriate legal requirements.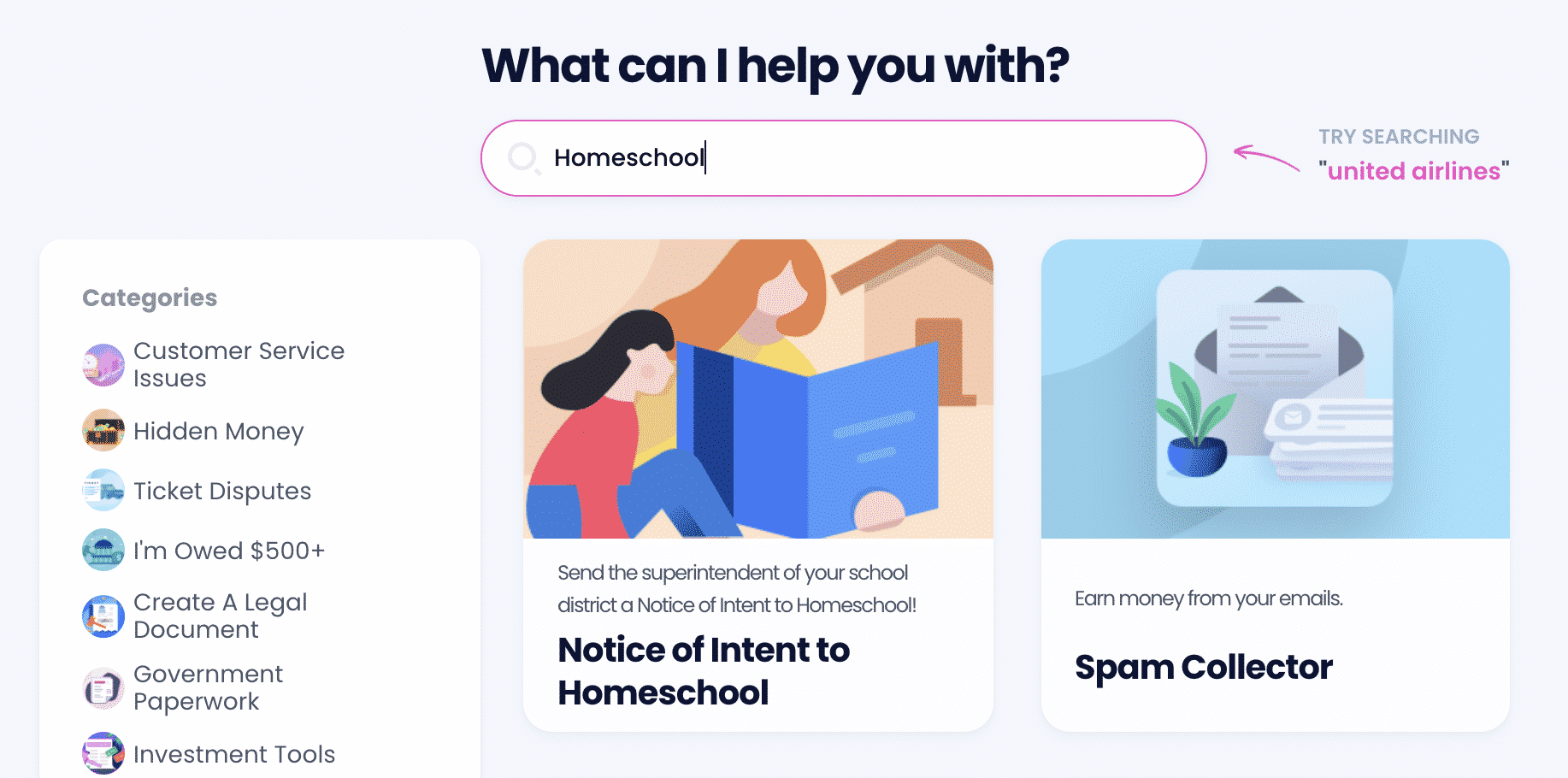 All you need to do is provide the essential details. and:
Open the Notice of Intent to Homeschool product
Enter info about yourself, your child, and your school district
Select if you'd like to:

Get the document notarized
Let DoNotPay send the notice of intent to the right address in your stead
Receive the generated letter in PDF format to submit it yourself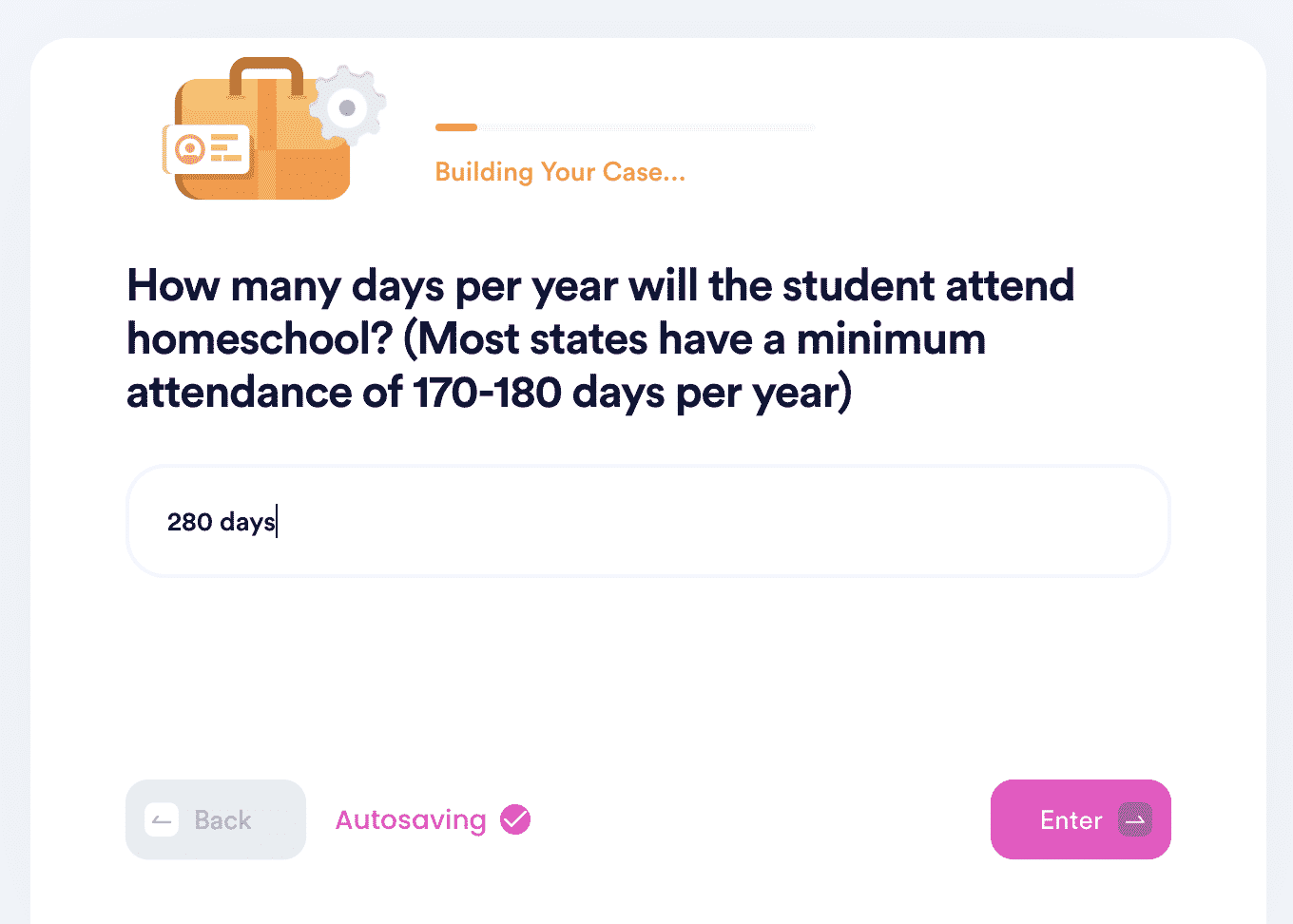 Learn How To Homeschool With DoNotPay
If you are still unsure whether you should homeschool your child, you can do a quiz or explore the topic further in our helpful articles.
We explain how homeschooling works across the USA and answer the following burning questions about home-based education:
There Is No Shortage of Tasks DoNotPay Helps You With
If you find finishing administrative tasks tedious, you can rely on our app to assist you through the entire process and make it a smooth-sailing experience. Check out the table below to find out what DoNotPay can help you do:
| Deal With Companies By | Get Rid of Pesky Spammers By | Get Help With Your Studies By |
| --- | --- | --- |
| | | |
Buried in Paperwork? Not for Long!
Is creating legal documents giving you a migraine? Not everyone is acquainted with the law and legal jargon, which is necessary when writing documents, such as:
Divorce settlement agreements

Powers of attorney
Luckily, DoNotPay can draft your legal documents in minutes! Why waste hours doing it yourself or hire a lawyer when you can have our app do it in no time?
Creating anonymous HR complaints and demand letters for your inconsiderate neighbors is also something our app does best!