Homeschool Withdrawal Letter in Missouri—Everything You Should Know
Homeschooling laws are not under federal jurisdiction, so you need to research local legislation before you start teaching at home. The rules and requirements differ vastly, with some states being more homeschool-friendly than others.
What group does the Show-Me State fall into? to find out whether you need to create a homeschool withdrawal letter in Missouri. We will also dissect other requirements for teaching at home in this state.
How To Withdraw Your Child From School in Missouri
In 1990, Missouri law was modified so that the parents who want to take their five- and six-year-old children out of school to homeschool must inform the authorities in writing. This is not a request of permission, only a notification.
Home School Legal Defense Association (HSLDA) also recommends that you formally withdraw your child from school so that the school does not mark your kid as truant or absent.
What Info Should a Homeschool Withdrawal Letter in Missouri Contain?
To create a proper withdrawal letter, you need to include the following information:
Your contact detail
The request to get copies of all records the school has accumulated on your child, such as:

Health records
Standardized test results
Any other evaluation sheets, records, and reports

Date of creating the letter
Your signature
What Are Other Homeschooling Requirements in Missouri?
Missouri is among the states with lenient homeschooling requirements. Check out the table below for more information:
Requirements
Details
Attendance age
Children between seven and 16 need to attend school
Subjects required
It is necessary to teach these core subjects:

Math
Reading
Language arts
Science
Social studies

Teaching requirements
There is no need to be a certified teacher to homeschool
Homeschooling hours
You need to provide your child with at least 1,000 homeschooling hours each school term
Curriculum
You can choose the homeschool curriculum you find suitable
Record keeping
If you are homeschooling a child under the age of 16, you need to maintain the following records:

Samples of your child's work
Academic evaluation, such as regular tests in different subjects or annual standardized tests
A diary, plan book, or other record showing subjects taught and learning activities the student participated in

Required testing
No testing is required
Do you Need To Send a Notice of Intent To Homeschool in Missouri?
Missouri is one of the states that does not require parents to send a notice of homeschooling. Even though this is not mandatory in MO, most states mandate creating a notice of intent to homeschool and sending it to the superintendent of your school district.
Keep that in mind if you ever decide to move to another part of the country. Should this happen, you don't have to deal with this task alone because DoNotPay can help!
Use DoNotPay To Create a Notice of Intent To Homeschool
The easiest way to create a letter of intent to homeschool is by using our app. We can generate the legal document for you and include all the required information. The procedure is straightforward:
Choose the Notice of Intent to Homeschool product
Answer a few questions about your school district
Give us the relevant information about yourself and your child
After you finish answering our chatbot's questions, you can have your letter of intent notarized. You can also download the document and send it to the superintendent yourself. If you prefer, DoNotPay will mail the letter instead of you.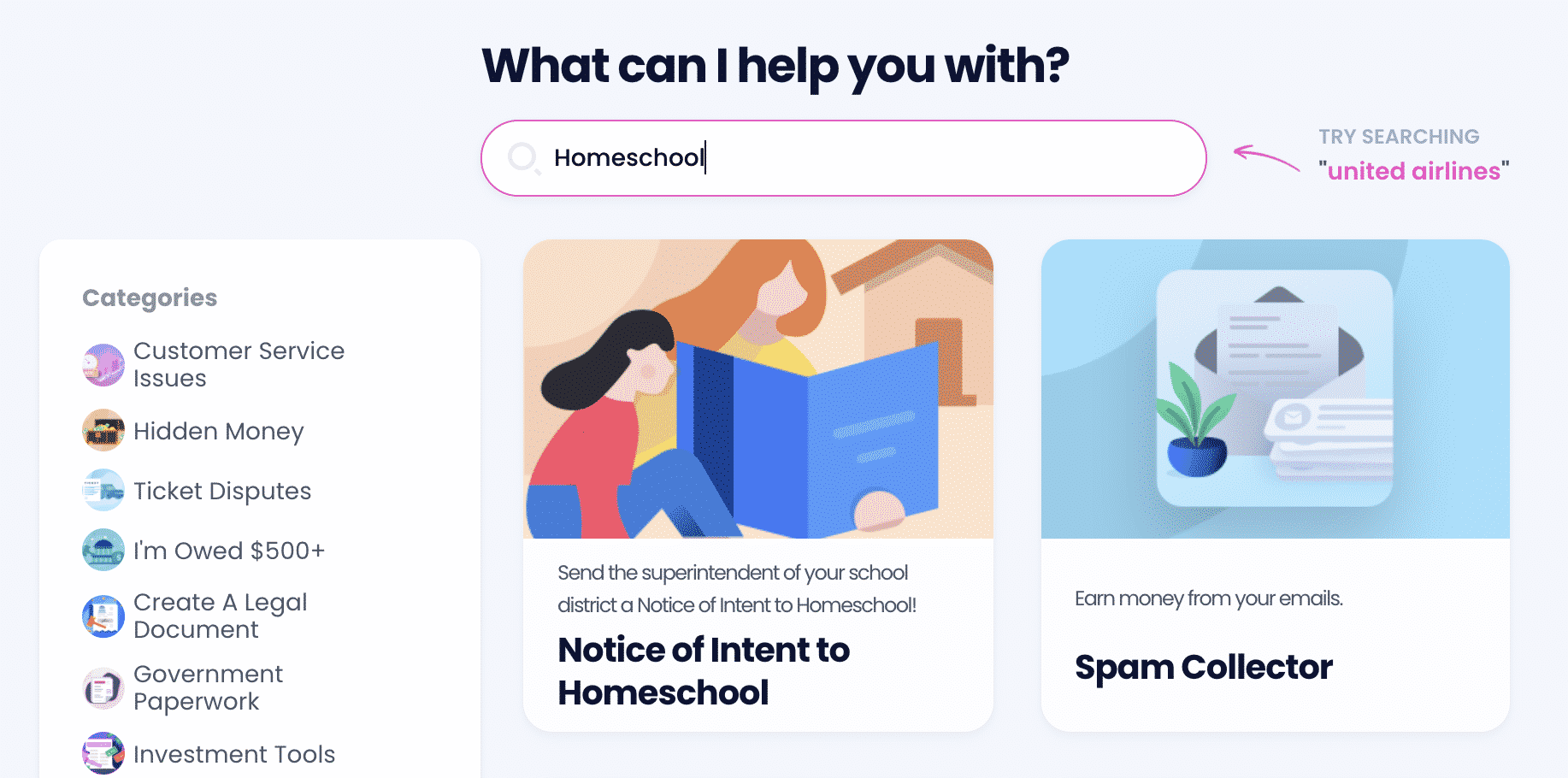 Benefits of Homeschooling
If you still cannot make up your mind about homeschooling, here are some pro points that might help you decide:
Spending more time with your child
Keeping the child in a safe environment without bullying or safety threats, such as school shootings
Having the option to organize your time as you wish
Being able to have your child's lessons specifically tailored for their needs and abilities
Monitoring who your child socializes with
Organizing interactive classes, so your child will not sit at their desk for eight hours each day
What Else Should You Know About Homeschooling?
Switching to home-based education is a significant change and responsibility, so make sure you completely understand the process. Here are some issues to consider:
Visit DoNotPay's Learning Center to find numerous informative articles covering the topic of homeschooling.
Can DoNotPay Help Me With Any Other Admin or Legal Issue? You Bet It Can!
DoNotPay's robust products can assist you in fighting companies, individuals, and institutions that have wronged you in any way. Once you subscribe to our platform, we'll ensure that you never have to deal with any of the following again:
Our Product Range Offers So Much More
Subscribing to DoNotPay will bring you peace of mind as you won't have to go through tedious task completion on your own anymore. With our AI-powered app, you can get what's rightfully yours in the blink of an eye.
If you want to claim warranty or insurance, find your missing assets, get compensated for a canceled flight or a violent crime that you were a victim of, track your missing parcel, or draw up a child travel consent form, divorce settlement agreement, power of attorney, or any other legal document, you can count on us to lend you a helping hand.
Sign up today to get access to the entirety of our product range and forget about dealing with time-consuming and energy-draining chores!