Homeschool Diploma—Is It the Same as a High School Diploma? Find Out Here
Most states treat homeschooled students as regular public or private school ones. Homeschooling is legal across the U.S., and as a parent who's considering teaching your child, you should know that it will count as any other formal education.
Homeschooled kids can graduate, too, and they can have a valid homeschool diploma. This guide will help you understand all of its definitions and prerequisites.
DoNotPay can also send a letter of intent to homeschool to the superintendent of your school district, which is mandatory in most states for homeschooling parents who teach their children, so sign up for our service!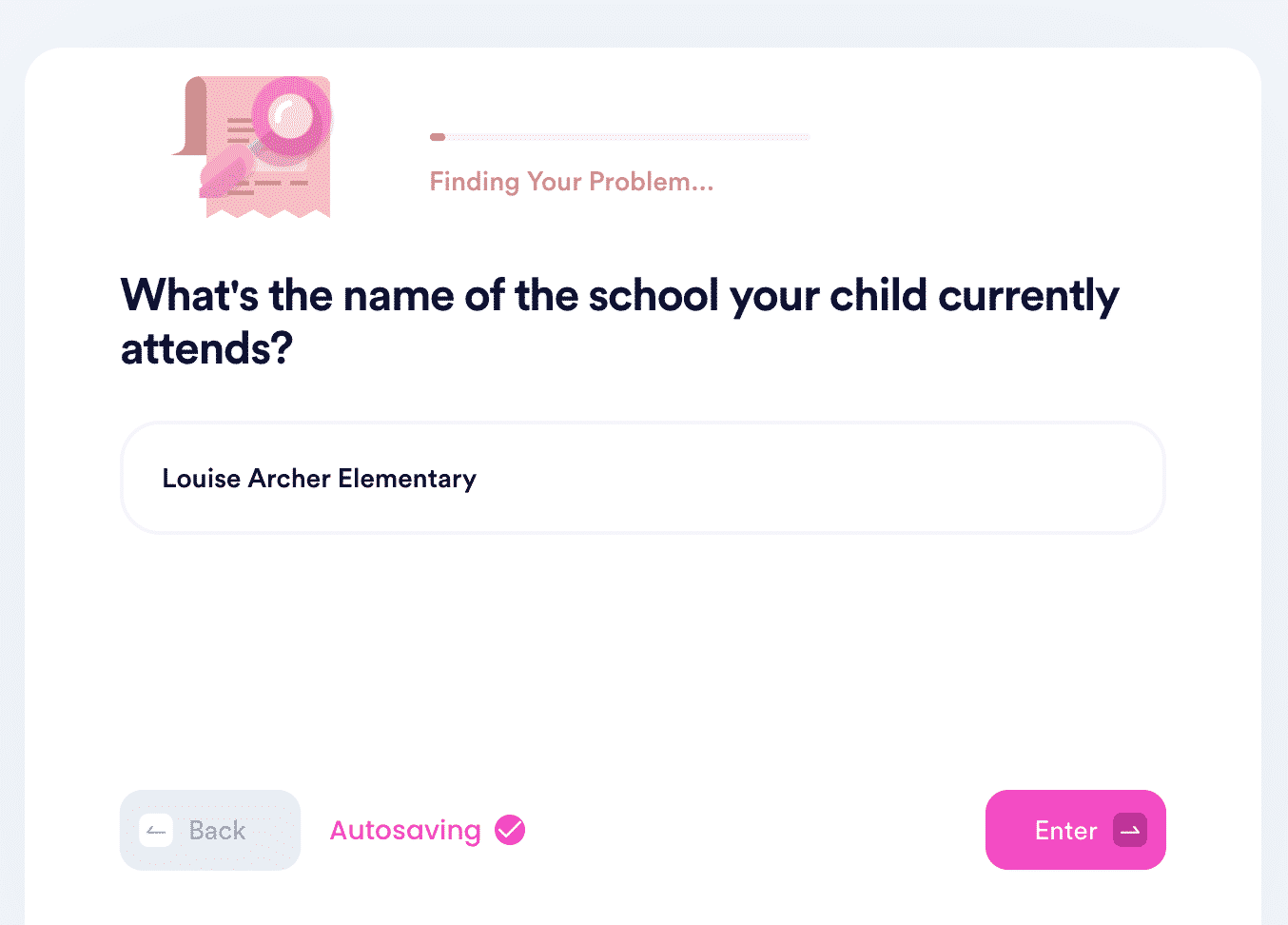 What Is a Homeschool High School Diploma?
A homeschool high school diploma is the same as a regular high school one from a private or public school. Every diploma is issued by the educational institution the student is attending, and in the case of homeschooled children, that's done by the parent that conducted the education.
The diploma is valid if the homeschooling follows the state laws and graduation requirements. Most parents use templates of homeschool diplomas from online sources, but you can also order a professionally made one.
Here are some suggestions for finding diplomas online:
How Does a Homeschool Student Get a Diploma?
Homeschooled students can get diplomas from:
Their parents, if they are the ones who teach them
An online, umbrella, or correspondence school—If a child graduates from this type of school, then this institution will provide a formal diploma. Note that graduates from these schools are considered to be public or charter school students
A public school—Most public schools will not issue homeschool diplomas, but it's not impossible. Some states allow for this (e.g., North Dakota and Pennsylvania)
What Are the Homeschool Diploma Requirements?
If you decide to make the homeschool diploma yourself, you shouldn't wing it. Refer to the table below for detailed suggestions of the elements a diploma should have:
| Must-Have Homeschool Diploma Elements | Brief Description |
| --- | --- |
| Name of the document | High School Diploma (if you're making a different type of diploma, replace high school with middle school, for example) |
| Name of the student | Full legal name of your child |
| Name of the institution | Your homeschool name (it can be your name and School, e.g., John Smith School) |
| Acknowledgment of graduation | This document confirms that William Smith graduated from the course by his parents, Mr. and Mrs. Smith (or something similar) |
| Names and signatures of the issuers of the diploma | Your and your partner's (if they participated in the education) names and signatures |
| Date of issuance | The current date |
| Location | City and state where the diploma was issued |
What Else You Need To Know About Homeschooling
If you haven't started educating your child yet, you may be overwhelmed by all the info and requirements that you need to meet to homeschool your kid.
Skim through our guides to get fully informed:
Letting all of this info sink in will allow you to start homeschooling your child worry-free.
What Is a Notice of Intent To Homeschool?
How do you take your child out from school to homeschool? You must notify your school district's superintendent first. A home school district is an educational institution that is responsible for students in a certain area.
The notice of intent to homeschool is the document that's used to inform the superintendent, and it's not easy to submit if you don't know what you're doing. DoNotPay offers the best solution to this problem.
DoNotPay Can Help You Begin Your Homeschooling Journey!
Parents in the U.S. are becoming increasingly eager to homeschool their children. In most states, you need to notify the dedicated educational institution of your plan with a notice of intent to homeschool before you indulge in this undertaking.
DoNotPay can help you with:
Our method solves your problem in under five minutes, and you only need to follow the prompts below:
Open our Notice of Intent to Homeschool product
Enter the student's details
Provide your information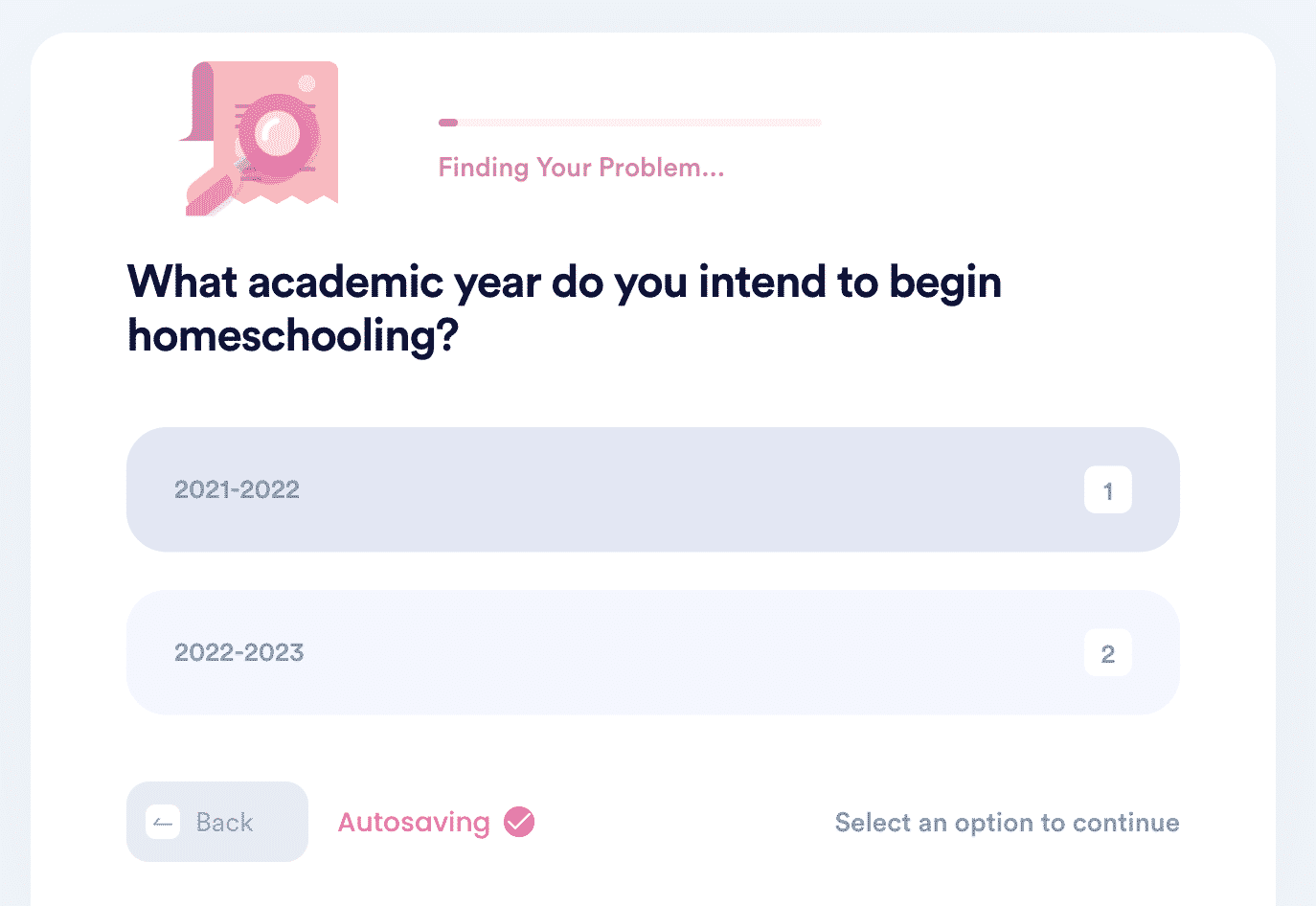 DoNotPay's Features Are Here To Make Your Life Easier
To simplify confusing bureaucratic procedures, we developed a number of features you may find super useful. Sign up for our app and let us assist you in:
DoNotPay Doesn't Stop There!
Assisting you with bureaucratic tasks is only a fragment of what DoNotPay can do—we have a lot more nifty features to offer! We can show you how to:
Struggling to draw up a financial aid appeal letter, an HR complaint, or a child travel consent form? DoNotPay is here to do it in minutes!