What You Need To Know About a Homeschool Transcript
Homeschooling is a great alternative to public schools, even for higher levels of education. What may make the process tricky is adhering to state laws and regulations, which usually mandate a homeschool transcript.
DoNotPay can help you gather all the necessary information about what this transcript is, what needs to be included, and why it's useful. Sign up for our service if you're starting to homeschool your child—we can send a notice of intent to homeschool to the school district for you, which is necessary in most states.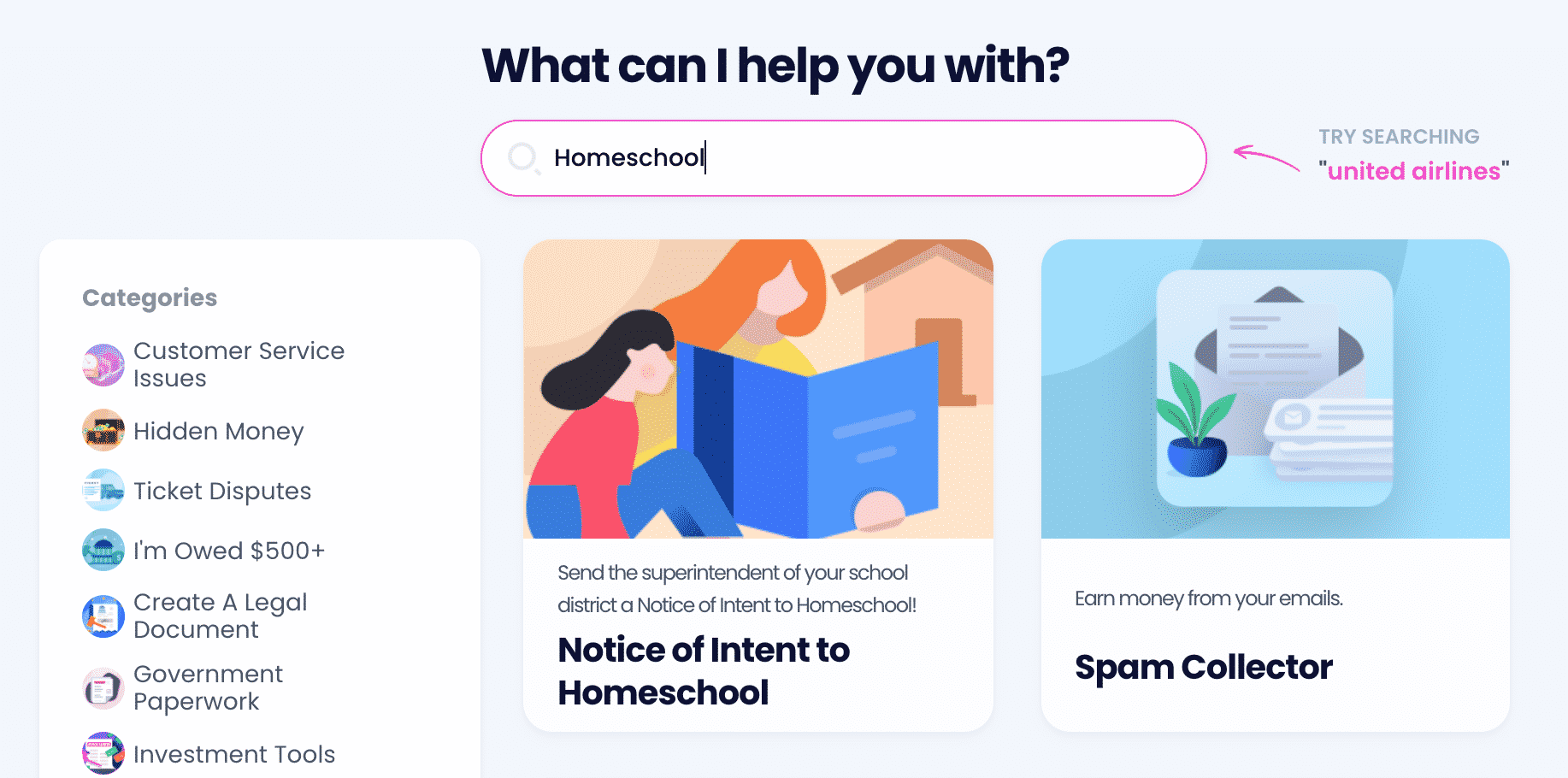 What Is a Homeschool Highschool Transcript?
A homeschool transcript is a document that lists the accomplishments of a high school student. Homeschooled students in middle and elementary schools do not need it, but highschoolers do for various reasons, such as admission in:
The military
College
Apprenticeships for various crafts
This document is not to be mistaken with a homeschool diploma or a homeschool completion affidavit, which certifies the graduation of a student from a high school level of education.
How Can You Obtain Highschool Transcripts for Homeschool Students?
A homeschool student can receive a high school transcript in the three following ways:
Paying for a transcript service
Obtaining it from a correspondence or umbrella school
Getting it from a parent teaching in a homeschool
What Is the Best Homeschool Transcript Service?
You can find many homeschool transcript services online, but note that you have to pay for them. Here are some of the most popular websites that offer to make a homeschool transcript for you:
How Does Obtaining Transcripts From Umbrella Academies Work?
An umbrella academy is a private school that provides mentoring, teaching, and testing services to parents who homeschool their children. A homeschool transcript is issued after the completion of an academy course, which may cost you a lot.
How To Make a Homeschool Transcript Yourself if You Homeschool Your Children
A homeschool transcript is not difficult to make if you know the necessary elements. Here is what you need to include if you want to create one on your own:
| Mandatory Information | Brief Description |
| --- | --- |
| The title | Official High School Transcript |
| Name of the school | Whichever name you chose for your homeschool (e.g., Johnson Homeschool) |
| Student info | Their name, gender, address, and birthdate |
| Courses | Every high school course they've completed |
| Grading | Every grade and credit that was given for each subject (keep them consistent, e.g., stick to ABCDF grades) |
| Date | The student graduation date (or the expected one) |
| Parent details | Your name and signature |
You can also use various online homeschool transcript templates, which are available for free, but make sure you add all the info that was mentioned in the table.
Sometimes the government or other institutions will require the transcript to be notarized, and we can help you with that thanks to our Notarize Any Document feature.
What Else Is Required To Homeschool Your Kids?
If you're only getting started in homeschooling, the process may not seem easy. You need to cover the following priorities first:
You can also read our in-depth guide on homeschooling requirements for more info about all of the necessities.
Wondering whether you can start homeschooling in the middle of the year? Rely on DoNotPay to find out!
DoNotPay Makes Homeschooling Easier
Drafting the letter of intent to homeschool can be challenging if you've never done it before, and we're here to help you out. We have a product that will make this process easier—our Notice of Intent to Homeschool takes your information, creates the notice, and sends it in your stead.
If you intend to homeschool your child, follow the instructions:
Open the Notice of Intent to Homeschool feature
Enter information about yourself and the student
We'll create a PDF document within minutes, and then you can decide whether you want us to send it to the designated school district or email it to you.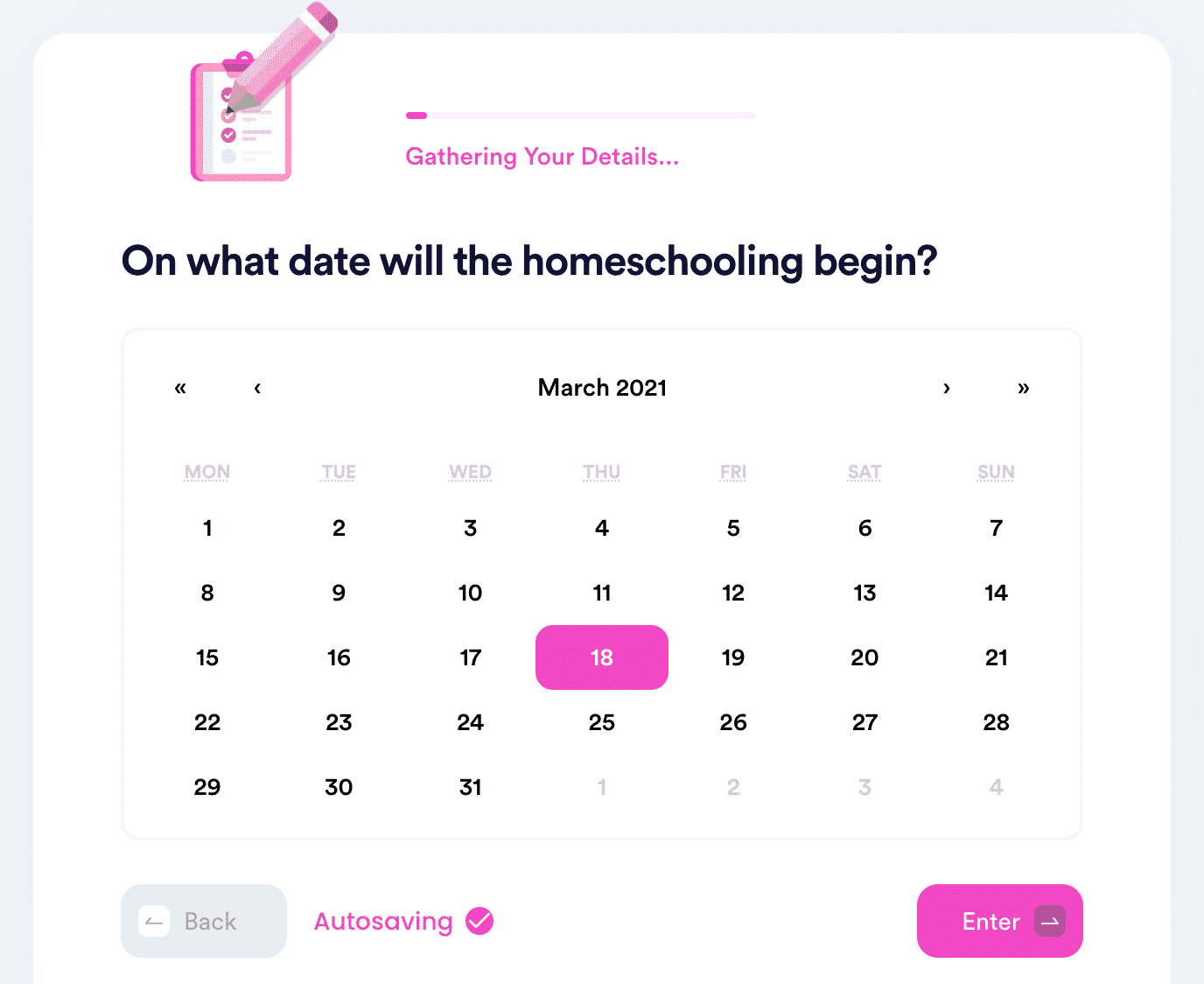 Explore DoNotPay's Vast Database To Handle Administrative Issues Head-On
Dealing with administrative issues is never a fun experience, but you can save yourself from unnecessary hassle with our app! Once you sign up for DoNotPay, there is little you can't do. Aside from helping you deal with everyday tasks, such as reaching customer services, you can also use our app to:
Make Your Legal Troubles Disappear
Is a company giving you a hard time? Don't fret! DoNotPay can walk you through the process of suing it in small claims court and help you get the justice you deserve!
The best part is that assisting you take companies to court isn't all our app can do! We can also help you with: