The Easiest Way To Send a Homeschool Notification Form in Ohio
Homeschool requirements tend to be different in every state, with some having lax statutes and others imposing strict rules. Wherever the family resides, parents usually must send a notice of intent to homeschool to the superintendent of the school district to let the authorities know the child is switching to home-based education.
If you want to teach your child at home in the Buckeye State, you must create a specific homeschool notification form for Ohio. It may sound like a demanding task, but DoNotPay can help you draft the document in a matter of minutes!
Ohio Homeschool Notification—Essential Information
Under Ohio's homeschool law, parents or legal guardians need to file a homeschool notification to the superintendent of their school district:
During the first week of school, respecting the schedule of the public institution the student would attend
Within one week of the date of relocating to the specific school district
Within a week from the child's withdrawal from school
What the Homeschool Notification in Ohio Should Contain
The notice of intent to homeschool must include the following:
School year for which the notice is created
Your name and address
Full name and birth date of your child
Contact information of the person who will be teaching the child (if it is not you)
Assurance that your student will be taught the required subjects
A brief outline of the intended curriculum
List of basic teaching materials and textbooks
If creating a notice of intent seems too complicated, you should !
DoNotPay Generates a Letter of Intent To Homeschool Easily
Whether you are not sure how to create a notice of intent or don't have time to do so, you can delegate the task to DoNotPay. We'll gladly handle the entire process and even mail the letter on your behalf if you wish!
You should only:
Open the Notice of Intent to Homeschool product
Provide the necessary details about your school district
Answer the essential questions about your child
You can also have the letter of intent notarized with DoNotPay! We can connect you with an online notary, and the procedure is efficient and safe.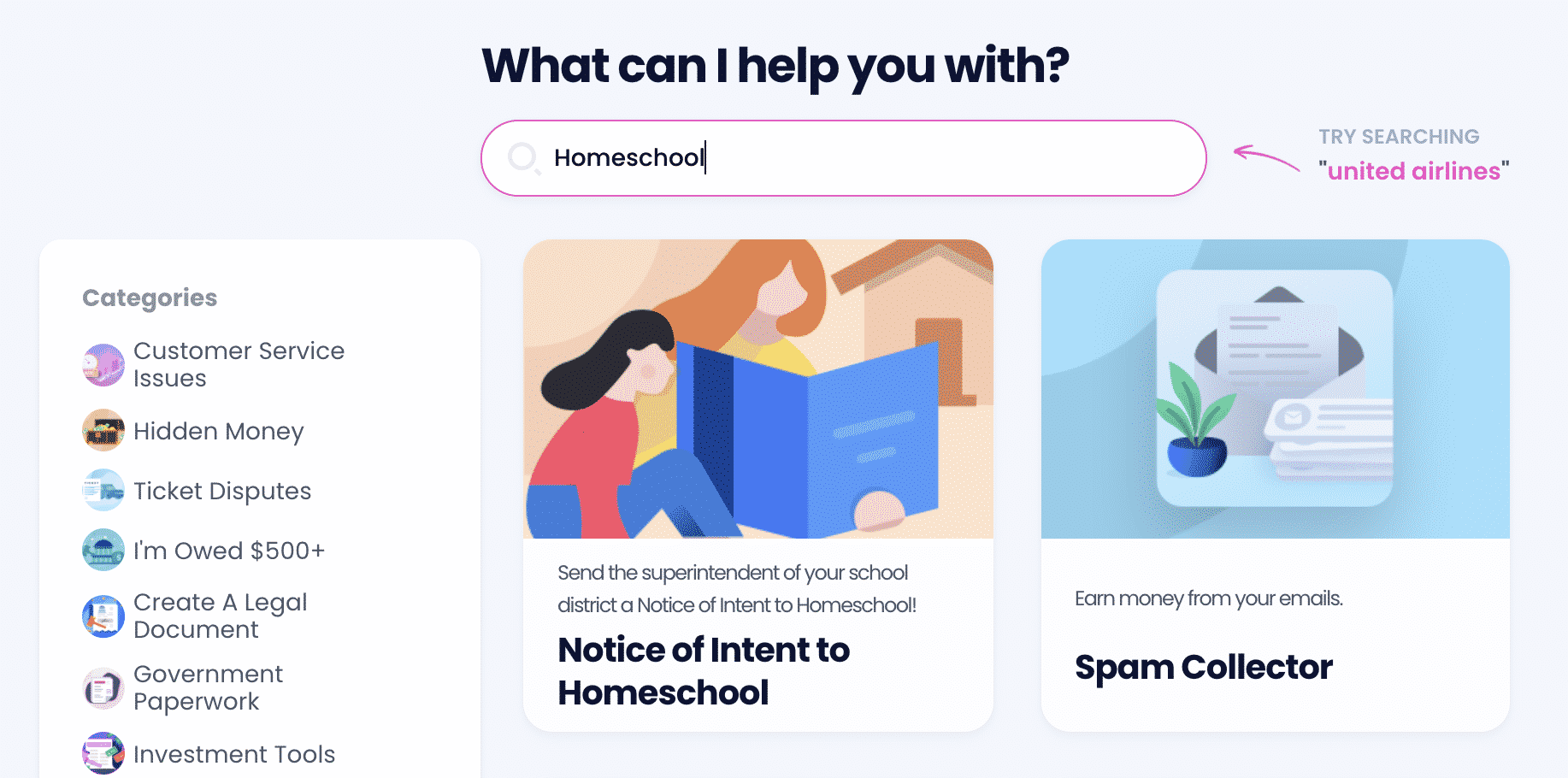 What Are Other Homeschool Requirements in Ohio?
Besides sending a notice of intent to homeschool, there are numerous other requirements for homeschooling in Ohio. Take a look at the table below for more information:
Ohio Homeschool Requirements
Details
Who can homeschool

Parents or legal guardians can homeschool their children if they meet the teacher requirements. If not, they can teach under the direction of an individual who holds a baccalaureate degree

Teacher requirements
You need to have one of the following to homeschool your child:

A high school diploma
Graduate Equivalency Degree (GED)
Scores from a standardized test showing high school equivalence

Attendance age

Children between six and 18 must attend school in Ohio

Subjects required
You are supposed to teach the following subjects to your child:

Language
Reading
Spelling
Writing
Geography
History of the United States and Ohio
Government
Math
Science
Health
Physical education
Fine arts (including music)
First aid
Safety
Fire prevention

Homeschool curriculum

The choice of the homeschool curriculum is entirely up to you

Homeschool hours

You need to organize at least 900 hours of homeschooling every school year

Required testing
Under Ohio's homeschool statute, you are mandated to assess your child's academic progress every year. You can do so by:

Testing your child with any nationally normed standardized achievement test
Demonstrating that a qualified person has reviewed the portfolio of your child's work
Choosing another form of assessment that you agreed upon with the superintendent
Field Trip Ideas for Homeschoolers in Ohio
Homeschooling is not all about requirements and laws—if done right, it can be a fun and rewarding experience for the entire family. The best way to combine fun and teaching is to organize field trips. Here are some ideas for places you can visit in Ohio:
Northwest Ohio
Northeast Ohio
Southwest Ohio
Southeast Ohio
Other Homeschool-Related Questions You Might Have
If you have more questions about home-based education, visit DoNotPay's Learning Center and get handy tips in our comprehensive guides. Here are some burning questions we can answer:
Can DoNotPay Help Me With Any Other Admin or Legal Issue? You Bet It Can!
DoNotPay's robust products can assist you in fighting companies, individuals, and institutions that have wronged you in any way. Once you subscribe to our platform, we'll ensure that you never have to deal with any of the following again:
Our Product Range Offers So Much More
Subscribing to DoNotPay will bring you peace of mind as you won't have to go through tedious task completion on your own anymore. With our AI-powered app, you can get what's rightfully yours in the blink of an eye.
If you want to claim warranty or insurance, find your missing assets, get compensated for a canceled flight or a violent crime that you were a victim of, track your missing parcel, or draw up a child travel consent form, divorce settlement agreement, power of attorney, or any other legal document, you can count on us to lend you a helping hand.
Sign up today to get access to the entirety of our product range and forget about dealing with time-consuming and energy-draining chores!