Learn How To Create a Homeschool Curriculum With DoNotPay
Homeschooling your child might be the best decision you've made, but it is a bumpy road if you're not well informed. The process is straightforward once you get familiar with the cost, legal regulations, and other requirements you need to meet.
You should learn how to create a homeschool curriculum in case you don't find an adequate program among available plans. DoNotPay offers practical tips and an efficient tool to deal with the related paperwork.
Should You Create Your Own Homeschool Curriculum?
Homeschool parents who have started homeschooling their child by choosing a pre-packaged curriculum often realize that these programs are not appropriate for their child. Keep in mind that commercial study plans are a starting point rather than a ready-made solution.
While many parents believe that only seasoned homeschool teachers and educational experts can design a syllabus, that cannot be further from the truth.
You can use available curriculums and tailor a program to fit your child's needs. By creating a unique syllabus, you will:
Make your educational experience more creative and meaningful
Save the money you'd otherwise need for purchasing a pre-packed curriculum
How To Create Your Own Homeschool Curriculum
To create a homeschool curriculum, you should take the following steps:
Steps To Follow
Details
Review available curriculums
You should:

Find out what subjects you must cover
Explore what programs public and private schools use per grade
Ensure your child covers a similar level of coursework and material

Select topics
Once you get familiar with subjects, you should decide what:

Skills your child needs to acquire
Concepts your homeschooled student must learn and adopt

You should also consult your child on topics they're interested in and organize the chosen topics into units

Find relevant resources
When you determine what subjects, concepts, and topics you want to cover, you should:

Collect relevant books and other material
Get up to date on areas and topics you need to provide instruction on

Depending on your child's age, you can find relevant material using:

Movies
Textbooks
Toys and games
Videos and DVDs
Books and comics
Online resources and apps

Join homeschool organizations
You should become a member of a homeschool association, co-op, or group to:

Keep track of the latest changes to state laws
Get support and advice on curriculums and resources
Join their events, field trips, and other activities to improve the way you teach at home and enable your child to socialize
Research Different Homeschool Curriculums
Before creating a good homeschool curriculum, you should analyze a few available ones to understand what's required.
The following table presents some popular homeschool study programs:
DIY Homeschool Curriculum
When creating a homeschool curriculum, you should also:
Make a schedule—Try to estimate how long you and your kid need to spend on a specific topic and unit. You can decide to cut down or increase hours spent on particular topics, depending on your child's interest
Plan related activities—You shouldn't stick to theory but incorporate the topics you're covering into context. To make the learning process efficient yet fun, you can visit:

Galleries
Museums
Field trips
Community events
Open public school activities
College lectures (dual enrollment could help with this)

Carry out creative assessments—Taking standardized tests is a standard way to assess knowledge and progress, but you can make it more exciting with:

Plays
Artwork
Presentations
Research projects
Essays and stories
How To Make a Homeschool Curriculum Easily
If you'd like to create a homeschool curriculum quickly and easily, you should:
Start small—If you're making a homeschool curriculum for the first time, you should focus on single subjects or even units
Be flexible—You don't have to make detailed plans since they can prove challenging to stick to. Instead, you could:

Select some topics you'd like to touch on
Skip the ones that don't work for your child
Widen and prolong the units your student shows interest in
DoNotPay Generates Letters of Intent to Homeschool in a Flash
Before creating a homeschool curriculum, you should find out how to withdraw your child from their current school. While the steps might vary depending on the location, here's a list of requirements you need to fulfill in most U.S. states:
Prepare a letter of intent to homeschool
File the letter of intent with your school district
Notify the principal of your child's current school of your intent to homeschool
Register for DoNotPay to create a letter of intent to homeschool according to state laws.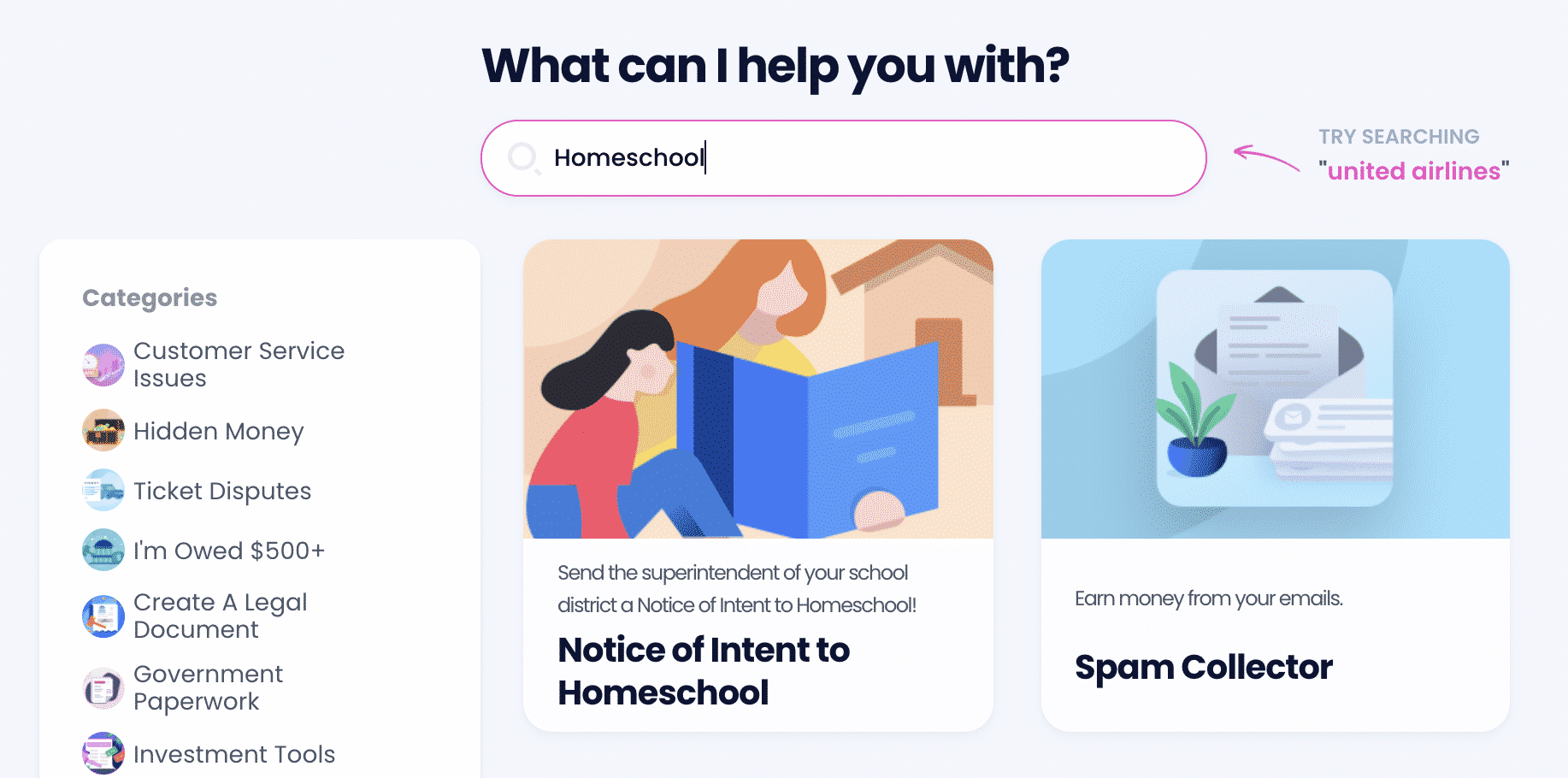 Here's how we work:
Open DoNotPay and select the Notice of Intent to Homeschool product
Enter the necessary details about your family and specific school district
Choose if you want us to:

Help you have the document notarized
Submit the letter in your stead
Deliver it to you in PDF so that you can file it yourself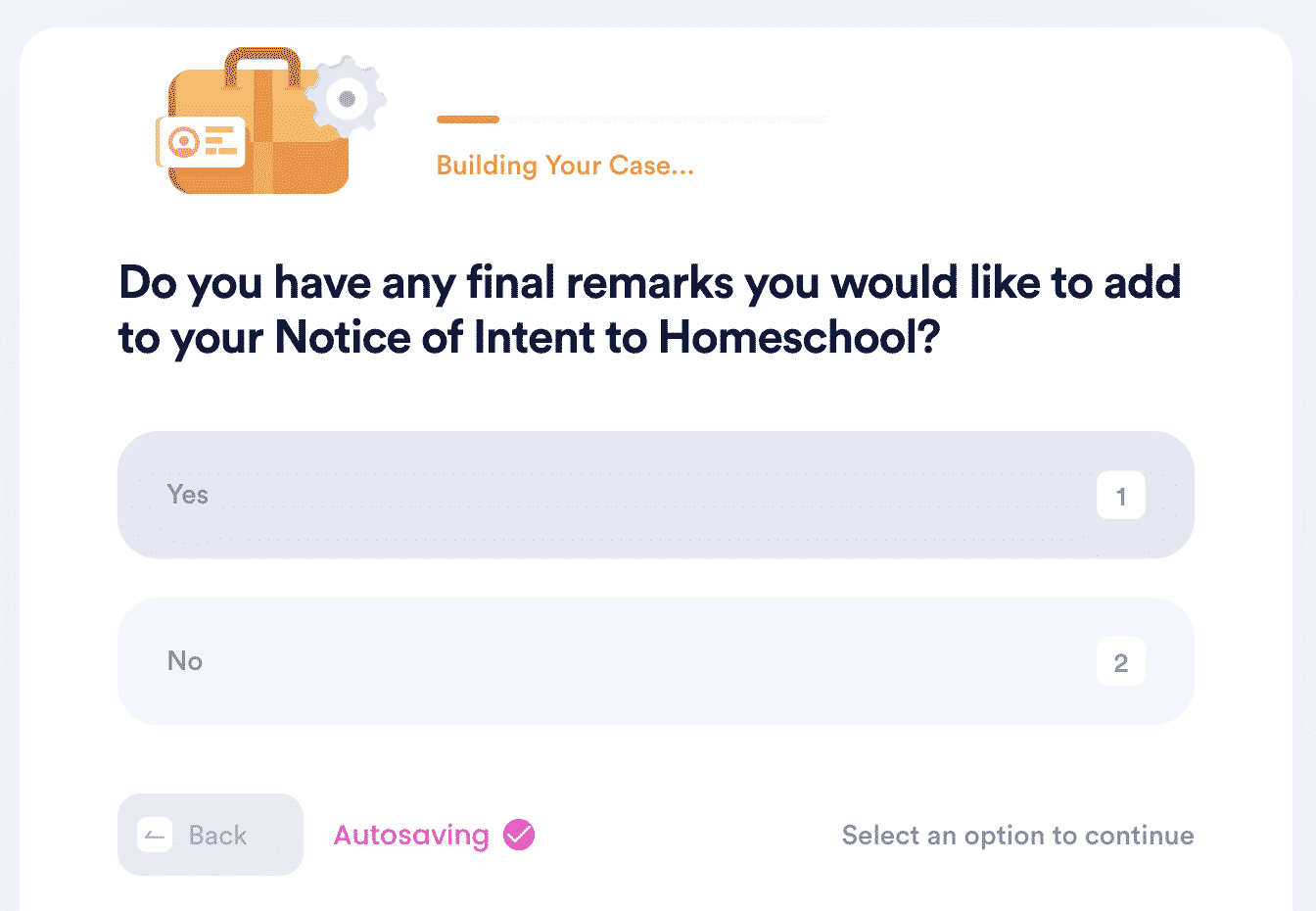 You can also explore our learning center to learn more about home-based education. We offer numerous practical guides to help with teaching at home.
Here are some common matters we delve into:
Can DoNotPay Help Me With Any Other Admin or Legal Issue? You Bet It Can!
DoNotPay's robust products can assist you in fighting companies, individuals, and institutions that have wronged you in any way. Once you subscribe to our platform, we'll ensure that you never have to deal with any of the following again:
Our Product Range Offers So Much More
Subscribing to DoNotPay will bring you peace of mind as you won't have to go through tedious task completion on your own anymore. With our AI-powered app, you can get what's rightfully yours in the blink of an eye.
If you want to claim warranty or insurance, find your missing assets, get compensated for a canceled flight or a violent crime that you were a victim of, track your missing parcel, or draw up a child travel consent form, divorce settlement agreement, power of attorney, or any other legal document, you can count on us to lend you a helping hand.
Sign up today to get access to the entirety of our product range and forget about dealing with time-consuming and energy-draining chores!