Which Homeschool Bible Curriculum Should You Choose?
If you're starting your homeschooling journey, you'll need a curriculum. Looking for one that will teach your child from a Christian perspective? In that case, you should get a homeschool Bible curriculum!
Finding one is difficult as there are many available options, so that's why DoNotPay has compiled a list of the most popular ones.
We can also tell you how to withdraw your child from school and whether someone else can homeschool your child. Can you start homeschooling in the middle of the year? Are you having second thoughts about homeschooling? DoNotPay has all the answers!
What Is a Bible Homeschool Curriculum?
A Bible curriculum is written from a Christian worldview and is supposed to help your child understand the Scriptures better. While some families prefer to use the Bible itself as a curriculum, others need additional material to assist them. When selecting a Bible curriculum, you should consider whether it:
Matches your family's view on the Bible
Uses the same translation of the Bible your family prefers
Has the format that you like (e.g., books or ebooks)
Can be completed in the amount of time your child is supposed to be homeschooled
Provides results you're looking for
Choosing the Bible Curriculum for Homeschooling
Choosing the right Bible curriculums depends on your child's educational level. We'll suggest the following:
Kindergarten Bible curriculums
Elementary Bible curriculums
High school Bible curriculums
Kindergarten Bible Curriculum for Homeschool
If your child is still in preschool, check out the following curriculums:
Elementary Bible Curriculum for Homeschool
Here are some Bible study curriculums if your child is at the elementary school level:
Homeschool High School Bible Curriculum
Bible curriculums you might want to check out if your child is in high school are:
What Else Do You Need Besides a Curriculum To Start Homeschooling?
To begin homeschooling, parents need to file a letter of intent to homeschool. By sending this letter to the superintendent of your school district, you will notify them of your desire to homeschool your child. If you want to obtain this key document, you can either write it yourself, which will take a lot of time, or hire a lawyer, which will cost you a fortune.
A more time-efficient and affordable solution is to . We'll draw up the letter of intent to homeschool for you in no time and even forward it in your name!
How DoNotPay's Letter of Intent To Homeschool Product Works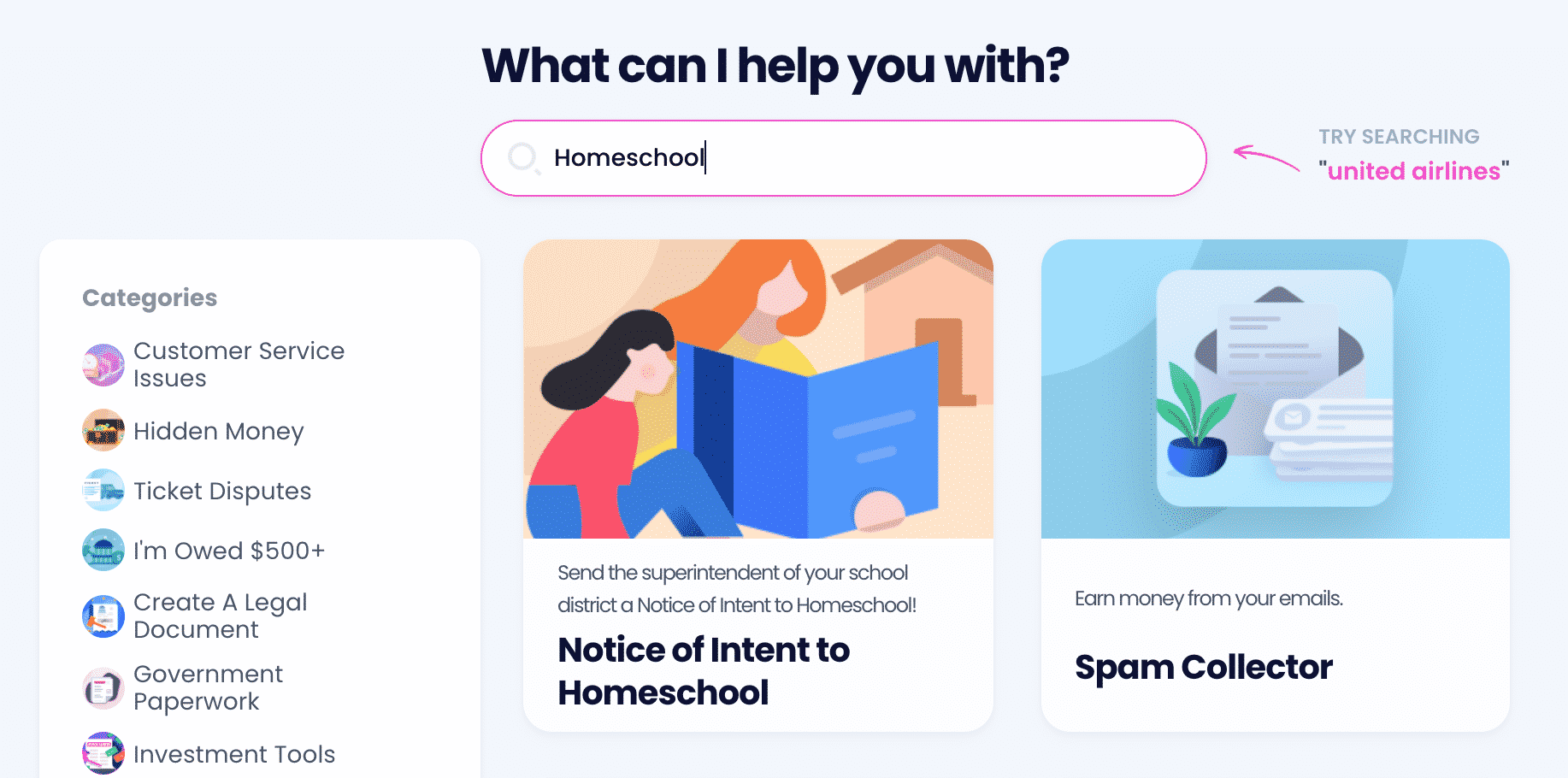 Although it's easy to start homeschooling in most states, drawing up a letter of intent to homeschool might be difficult. That's why DoNotPay has developed a product to save both time and money! With our Letter of Intent to Homeschool product, you will only need to follow a few easy steps to get this document. Here's the drill:
Find the Letter of Intent to Homeschool feature
Give us information about your homeschool plan and your child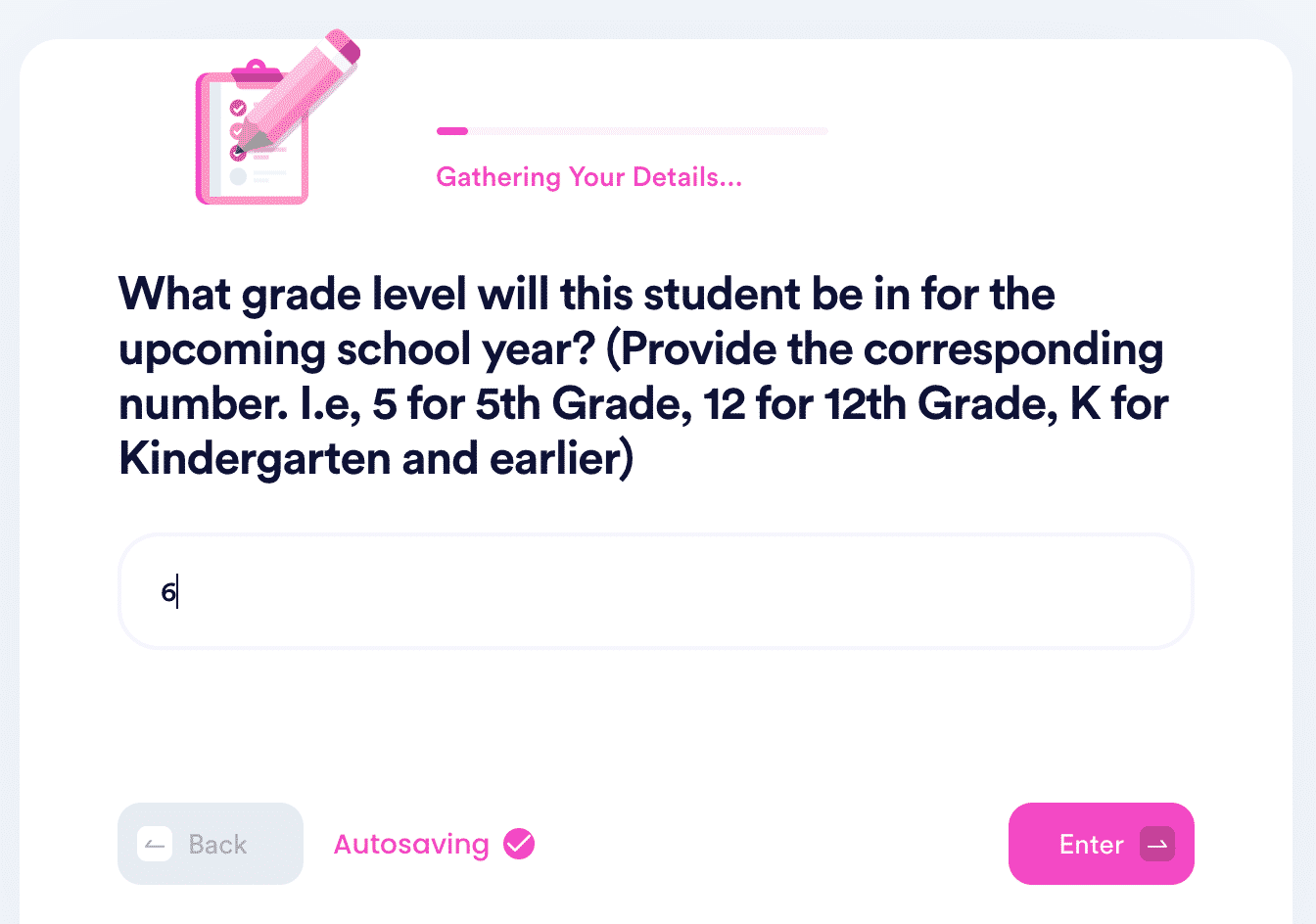 We'll generate the letter in an instant, and you can choose whether you want us to send it to you via email in PDF form or forward it on your behalf.
Since homeschooling laws and requirements are different in every state, check out the table below and get familiar with homeschooling in your state:
Discover DoNotPay's Solutions to Mundane Tasks
Our product range doesn't end there—we can also help you sue anyone in small claims court, cancel any subscription, start a free trial risk-free with our virtual credit card, get refunds and chargebacks, send anything through online fax, pay your utility bills, demand airline compensation, and deal with your annoying neighbors.
As soon as you sign up, we can also put an end to robocalls, copyright infringement, email and text spam, and stalkers and harassers. Our app's abilities don't stop there either—get perfect passport photos, free raffle tickets, compensation for victims of crime, or insurance or warranty instantly!
There's So Much More We Can Assist You With
Check out how else we can help—DoNotPay can:
Sign up now to take advantage of our nifty products!