Myths About Homeschooling—How Much Is True?
Numerous parents across the United States cannot decide whether teaching at home is a good idea because of various myths about homeschooling. You will understand what is true about home education once you research the topic thoroughly.
This is where DoNotPay steps in! We will help you debunk the myths about home-based education so you can make an informed decision. also assists in creating a letter of intent to homeschool to launch the process smoothly.
Most Popular Homeschooling Myths
People who haven't been a part of the homeschooling community tend to have preconceived notions of how the process works, usually involving hard-core religious families in rural areas.
The actual situation is much different, and teaching at home comes with numerous benefits compared to traditional education. Here are some of the most popular myths that are false:
Homeschooled children lack socialization
Home-educated students can't get into college
Parents can't provide their children with the same quality education as certified teachers
There are no extracurricular activities available to homeschoolers
Only religious or faith-oriented families homeschool their children
You can homeschool your child only if you are a stay-at-home parent
You must have a lot of money to afford teaching at home

Homeschooled students

never leave their house
You don't need to inform anyone about homeschooling your child
Do Homeschooled Children Lack Socialization?
One of the most common misconceptions people have about homeschooling has to do with the social skills of homeschooled children. It is often assumed that going to a public school and being surrounded by a bunch of children is the only option to socialize.
The reality is that children taught at home can socialize with their peers as well but under better and monitored conditions. Parents can join co-ops, have their children take courses at learning centers, or pick any extracurricular activity. Kids also get to spend a lot of time with their parents and siblings, which is equally important.
Can Homeschoolers Go to College?
The myth about homeschoolers not having the option of going to college is ridiculous. Not only can the child taught at home acquire a higher education level, but many studies also prove they achieve better results compared to their peers.
It is also worth mentioning that home-educated kids have the right to apply for scholarships to lower their college education expenses.
Do Parents Make Good Teachers to Their Children?
Numerous homeschooling-friendly states don't require parents to be certified teachers to homeschool their children. If you have proper education, you should be able to teach your child by following the curriculum. In modern times, homeschooling has never been easier with all the available resources.
Can Homeschooled Students Participate in Extracurricular Activities?
Since homeschooling lessons last shorter than those in public schools, homeschoolers have more time for extracurricular activities. You only need to figure out what your child is interested in and encourage them to pursue the activity in their free time.
Is Homeschooling Reserved Only for Religious Families?
Believing that only religious families homeschool their children is one of the most common misconceptions. Even though faith is one of the reasons for homeschooling, there are numerous other factors prompting parents to teach at home:
Spending more time with children
Adjusting the learning method to the child's specific needs
Avoiding peer pressure, bullying, and other safety concerns
Is Homeschooling Only Available for Stay-at-Home Parents?
Homeschooling may be a bit easier for stay-at-home parents, but it is not limited only to them. Numerous families find ways to teach at home in various situations, including:
If you are set to teach your child at home, you can always find a way, even if it requires a lot of patience and self-discipline.
Do You Need To Be Wealthy To Homeschool Your Child?
You don't need a lot of money to homeschool your child. The cost of homeschooling will mostly depend on the choices you make regarding the curriculum and learning method. If you wish to go over the top, you can, but there is no need.
Many affordable materials are available to parents nowadays, and if you get creative, you'll end up teaching almost for free.
Are Homeschooled Students Stuck at Home the Entire Time?
Only because the lessons take place at home doesn't mean that homeschooled children never go outside. Homeschoolers spend less time sitting behind the desk compared to their public school peers. You can always take your child out for lessons and plan fun field trips.
Can You Start Homeschooling Without Informing the Authorities?
Before you start homeschooling, you should find out whether you must inform someone about your decision to take your child out of school and homeschool them. This requirement is state-specific, but you usually must send a letter of intent to homeschool to the school district superintendent. Check out the table below to see if this law applies in your state:
Use DoNotPay To Make a Letter of Intent
If you want to create a notice of intent to homeschool fast and stress-free, you should turn to DoNotPay for help. These are the only steps to take:
Select the Notice of Intent to Homeschool product
Provide the information about your school district
Answer a few questions about yourself and your child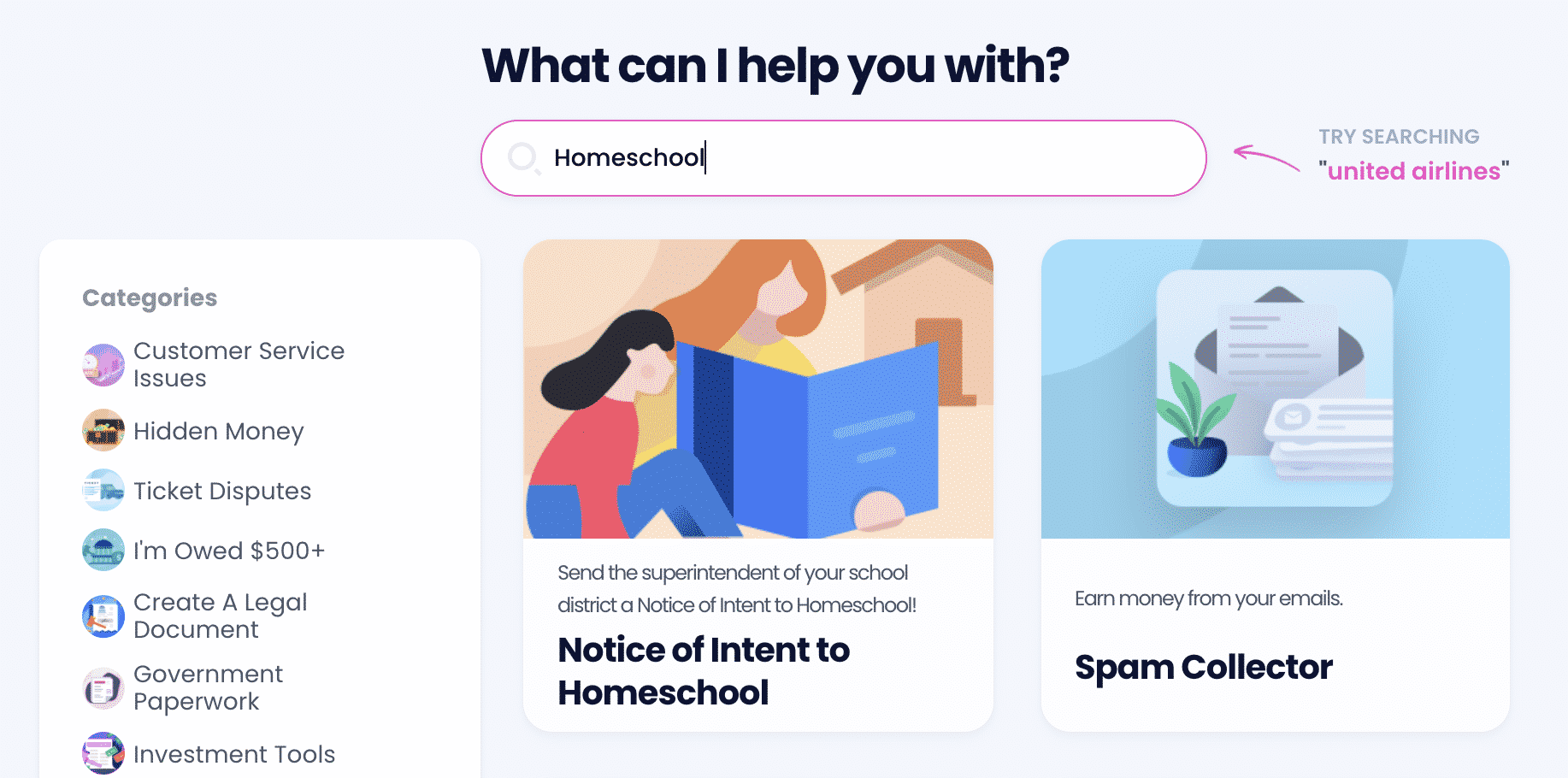 We can also answer the following homeschool-related questions for you:
DoNotPay Has More Products in Store for You!
Our app is adept at solving numerous issues and completing various tasks in your stead.
You may want to use DoNotPay to protect your work from copyright infringement, reduce your property taxes, send defamation demand letters, or file FOIA requests.
Through the same app, you'll be able to skip many bureaucratic hurdles. Here are more tasks DoNotPay can help you with:
Use DoNotPay To Keep in Touch
If your friend or family member is in jail, we can help you locate them and send and receive letters with ease. Do you need to send other letters but hate going to the post office? You can use our Mailing Service product and save time.
We can also help you send online faxes, reach customer service, and contact embassies or government representatives.
In case you're drowning in email and text spam, our app can end it for good. Even if robocalls are bothering you, we have a solution!