Missouri Homeschool Hours Log—A Complete Guide
When homeschooling your children, you must take care of every aspect of their educational routine. Each state, including Missouri, has laws regulating key details, such as contents of curriculums, the number of homeschool hours, and related requirements for educators.
Whether you are a teacher to your child or someone else is tutoring them, creating a homeschool time log is advisable. If you have any doubts about making one for the first time or don't know where to begin, this article is all you need. We will explain the essentials of a perfect Missouri homeschool hours log and show you how to create it with minimum effort!
Missouri Homeschooling Rules in a Nutshell
Despite being one of the easiest states to homeschool your kids in, Missouri still proposes some requirements you have to meet. Here are the most important ones:
You can homeschool up to four children between the age of seven and 17
The state doesn't impose any fees or tuitions for home-based education
Homeschooled students must have 1,000 hours of instruction per school year, including a minimum of 600 hours dedicated to five core subjects:

Math
Science
Reading
Languages
Social studies

400 out of these 600 hours must be attended at the regular homeschool location—usually at your place. The remaining 200 hours can occur at the same place, or you can use them for field trips or other similar activities
Homeschooled children have the right to take up regular public school activities if they want so
It's up to you whether you want to notify the school that you are withdrawing your child from it and starting homeschooling. If you decide to do so, you should write a letter of intent to homeschool to the superintendent of your district. In case you don't want to bother composing the letter or don't have time to do it, you can and have it generated within minutes
It's not possible to start homeschooling in the middle of the school year in Missouri. You can launch your homeschool only on July 1
Do You Need To Keep Homeschool Records in Missouri?
Yes, you do—recordkeeping is a must for all children under the age of 16 in Missouri. Even though you don't need to submit the records to anyone, there must be evidence of the homeschooling process.
The person who teaches the student—whether that's a parent or certified teacher—has to create:
Homeschooling time log of attended classes
Plan book containing the records related to subjects and specific assignments
Portfolio containing samples of student's work
Record of student's evaluation including:

Daily or weekly grades
Professional test results
Weekly or monthly progress reviews
How To Create Your Homeschool Hours Log
Keeping track of the homeschool hours can be exhausting, but you can streamline it with the right plan. Here are the steps to follow:
Instructions
Details
Decide on the type of log you want to create
You can choose the traditional paper planning option or an online time log program if you are more tech-savvy. The point is to opt for the method that works best for you and meets your needs. You can also download printable time log sheets from various online platforms
Learn what to include in homeschooling hours
Besides core subjects, the student can benefit from other activities that count as homeschooling, such as:

Arts and crafts
Doing chores and cleaning
Playing instruments and listening to music
Hobbies and field trips

You can also include these in your hours log

Start tracking
Once you know what activities to include, you should make a time log. The best way to do it is to:

Create a simple chart containing all the subjects and weekdays
Write down the number of hours your child spent on each subject at the end of the day

It's not recommendable to skip days since you may get confused and forget how many hours you should log
Need a Top-Level Letter of Intent? DoNotPay Saves the Day!
Writing a notice of intent to homeschool is one of the most tedious administrative chores you may have as a parent of a homeschooled student. Doing it from scratch may take a lot of time, but DoNotPayoffers an efficient solution!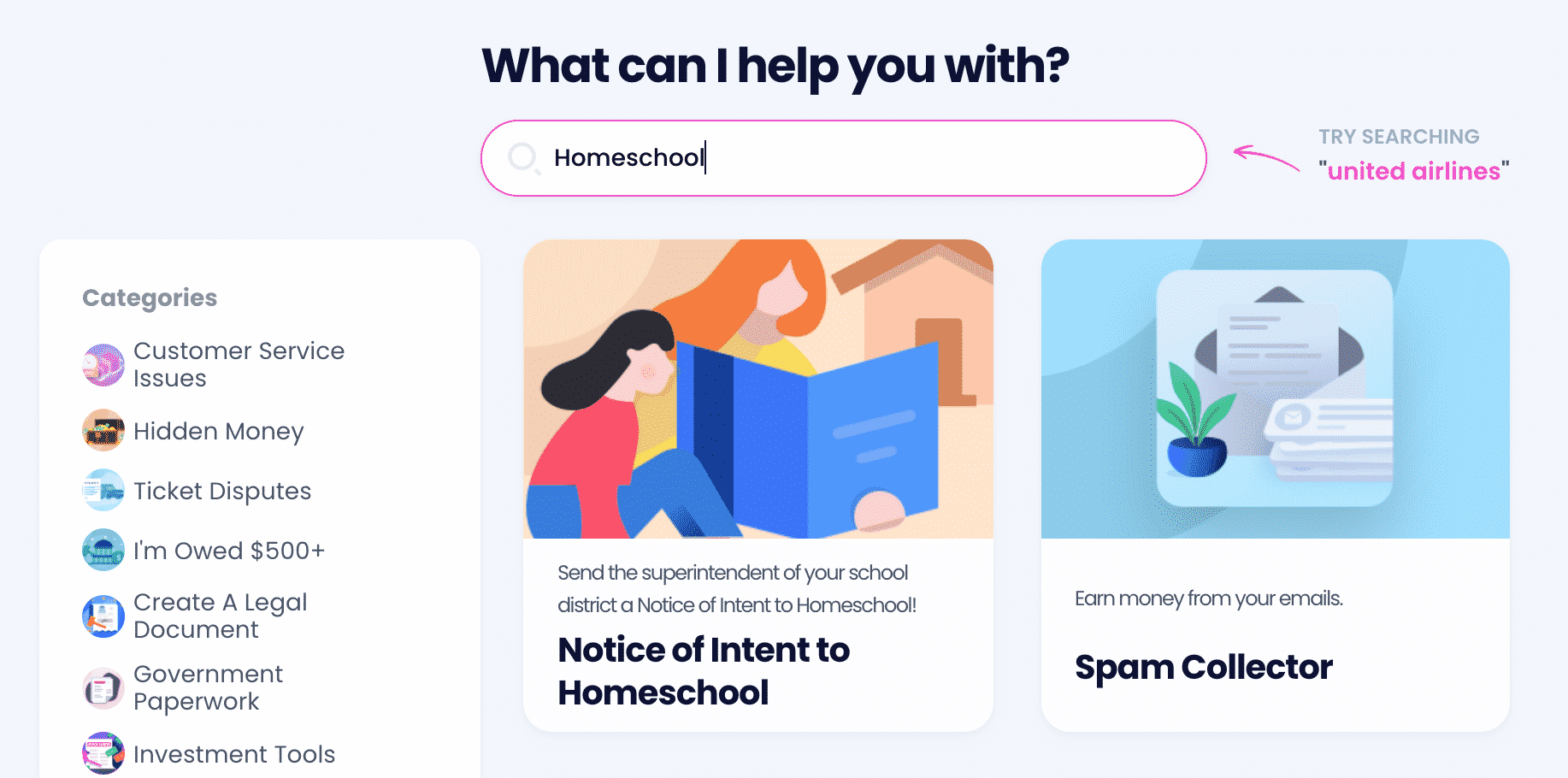 Here's what you should do:
Choose Notice of Intent to Homeschool
Select the district
Give us the relevant info about you and your child
We can generate a digital version of your letter of intent ready for download or send the notice in your name right away. Does your state require you to have the letter of intent notarized? We can arrange a meeting with an online notary and help you skip time-consuming visits to notary offices easily!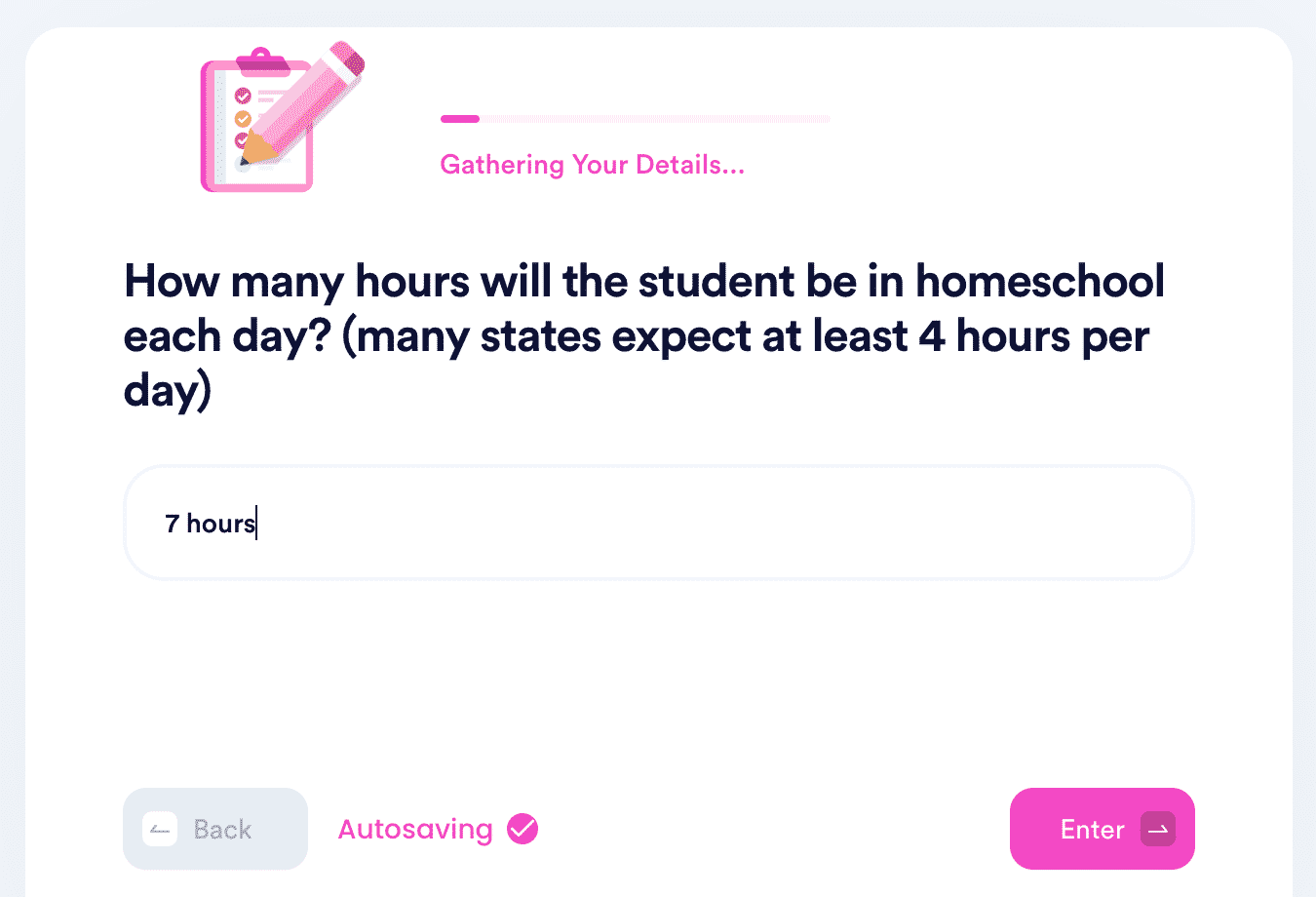 Don't Let Admin or Legal Issues Wear You Down—Hand Them Over to DoNotPay
Do you believe you may have some missing assets? Use DoNotPay's nifty product before the government claims them! Have you ever wanted to enter sweepstakes without purchasing anything? Our app will sign you up for them quickly! Trying to figure out how to reduce your property taxes or utility bills? DoNotPay can show you the way. Want to avoid getting charged for free trials that never fail to auto-renew into paid subscriptions? We'll help you cancel them before they expire.
Anything else you may need? Check out how our app can:
Check Out Our Other Robust Products
It doesn't stop there—DoNotPay can help you send a defamation demand letter, create passport photos, get gift card cash back, get any document notarized, request access to public records, claim insurance and warranty, request a college application fee waiver, appeal parking tickets, and much more.
Sign up now to get access to any of our products for one low monthly fee!