The Ins and Outs of a Stellar Homeschool Portfolio—With Suggestions
Homeschooling is an increasingly attractive option for parents and children who choose it over the public school system due to:
Health issues
Religion
Enhanced or decreased capabilities
Even if you decide to homeschool your kid, you have to keep track of their progress, and a good way to do it is by keeping a homeschool portfolio.
Read our guide to get all the answers about homeschool record keeping and sign up for our service if you're thinking about homeschooling your kids and need assistance.
DoNotPay can help you draft and send a letter of intent to homeschool your child and provide crucial info about the specific homeschool laws, curriculum, and more.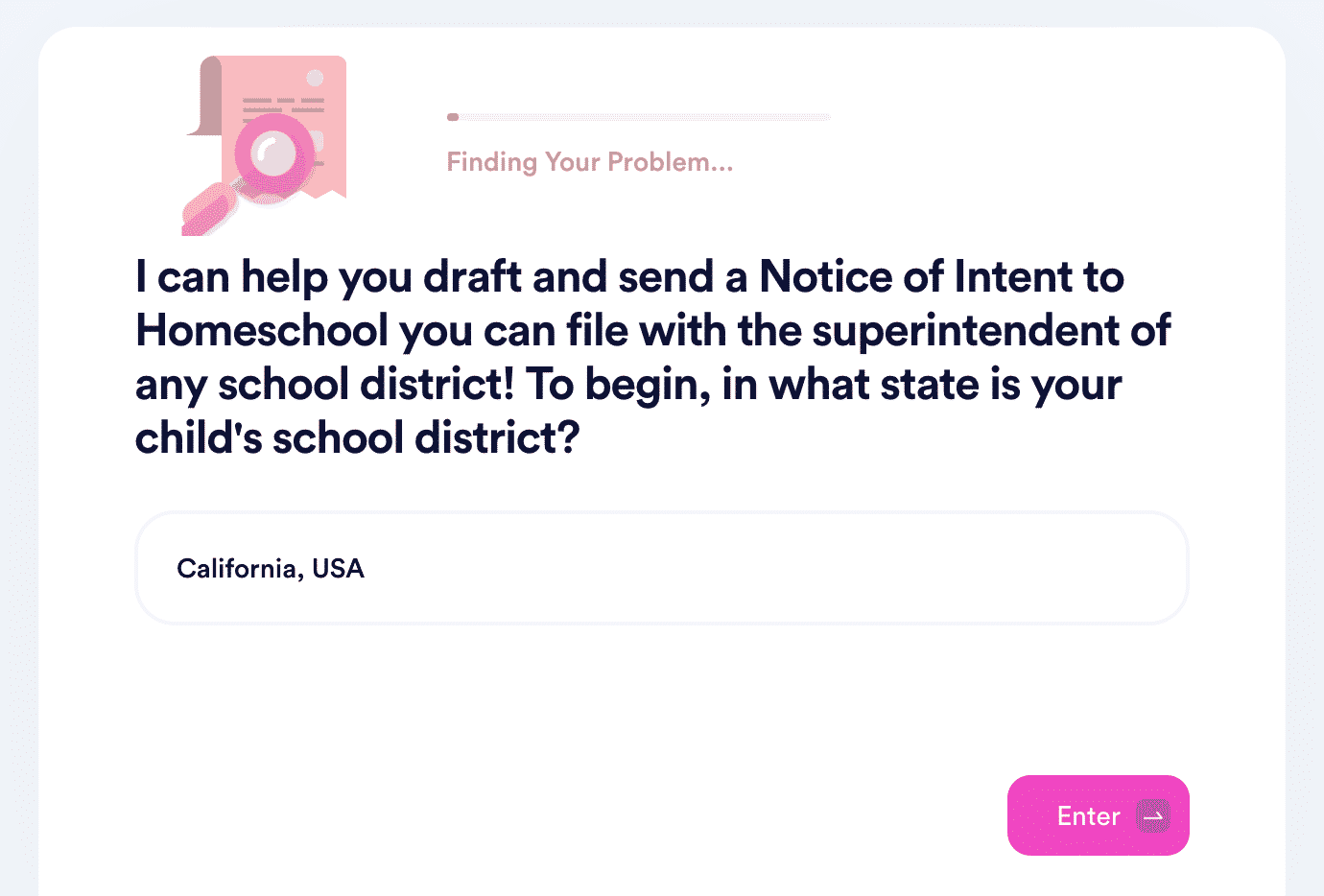 What Is a Homeschool Portfolio?
A homeschool portfolio is a document that records all of a homeschooled student's progress in education. It shows a student's accomplishments, knowledge, and the effectiveness of homeschooling.
Not only is the portfolio helpful if you wish to get started in homeschooling, but it is also mandatory in some states—at least if your child wants to go to college. Many of the top colleges request a portfolio from all of their applicants.
Note that some of the easiest states to homeschool do not require a formal homeschool portfolio, but you should still keep one. These portfolios can have a certain emotional value in your and your child's life.
How To Make a Homeschool Portfolio
Keeping a homeschool portfolio isn't difficult since you have absolute freedom to make one as you please. If you're not sure how to write one, here are some suggestions about the most common types of homeschool portfolios to get you started:
| Portfolio Idea | Explanation |
| --- | --- |
| Accordion files | This option is for organized people who'd like to sort everything in their portfolio by date, subject, etc. It's an easy-to-manage and accessible way of keeping a paper portfolio, and it's specifically suited for an arts and crafts curriculum |
| Digital portfolios | People who prefer having an electronic copy of their files can keep digital portfolios. Paper gets damaged, lost, or misplaced, but storing data in a computer hardly involves any risk. The sorting options with this method are endless—you can keep everything in a single folder or divide it into many subfolders for every subject or project |
| Three-ring binders | This is a great alternative for keeping writing assignments, transcripts, and other paper portfolio elements. You can add protector pages for security and sort the binder tidily with dividers and photo album pages if necessary |
The Must-Know Homeschool Portfolio Checklist
Now that you have received some suggestions about the types of homeschool portfolios, you should know which elements should be included. Note that not everything mentioned below will apply to your child's portfolio, but the list will give you a solid base to build upon. A homeschool portfolio should include:
Mandatory legal documents for homeschooling in your state
Documents that show homeschool hours, attendance, absence, etc.
Table of contents that sums up the portfolio
Writing and lesson samples
List of homeschool subjects and the learning goals for each of them
Logs of the student's activities during a set period
References to all educational materials used for homeschooling
List of achievements accomplished by the student
Records of tests and other proof of progression
Photo albums, field trip tickets, and other memorabilia not suited for paper records
Anything else related to the homeschooling project that's worthy of recognition
DoNotPay Supports Homeschooling Parents by Providing the Much-Needed Bureaucratic Aid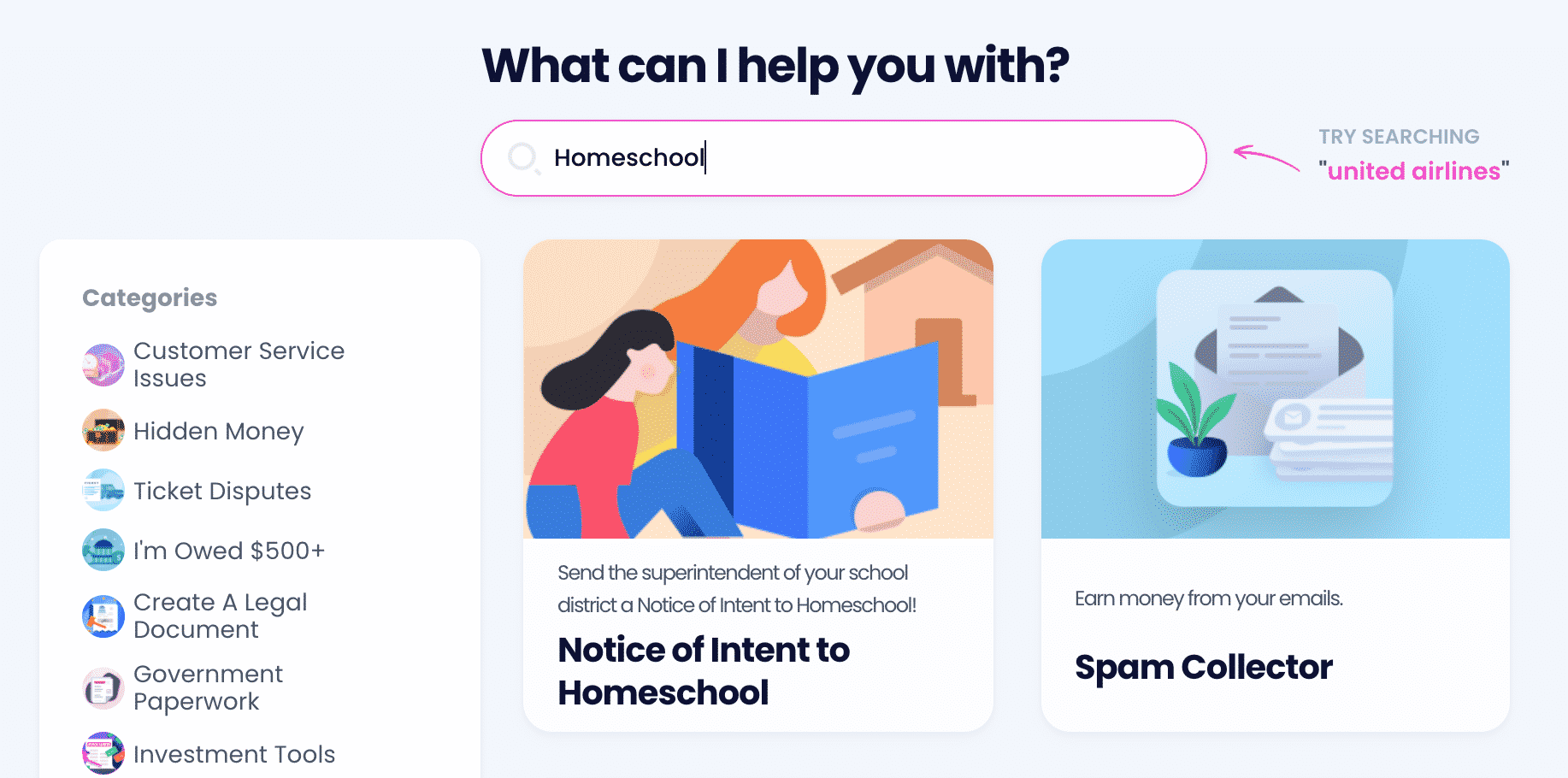 Many people wonder 'should I homeschool my child' when they hear about the requirements and rules that seem to complicate the process. DoNotPay is here to help you by providing information and handling the paperwork.
The first requirement in most states is to file a letter of intent to homeschool with your child's school district—whether you decide to start homeschooling in the beginning or middle of a school year.
DoNotPay can help you draft this document within minutes if you follow the prompts below:
Select our Notice of Intent To Homeschool feature
Tell us about your school district
Provide your and the student's information
Once you click the Submit button, we will:
Fill out the notice
Send it on your behalf or let you download the PDF file
Help you notarize the letter if necessary. You can use our Notarize Any Document product to handle the notarization of your letter in a snap
You Don't Have To Do It Alone!
Learning how to homeschool your child doesn't happen in one day because you have to take many aspects into account, such as:
How much does homeschooling cost?
Should you homeschool your kid or hire a professional?
What requirements do you need to fulfill to homeschool your kid?
What does the homeschool process look like?
Homeschooling isn't a joke, but if your child's school district supports it, that means there are other parents struggling like you. Why not join forces with them and give each other tips?
If you have the intent to homeschool, you can always rely on DoNotPay for assistance. Nobody becomes a homeschool teacher in a day, but we can help overcome your initial struggles!
Explore DoNotPay's Vast Database To Handle Administrative Issues Head-On
Dealing with administrative issues is never a fun experience, but you can save yourself from unnecessary hassle with our app! Once you sign up for DoNotPay, there is little you can't do. Aside from helping you deal with everyday tasks, such as reaching customer services, you can also use our app to:
Make Your Legal Troubles Disappear
Is a company giving you a hard time? Don't fret! DoNotPay can walk you through the process of suing it in small claims court and help you get the justice you deserve!
The best part is that assisting you take companies to court isn't all our app can do! We can also help you with: