Handy Tips on How To Socialize Your Homeschooled Child
Socialization has always been one of the greatest challenges of homeschooling. While learning can be much easier at home, children may feel lonely or bored if they don't play or spend time with their peers.
As a homeschooling parent, you should find the best way to help your kids have social interactions, and this article can give you some excellent ideas! Our tips will help you discover how to socialize your homeschooled child without compromising their motivation and studying routine. That's not all—if you have just decided to start homeschooling, we will also teach you how to compose a great letter of intent to homeschool quickly and efficiently .
The Concept of Homeschooling Explained
People opt for homeschool for various reasons, including:
Sickness
Special needs that can't be catered to in public schools
Exposure to bullying and violence
Belief that they can provide better education for their kids than regular schools
Frequent family relocations due to work obligations or other similar reasons
To check if they can homeschool their children, parents must consult state homeschool laws and check the local requirements. These statutes propose specific conditions under which this learning method can be implemented, such as:
Available types of homeschooling
Recommended contents of homeschool curriculums
Compulsory subjects
Required number of homeschool hours per day
Required number of homeschool days per school year

Teaching requirements

Notice requirements—when withdrawing your child from a regular school
Assessment requirements
If all the prescribed criteria are met, the child can start learning at home with their parents, professional teachers, or someone else with the necessary qualifications. In most states, homeschooling can start both at the beginning or in the middle of the school year.
How Does Homeschool Affect Your Child's Socialization?
The answer is—it depends on many factors.
In regular schools, students have more opportunities to meet other children. Once you decide to take your kid out of the public institution, they start spending more time at home with you. While this can be quite beneficial for their learning progress, they still need communication with other people out of the house. Lack of socialization may cause social awkwardness and other similar issues that may affect the child and their interpersonal relationships in the future.
The good news is—you can prevent this from happening. Besides motivating your child to study and progress, you can encourage them to do extracurricular activities and meet other kids. This way, they won't feel like outsiders and will make more friends.
Popular Ways To Socialize Your Homeschooled Child
What are some great methods for socializing your children while homeschooling them? The following table lists a few great ideas you should consider:
Method
Details
Become a member of a local homeschool group or co-op
Homeschool support groups and associations are made to connect homeschoolers and offer them the necessary guidance. They usually organize activities, such as field trips and picnics, to help students socialize and make friends with other kids
Enroll your child in the courses provided by local public schools
In most states,

homeschooled students

are allowed to attend courses and extracurriculars offered by regular schools. Check your school district rules to see if your child is eligible for such activities. If they are, get in touch with the public school authorities and inquire about the available options, such as sports, choir singing, or art workshops
Let your child become a member of a specific club
You don't need to rely on public schools only to discover great courses and clubs. The availability of these options usually depends on the area you live in. The child can join:

Scouts
Martial arts classes
Recreational classes
Community college courses
Local libraries or book clubs
Faith-related organizations
Non-profit organization programs

Visit other places with many children
Zoos and museums are also places where your child can meet some peers and have fun. These institutions organize various programs for students and even encourage them to volunteer at local events. You can also go to:

Parks
Art galleries
Aquariums
Nature centers
Botanical gardens

Send your child to a summer camp
There's a wide spectrum of summer camps, including:

Traditional camps
Religious camps
Sport-oriented camps
Music camps

Choose the type that fits your child's interests. This way, they will make friends with kids who have the same or similar hobbies and affinities. All you should do is search for suitable options on the internet or through support groups
DoNotPay Creates a Flawless Notice of Intent in a Snap
A proper letter of intent to homeschool is an unavoidable step when it comes to teaching your kid at home. In most states, you must submit it to the school authorities to inform them about taking control of your child's education. If writing such a document seems like too much work, DoNotPay can help you skip it and compose the letter for you in three simple steps!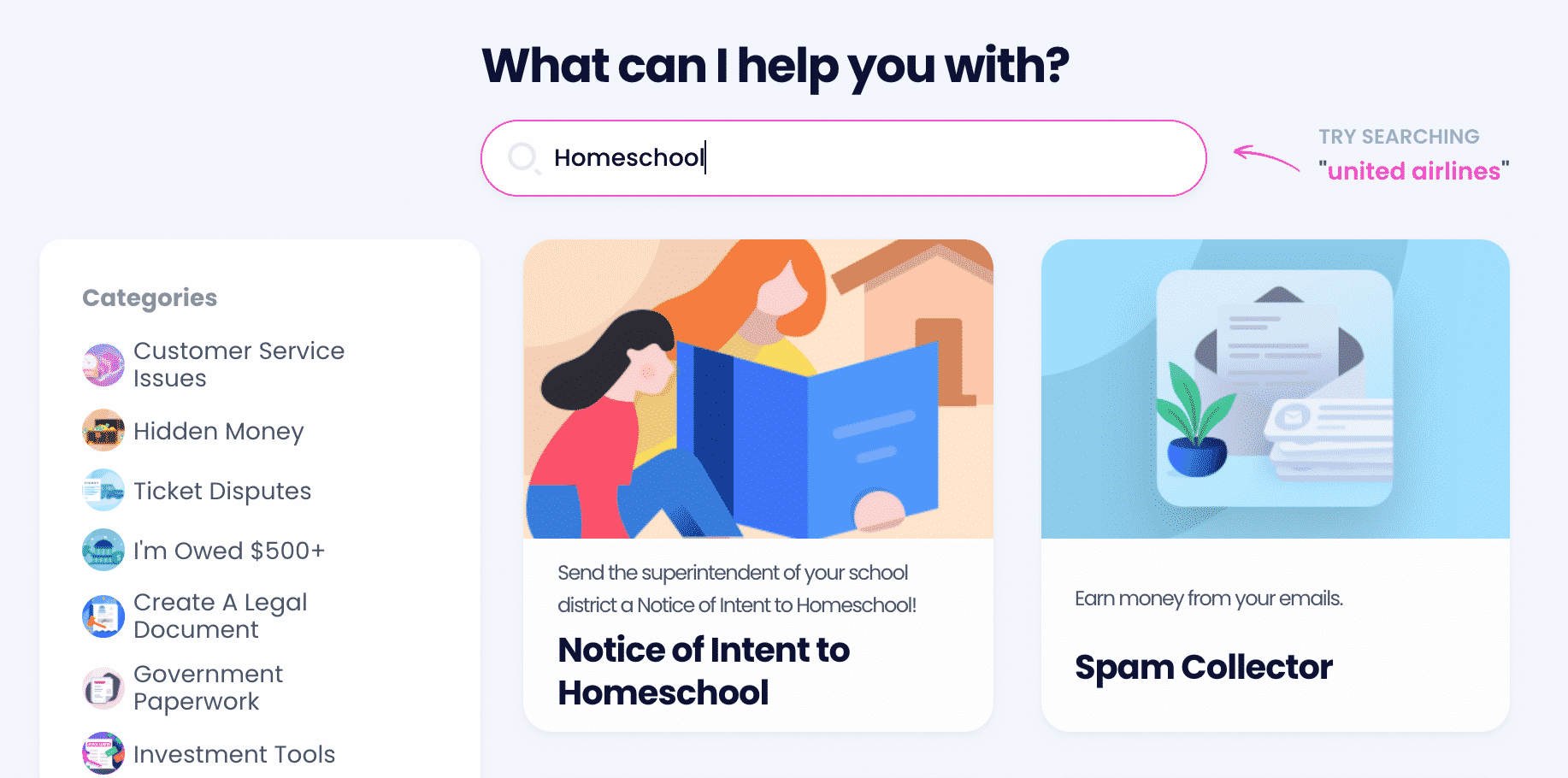 Here's how it works:
and log in
Choose Homeschool Notice of Intent
Give us more info about:

Your school district
You and your child
Desired homeschool plan
The result is a complete letter of intent with all required elements! We can offer you an electronic version of the document ready for download or forward it to the chosen superintendent automatically. Our app can also assist you in having your letter notarized by an online notary without burdensome and time-consuming procedures.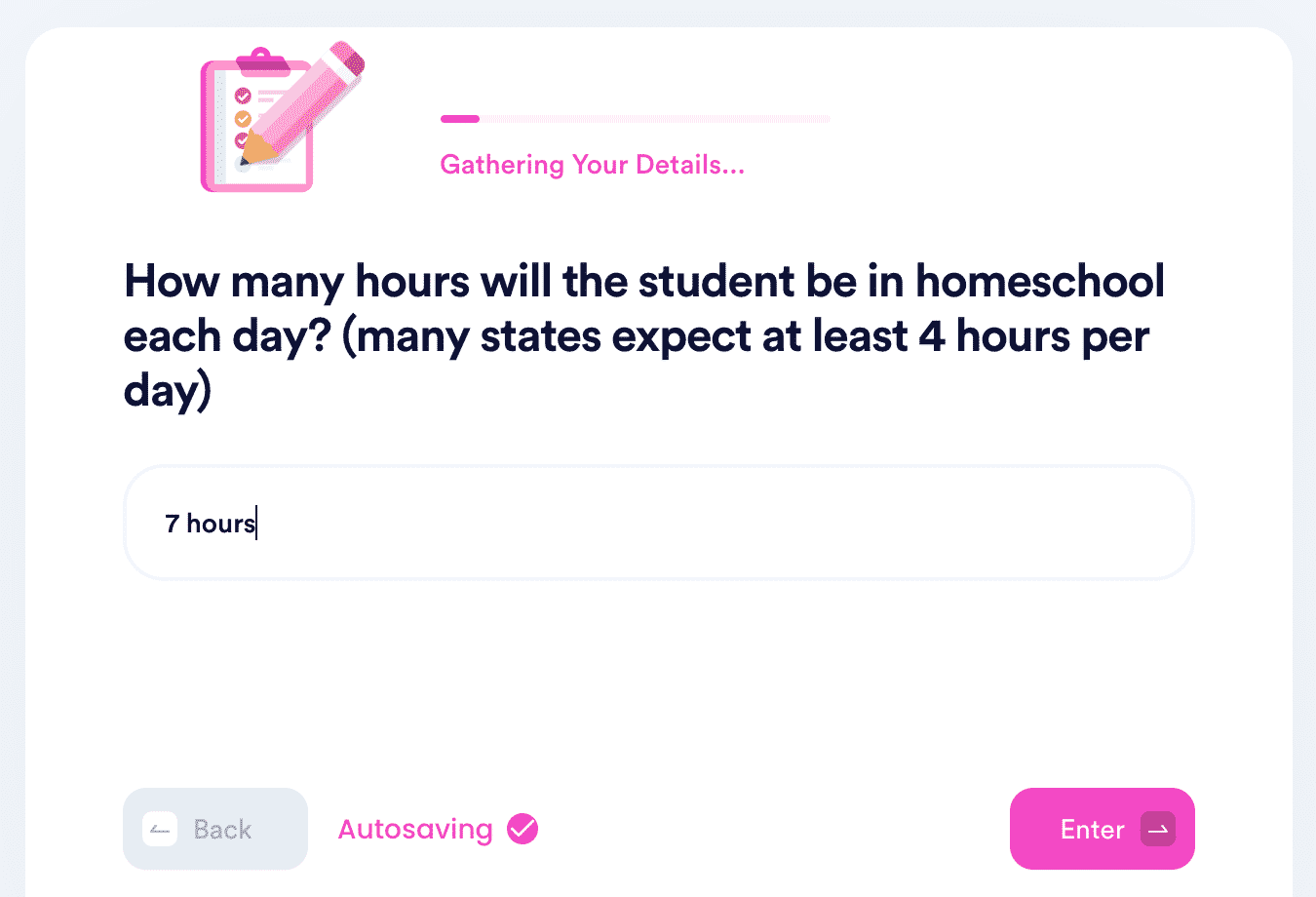 Still not sure about particular homeschooling aspects? Check out our knowledge base and discover:
Don't Let Admin or Legal Issues Wear You Down—Hand Them Over to DoNotPay
Do you believe you may have some missing assets? Use DoNotPay's nifty product before the government claims them! Have you ever wanted to enter sweepstakes without purchasing anything? Our app will sign you up for them quickly! Trying to figure out how to reduce your property taxes or utility bills? DoNotPay can show you the way. Want to avoid getting charged for free trials that never fail to auto-renew into paid subscriptions? We'll help you cancel them before they expire.
Anything else you may need? Check out how our app can:
Check Out Our Other Robust Products
It doesn't stop there—DoNotPay can help you send a defamation demand letter, create passport photos, get gift card cash back, get any document notarized, request access to public records, claim insurance and warranty, request a college application fee waiver, appeal parking tickets, and much more.
Sign up now to get access to any of our products for one low monthly fee!