Do Homeschool Parents Get Paid for Being Teachers to Their Kids?
Many people quit their full-time jobs to become homeschool teachers to their children, which leaves the family on a shoestring budget. Required materials and other supplies increase the existing expenses even more. This is the moment when the question "Do homeschool parents get paid?" arises.
The article we prepared for you brings the answer to this and many more related questions. Find out if you can get compensation for homeschool teaching and get additional financial support for this endeavor from other sources.
As an extra tip, we reveal how you can get a notice of intent to homeschool without manual drafts by !
Do Homeschooling Parents Get Any Compensation for Teaching Their Kids?
The answer is no. If you choose to withdraw your kids from school and start educating them at home, you don't get paid by the state. Switching to homeschooling isn't official employment or a full-time teaching job. It's a personal decision and free choice of parents and their children, which means the family is responsible for all aspects of this learning method, including all related costs.
The only way to get paid for such services is to get a special certificate that allows you to teach other kids as well. As a certified teacher, you can be hired by other parents and earn by educating their children in one of the following ways:
Teaching within a specific co-op
Giving online and offline classes
Founding a chart or umbrella school
The bad news is that not all U.S. states' homeschool laws allow this option. Many areas, including Washington, let parents homeschool their children only. To check what the options in your state are, read through the local laws or contact some of the local homeschool support groups.
What Do Homeschooling Costs Include?
Homeschool expenses cover various aspects, such as:
Suitable curriculum
Books for all core and additional subjects, including textbooks, workbooks, and test booklets
Other school supplies—notebooks, pencils, sharpeners, folders, and other necessary items
Various extracurricular activities, such as sports, field trips, educational film projections, and classes in local co-ops or organizations
Ways To Find Help With Homeschool Expenses
Paying for homeschooling is difficult when living on a single salary or with no income at all. To help you get more money for financing your homeschooling adventure, we compiled a list of all available resources. Check out the details in the table below:
Method
Explanation
Consider tax credits
In some states, you can get a tax deduction if you have homeschooled students in your family. If this option is approved in your area, you can use it only if you are homeschooling children of high school age and above. You also won't be allowed to deduct the price of school supplies and other necessary materials on your assessed tax amount
Apply for Homeschool Legal Defence Association (HSLDA) grants
HSLDA Compassion offers several grants for struggling homeschooling parents, including:

Curriculum grants
Disaster relief grants
"Meet the Moment" grants for school groups

Become a member of the Coalition for Responsible Home Education
This association applies for huge grants and disburses the money to multiple families in specific homeschool districts. If you become a member, you can also connect with other homeschooling parents and get other ideas for seeking support
Search for other federal and state grants
Find the available grants and funding opportunities in your state and check whether the government offers some financial support programs. This type of help may not be enough to cover all homeschooling expenses, but it can help significantly
Let your child compete in public school athletics
Some public schools allow homeschooled students to compete in sports. This opens new grant and financial support possibilities for your family, as students may qualify for attractive financial aid options reserved for athletes only
Can Parents Pay Another Person To Homeschool Their Child?
Yes, hiring someone else to coordinate your child's educational routine is an acceptable homeschool solution in many states. There are three options you can consider:
Enrolling your child in paid courses offered by a local co-op within your homeschool district
Paying an experienced individual for teaching your kid at home
Combining school hours at home and courses in homeschool associations and other similar organizations
The availability of these options should be confirmed by checking the state homeschool regulations.
Need a Ready-Made Letter of Intent To Homeschool? Try DoNotPay
Whether you start homeschooling your child at the beginning or in the middle of the school year, the first step is to compose a decent letter of intent to homeschool. It should include the reason for withdrawing your child from the regular school and a description of the desired homeschool plan.
Writing it yourself can be time-consuming, especially if you have never created such a document before, but DoNotPay can help!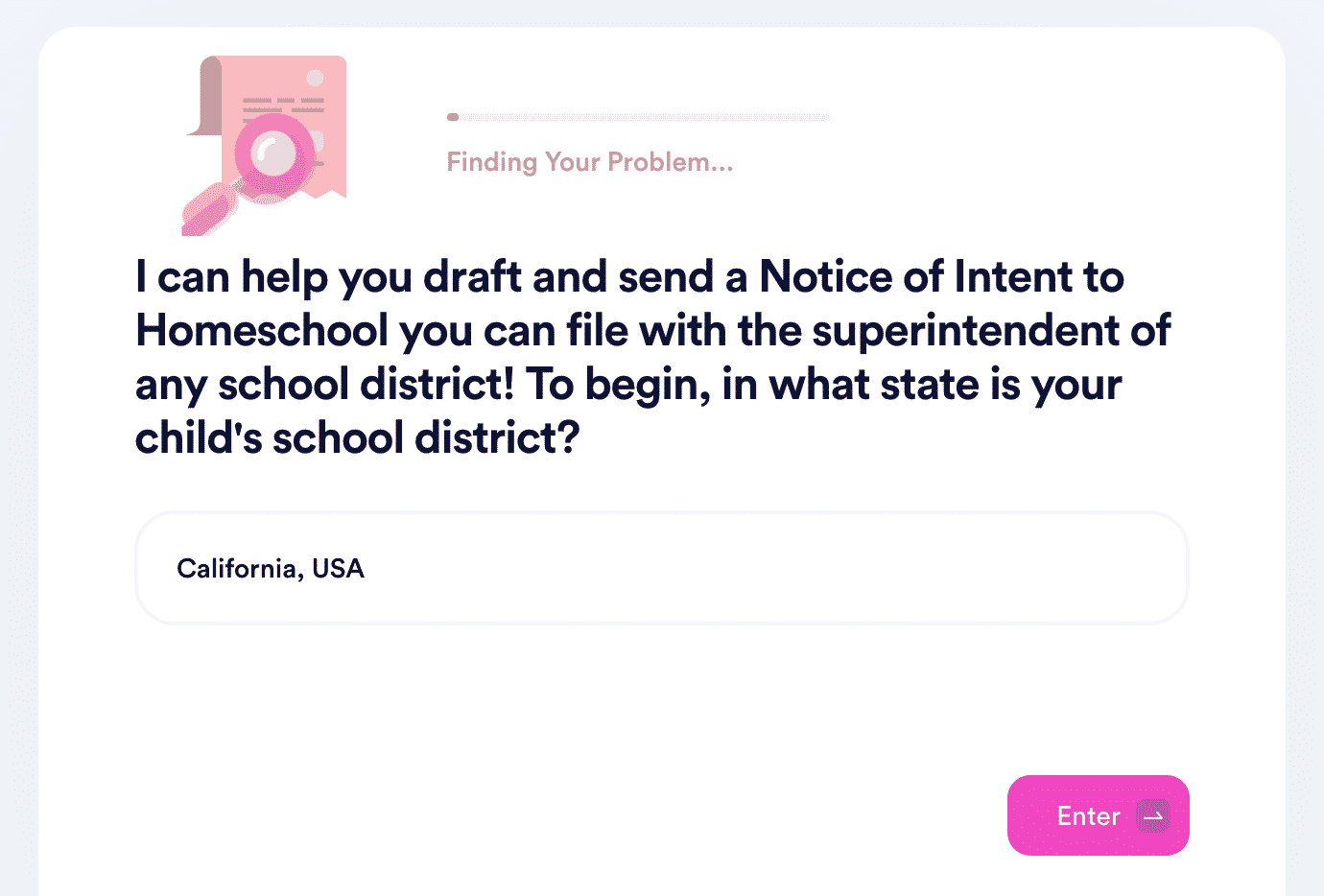 All you need to do is answer a few of our chatbot's questions. We will generate a complete notice of intent according to the details you provide us with and forward it to the school superintendent in your stead.
Here's what the process looks like:
and log in to your account
Select the Letter of Intent to Homeschool product
Tell us which school district you belong to
Provide a few basic pieces of information about your family and the desired homeschool method
Do you want to submit the letter yourself? We can provide you with an electronic copy of the document and even let you have it notarized in the same app if necessary!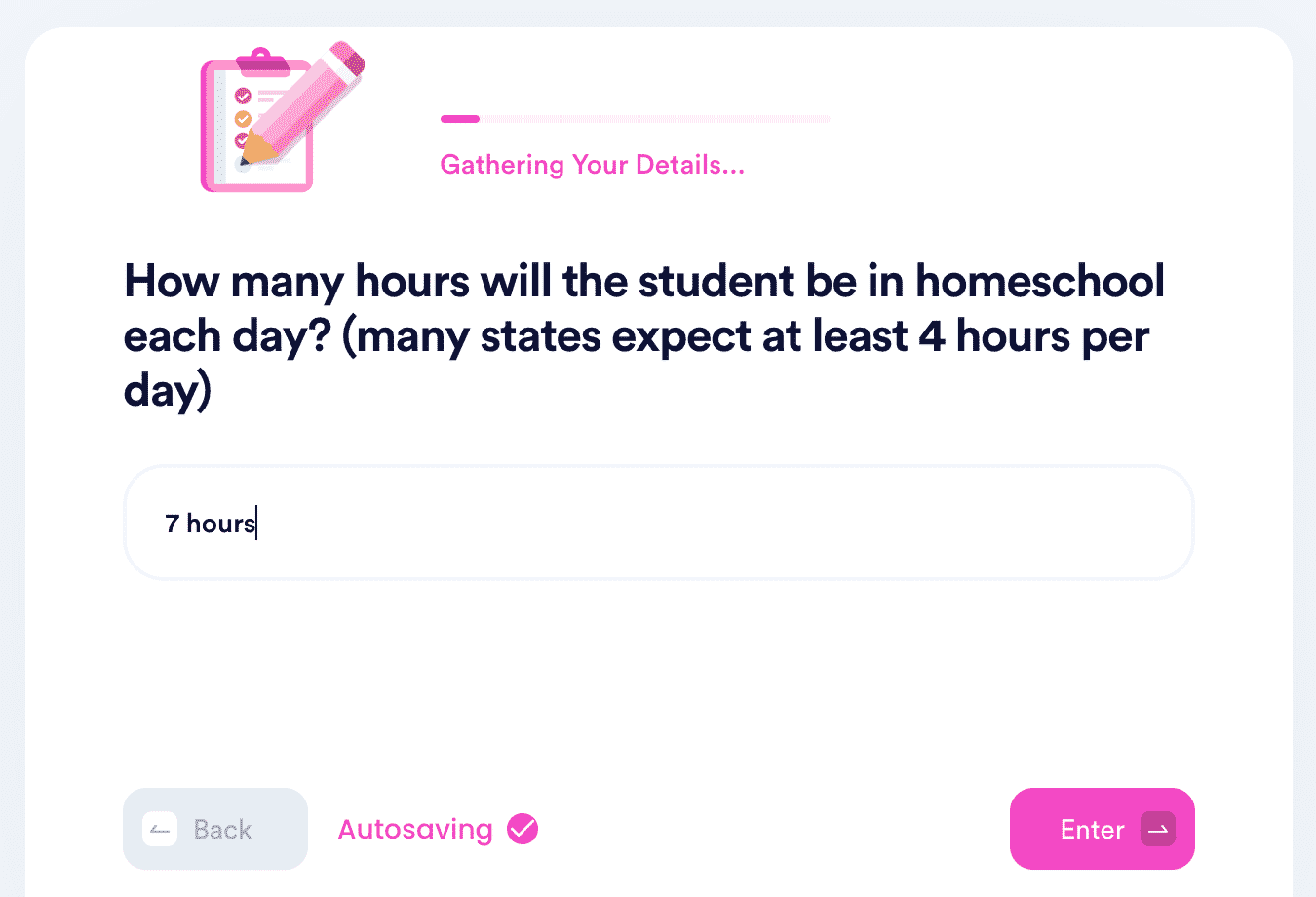 Don't Let Admin or Legal Issues Wear You Down—Hand Them Over to DoNotPay
Do you believe you may have some missing assets? Use DoNotPay's nifty product before the government claims them! Have you ever wanted to enter sweepstakes without purchasing anything? Our app will sign you up for them quickly! Trying to figure out how to reduce your property taxes or utility bills? DoNotPay can show you the way. Want to avoid getting charged for free trials that never fail to auto-renew into paid subscriptions? We'll help you cancel them before they expire.
Anything else you may need? Check out how our app can:
Check Out Our Other Robust Products
It doesn't stop there—DoNotPay can help you send a defamation demand letter, create passport photos, get gift card cash back, get any document notarized, request access to public records, claim insurance and warranty, request a college application fee waiver, appeal parking tickets, and much more.
Sign up now to get access to any of our products for one low monthly fee!