What Is the Only U.S. State Without a Mandatory Seatbelt Law for Adults—Find Out Now
Injuries from car crashes claim many lives every year. Wearing seatbelts reduces the number of fatalities and serious injuries sustained in an abrupt stop or car crash. This is because seatbelts hold you in your seat and prevent ejection from the vehicle. All states except one have seatbelt laws that require adults to buckle up.
This guide will explain the United States seatbelt laws and answer your top questions, such as:
If you are cited for a seatbelt violation, you will also learn how to get the ticket dismissed easily.
Why Are There Seatbelt Laws?
Wearing a seatbelt can save your life. To emphasize this and hopefully save more lives, governments create and enforce seatbelt laws.
The first federal seatbelt law took effect in 1968 and required all new cars to be equipped with safety belts for all seats. The federal three-point seatbelt law only requires vehicles to have a lap and shoulder belt, but the state legislation determines who must wear a seatbelt and what the penalties are.
New York was the first state to create a seatbelt law requiring front-seat passengers to use seatbelts in 1984. Others followed New York's example, and now, New Hampshire is the only state without seatbelt laws for adults. New Hampshire has previously attempted to create mandatory adult seatbelt laws, notably in 2009 and 2018. In both cases, the bills have been shot down in the Senate. This may or may not have to do with the state's official motto—Live Free or Die.
How Do the Seatbelt Laws Vary Across the States?
Here are the notable ways in which the laws vary:
How the seatbelt laws are enforced
Whom the seatbelt laws apply to
What the penalties for seatbelt violations are
How Are Seatbelt Laws Enforced?
States enforce seatbelt laws in two main ways:
Primary enforcement—A law enforcement officer can stop and cite a driver solely for not wearing a safety belt. Currently, 34 states and the District of Columbia have primary enforcement seatbelt laws
Secondary enforcement—The law enforcement officers can only cite passengers for failing to wear seatbelts if the vehicle was stopped for another traffic violation first
Most states with primary enforcement started with secondary enforcement. Others, like Montana, faced opposition and have never succeeded in changing a secondary enforcement law to a primary one. Research shows that primary seatbelt laws are more effective than secondary laws.
Whom Does the Seatbelt Law Apply To?
Who is required to wear a seatbelt? This depends on the state. Some states have a primary seatbelt law for front-seat riders and a secondary law for rear car seat occupants. Others require seatbelt use in all seating positions. The laws can also dictate different seatbelt usage requirements based on age.
What Are the Penalties for Seatbelt Violations?
In most states, violating the seatbelt regulations results in a ticket. The cost of a seatbelt ticket varies between states. Some states, like Alaska and Arizona, also assess points for seatbelt violations.
Accumulating a certain number of points may require the violator to take driver improvement classes or lead to a suspension of their driving license. Failure to pay the fines or comply with other ticket requirements, like appearing in court, can mean additional penalties.
Adult Seatbelt Laws by State
Do you know that, in some states, a seatbelt offense is a moving violation? Find all the specific details about any state's seatbelt laws—including seatbelt fines by state—in the table below:
Seatbelt and Child Restraint Laws by State
Child passenger safety laws are different from adult seatbelt laws, and all states have them. The fines for child car seat violations may be waived if you provide proof of acquiring the appropriate child restraint system in some states.
Find the detailed child passenger safety laws for different states in the table below:
How To Dispute a Seatbelt Ticket
Got a seatbelt ticket? If the ticket was issued unfairly, you don't have to bow your head and pay the fine. You have the option of appealing the ticket. Disputing a citation can help you maintain a clean driving record and save you from other consequences.
Seatbelt tickets can be disputed in two ways:
Propose reasonable doubt—If the officer did not stop you to check whether you had a seatbelt on, you can plead not guilty. You will need to provide a credible explanation why the law enforcement officer thought you weren't buckled up
Mount a due diligence defense—You can plead guilty and provide valid reasons why you should not be convicted for the violation—for instance, you have a medical condition that prevents you from wearing a seatbelt
Are you having trouble presenting your argument? Don't miss out on the benefits of getting a ticket dismissed—use DoNotPay. We know what makes a solid defense and will help you draft the best appeal letter in a minute.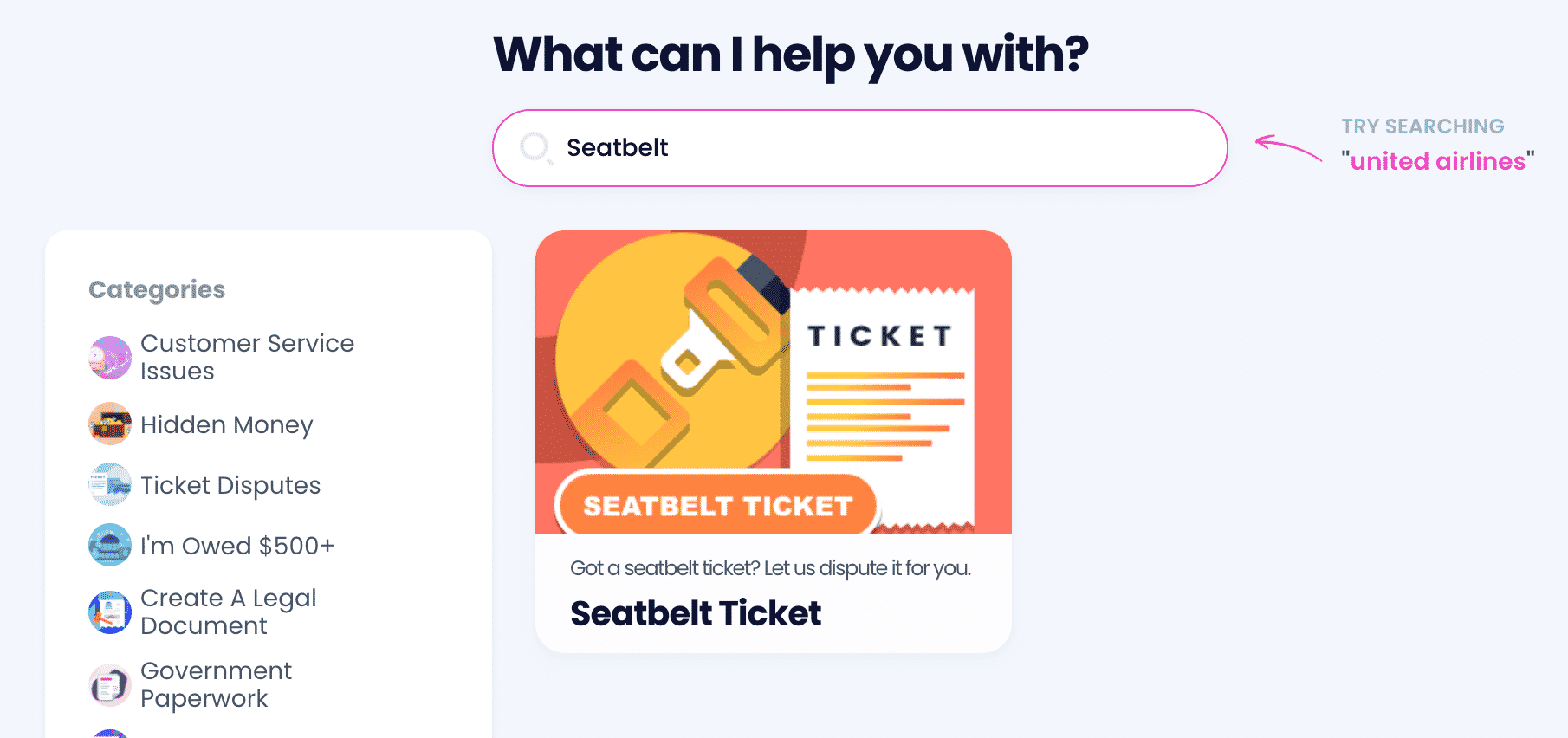 Get Your Seatbelt Ticket Dismissed With DoNotPay
Do you have a valid reason for fighting the ticket? Building a strong argument around it will help you to get out of that tricky situation. Fortunately, you don't have to spend hours drafting an appeal letter yourself or spend your money on an attorney.
Our app will generate an appeal letter and send it to the authorities on your behalf in under five minutes. All you need to do is:
Select the Seatbelt Ticket tool
Tell us the argument you prefer—that you were actually wearing a seatbelt or had a valid reason for the violation
Tell us more about the situation by answering a few questions and upload a photo of the ticket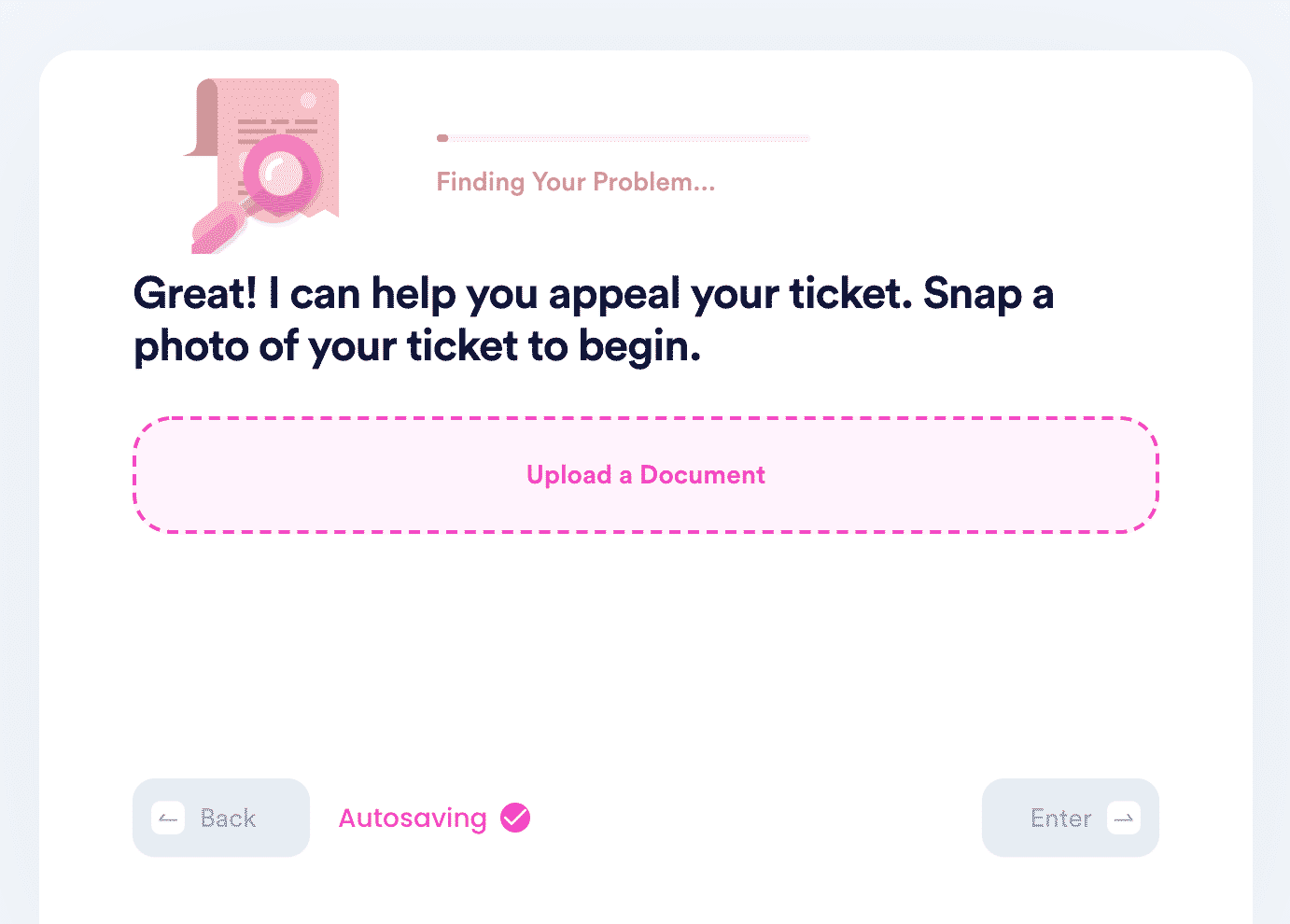 Make Your Money Troubles Go Away
If you want to join free trials and not worry about automatic renewals, our app is what you need. With DoNotPay's virtual credit card, you'll be able to avoid charges and keep your personal details to yourself.
We can also help you get a refund or request a cancellation.
Getting your money back is our field of expertise—Use DoNotPay to:
No Task Is Too Difficult for DoNotPay
Signing up for our app brings you an AI-powered assistant. Check out the benefits of having a DoNotPay account in the table below:
| Solve an Issue | Complete a Task |
| --- | --- |
| | |