What Happens if You Don't Pay a Seatbelt Ticket—Find Out With DoNotPay
Not wearing a seatbelt is one of the most ticketed traffic violations in the U.S. Seatbelt violation fines and related court fees form a major part of the municipal revenue in most states.
Are you wondering what happens if you don't pay a seatbelt ticket? The answer is, you can become:
Do you want to avoid paying fines? Your best legal recourse is to get your seatbelt ticket dismissed in court. DoNotPay's Seatbelt Ticket Appeal product can create a personalized appeal statement and send it to the authorities. to submit your appeal within minutes!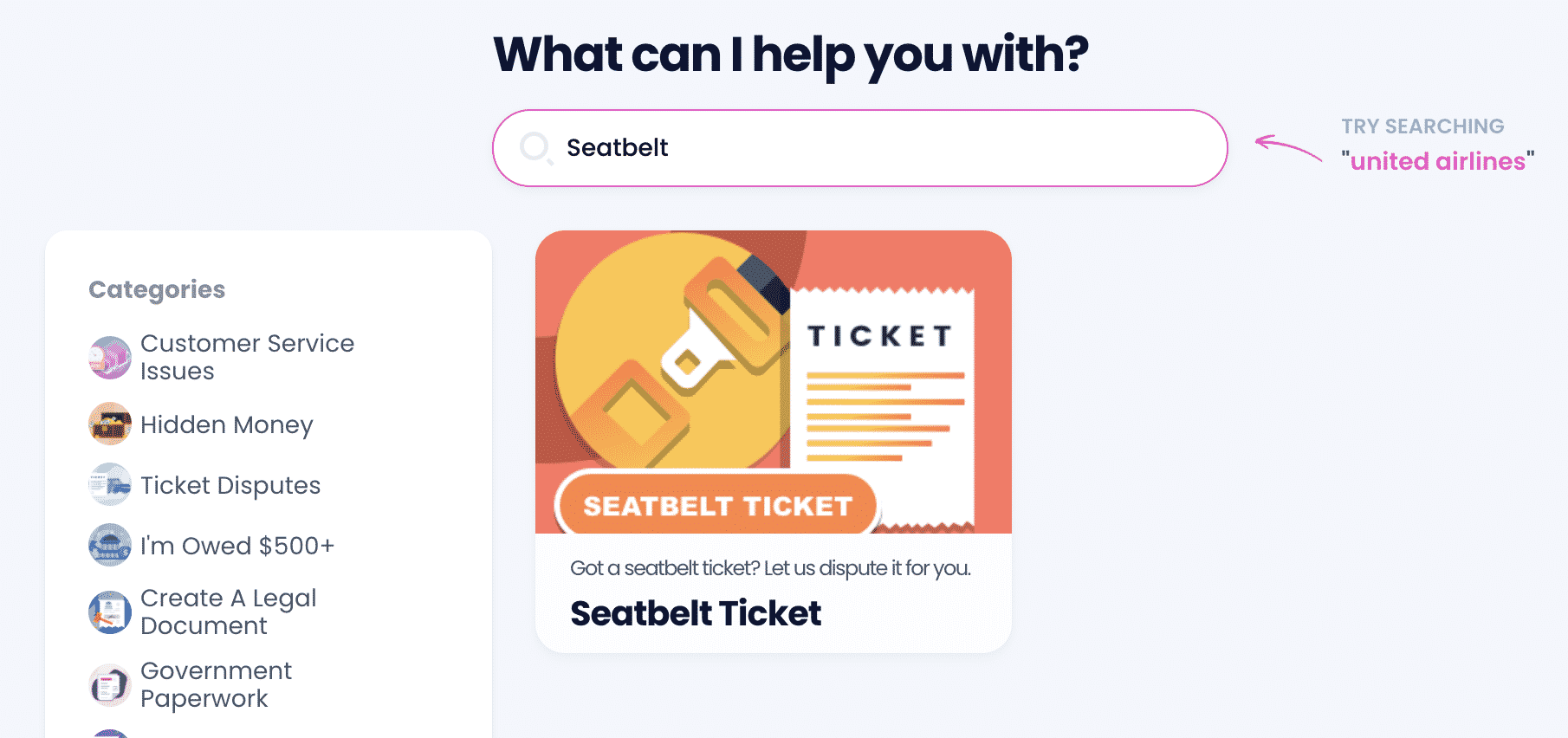 Legal Repercussions of Not Wearing a Seatbelt
Every U.S. state has different seatbelt regulations that determine the legal consequences if you're pulled over for not wearing one. Depending on the state you're in, seatbelt penalties may include one or more of the following:
Paying fines, which means you're admitting guilt
Accumulating demerit points that go on your driving record
Having your license suspended for severe violations like:
Receiving a citation to visit the court for a mitigation hearing, depending on whether the state considers not wearing a seatbelt a moving, non-moving, or an equipment violation
Apart from the above legal hiccups, you may also face higher insurance rates if you're found guilty of too many seatbelt violations within a short time or are a teen driver.
What Happens if You Don't Pay a Seatbelt Ticket on Time
Most seatbelt violations in the U.S. can be settled by paying a fine up-front or on your court hearing date. Your situation as a traffic violator will only get worse if you fail to appear for your court hearing or pay the fine within the due date—you may face severe consequences, such as:
Facing heavy additional fines, which can add up to thousands of dollars
Being held guilty for other misdemeanor crimes, like ignoring a court order
Having your driving license revoked
Being declared as a court debtor
Getting hounded by court collectors
Losing the ability to renew your vehicle registration
Getting your vehicle towed away
Having an arrest warrant issued in your name
Usually, states allow you a grace period—which can range from 24 hours to 30 days—to pay off your traffic violation fines. If you pay the ticket within the grace period, you can avoid the above consequences.
Didn't Pay Off Your Seatbelt Fine? Here's What You Can Do
If you are yet to settle your seatbelt ticket, don't let the situation snowball out of control. This table summarizes various potential remedies:
Remedy
Details
Enroll in a traffic school
Many states allow you to skip fines if you sign up for a traffic school that helps you:

Finishing a traffic school course is a top remedy as it can remove your existing demerit points and reinstate your insurance rates. It's a huge time commitment, though

Opt for a fine reduction plan
Courts often consider your inability to pay the fine in their final decisions on seatbelt violations. If you visit the court on your allotted date and emphasize your financial hardship, the court may set you up with a fine reduction plan to clear your traffic debt—this can be a combination of:

Actual fine reduction
Monthly or quarterly payment plan
Community service commitment

Contest the ticket
For both of the previous remedies, you'll still have to live with being the guilty party. If you want a blemish-free driving record, you can contest the ticket in court and get it overturned. To do so, you may need to:

Present a solid argument to justify why the ticket should be dismissed
Pay hundreds of dollars towards legal costs and attorney expenses

Fighting the ticket does not guarantee you win, but many judges agree to water down the severity of the seatbelt offense and let you off the hook with minimal fines
Cannot Afford a Pricey Lawyer? Let DoNotPay Back You Up!
Many people never contest a seatbelt ticket because it doesn't make sense economically—why pay an arm and a leg to a lawyer when you can pay the fine and be done with it? Paying the fine is a practical solution only if you're one hundred percent guilty. If you have good reason to believe you are not guilty, fighting the ticket is a sensible way forward.
DoNotPay's Seatbelt Ticket Appeal feature is a reliable way to appeal tickets when you:
Cannot afford a lawyer
Don't want to waste your hard-earned money on bloated legal costs
Want a time-efficient method to plead against the ticket
Our app acts as a robot lawyer for you—providing you full support as you prepare your case—all in the comfort of your home!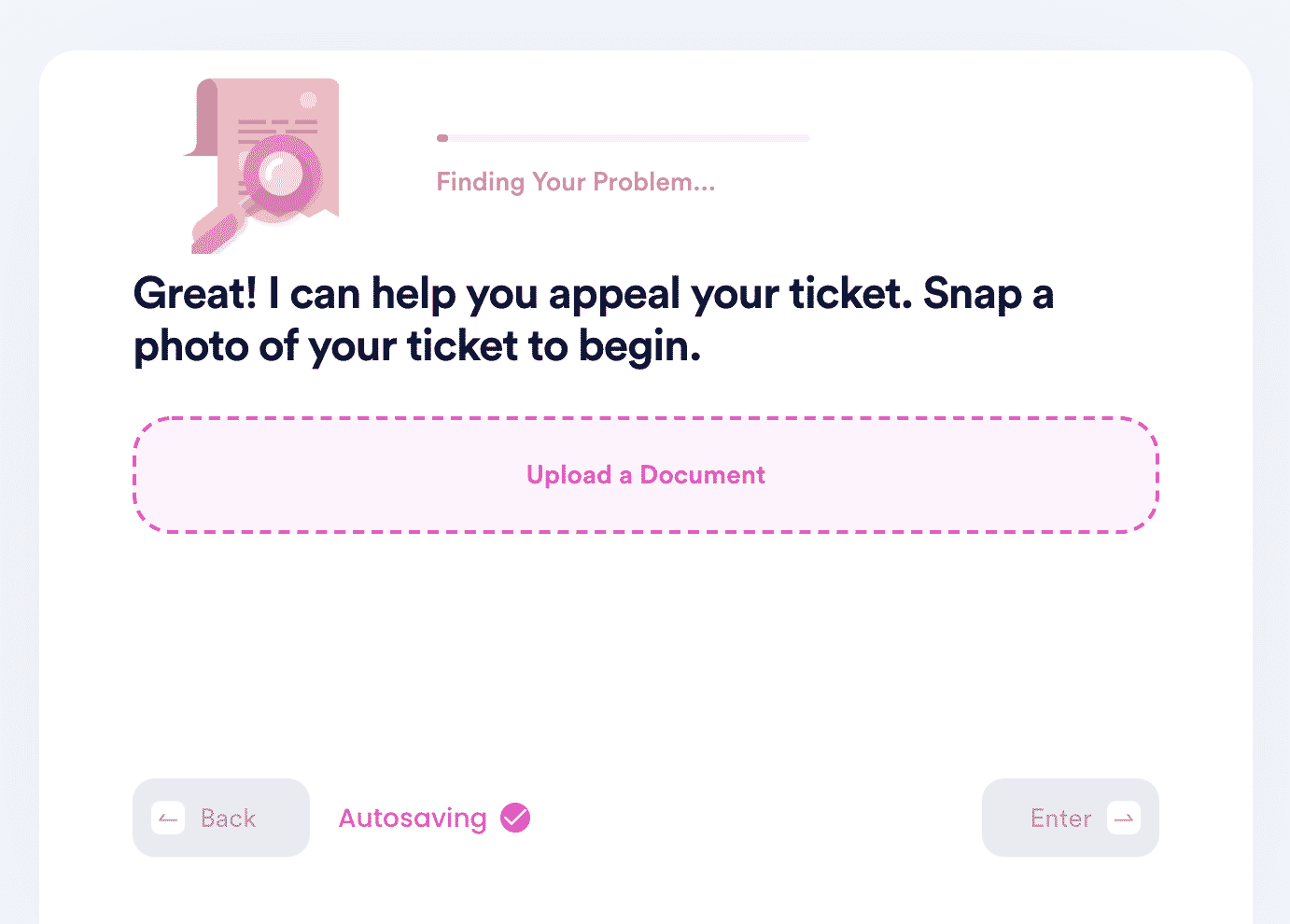 To use our services, and do this:
Locate our Seatbelt Ticket Appeal product
Snap a picture of the ticket and upload it
Answer our chatbot's questions:

Who received the ticket? A driver, passenger, or child
What is your argument for contesting the ticket?

Specify if you have evidence to support your argument
We will quickly generate a fitting appeal letter based on your responses and mail it to the authorities specific to your case!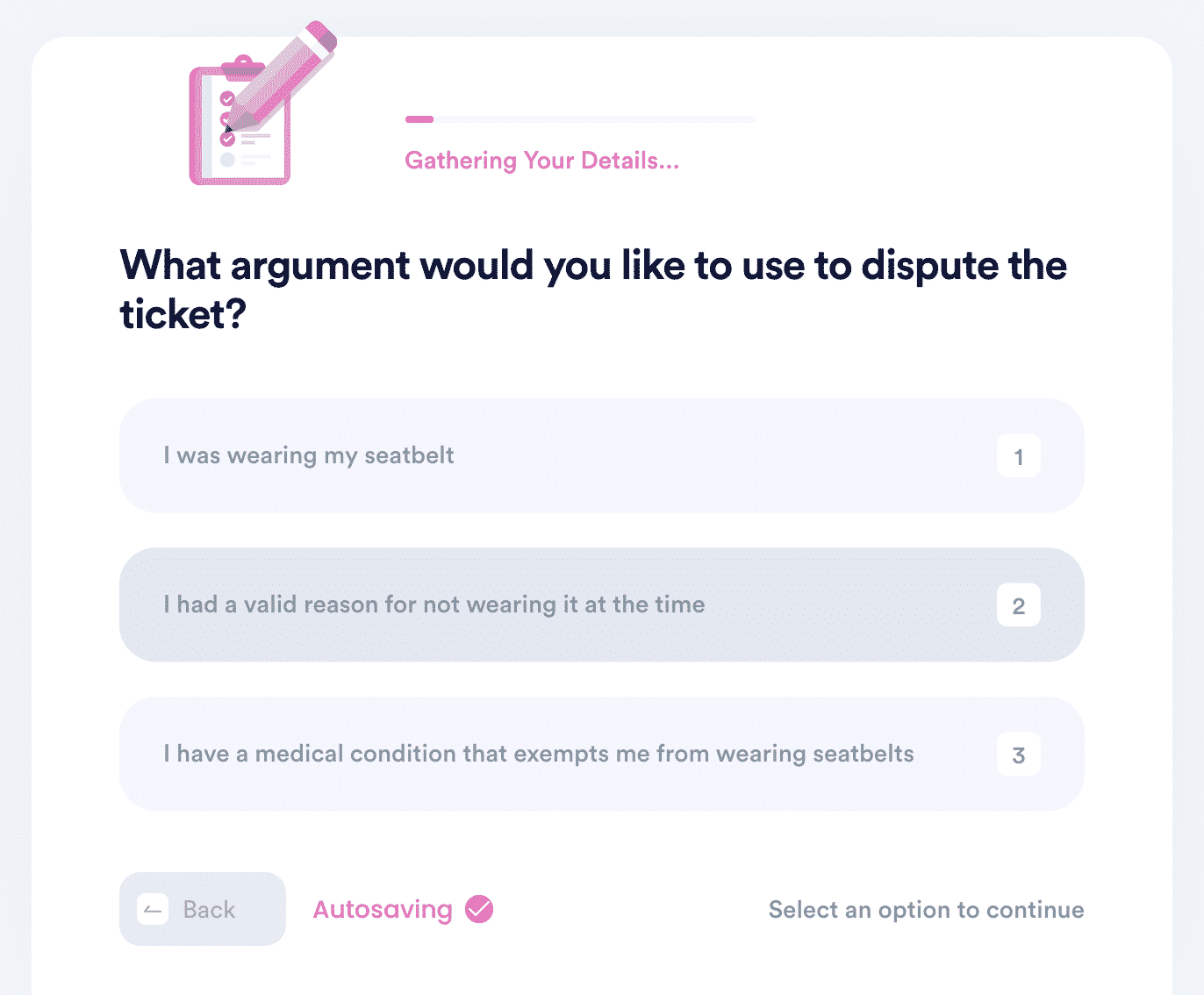 Tips for Offering a Plausible Argument
Stating a good argument can be the key to getting your seatbelt ticket dismissed. People who lose their ticket appeals usually give random weak arguments, like not wearing a seatbelt as they were in the backseat or being unaware of seatbelt laws.
If you want to win your appeal, present an argument that matches the essence of the following:
You had a valid reason for not wearing a seatbelt
You actually wore a seatbelt, but the officer made a mistake
If you want more info on the seatbelt laws in your jurisdiction, use this table to find relevant guides:
What's Next?
Once you complete the task at hand, you don't have to stop there—we offer a myriad of products that can relieve you of the stress that comes with dealing with admin and legal hurdles.
DoNotPay can assist you in drawing up a divorce settlement agreement, child travel consent form, power of attorney, and other legal documents, contacting government representatives, getting tourist visas, fighting workplace discrimination, getting a burner number, appealing banned accounts, getting access to public records, scheduling a DMV appointment, and much more.
Tackle Any Energy-Draining Task With DoNotPay
With DoNotPay by your side, you don't have to worry about how you'll cover your utility bills at the end of the month—we'll provide swift assistance as soon as you sign up!
Wondering what else our app is capable of? Check out how we can: