Everything You Need To Know About the Mississippi Seatbelt Laws
Proper use of safety belts saves lives daily, which is why states establish and enforce seatbelt laws. Since 1994, seatbelt usage has been mandatory in Mississippi. The government updates the regulations from time to time, so it's important to keep up with them to avoid fines.
Want to know what are the current Mississippi seatbelt laws? You can get all the information here!
DoNotPay will cover:
What the seatbelt laws are for adults and children
Whether a police officer can pull you over for not buckling up
What the cost for breaking the law is
Which options you can consider if you don't want to pay up
How to dismiss an unfair ticket
Get To Know the Mississippi Seatbelt Law
In the State of Mississippi, all motor vehicle occupants need to wear a seatbelt. While in the past, the law only required the driver and front seat passengers to buckle up, as of 2017, back seat passengers also have to wear a seatbelt.
You need to have both the lap and shoulder belt on since improper use of a seatbelt can also result in a fine.
Seatbelt enforcement is primary in this state. This type of law entitles a police officer to stop a vehicle if any of the occupants aren't buckled up. There doesn't need to be any other cause.
If you fall under one or more of the following categories, you can be exempt from wearing a seatbelt:
Drivers and passengers with a written note from a licensed doctor that they can't use a safety belt due to a medical condition
Occupants in vehicles registered for farm purposes
Rural letter carriers who work at the United States postal services
Utility meter readers while engaged in their job duty
Passengers on buses
What Does the Seatbelt Law in Mississippi Say About Children?
In the state of Mississippi, 38% of children younger than 13 who died in car crashes in 2019 weren't restrained in car seats, booster seats, or safety belts. This is why Mississippi laws demand that parents, legal guardians, or drivers place children in appropriate safety systems that align with the Department of Transportation standards. If they fail to secure children, drivers will pay the fine.
Under the MS law for children, children need to be restrained in the following systems:
Infants and toddlers under two—Rear-facing car seat
Toddlers/preschoolers—Front-facing car seat
School-aged children usually until the age of eight to twelve—Booster seat
Children higher than four feet and nine inches—Regular seatbelt
You need to base your decision about the restraint system on your child's height and weight.
Children under 13 should ride in the back. You can't get a ticket if you don't embrace this recommendation, but it is advisable for the kids' safety.
How Much Is a Seatbelt Ticket in Mississippi, and Does It Affect Your Driving Record?
If you fail to put your seatbelt on, you will face a fine of $25. The ticket can be even higher—depending on the jurisdiction. Here are a few examples of different seatbelt costs in Mississippi counties:
County
Fine
Ellisville
$35
Hinds

$43.50—If the Deputy Sheriff issues the ticket
$33.50—If the highway patrol issues the ticket

Jones

$43.50—If the Deputy Sheriff issues the ticket
$33.50—If the highway patrol issues the ticket

DeSoto
$75
Driving or riding unbelted is not a moving violation in Mississippi, nor does this state use a penalty point system. With that in mind, there will be no additions to your driving record if you break the seatbelt law, and it won't affect your insurance rate.
What if You Don't Want To Pay the Mississippi Seatbelt Fine?
Do you believe that you shouldn't have gotten that citation? Want to avoid paying for it? You can take two routes when Mississippi officers slap you with a ticket unjustly:
Ignore it
Plead not guilty
While some decide to put the citation in a drawer and forget about it, this is not the best choice. The court can issue a bench warrant if you don't show up and don't pay the fine in full.
If you plead not guilty, you can express your argument through one of these two methods:
Show reasonable doubt—Explain how you did have your seatbelt on, but the officers failed to notice it, or you took it off when they approached you
Take a due diligence defense—Explain that you were unbelted for a justifiable reason—whether that's driving in reverse, having an emergency, or having a doctor's certificate
You'll need to present your argument to the court, so it needs to be formal and convincing. Certain people hire a lawyer to handle this nuance, but there is a better, faster, and cheaper solution—.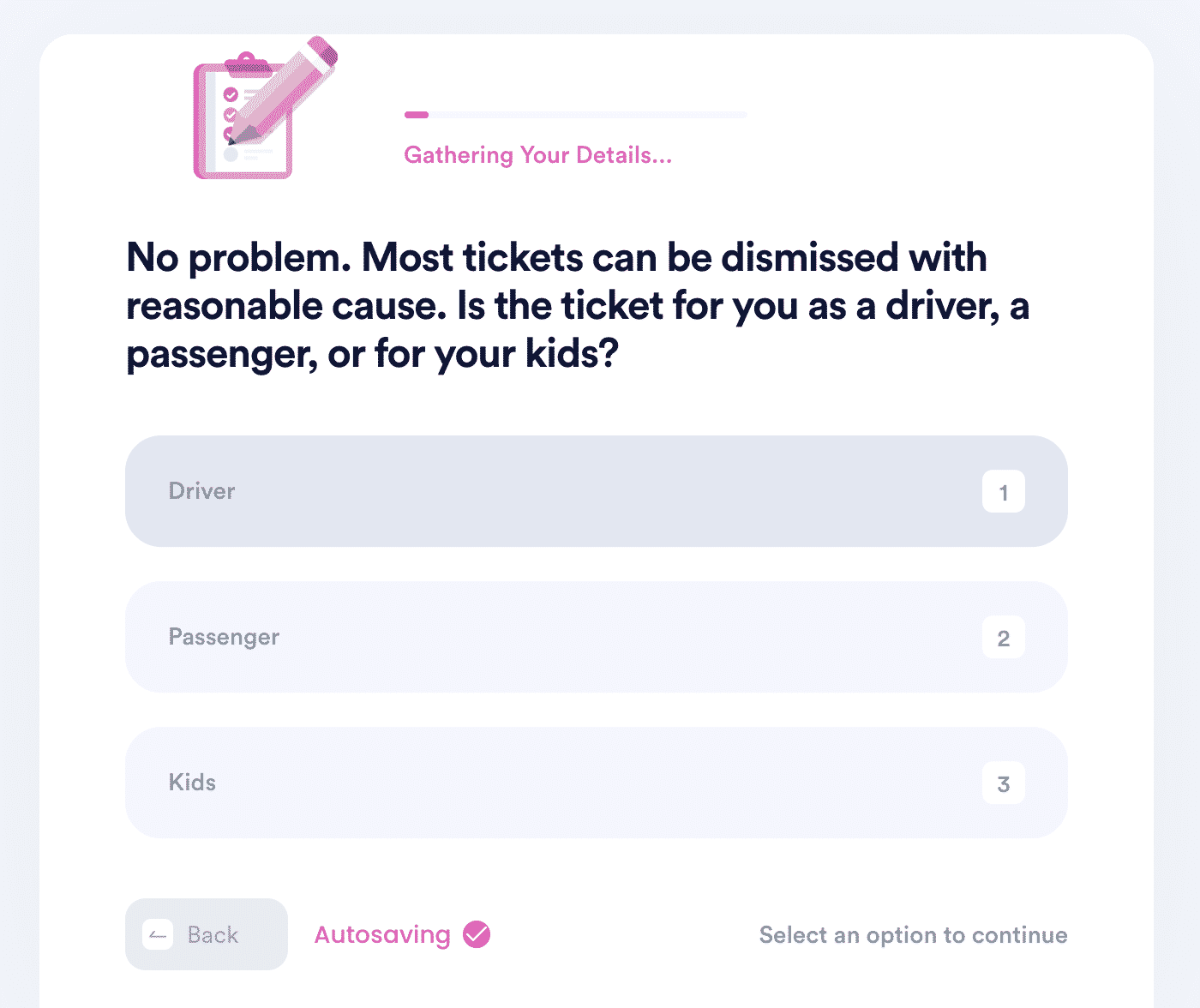 Get Your Appeal Ready in a Flash With DoNotPay
DoNotPay is a multi-purpose, AI-powered app that takes your ticket information and turns it into a first-class appeal letter. You only need to spare a few minutes to fill out the questionnaire, and we'll generate the document. Don't worry about mailing the letter either, as we'll do it in your stead.
Want to see what DoNotPay can do? Here are the steps you should take:
Access the Seatbelt Ticket product
Take a photo of your ticket
Tell us who got the citation and which argument you want to provide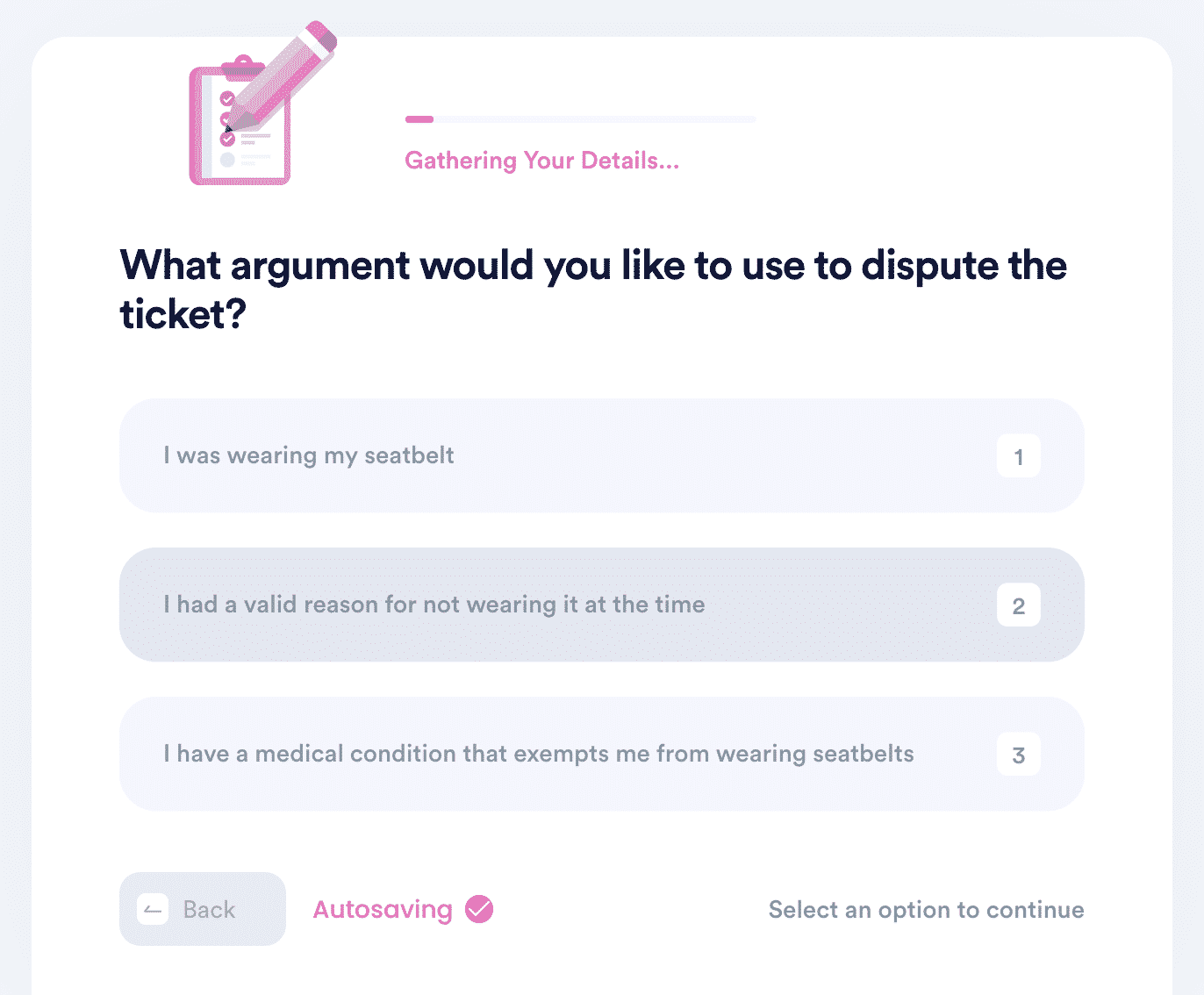 Our app can help you beat tickets in Texas, New York, or any other state. If you want more info on seatbelt laws in other places across the U.S., check out these guides:
Make Your Money Troubles Go Away
If you want to join free trials and not worry about automatic renewals, our app is what you need. With DoNotPay's virtual credit card, you'll be able to avoid charges and keep your personal details to yourself.
We can also help you get a refund or request a cancellation.
Getting your money back is our field of expertise—Use DoNotPay to:
No Task Is Too Difficult for DoNotPay
Signing up for our app brings you an AI-powered assistant. Check out the benefits of having a DoNotPay account in the table below: