How Much Is a Seatbelt Ticket in Alabama? Find Out Now!
A typical Alabama driver has a 54.1% chance of being involved in a fatal or injury-causing crash. Wearing a seatbelt reduces the risk of death by 45% and serious injury by 50% among drivers and front-seat passengers.
Still, many people avoid buckling up. The Alabama Department of Transportation states that 60% of people killed in road accidents did not have seatbelts on.
Not wearing a seatbelt can also have financial consequences. Since it's required by law, not being buckled up will get you a ticket.
Read our detailed guide to find answers to these questions:
How much is a seatbelt ticket in Alabama?
How can you avoid getting one?
What Is the Alabama Seatbelt Law?
According to the Alabama seatbelt law, everyone riding in a vehicle must wear a seatbelt, no matter where they're seated. There are some exemptions to this rule—it doesn't apply to:
Passengers with a written statement from a licensed physician saying that they're unable to wear a safety belt due to medical reasons
Children—they have to use a child restraint system
United States Postal Service (USPS) rural letter carriers on duty
Newspaper delivery persons
Passengers in motor vehicles that are driven in reverse
Passengers in a passenger car manufactured prior to 1965
How Much Is a No-Seatbelt Ticket in Alabama?
Not wearing a seatbelt in Alabama will result in a police officer issuing a citation of $25. This fine applies to the driver, as well as both front-seat and back-seat passengers. Failing to secure young passengers in a child restraint system will also cost you $25.
What Is the Alabama Seatbelt Law for Children?
Every person transporting a child in a motor vehicle (whether in a school bus, car, or van) on the state's roads, streets, or highways must ensure their safety.
Using a child restraint system that meets federal motor vehicle safety standards is the first step towards this goal. Check out the table below to find the requirements for child passengers based on their age and weight:
| Children | Restraint System |
| --- | --- |
| Under the age of one, weighing less than 20 pounds | Rear-facing car seats or infant-only seats and convertible seats used in the rear-facing position |
| Between the ages of one and five, weighing 20–40 pounds | Convertible seats in the forward position or forward-facing seats |
| Aged five to six, weighing at least 40 pounds | Booster seats |
| Six to 15 years of age | Regular seatbelts |
What Happens if You Violate the Alabama Seatbelt Law?
If you are not wearing a seatbelt, any police officer has the authority to pull you over and issue a citation—but only if you're driving or sitting in the front seat.
If you fail to buckle up as a backseat passenger, you can be fined only if the car is stopped because of:
Speeding
Driving on the wrong side of the road
Failing to stop at a railroad crossing
Following too closely
Improper passing
Do Seatbelt Tickets Go on Your Driving Record?
Not wearing a seatbelt is a non-moving violation in Alabama. This means that you won't see an uptick in your insurance rates.
You won't get any additional points for this offense.
What Happens if You Don't Want To Pay the Fine?
If you feel like the fine shouldn't have been issued and don't want to pay it, you have the option to dispute it. In most cases, you'll have about 15 days from the infraction date to start the process.
Keep in mind that the court can only dismiss your ticket if you have strong and credible arguments. The best way to go about your appeal is to choose one of the following options:
Mount due diligence defense—show that you had a good reason for not being buckled up, for example, medical condition or driving in reverse
Create reasonable doubt—Prove that the officer made a mistake
Not sure you can write a good appeal letter? Don't hire an expensive lawyer—you can . DoNotPay will draft an appeal letter tailored to your case.
Got a Seatbelt Ticket in Alabama? Fight It With DoNotPay!
Our app makes dismissing a ticket a breeze. Based on the information you provide us with, we can create a custom appeal letter for you in a minute and send it to the authorities.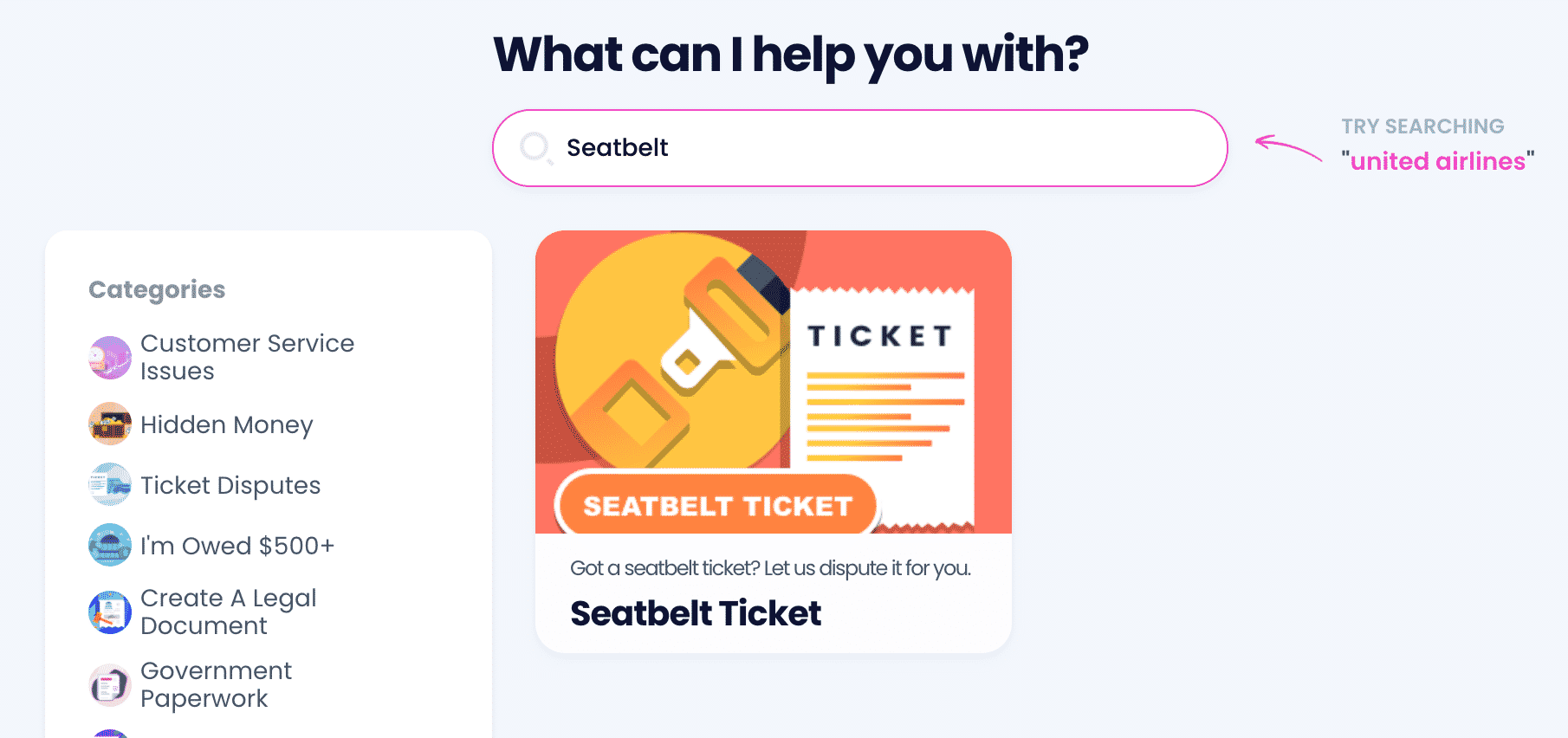 What you need to do is and follow four simple steps:
Look for the Seatbelt Ticket product
Attach a photo of your seatbelt ticket
Tell us who got the ticket
Choose the argument for disputing your ticket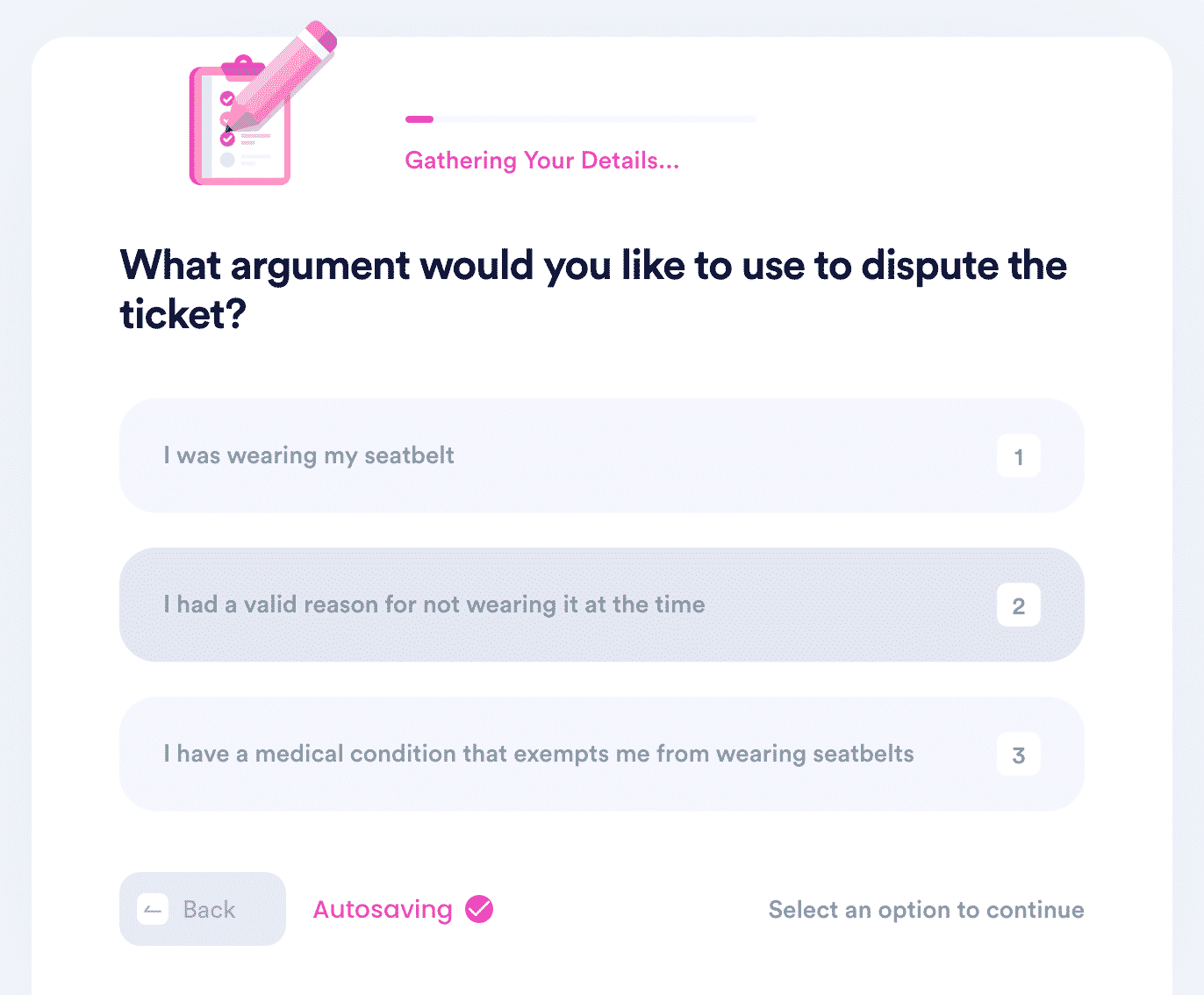 Planning a trip to another state? You should familiarize yourself with seatbelt laws for other U.S. states. We've got you covered—check out our guides for different states in the table below:
Fast-Track Different Tasks With DoNotPay
Are you trying to get a refund from a company and can't reach its customer service? Was your flight canceled or delayed, and you want to get compensated? Is hiring a lawyer out of the question because they're too expensive, but you have to draft some legal documents? Once you register for DoNotPay, we'll be able to help you with all of the above and more!
Rely on our app to finally put an end to text spam, annoying robocalls, and spam emails.
Do you need help canceling your forgotten subscriptions? We'll help you detect all your active memberships or subscriptions and get rid of the ones you no longer want.
In case you're studying for your driving test, you can use our Government Tests Prep product and ace this and many other exams. We can also schedule an appointment with the DMV on your behalf.
If you have to claim your car or any other insurance or warranty, rely on DoNotPay. Use our app to also contest parking tickets in a jiffy!
Protecting Your Privacy Is Easy Using Our App!
While staying anonymous online can be difficult, we can turn it into a breeze. Get a temporary number when you sign up for various platforms. Do you want to keep other personal info to yourself? Use our virtual credit card and avoid hidden charges for free trials.
We'll also help you stay safe from stalkers and harassers, sex offenders, defamation, and workplace discrimination.