The Lowdown on the Utah Seatbelt Law
Refusing to wear a seatbelt is one of the most common traffic violations in Utah. According to the statistics, more than 11% of drivers in the Beehive State never buckle up, which results in countless seatbelt fines and burdensome court proceedings.
Whether you have committed an offense or believe that the police have made a mistake, fighting a ticket can be difficult without understanding the Utah seatbelt law. To help you get familiar with it, we created a comprehensive guide that holds all the answers you may need! Find out:
What the basics of this law are
Whether it applies equally to adults and children
How much you will pay if you get caught without a seatbelt
What can happen if you forget or refuse to pay your ticket
The Basics of the Seatbelt Law in Utah
According to Chapter 6a, Title 41 of the Utah Code, all drivers must wear a properly adjusted seatbelt. The same rule applies to all other occupants, while children below eight must be in a solid car seat or any other type of child restraint device. Wearing a safety belt became a primary law in Utah in 2015—before that, it counted as a secondary offense.
The driver must ensure that all the passengers adhere to these rules. The good news is—if more than one person in the car gets caught without a safety belt, their offenses count as a single citation only.
The law proposes several exceptions to the existing regulations. You can avoid wearing the seatbelt if:
The vehicle was made before July 1st, 1966
You have a written statement from a medical practitioner confirming that you can't buckle up due to health reasons
The motor vehicle doesn't need to be equipped with a seatbelt, according to the federal law
All seating positions in your car or motor vehicle are taken by other passengers
You are driving a public transit vehicle with a weight rating of more than 10,000 pounds
Utah Seatbelt Laws for Children
Putting a child in a car seat isn't enough to fully protect them. There are specific children safety belt laws you must comply with to avoid tickets and be on the safe side:
| Phases | Explanations |
| --- | --- |
| Babies under one year of age | Can only ride in a rear-facing car seat. The best option is to purchase a specialized infant-only seat |
| Children between one and three years old | Must remain in a rear-facing position until they outgrow the seat—usually when they turn two or three |
| Children who have outgrown the car seat | Should use forward-facing car seats until they exceed the maximum height and weight for it. Once this happens, they should switch to a booster seat |
| Children above 4'9'' | May switch to a regular seat with a safety belt |
How Much Is a Seatbelt Ticket in Utah?
If you or anyone in your car gets caught without a seatbelt, the police officer decides whether they want to warn you first or write a ticket right away. Should you make the same offense after a written warning issued by the police, you have to pay up to $45. In Utah, this traffic violation is non-moving, which means you won't get driver's license points for it, nor will the citation affect your insurance rates.
In some cases, the cost can be waived if you complete a short seatbelt safety course.
What Are the Consequences of Not Paying Your Seatbelt Ticket in Utah?
Each seatbelt ticket states a payment due date, and you shouldn't ignore it. If you fail to pay or appeal the citation by the assigned date, you can get arrested or get a temporary driver's license suspension. To avoid this issue, notify the authorities if you don't have enough money and can't meet the deadline.
Ways To Dispute Your Utah Seatbelt Ticket Yourself
Should you decide to get your ticket dismissed, you can do it by:
Showing reasonable doubt—This method allows you to prove that you were wearing a seatbelt and that the police have made a mistake. To use it, you must compose a suitable claim and submit it to the court
Mounting a due diligence defense—In this case, you admit that you didn't wear a safety belt but had an acceptable excuse for removing it. The claim you submit must explain why you violated this rule or convince the court that you didn't realize you were doing it
Whichever option you choose, preparing an appeal letter isn't simple. The document must be convincing and contain solid arguments to help you avoid paying the ticket. Composing it can be a drawn-out procedure if your writing skills are shaky, but you can easily tackle this issue by !
How To Appeal a Seatbelt Ticket in a Jiffy With DoNotPay
DoNotPay features a handy tool that gathers the necessary info about your case and generates a complaint letter in a heartbeat! Our app helps you save money and appeal your safety belt citation from any location or device.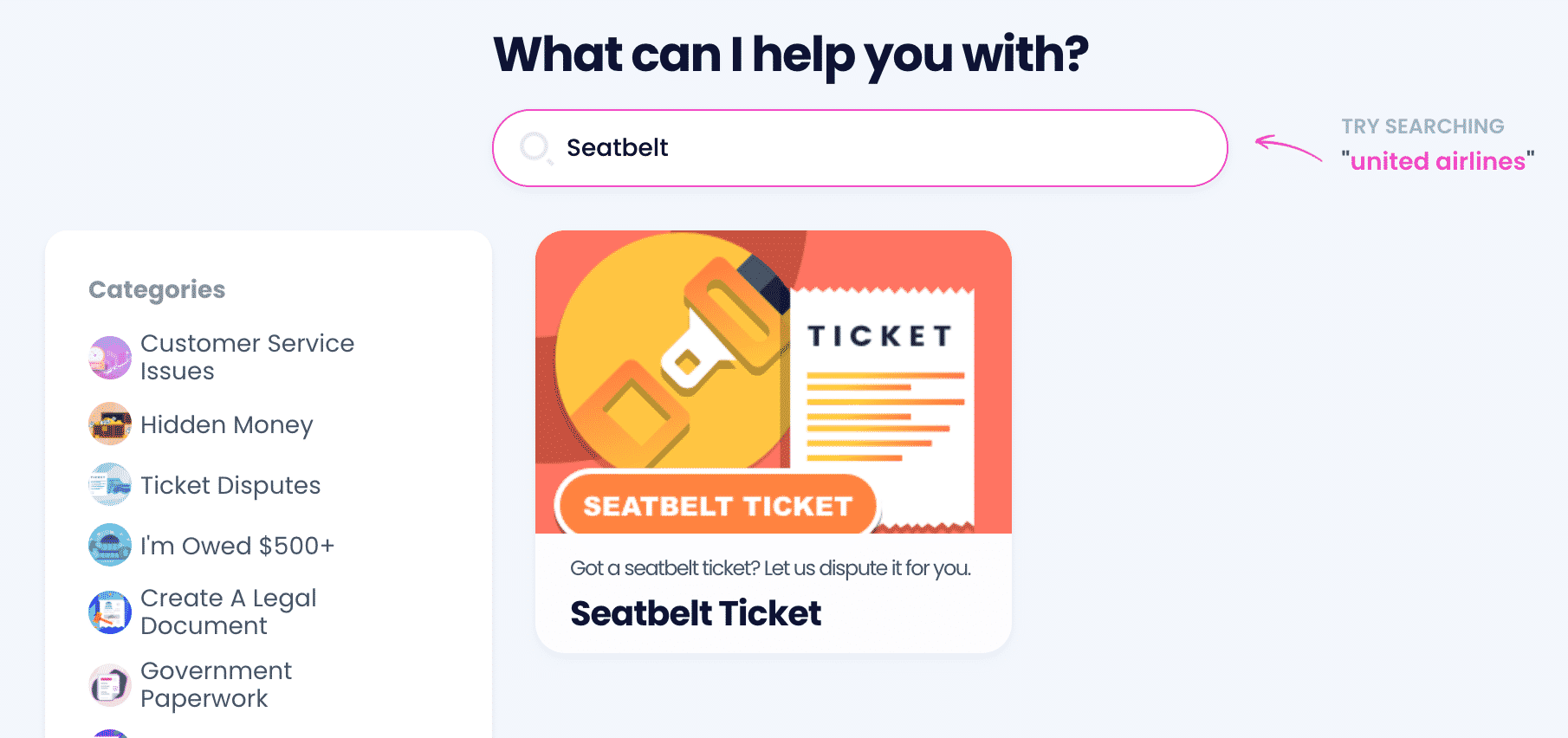 Here are the steps to follow:
from any web browser
Look for the Seatbelt Ticket product
Explain who got the seatbelt ticket—you or one of your passengers
Choose an argument you want to use for the case
Describe the situation further and upload a photo of your ticket
We need less than five minutes to process your info, generate a customized appeal letter, and send it to the correct department in your stead!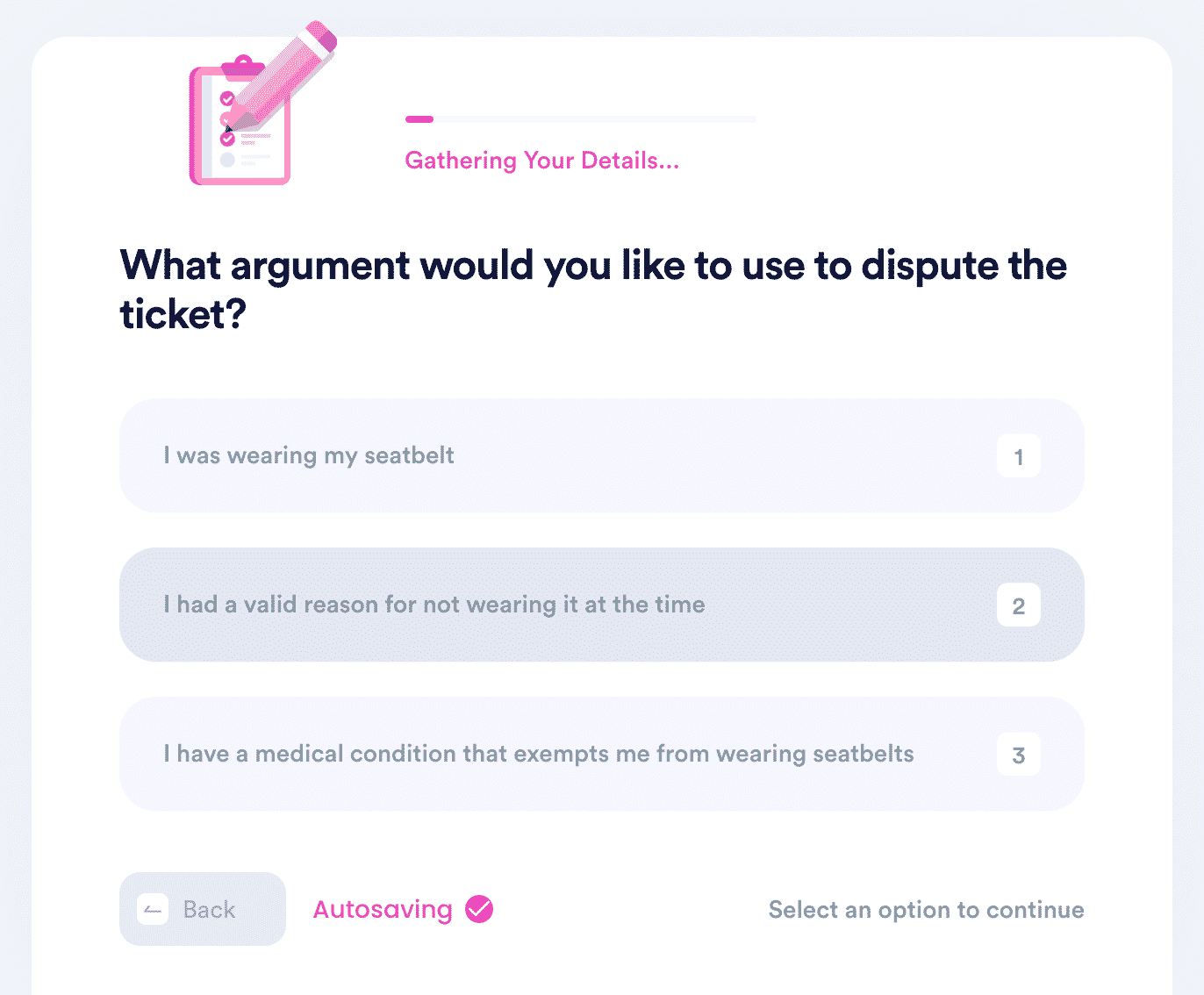 Check out our other state-specific guides if you're traveling out of state:
Rely on DoNotPay and Get Rid of Administrative Issues
Are you tired of returning items, canceling subscriptions, fighting parking tickets, and mailing letters? We can help you fast-track all these tasks and more! Do you need help reaching customer service, fighting workplace discrimination, submitting defamation demand letters, or filing HR complaints? Use DoNotPay and solve any issue without a hitch.
Feel free to also use our app to study for government tests, apply for scholarships, appeal low financial aid offers, and request college fee waivers.
Do you need help paying bills? DoNotPay can assist you in lowering your property taxes, getting gift card cash back, entering sweepstakes and giveaways, and getting refunds.
With us, you'll be able to both earn and save money!
Say Goodbye to Spammers With DoNotPay's Assistance
Getting spammed on the daily? Our app can put an end to this annoying issue! Block spam emails, text messages, and robocalls in a few clicks. We can even help you deal with stalking and harassment.
Thanks to our Burner Phone product, you'll get a temporary phone number that you can submit when registering on different platforms and protect your privacy.
Another way to keep your privacy intact is using DoNotPay's virtual credit card. Signing up for free trials without hidden charges and revealing your contact details has never been easier!