Does a Seatbelt Ticket Affect Insurance?
Car insurance can be expensive—that's why most drivers try to keep a clean record. If you get a seatbelt ticket, your insurance rates might go up. Does a seatbelt ticket affect insurance? In this article, we'll answer this question and provide details on how to overturn seatbelt tickets.
Do Seatbelt Tickets Affect Insurance?
As accidents, speeding tickets, and other moving violations affect insurance rates, so do seatbelt tickets. Whether a seatbelt ticket will affect your insurance depends on your insurance company and the state where you live. In some states, a seatbelt ticket is considered a minor traffic violation, which means that an insurer can't penalize you for it. In other states, not wearing a seatbelt is a moving violation, and it can affect your insurance.
Insurance companies see not wearing a seatbelt as a risk of injury—that's why they increase your insurance rates.
Do Seatbelt Tickets Go on Your Record?
Whether your seatbelt tickets will go on your record depends on various factors. Consult the table below for details:
| Factor | Explanation |
| --- | --- |
| First violation forgiveness | Some insurance companies have the first violation forgiveness policy, which means that they won't increase your insurance rates for the first violation. Your ticket may affect your driving record though |
| Disputing a seatbelt ticket in court | If the court dismisses your seatbelt ticket, the violation won't go on your record, and your insurance rates won't go up |
| The year of your car production | If your car was manufactured before 1963, it might not have a seatbelt. When it comes to these types of vehicles, seatbelt rules usually don't apply |
| A medical condition that prevents you from wearing a seatbelt | If you have a medical condition that prevents you from wearing a seatbelt, you might be excused. Keep in mind that you'll need to have a doctor's note that explains your condition. The ticket won't go on your record if this is the case |
Who Can Get a Seatbelt Ticket?
Each state has its own law regarding seatbelt tickets. For example, a police officer might issue a ticket to the driver even if it was a passenger who didn't wear a seatbelt. Other states will issue a ticket to the passenger. If the latter is the case, the ticket won't affect your record and insurance.
What happens if you can't keep your child from unbuckling their seatbelt? According to child seatbelt laws, if a child is not restrained, then the driver is liable.
How Much Can Insurance Increase After a Ticket?
A seatbelt ticket can increase your insurance by 3%, but this also depends on your driving record, the state where you live, and the number of other driving violations you have. If your insurance company considers you a reckless driver, they will keep increasing your insurance rates depending on the number of violations you've accumulated over the years.
What Are Other Consequences of Not Wearing a Seatbelt?
A seatbelt ticket can increase your insurance rates, but not wearing a seatbelt can have more consequences. The laws on seatbelts can change quickly, so you should stay informed. Be sure to check your state laws from time to time.
Other consequences of not wearing a seatbelt could be:
What Other Factors Affect Insurance Rates?
Receiving a seatbelt ticket isn't the only violation that affects insurance—there are multiple other factors that can influence your car insurance rates. They are as follows:
Car accidents
Speeding tickets
Running a stop sign
Failure to yield
At-fault accidents
Driving under the influence (DUI)
Running a red light
Can You Appeal a Seatbelt Ticket?
Seatbelt citations can be quite costly—luckily, there are ways to appeal them. Two key ways to dispute your seatbelt ticket are:
Showing reasonable doubt—You can prove that a police officer made a mistake and that you were, in fact, wearing your seatbelt
Taking a due diligence defense—If a police officer determines that you weren't wearing your seatbelt, you can argue that you had a good reason for removing it, such as:

Driving in reverse
Experiencing an emergency
Reaching for something, such as your ID
If you want to avoid the repercussions of not paying your seatbelt citation, you should to get your ticket overturned.
Get Your Ticket Overturned With DoNotPay!
DoNotPay can help you appeal your seatbelt citation in just a few steps. We have a Seatbelt Ticket Appeal product that can generate your personalized appeal letter and help you dispute your ticket. DoNotPay can save you both money and time!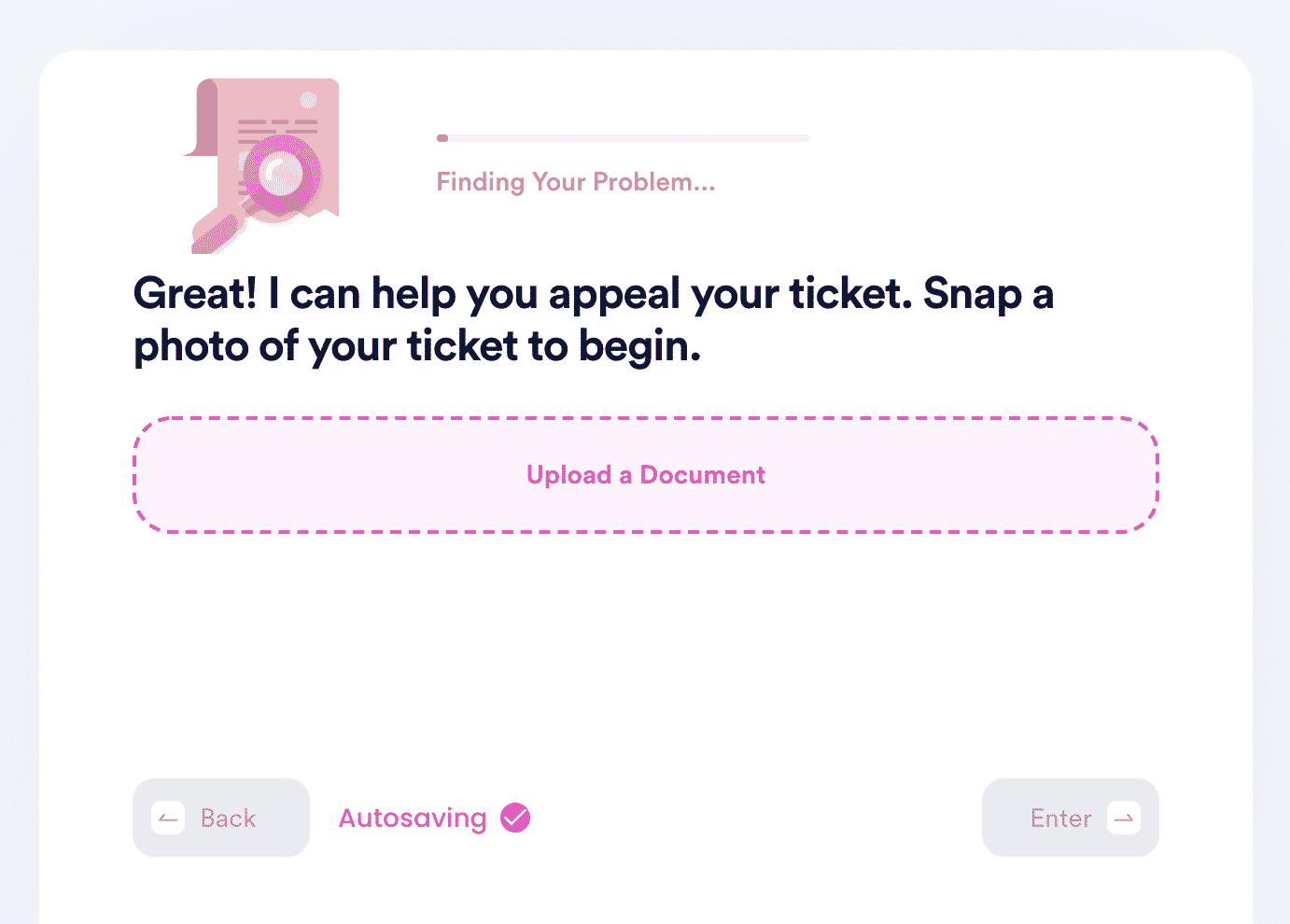 What you need to do is and follow the steps below:
Select the Seatbelt Ticket Appeal product
Snap a photo of your ticket
Provide information about who received the ticket
Notify us which argument you'd like to use
Give more information about the incident and procure some evidence if you have any
After you complete the steps, DoNotPay will create an appeal letter and mail it to the authorities on your behalf.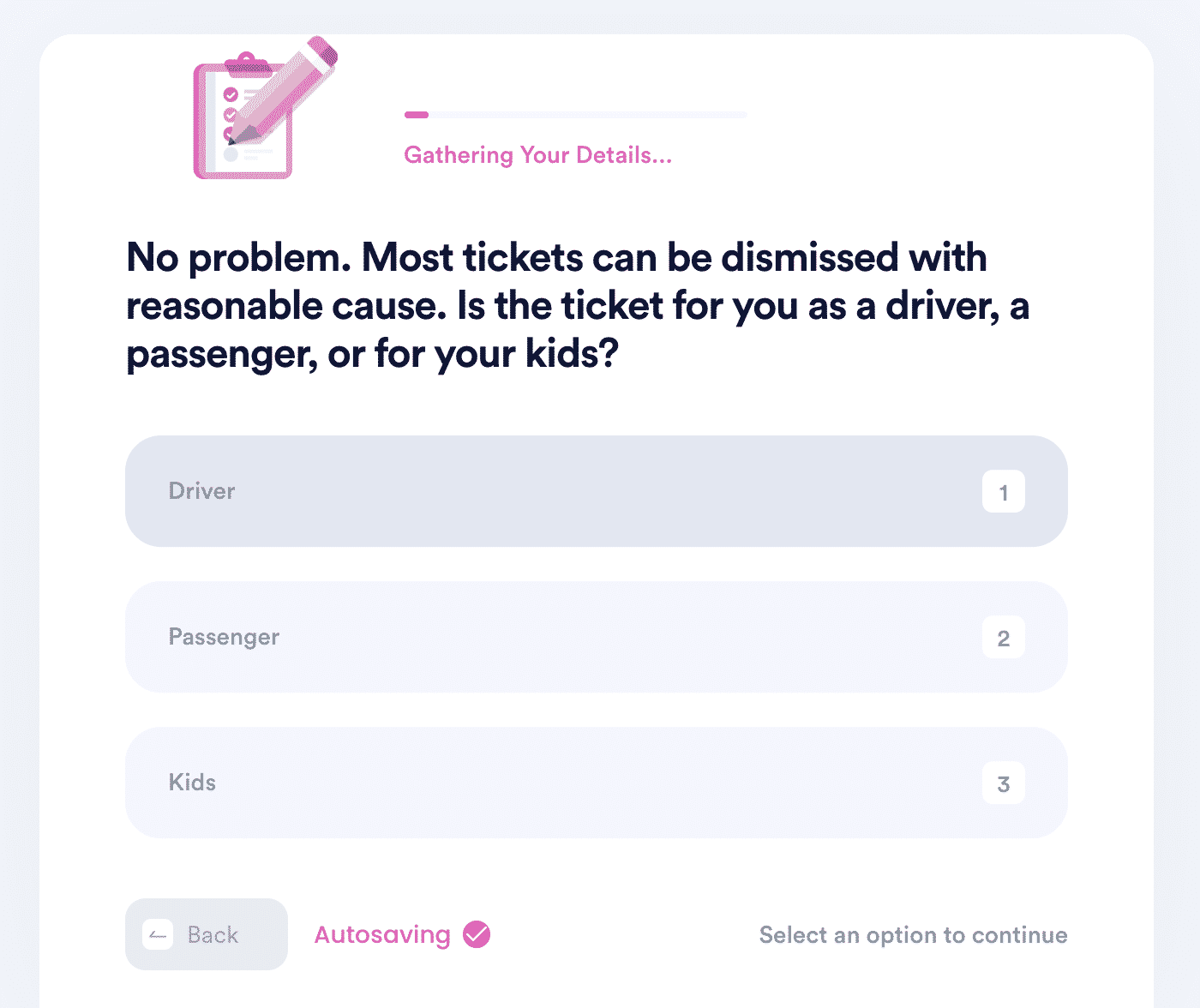 That's not all! We have information regarding state laws on seatbelt tickets, and you can check them out in the table below:
DoNotPay Turns Any Tiring Task Into a Piece of Cake
Are you tired of dealing with bureaucratic or legal matters on your own? You no longer have to—as soon as you subscribe to DoNotPay, we'll take any exhausting task off your plate.
Our app is capable of drawing up legal documents—including marital settlement agreements, child travel consent forms, powers of attorney, defamation demand letters, and affidavits to homeschool—getting them notarized remotely, filing complaints against companies, suing any individual or corporation in small claims court, sending FOIA requests, and so much more.
The World's First Robot Lawyer Offers So Much More
DoNotPay's capabilities don't end there—we can also:
Help you get a tourist visa