Learn How To Get a Seatbelt Ticket Dismissed With DoNotPay
Did you or your passenger forget to put a seatbelt on? Maybe your child opened it while you weren't looking. A simple moment of distraction or forgetfulness can cost you hundreds of dollars. You don't need to pull out your wallet right away as there is a way to turn this ship around.
How to get a seatbelt ticket dismissed? DoNotPay will help you understand your rights and options.
If you're looking for the fastest and cheapest way out of this mess, you should . Our convenient app will generate an appeal letter in minutes, and you won't even need to leave the comfort of your home.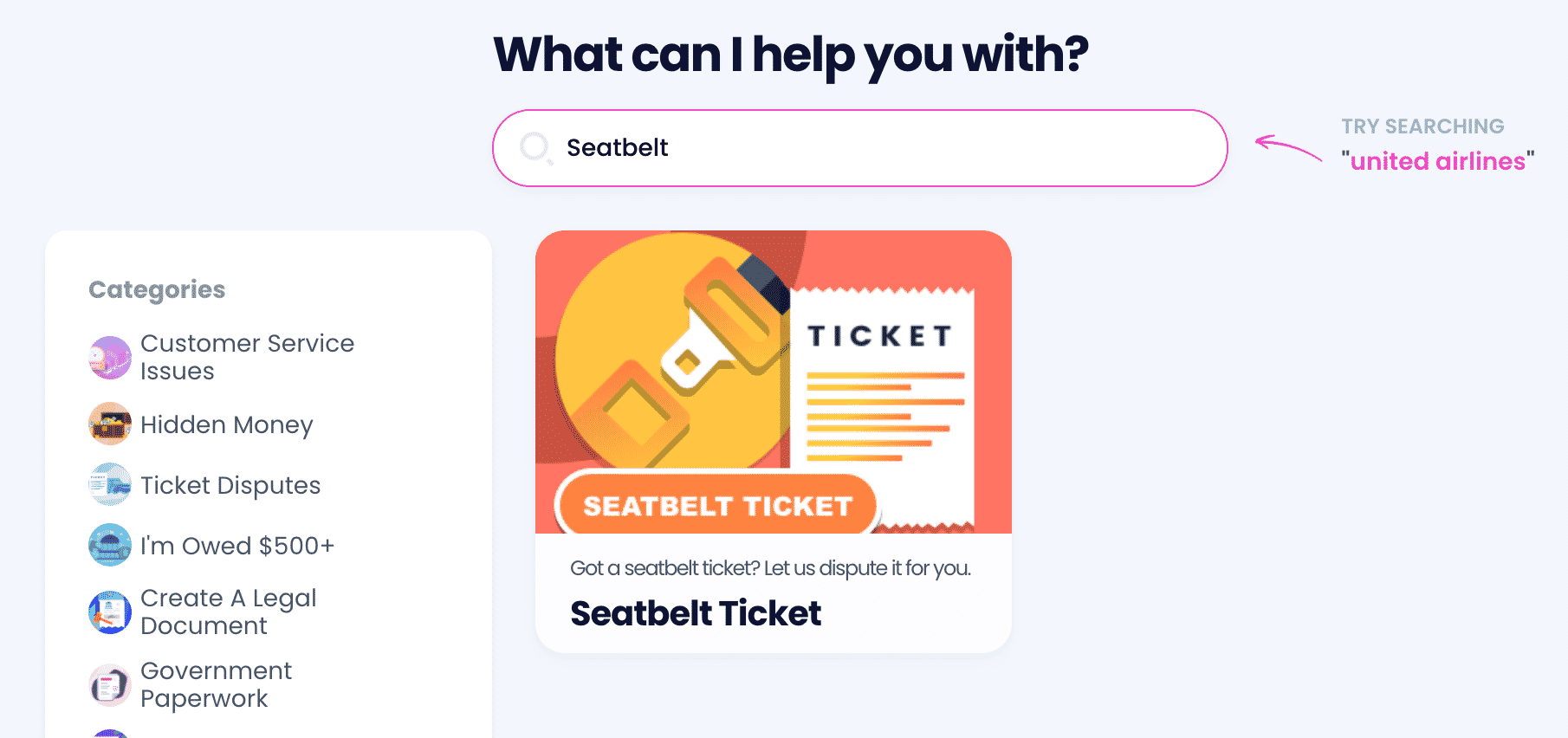 Can You Fight a Seatbelt Ticket?
Every law has its loopholes, so yes—you can find a way to avoid paying the ticket. The first step is to learn more about the seatbelt laws in your state.
You don't need to read complex explanations on government websites as we have simple guides that'll fill you in on the rules in every state:
What You Need To Know About Seatbelt Laws
In certain states, not wearing a seatbelt is a primary offense, while in others, it is a secondary one. If the police officer pulled you over in a state where wearing a seatbelt is a secondary offense, this could go in your favor when fighting the ticket.
You should also look into the following:
Knowing the laws will prevent you from falling under the impression that paying the price for the offense is easier. The ticket can affect your insurance, or you can get penalty points that go towards license suspension.
Fighting the ticket is a reasonable decision that can save you money and keep your driving record intact.
How To Fight a Seatbelt Ticket
To get your ticket dismissed, you need a valid explanation on why you, the passenger, or your child didn't have the seatbelt on. You will need to make your case in front of the traffic court. Request your date, and use the time you have to develop a strategy.
You can beat the system and avoid paying the fine if you rely on the following options:
Create reasonable doubt
Mount a due diligence defense
How To Get a Seatbelt Ticket Dismissed Through Reasonable Doubt
Creating reasonable doubt refers to presenting a justifiable explanation on why you shouldn't have gotten a ticket. You might claim various defenses, such as:
The seatbelt matched the color of your clothes, so the officer didn't notice it
You removed the seatbelt for a second to reach for something
You had the seatbelt on but removed it when the officer pulled you over
What's crucial when demonstrating reasonable doubt is that it makes sense. You can't say that you removed the seatbelt to get something if the officer saw you driving without it.
Think about how it all played out, and consider whether you have room to create reasonable doubt. It can also help if you have a witness to testify in your favor and confirm your story.
How To Get a Seatbelt Ticket Dismissed Through a Due Diligence Defense
Due diligence is when you've taken the precaution to prevent the offense, but it happened anyway. For example, you might state that you wanted to put the seatbelt on, but then you noticed it was faulty. You can continue the justification by saying that you were driving to the mechanic to fix it when the officer noticed the offense. This explanation is only credible if you didn't get pulled over.
You need to focus on three aspects to make your case acceptable:
The reason why you were not wearing the seatbelt
The steps you took to avoid not wearing a seatbelt
Your belief that you—or your child—were wearing it
The last point can refer to the claim that your indicator light wasn't working, so you weren't aware that your underaged passenger disengaged the seatbelt.
Note that unless you can make your claim credible, you shouldn't go in this direction with your defense.
Do You Need a Lawyer To Present Your Case and Get the Ticket Dismissed?
Whether you'll hire a lawyer is up to you. There is no legal obligation for the offender to have one, so you can represent yourself. If you don't feel up for it, or you don't think you can pull it off on your own, look into traffic lawyers in your city.
Going to a traffic court trial and hiring a professional to defend you can get costly. Want to skip the expensive hassle? Team up with DoNotPay!
Fighting a Seatbelt Ticket Is Easier With DoNotPay in Your Corner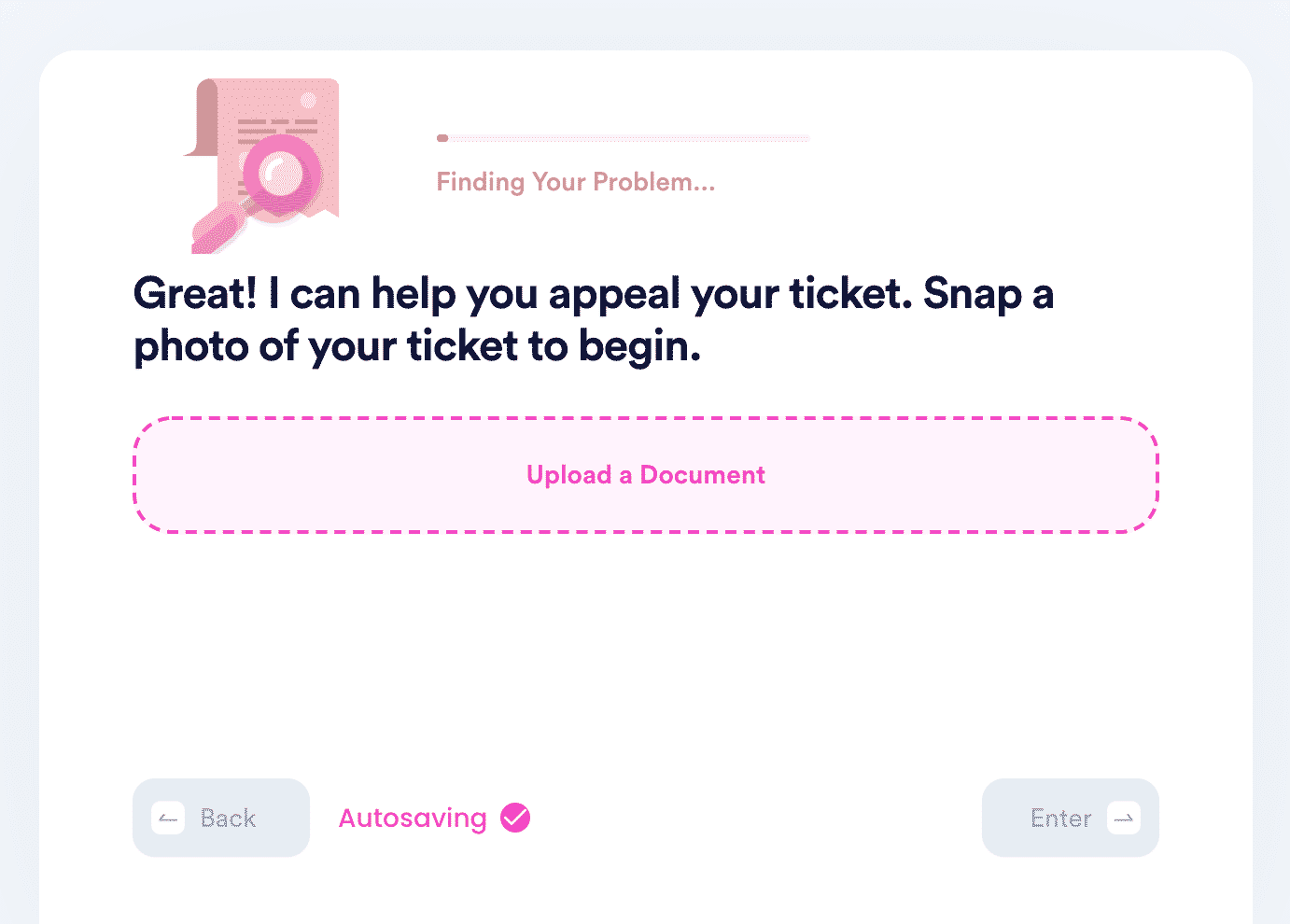 Avoid the court, lawyers, hefty fees, and all other nuances that come with appealing the citation. DoNotPay is a fast, easy, and economical solution to this problem.
Our nifty app only asks you to answer a few questions, and we'll do the rest. You can test its simplicity by taking these steps:
and fire up the Seatbelt Ticket feature
Snap a photo of the ticket
Let us know who got the ticket—the driver, passenger, or a child
Give us more details on the situation, and inform us of the argument you want to use
We'll draft a convincing appeal letter and send it to the ticket authorities.
Anything Else You Need?
DoNotPay offers an exhaustive range of products and services for one low monthly fee. You can take full advantage of our offer once you resolve the issue at hand.
Our app can both save you money and help you earn it—sign up to appeal parking tickets, get assistance with utility bills, get compensation from airlines, request a refund, have your college application fees waived, find your missing money, reduce property taxes, enter any sweepstake, or send a financial aid appeal letter to any school.
We can also turn your gift card balance into cash, help you apply for scholarships, and assist you in getting compensation as a victim of crime.
There's Even More to Our Offer
The world's first robot lawyer can turn any nightmarish admin or legal procedure into a piece of cake. Look into our knowledge base to find out how to send a letter of warning to your bad neighbor, submit an anonymous complaint to your HR, fight workplace discrimination, get access to public records, deal with a stalker or harasser, put an end to robocalls, and file a complaint with any company.