Idaho Seatbelt Laws—Everything You Should Be Aware Of
Complying with state seatbelt laws has helped citizens of Idaho avoid fatal accidents and saved thousands of lives. While some people are aware of the basic regulations, others have trouble informing themselves better and get lost easily. This manual helps you get a better understanding of Idaho seatbelt laws and child car seat regulations and teaches you all about fighting your seatbelt fines without bureaucracy!
Seatbelt Laws in Idaho—A Brief Overview
Here's a rundown of the most significant seatbelt regulations in Idaho:
The law applies to all vehicles that:

Have a gross vehicle weight below 8,000 pounds
Were made according to federal motor vehicle standards

Drivers and passengers in all seats are required to wear a safety belt while the vehicle is in motion
Idaho seatbelt law counts as a primary offense for adults but is a secondary offense for persons under 18
Seatbelt citations aren't considered moving violations in this state, which means they don't make a difference to your car insurance or driving record
Child Seatbelt Law in Idaho
Like most other U.S. states, Idaho proposes strict children seatbelt rules based on the proper use of child restraint devices. The appropriate restraint system for your child will depend on their:
Age
Weight
Height
All passengers under the age of eight must be secured in a single restraint device according to the following scheme:
| Age/Height/Weight Specifications | Restraint System Type |
| --- | --- |
| Children under the age of two weighing less than 40 pounds | Rear-facing car seat |
| Children between two and four years of age weighing between 40 and 65 pounds | Forward-facing car seat |
| Children between four and eight years of age not taller than 4' 9'' | Booster seat |
| Children above eight taller than 4' 9'' | Regular seatbelt |
Exemptions from these regulations include children who are:
Seated in a vehicle where all seatbelts are occupied
Removed from the car seat for nursing or psychological needs
Who Doesn't Have To Wear a Seatbelt in Idaho?
Exemptions from the mandatory seatbelt use include:
Mail carriers
Motorcycle drivers
Emergency vehicle operators
Persons who ride in a vehicle where all the seatbelts are occupied
People with a written confirmation stating that they have a health condition preventing them from using a safety belt
How Much Are the Seatbelt Citations in Idaho?
A seatbelt ticket cost for adult drivers who violate the current laws is $10. They will also be responsible and ticketed $10 for each passenger under the age of 18 not wearing a seatbelt in their car. Half of this amount—$5— should go to the catastrophic health care cost fund.
Not securing a child with an adequate restraint system results in an $84 fine that can increase if you don't pay it on time. The judge can dismiss the citation if the person who got it acquires a proper child restraint device before the hearing.
If a driver is under the age of 18 and their passengers fail to fasten their safety belts, extra court expenses may apply.
Popular Ways To Dispute Your Seatbelt Ticket
If you have acceptable reasons and arguments to get your ticket dismissed, you should dispute it by using one of the following methods:
Reasonable doubt—This approach is usually taken in case you were wearing your seatbelt, but the police officer mistakenly thought you weren't because:

Your shirt was the same color as your safety belt
You have removed your seatbelt to leave the car
Your child has unbuckled their seatbelt, and you didn't see it
By creating reasonable doubt, you explain the situation to the court and convince them that you were, in fact, having your safety belt on
Due diligence—You can use this option if you removed your seatbelt or didn't wear it at all but have a valid reason why you shouldn't be charged for the offense. Some situations that count as good excuses include:

Facing an emergency at the moment of the offense
Forgetting something in your back seat or trunk
Reaching a pick-up window while passing a drive-through
Suffering from a specific medical condition that prevents you from having your safety belt on

Using DoNotPay—You can submit an appeal letter our app will generate for you from any preferred device, browser, and location
Get Rid of Hefty Seatbelt Fines by Disputing Them With DoNotPay
Do you need a flawless defense case that will help you appeal unfair seatbelt citations? Don't turn to inaccurate templates—subscribe to DoNotPay and get your appeal letter in a heartbeat!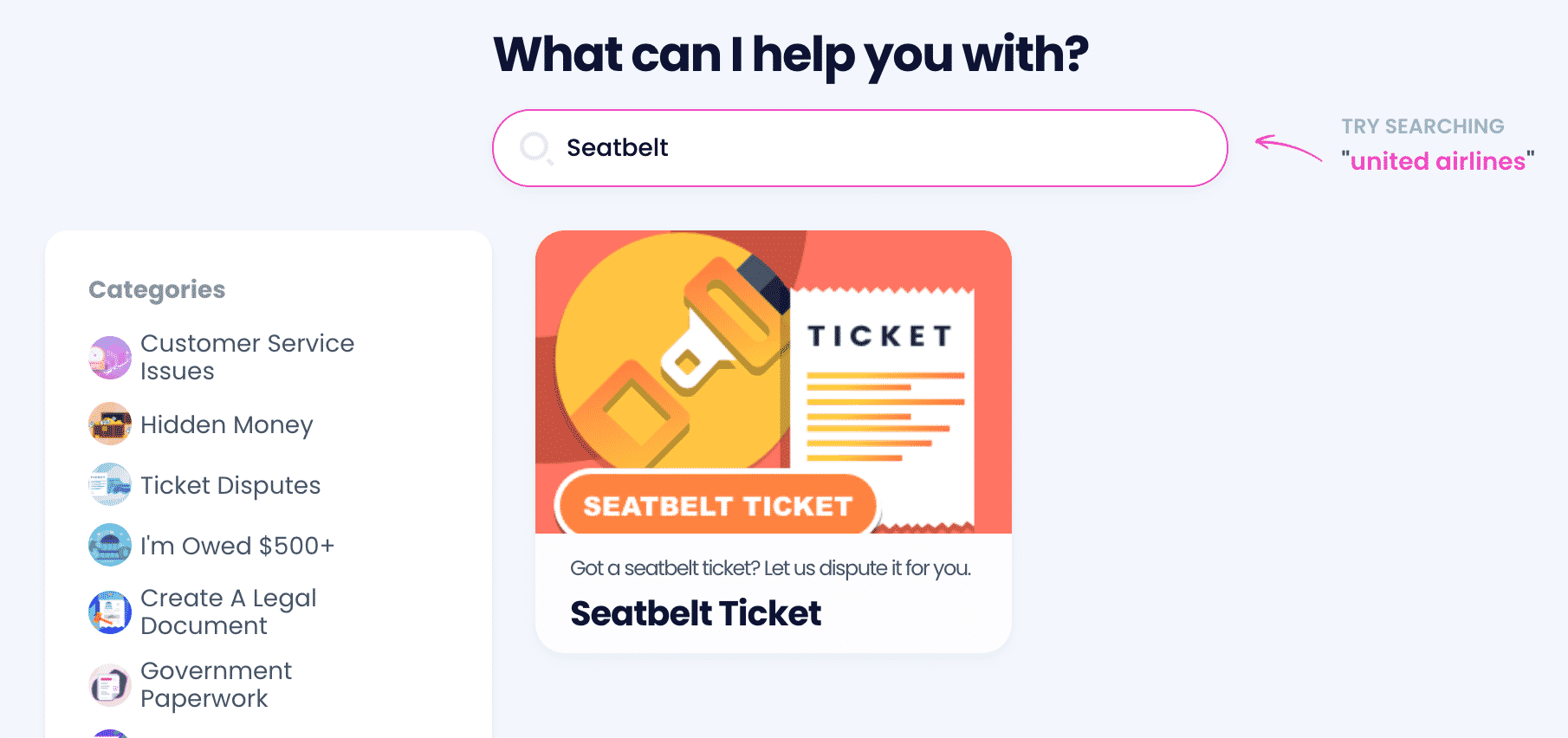 All we need is a photo of your ticket and a few essential details about the situation you have experienced. We will generate a formal personalized letter and send it to the authorities before you know it.
Here's how to proceed:
Locate the Seatbelt Ticket product in our app
Tell us who got the seatbelt citation
Select the argument you want to use for the appeal process
Attach the photo of your seatbelt fine and answer our chatbot's questions
If you commute frequently or plan to travel out of state, don't miss other handy guides we created to help you understand seatbelt laws in: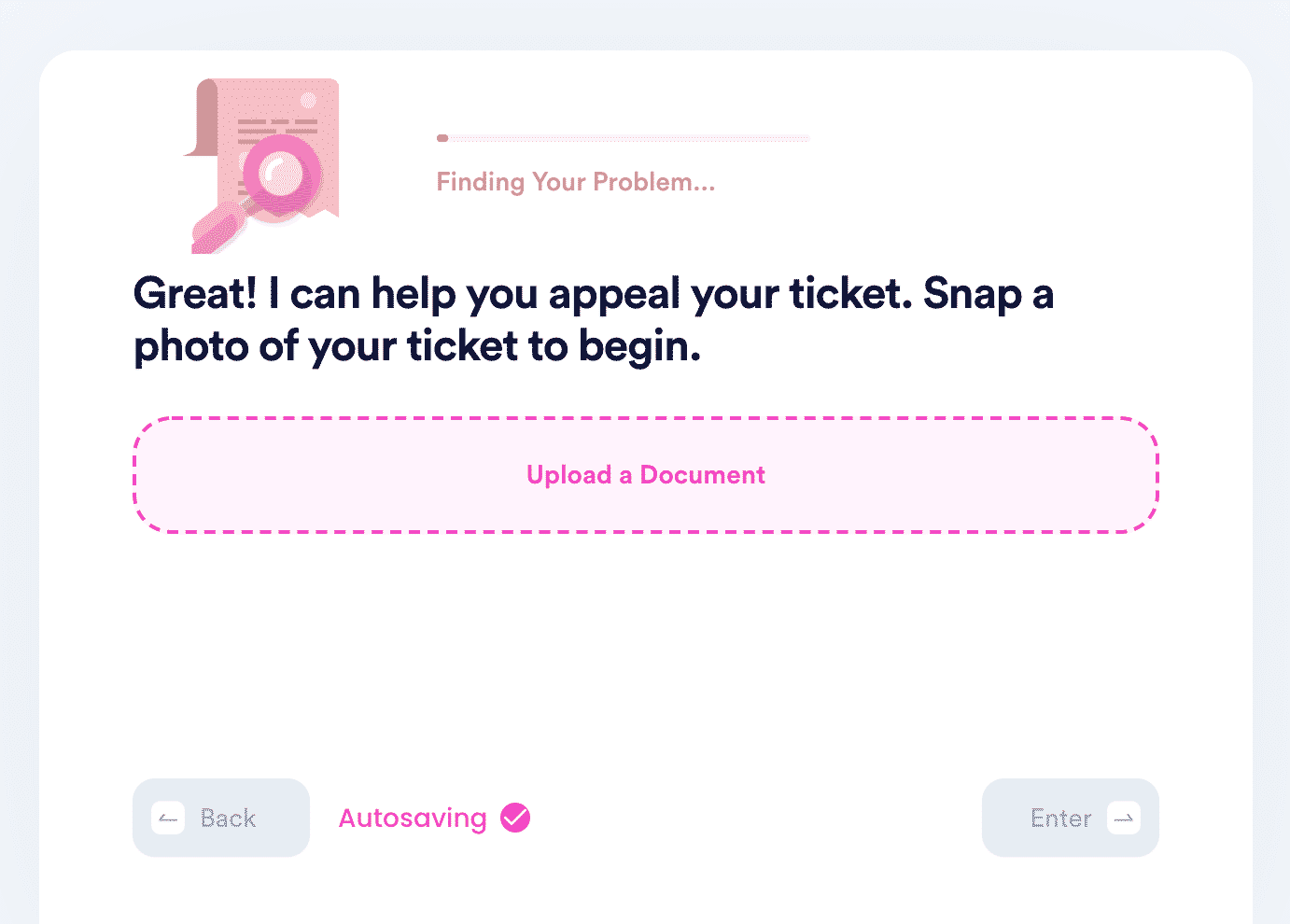 DoNotPay Offers More Assistance!
Our app boasts many features that can make your life easier.
Do you need help searching for unclaimed money or covering bills? Are you looking for clinical trials you can sign up for to earn some extra money? We can help you out in a flash!
Other tasks we can streamline for you are the following:
Forget Hiring a Lawyer—Use DoNotPay Instead
You don't want to spend a fortune on lawyer fees? No problem! DoNotPay—the world's first robot lawyer—is here to assist you! With our help, you'll be able to file complaints, sue anyone in small claims court, handle stalking and harassment, get crime victims' compensation, and draft numerous documents, including:
If you need to get a document notarized, you can also count on our help. We'll connect you with an online notary who will notarize your document in a flash.