Is a Seatbelt Ticket a Moving Violation in Illinois or Not?
Seatbelt tickets are considered petty offenses and not moving violations in most states. The chances are there won't be any points added to your license, but a traffic officer can ask you to pull over and fine you.
So, is a seatbelt ticket a moving violation in Illinois, or is it a petty offense? Find out in our guide.
What Is a Moving Violation?
A moving violation is an offense committed by the driver of a moving vehicle. What differentiates moving violations from petty offenses is that you can get demerit points added to your license, which can affect your insurance significantly. Examples of moving violations include:
Drunk driving
Street racing
Speeding
More serious violations, such as hit and run, are more likely to be classified as felonies, while minor infractions, such as not wearing a seatbelt, can lead to small fines and warnings.
The Big Question—Is a Seatbelt Ticket a Moving Violation in Illinois?
No, a seatbelt ticket is not a moving violation in Illinois, and no points are added to your license. Violating the seatbelt laws in Illinois can lead to fines, but it is not necessary to visit the court to have these tickets dismissed.
Why Is It Important To Wear Seatbelts?
Car accidents are unpredictable. There can be dire consequences if you are in a car crash and not wearing a seatbelt. You may:
Go through the windshield of your car
Hit other passengers and injure them as well as yourself
Crash into anything inside the vehicle
Be fatally injured
By buckling in, you can avoid a ticket and save your and other people's lives.
What Is the Seatbelt Law in Illinois?
The state of Illinois requires all drivers and every passenger in all seats—front and back—to wear seatbelts.
Persons exempt from the seatbelt laws are the following:
People with medical conditions that prevent them from wearing seatbelts
Drivers who have to stop and exit the vehicle frequently, given that the vehicle is not moving faster than 15 mph
Drivers going in reverse
Passengers riding in the backseat of a taxi
A driver or passenger riding in a vehicle that was manufactured before 1965
A passenger or medical professional riding in the backseat of an emergency vehicle, such as an ambulance
Rural mail carriers employed by the U.S. Postal Service
What Are the Child Seatbelt Laws in Illinois?
In an effort to protect children from getting severely or fatally wounded, Illinois implements the following child seatbelt laws:
| Age of the Child | Law |
| --- | --- |
| Under two | The child must be properly restrained in a rear-facing car seat appropriate for their weight and height. The car seat must be secured in the backseat |
| Between two and eight | Children must be in front-facing car seats or booster seats that provide optimal restraints that fit snugly across a child's thighs and hips |
| Between eight and 16 | The child must wear a seatbelt at all times, regardless of their seating position |
Fines for Not Wearing a Seatbelt in Illinois
The following table will break down the fines associated with breaking the seatbelt laws in Illinois:
| Category | First Offense | Second Offense |
| --- | --- | --- |
| Adult | $25 | $25 |
| Child | $75 | $200 |
If a seatbelt law infraction involves a child aged 15 and under, the fine is awarded to the driver.
What Happens if You Don't Pay Seatbelt Tickets in Illinois?
Failure to pay seatbelt fines in Illinois can have one of the following consequences:
For drivers above the age of 18, the license will not be suspended, but they will not be able to renew it until the office of the Secretary of State is notified by the court that all fines have been cleared
For drivers under 18, the first offense is usually written off with a warning. A second offense will lead to the suspension of the license
DoNotPay Can Help You Deal With Seatbelt Tickets
Sometimes, drivers or passengers get seatbelt tickets by mistake. Having them dismissed is possible but time-consuming.
If you have received a seatbelt ticket and want to contest it, you can save your time and effort by using our app.
All you have to do is log in to DoNotPay and follow these steps:
Locate the Seatbelt Ticket product
Enter some information about the ticket
Tell us about the argument you would like to use to dispute the ticket
Provide evidence and photos, if possible
We will create an appeal letter and mail it to the ticket authorities on your behalf.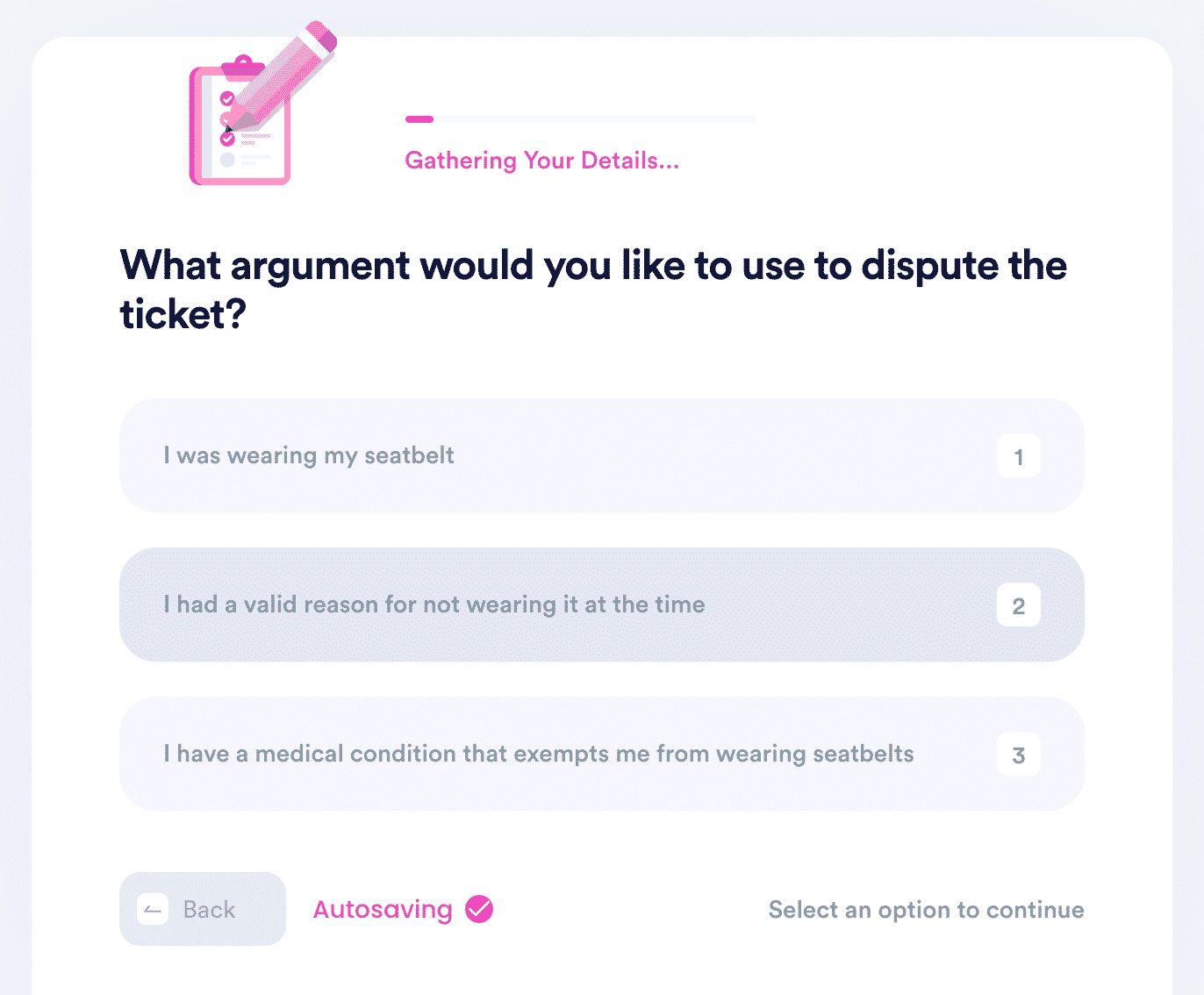 What Are the Seatbelt Laws in Other States?
You can use DoNotPay to get your seatbelt tickets dismissed across the U.S. If you want to understand the seatbelt laws in any other state besides Illinois, check out the table below:
Save Money With the Help of DoNotPay
Are you tired of losing money on useless memberships and forgotten subscriptions? Our app can help you cancel subscriptions or memberships in a snap. Have some questions for the customer service? Use DoNotPay to jump the phone queue.
If you want to sign up for a free trial but don't want to risk being charged, get our virtual credit card. Thanks to this card, you'll enjoy any free trial stress-free. It will also save you from receiving spam emails.
In case you're also struggling to claim a warranty or insurance, we can assist you with this too. Rely on DoNotPay to solve any issue regarding purchased products—whether you need to return an item, file a chargeback request, or get a late delivery refund.
If you're dealing with a serious problem, don't bother wasting your money on lawyers—our AI-powered app can help you file a complaint, appeal a banned account, sue anyone in small claims court, and draw up various legal documents!
DoNotPay Also Helps You Earn Money
Our app is an expert at saving money, but we can also assist you in earning some. You can use DoNotPay to find unclaimed funds under your name, sign up for paid clinical trials, and get victims' compensation. If you want to redeem your gift cards for cash, enter numerous sweepstakes, and get compensated for a delayed flight, count on our help!