Everything You Should Know About the Alaska Seatbelt Laws
People often neglect to wear a seatbelt, even with strict seatbelt laws being enforced all over the country. If, for example, a child unbuckles without the parents noticing, they can still get pulled over and fined.
What are the Alaska seatbelt laws? Is failing to buckle up a moving violation in this state? Can you go to court or receive points on your license for not wearing a seatbelt? DoNotPay provides answers to all these questions. You can to get a seatbelt ticket dismissed effortlessly!
Uncovering the Alaska Seatbelt Law
Failure to wear a seatbelt is not a moving violation in Alaska. Wearing seatbelts became a law in the United States in the late 1960s. Seatbelt laws are rigorously administered in Alaska and mandate that no one above the age of sixteen must drive or be driven on a highway without wearing a seatbelt.
The Alaska Child Seatbelt Laws
Every child being transported in a motorized vehicle must be safely restrained. The seatbelt laws in Alaska require the following restraint systems for children:
| Age | Type of Restraint |
| --- | --- |
| Up to twelve months | Rear-facing car seat |
| One to four years | Forward-facing car seat with a five-point harness system |
| Four to seven years | Booster seat |
| Seven to 12 years | Booster seat until they outgrow it, then an in-car seatbelt |
Children below the age of thirteen are not permitted to travel in the front seat unless:
They can sit all the way back across the seat with their knees folded comfortably over the edge
The shoulder belt crosses the center of the child's chest and shoulder
The lap belt fits snugly against the child's thighs and lower hips
The child is able to remain seated in the position described above throughout the whole journey
How Much Do You Have To Pay for a Seatbelt Ticket in Alaska?
The cost of a seatbelt ticket in Alaska is higher than that in most other states. The table below provides an overview of the possible fines for failing to comply with seatbelt laws:
| Age | Fine | Who Pays? |
| --- | --- | --- |
| 16 or over | $60 | Driver |
| Below 16 | $200 | Driver |
What Should You Do if You Receive a Seatbelt Ticket in Alaska?
If you receive a ticket for not wearing a seatbelt in Alaska, your options are to:
Pay the ticket
Request a mitigation hearing
Contest the ticket
Pay the Seatbelt Ticket
The easiest option is to pay for the seatbelt ticket. Keep in mind that if you choose this option, it will automatically count as an admission of guilt. Depending on your previous record, you may receive demerit points on your license—which could affect your insurance—or face a suspension.
You can choose between the following methods of paying for a seatbelt ticket in Alaska:
Online—visit the Alaska courts website, select your city, and follow the remaining steps
By mail—the information should be displayed on your ticket
Visit the court in person—locate the court nearest to you and make a payment using cash or check
If you do not pay your ticket within 30 days, the court may give you a 15-day extension to respond. Beyond that, the judge will pass a default judgment and may charge you extra fines or order a suspension of your license.
Go to a Mitigation Hearing
While requesting a mitigation hearing can also count as an admission of guilt, it provides you with more options to pay the ticket. You can:
Get a reduction on your fine
Set up a monthly payment plan
Be ordered to complete hours of community service instead of a fine
The judge's decision is the final call in this case and cannot be contested.
Contest the Ticket
If you believe you've gotten a ticket by mistake, you can choose to contest it. To do so, you have to either check the appropriate box on your ticket and mail it to the court or call in and request a hearing. Here are the arguments you can cite when contesting a seatbelt ticket:
Faulty seatbelt or seatbelt clip
A witness who can confirm that you were given the ticket by mistake
Have Your Ticket Dismissed With DoNotPay
Seatbelt tickets are expensive, and contesting them typically requires you to follow a lengthy and exhausting procedure. Even after completing all the steps, you might end up losing the case and paying extra in terms of court fees!
If you want to dodge the hassle that comes with trying to get a seatbelt ticket dismissed, you can use DoNotPay. We offer an easy, convenient, and pocket-friendly way to contest your ticket! Here is what you have to do:
Locate the Seatbelt Ticket tool
Provide a few details about the ticket—your name and the date you received it
Select the argument you would like to use to dispute the ticket (reasonable doubt or due diligence)
We will generate an appeal letter on your behalf and mail it to the Alaska ticket authorities in no time!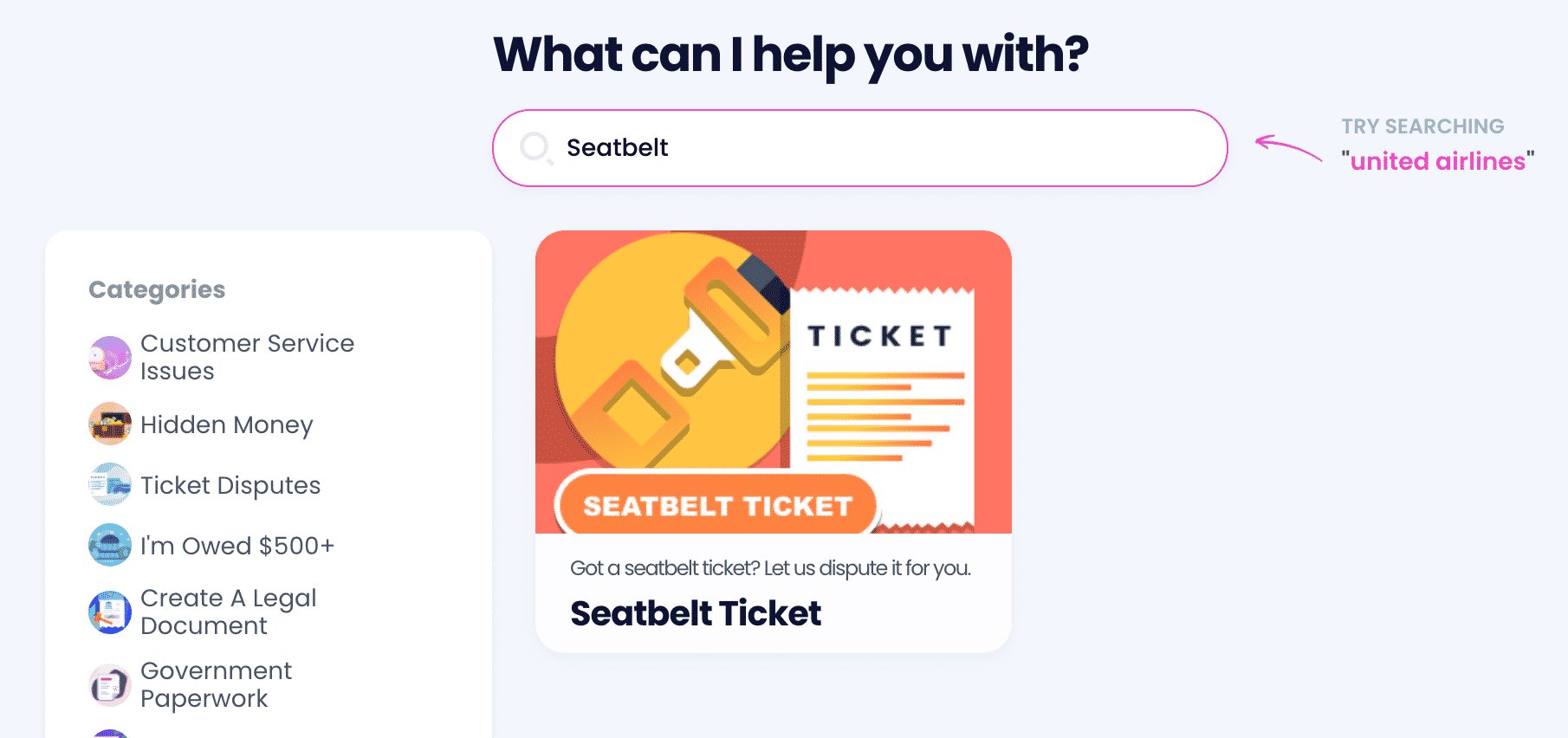 Got a Ticket in Another State? DoNotPay Can Help!
DoNotPay can help you contest tickets in various other states, including:
Save Money With the Help of DoNotPay
Are you tired of losing money on useless memberships and forgotten subscriptions? Our app can help you cancel subscriptions or memberships in a snap. Have some questions for customer service? Use DoNotPay to jump the phone queue.
If you want to sign up for a free trial but don't want to risk being charged, get our virtual credit card. Thanks to this card, you'll enjoy any free trial stress-free. It will also save you from receiving spam emails.
In case you're also struggling to claim a warranty or insurance, we can assist you with this too. Rely on DoNotPay to solve any issue regarding purchased products—whether you need to return an item, file a chargeback request, or get a late delivery refund.
If you're dealing with a serious problem, don't bother wasting your money on lawyers—our AI-powered app can help you file a complaint, appeal a banned account, sue anyone in small claims court, and draw up various legal documents!
DoNotPay Also Helps You Earn Money
Our app is an expert at saving money, but we can also assist you in earning some. You can use DoNotPay to find unclaimed funds under your name, sign up for paid clinical trials, and get victims' compensation. If you want to redeem your gift cards for cash, enter numerous sweepstakes, and get compensated for a delayed flight, count on our help!