North Dakota Seatbelt Law Explained
Car crashes are the main cause of death for the first three decades of Americans' lives. Buckling up reduces the risk of fatal car accidents, but not all drivers in the U.S. use this safety measure. In North Dakota, approximately 84% of drivers and passengers wear seatbelts—well below the national rate of 91%.
To get familiar with the North Dakota seatbelt law, make sure you read this quick guide.
What Is the ND Seatbelt Law?
According to the seatbelt law in North Dakota, a driver may not operate a motor vehicle carrying fewer than 11 passengers unless each of the front seat occupants is wearing a safety belt. This regulation does not apply to drivers who:
Operate vehicles that are not originally manufactured with seatbelts
Run farm vehicles
Work as rural mail carriers
Have a medical or physical disability that makes proper restraint in a safety belt impossible
Not wearing a seatbelt isn't a moving violation in ND. This means it won't cause an increase in your car insurance rates.
Child Seatbelt Laws in ND
Child seatbelt laws in North Dakota state that children:
Under the age of eight must be properly secured in a child restraint—either a car seat or a booster seat—regardless of where they sit in the car
Younger than eight, but at least 4' 9" tall, may use a seatbelt
Between eight and 17 must be properly secured in a seatbelt or child restraint
Can the Police Pull You Over for Not Wearing a Seatbelt in ND?
North Dakota is a state with secondary enforcement—a police officer doesn't have the authority to pull you over and issue a citation for not wearing a seatbelt. You can still be fined for this violation if you're stopped for another reason.
One exception to this rule are underage drivers and passengers. State law allows officers to cite you if anyone in your car—including you—is under the age of 18 and not buckled up properly.
How Much Does a Seatbelt Ticket Cost in North Dakota?
The penalty for not wearing a seatbelt is $20 if you and your passengers are over 18. Passengers and drivers that are under the age of 18 will need to pay a $25 fine.
Underage drivers will also get one point on their license for violating the seatbelt law in ND.
What To Do if You Get a Seatbelt Ticket in North Dakota?
If you get a seatbelt ticket in the Peace Garden State, these are your options:
Ignoring the fine
Fighting the ticket
Paying a ticket is seen as an admission of guilt in North Dakota, but ignoring it will lead to additional penalties (for example, a license suspension).
If you believe you didn't deserve to be fined, you have the option to fight the ticket. Keep in mind that the court can dismiss your ticket only if you have credible arguments. Take a look at the table below to find out what are your options:
| Options | Explanation |
| --- | --- |
| Mounting a due diligence defense | This means that you'll plead guilty but offer a credible justification for your inability to use a seatbelt or properly fasten a kid (for example, a medical condition) |
| Creating reasonable doubt | If you choose reasonable doubt, you're indicating that you or your passengers were properly restrained and that the police officer issued a ticket unfairly. Keep in mind that you'll need strong evidence to back up your claim in this instance |
No matter what method you use to dispute your ticket, make sure you do it within 15 days of getting one. You don't have to go through this process alone or spend money on a lawyer. Signing up for DoNotPay is the easiest and most cost-effective option.
DoNotPay Is the Best Solution for Disputing Your Ticket
Disputing a ticket doesn't have to be a hassle. If you choose our service, you will get a personalized and convincing appeal letter in minutes. We'll also send it to the relevant authorities, so you don't have to worry about mailing it yourself.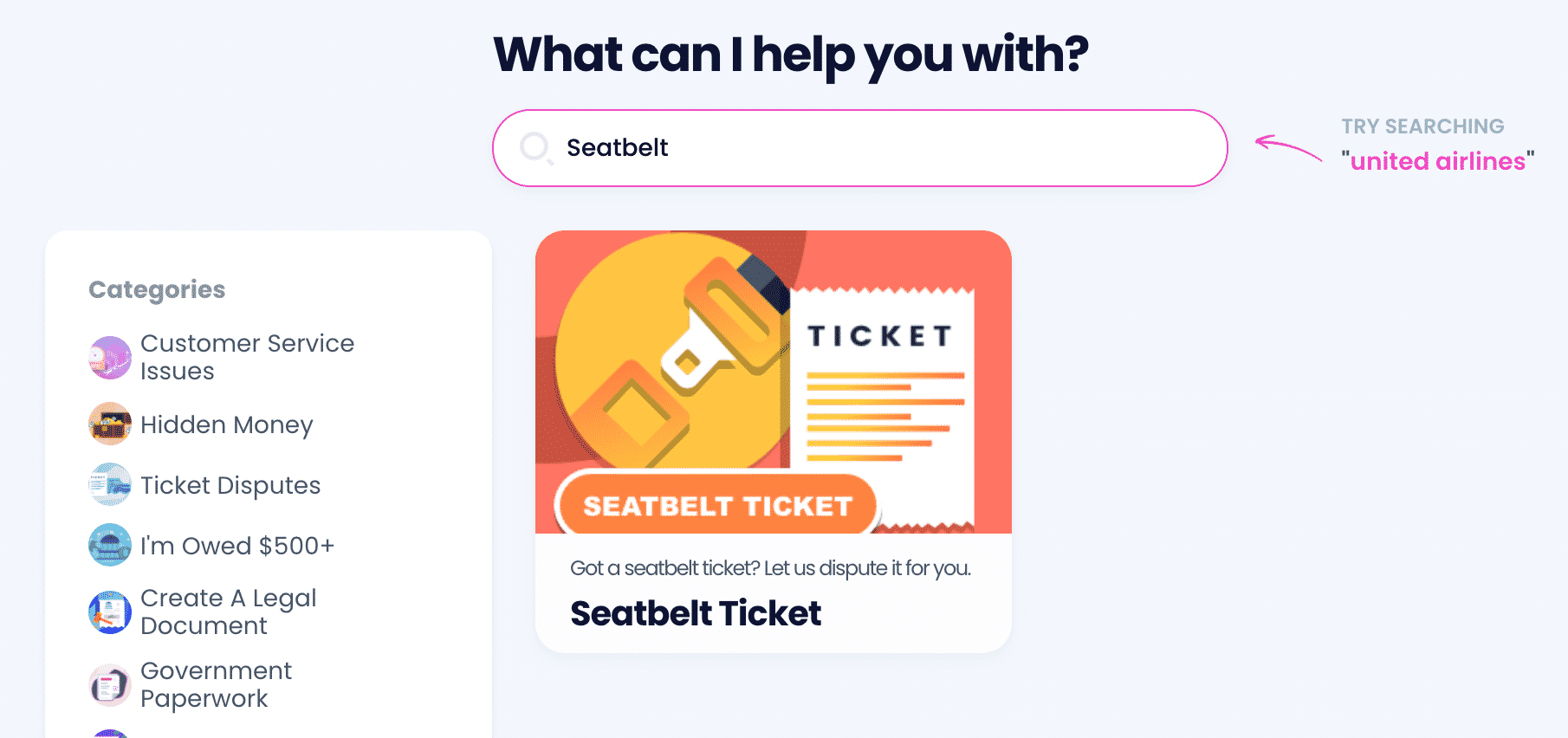 Here's what you need to do to initiate the process:
Log in to your DoNotPay account using any web browser
Enter Seatbelt Ticket into the search bar to find this feature
Take a photo of your ticket and upload it
Provide us with info about:

Who got the ticket
When the violation occurred
Which type of argument you would like to choose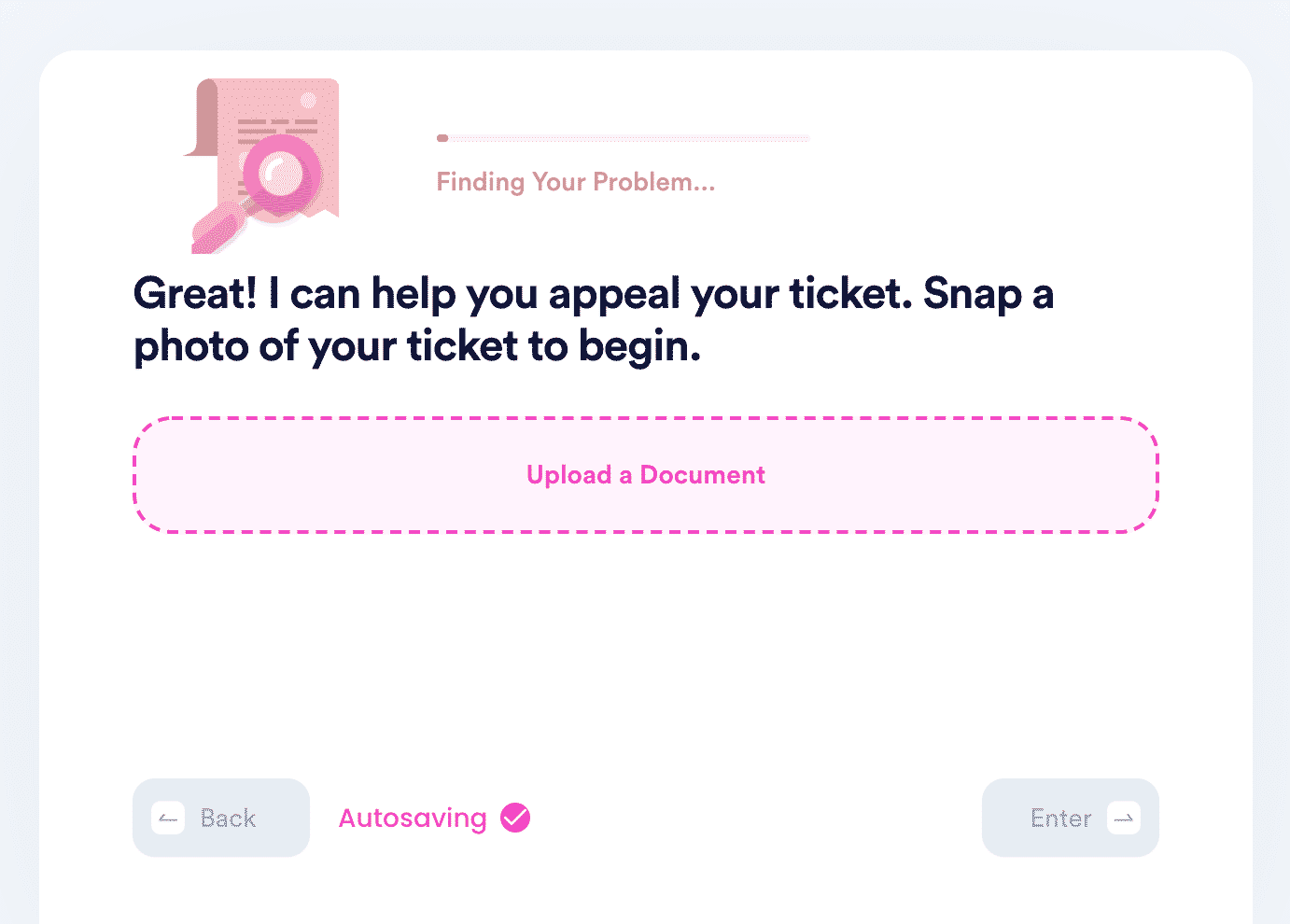 As soon as you complete all four steps and submit your answers, our app will:
Analyze all the info you provided in the questionnaire
Draft a custom appeal letter
If you are planning to visit other U.S. states in the near future, you should get familiar with their seatbelt laws. You can check them out in the table below:
Struggling Financially? DoNotPay Can Help You Out!
If you're on a tight budget and have trouble covering your bills, there are a few things we can do for you. DoNotPay is a great tool to both earn and save money.
If you or a family member is a student, you can use our app to search and apply for scholarships and request a college fee waiver. In case your financial aid application is rejected or the university offers little, we can help you file an appeal. Education can be expensive on all levels, so you may consider homeschooling your child.
Is your property tax bill through the roof? Discover ways to lower your property taxes with DoNotPay.
When you're strapped for cash, you can enter sweepstakes, get gift card cash back, or sign up for clinical trials in your area.
What Else Can You Expect From DoNotPay?
DoNotPay is a versatile app, helping users handle tasks and issues while saving time and money.
With our help, you can prepare for various government tests, contact embassies and consulates, appeal banned accounts, and send online faxes within minutes.
Count on DoNotPay when you need to mail letters, apply for tourist visas, or file anonymous HR complaints.
Fighting workplace discrimination and dealing with annoying neighbors will also be much easier with the world's first robot lawyer by your side.