A Guide Through the SC Seatbelt Laws
Are you a South Carolina resident or a passer-by? If you don't want to pay the price for driving around unbelted, you need to know what seatbelt rules you must follow.
Not only are the safety belt regulations different in every state, but they also change from time to time.
If you want to know what the current SC seatbelt laws are, you are at the right place. DoNotPay will give you an update on all rules and outcomes regarding seatbelt use—including:
What Are Seatbelt Laws in South Carolina?
All motor vehicle occupants—including the driver, front and backseat passengers—must wear a fastened safety belt. Drivers will need to pay the fine if any passengers under the age of 17 are unbelted. This won't apply if the occupants under 17 have their driver's license.
SC had secondary seatbelt law enforcement in the past, but this changed in 2005. Now, the enforcement is primary, meaning that the police officer can pull you over to issue a seatbelt ticket even if there is no other reason to detain you.
The law doesn't apply to the following:
People who have a physician's certificate with a valid medical reason for not wearing a seatbelt
Occupants in school, church, or daycare busses
People in public transportation vehicles—taxis excluded
Passengers who don't have a seatbelt in the back because all available ones are occupied
Drivers or passengers in cars that are manufactured without safety belts
SC Child Seatbelt Law
Child safety seats can reduce the chance of fatal injuries in children under the age of five by 71% and the need for hospitalization by 69%. South Carolina has strict laws regarding children's safety in the car—which you can review in the table below:
Age
Weight
Appropriate Child Passenger Restraint System
Up to one year of age
Less than 20 pounds
Rear-facing child safety seat
Up to six years of age

At least 20 pounds
Less than 40 pounds

Front-facing safety seat
Up to six years of age

At least 40 pounds
Less than 80 pounds

Belt-positioning booster seat with lap and shoulder belts on
Older than one year
More than 80 pounds
Regular seatbelt
Children who are five years old or younger can only sit in the back seat of the vehicle. It is recommended that children stay in the rear of the car until they are 13.
The safety seat must meet the standards set by the National Highway Traffic Safety Administration. The parents also need to follow the seat manufacturer's height and weight recommendations.
How Much Does Violating SC Seatbelt Laws Cost?
The fine for the first seatbelt offense for both drivers and passengers is $25. If you make multiple violations, the cost can go up to $50. There are no other charges—such as court costs.
SC takes children's safety seriously, and the fines reflect that. Violating the child seatbelt law comes with a much higher price—a $150 fine.
Does the Seatbelt Violation Go on Your Driving Record?
The authorities in South Carolina don't consider not wearing a seatbelt a moving violation. If you do get a ticket, this won't affect your:
Driving record
Penalty points
Insurance costs
What To Do When You Get a Seatbelt Ticket in SC
If you already have a seatbelt ticket in your pocket, you can choose to:
Plead guilty by paying for the ticket
Challenge the seatbelt ticket in court
If you are thinking about turning a blind eye to the citation, know that there will be consequences. The court might issue a bench warrant for your arrest—depending on the court and the amount. There is also a possibility of paying additional fees or even getting the license suspended.
In case you believe that the officer was wrong to write you a ticket, contest the citation. You have the right to do so if you can present:
Reasonable doubt—The law enforcement officer didn't notice that you were wearing a seatbelt
Due diligence defense—The law enforcement officer ticketed you unjustly as you had a valid reason not to buckle up—such as an emergency or driving in reverse
Need some assistance with creating a strong letter of appeal? Sign up for DoNotPay, and we'll solve your problem in a couple of minutes.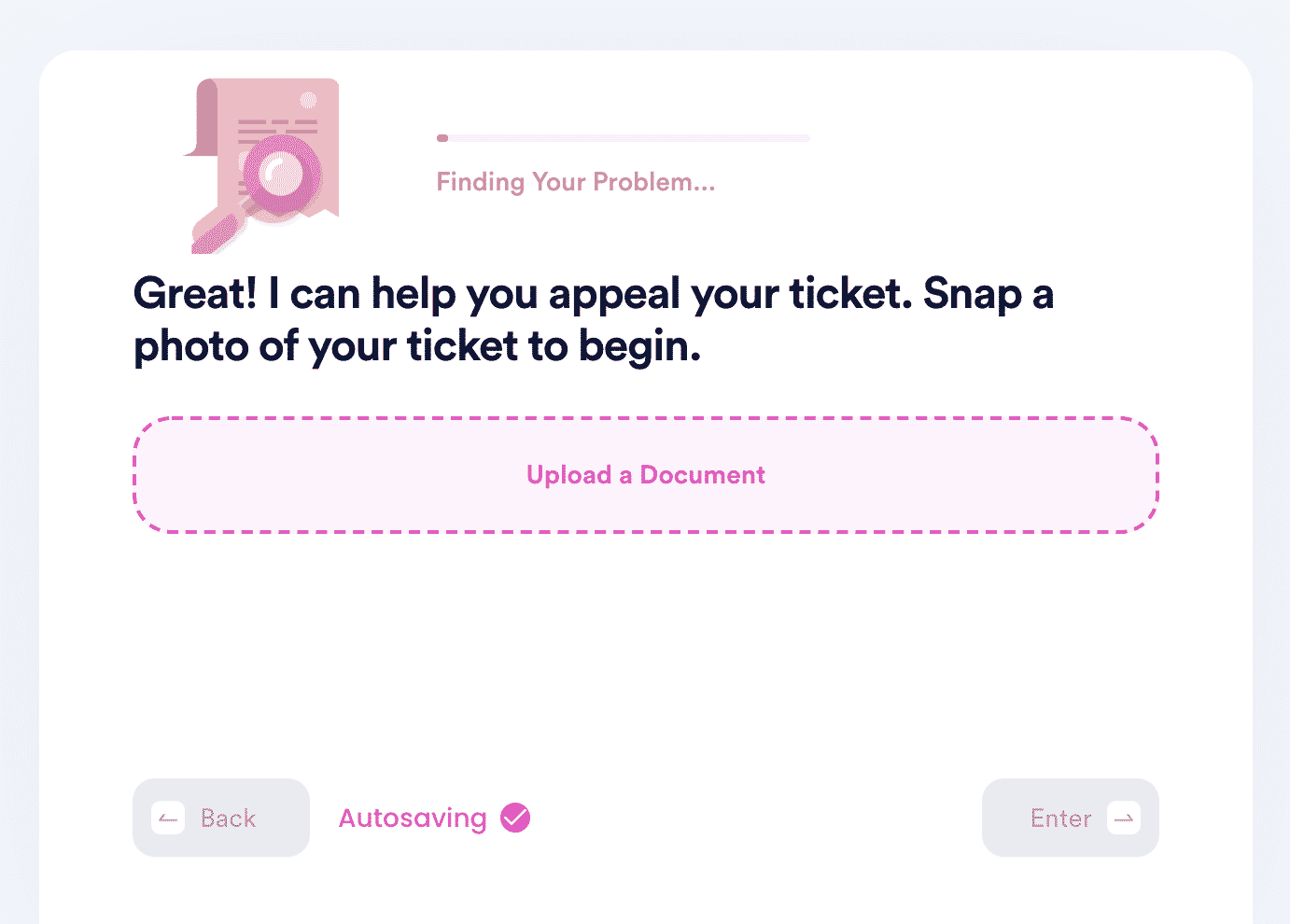 DoNotPay Can Help You Contest the Citation Stress-Free
You don't need to rack your brain trying to think of the best way to explain your situation. DoNotPay is a nifty app that takes the information you give us and turns it into a powerful and personalized ticket appeal.
Get your defense put together in a wink by doing the following:
Search for the Seatbelt Ticket feature
Upload a photo of the ticket
Answer our chatbot's questions about the event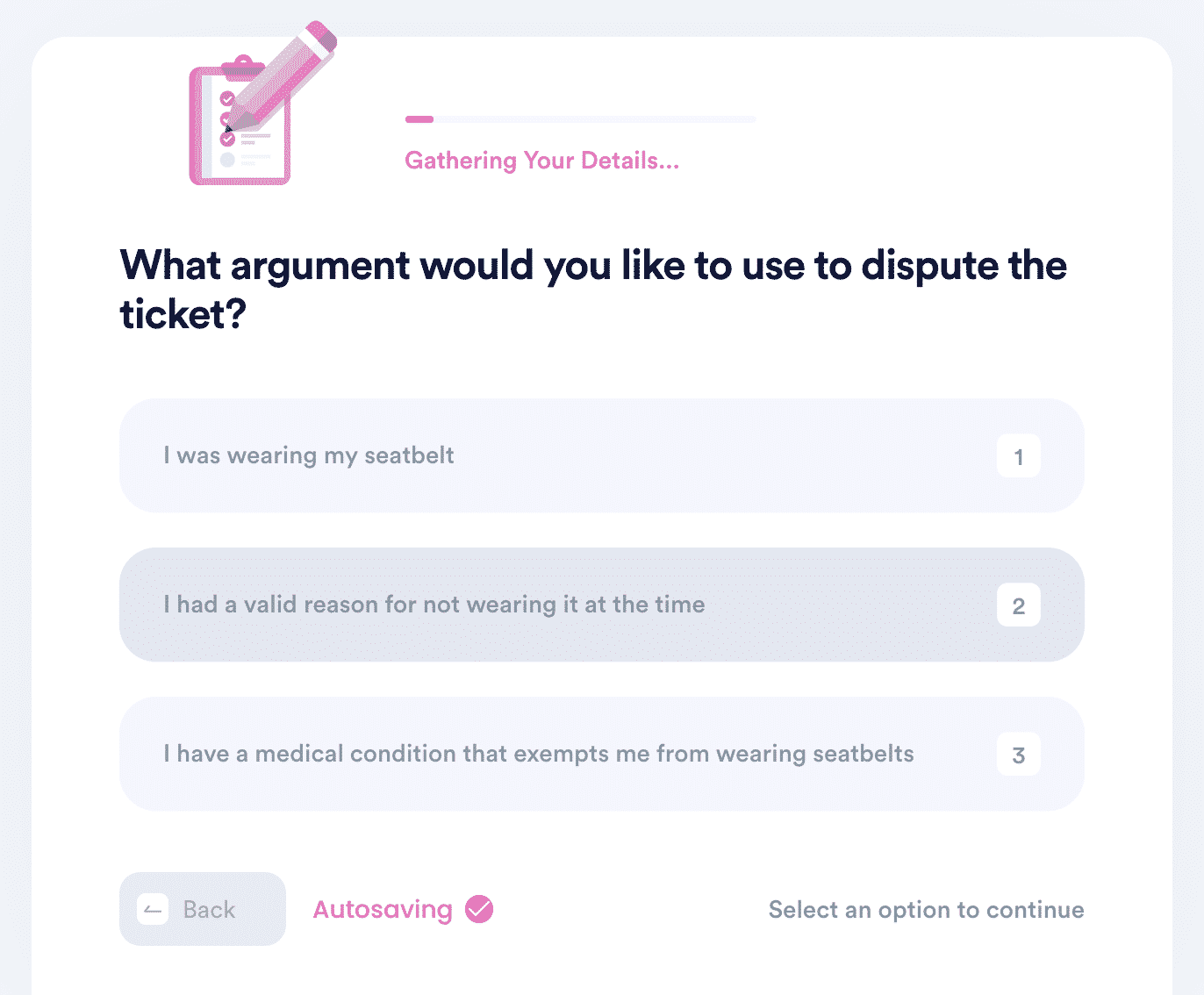 If you plan to visit Tennessee, New York, or any other state, use our simple guides to get insight into seatbelt laws across the U.S.:
Our App Offers Assistance in More Ways Than One
As a multifaceted app, DoNotPay creates solutions to numerous problems. Check out the table below and get to know a fragment of what our app can do:
| Keep Your Privacy Intact | Deal With Legal Problems | Solve Money Issues |
| --- | --- | --- |
| | | |
Use DoNotPay To Streamline Different Tasks
Tick the items off your to-do list faster by signing up for DoNotPay. In record time, you'll be able to request a refund, cancel a subscription, and get a free trial.
If talking on the phone is your worst nightmare, don't worry—you can use our app to schedule a meeting with an online notary, reach customer service with ease, and make a DMV appointment.
Feel free to also rely on our app when you want to prep for government tests, file FOIA requests, or connect with loved ones in prison.