A Guide to the Montana Seatbelt Law
Seatbelts and child safety devices save lives. This has been proven in several studies by highway safety agencies. In an attempt to save more lives, all states except New Hampshire enforce their own seatbelt laws.
This guide will help you understand:
What the Montana seatbelt law is
What you can do if you get a seatbelt ticket
What Do the Montana Seatbelt Laws Mandate?
Montana has straightforward seatbelt and children car seat laws:
Drivers and passengers must wear seatbelts
Drivers of commercial vehicles that are equipped with a safety belt must buckle up
Children who are under the age of six and weigh less than 60 pounds must be restrained per the car seat manufacturer's recommendations
Although it is not a requirement by the Montana child passenger safety law, children should ride in the back seat at least until their 12th birthday.
Certain people are exempt from this law:
Vehicle occupants who have a medical condition that prohibits the use of a safety belt—They must have written statements from a licensed physician or registered nurse
Drivers of vehicles that are licensed as special mobile equipment
Persons who frequently stop on official job duties, like garbage collectors and rural postmen
Passengers of motor vehicles in which all seatbelts are used by other passengers
School bus passengers
Children who can't be restrained in child restraint systems due to their medical condition or body size
Can You Get Pulled Over for Not Wearing a Seatbelt in Montana?
States normally enforce safety belts laws in two ways:
Primary enforcement—This allows an officer to stop and ticket vehicle occupants for failure to use seatbelts without any other traffic offense. Currently, 34 states use this approach
Secondary enforcement—An officer cannot stop a vehicle if the occupants are not wearing seatbelts unless there is another traffic violation
In Montana, the adult seatbelt law is a secondary enforcement law, while the child passenger safety law requires primary enforcement. So far, all attempts to create a primary enforcement adult seatbelt law in the state have failed.
Penalties for Child Car Seat and Seatbelt Violations
The driver is always the responsible party when it comes to compliance with Montana seatbelt laws. Failure to use an appropriate child restraint device for children under six years of age and 60 pounds will result in a fine of up to $100. The fine can be waived for the first violation if the cited person provides evidence of acquiring an appropriate child restraint device within seven days of the violation. The proof should be sent to the office of the charging officer.
The violations of the seatbelt law by an adult driver or passenger results in a $20 fine. For commercial vehicles, drivers who don't buckle up can get a $60 fine and two points on their driving record.
You should check your ticket deadline and comply or dispute it in time to avoid additional penalties.
In Montana, seatbelt violations are not counted as moving violations. While a seatbelt ticket may not affect your insurance rates on its own, your overall driving record counts.
How To Appeal a Seatbelt Ticket in Montana
If you pay the fine, you plead guilty and accept any other consequences. Want to keep your driving record clean? Then you should contest the ticket in one of the following ways:
Reasonable doubt—With this approach, you will be arguing that you, in fact, had a seatbelt on or that you secured a child properly. You will need to provide a convincing reason why the enforcement officer made a mistake—for instance, the color of the seatbelt matched your outfit. This can only work if the officer did not pull you over to confirm
Due diligence defense—Provide valid reasons why you should not be convicted for violating the seatbelt law, for instance:

A medical or physical condition
An emergency situation
Faulty safety belts
Do you need help in building a strong argument? You can rely on DoNotPay. and give us a few details about the ticket. Our AI bots will draft a convincing appeal letter to get your seatbelt ticket dismissed.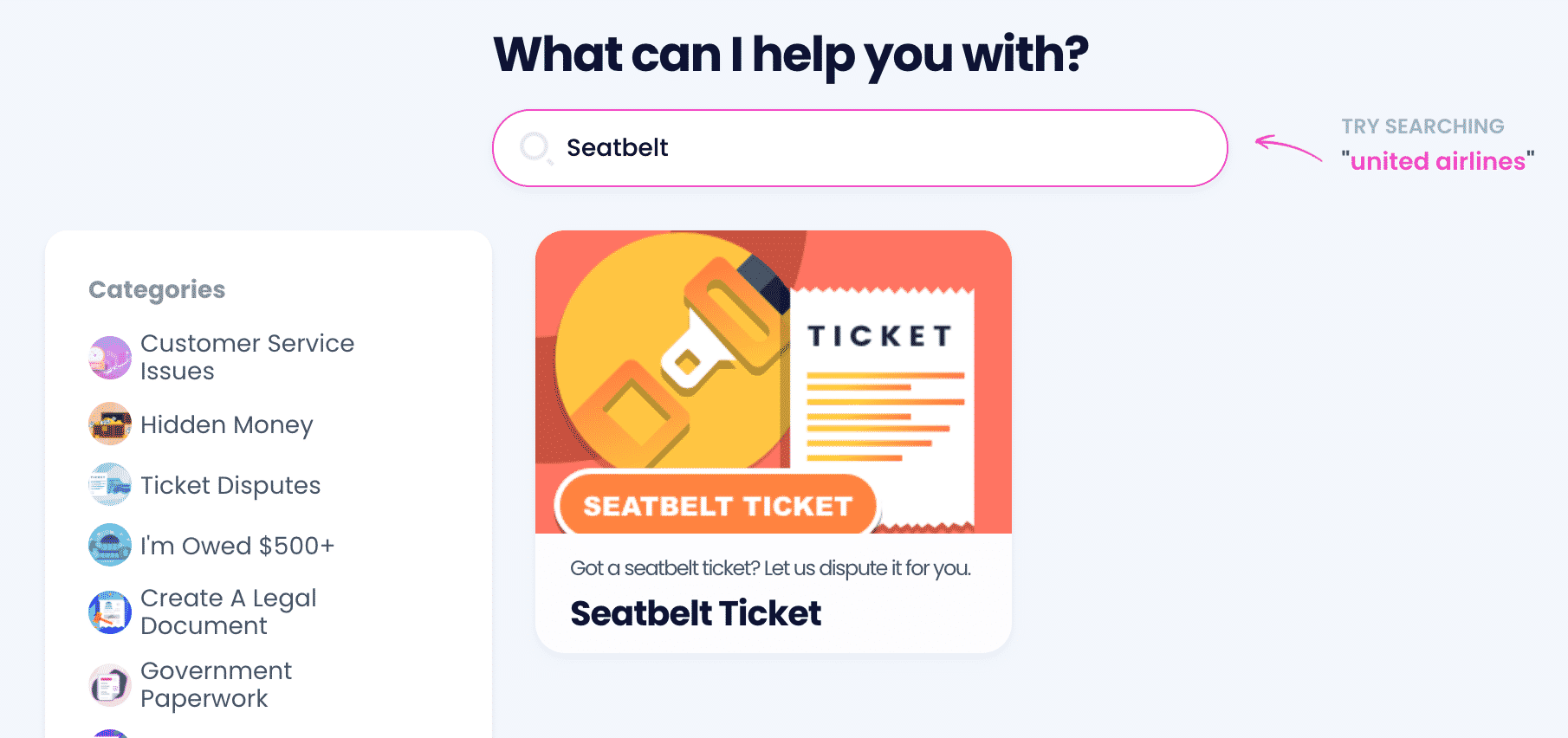 Have a Seatbelt Ticket Dismissed Painlessly With DoNotPay
If you have a valid reason, you don't need an attorney to build the best possible defense. You can fire up our user-friendly tool from the comfort of your home or office.
The process is as simple as ABC:
Select the Seatbelt Ticket feature
Upload photographic evidence of the ticket
Tell us more about the situation and the argument you want us to use by answering a few questions
That's all! Our system will generate an appeal letter and mail it to the authorities quickly. You can just relax and wait for the results.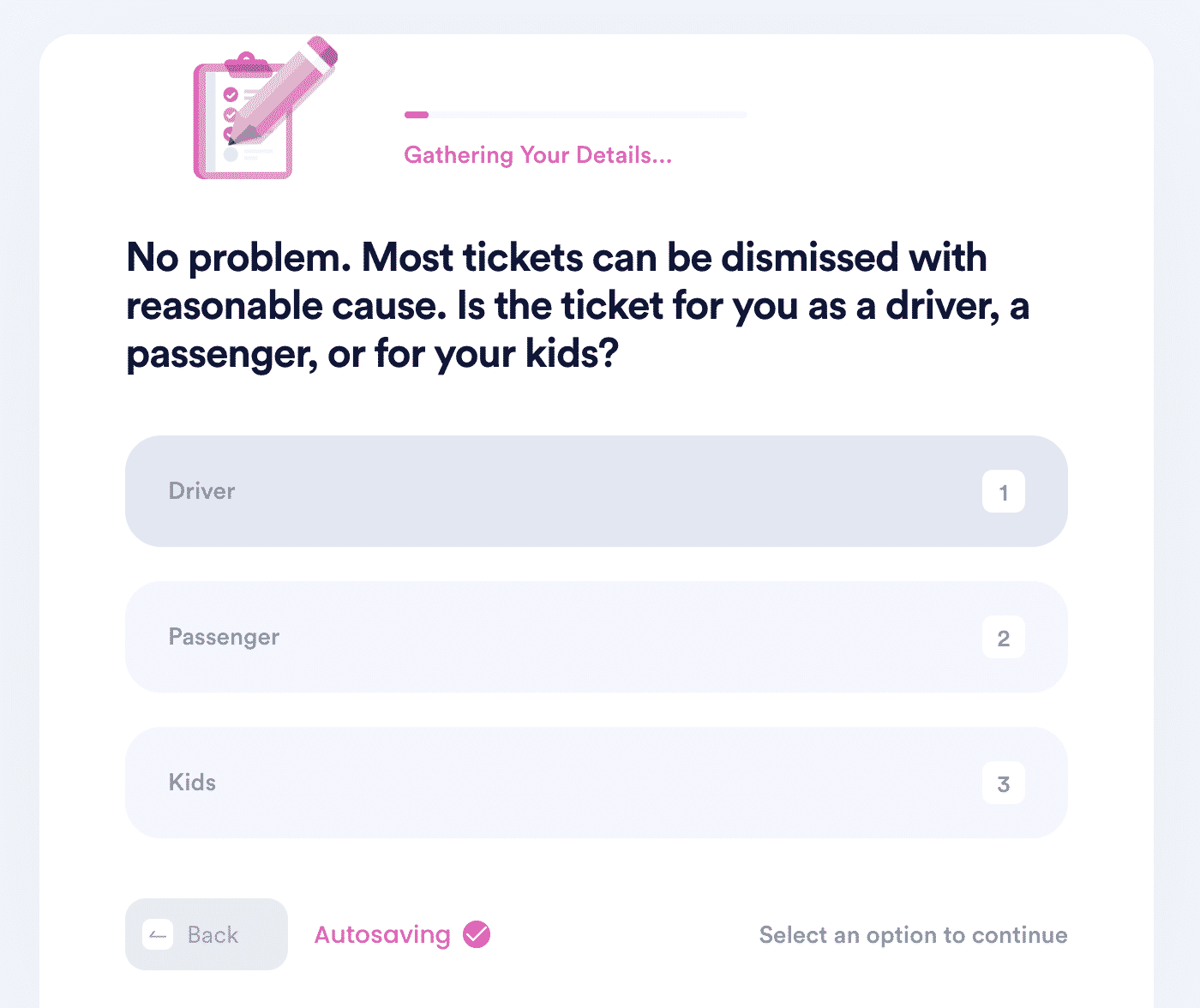 Are you commuting to or visiting another state? Check out our guides to state-specific seatbelt laws to avoid needless friction with the authorities and consequences such as court appearances:
Our App Offers Assistance in More Ways Than One
As a multifaceted app, DoNotPay creates solutions to numerous problems. Check out the table below and get to know a fragment of what our app can do:
Use DoNotPay To Streamline Different Tasks
Tick the items off your to-do list faster by signing up for DoNotPay. In record time, you'll be able to request a refund, cancel a subscription, and get a free trial.
If talking on the phone is your worst nightmare, don't worry—you can use our app to schedule a meeting with an online notary, reach customer service with ease, and make a DMV appointment.
Feel free to also rely on our app when you want to prep for government tests, file FOIA requests, or connect with loved ones in prison.