Get a Bird's-Eye View of the Georgia Child Seatbelt Laws
Traffic-related deaths have been on a constant rise in Georgia, and not wearing seatbelts can only worsen the situation. As per Georgia's Department of Law, the majority of the state's child fatalities are caused by crashes that included seatbelt violations.
The Georgia child seatbelt laws—called Georgia's Child Passenger Safety Laws—have detailed provisions that maximize the safety of kids in a car. In this article, DoNotPay will give you a comprehensive overview of:
The child seatbelt laws in Georgia
The state's recommended best practices for child passengers
Child Seatbelt Laws in Georgia Explained
Georgia child seatbelt legislation states that every kid under the age of eight should be:
Restrained in a booster or child passenger safety seat fitted to their height and build—the restraint system should be pre-approved by the United States Department of Transportation
Seated in the backseat of the car only if their height is less than 57 inches
Refer to this table to understand the various aspects of this legislation:
Aspect
Explanation
Who is required to follow GA child seatbelt laws?
GA child seatbelt law applies to a parent, caregiver, or any other adult who is driving a child on Georgia roads and using one of the following vehicles:

Passenger automobile (includes a sports and classic car)
Van

Children traveling in public transit vehicles—or commercial vehicles like a taxicab or a school bus—don't have to follow seatbelt requirements

What will be considered a non-moving or moving seatbelt violation?
You will be guilty of a seatbelt violation if you fail to:

Secure a child with an appropriate restraint system
Fix or install the restraint system with adequate latches
Place a child in the backseat

Are there any exemptions?
Currently, Georgia law allows certain exemptions for backseat seating requirements stating that a child can sit in the front if:

They weigh 40 pounds or more
The car has no backseat
The backseat is occupied by other restrained children
GA Seatbelt Law for Kids—Consequences of Violation
According to Georgia's seatbelt laws, a seatbelt violation is considered a primary enforcement offense, so an officer can ask you to pull over merely for:
Not wearing a seatbelt, whether you're an adult driver or a passenger
Ignoring seatbelt laws for kids
Having an unbelted passenger between nine and 17 years old
If the officer finds you guilty of a seatbelt violation, you can receive:
A seatbelt ticket carrying a penalty as per Georgia regulations
A citation to appear in court
Demerit points on your driving license that:

Lower your credibility as a driver
Increase your annual auto insurance expenses
Currently, you will face the following fines for disregarding seatbelt laws for kids:
Violating Child Seatbelt Law
Penalties (per Child)
First conviction
Second and subsequent convictions

A fine of $50 to $100
Two demerit points on your license
Remember that your Georgia driving license will be suspended if you rack up 15 demerit points in a two-year window.
Your license will also be suspended if you ignore a ticket and don't pay the fine. If you miss a court date, you'll face Failure to Appear (FTA) misdemeanor charges and may have an arrest warrant issued in your name.
Can You Contest a Ticket Under Georgia Child Seatbelt Law?
Breaking children's seatbelt laws is considered a serious offense as you're endangering the life of a child in the process. To make matters worse, these violations stay on your driving record and give you a bad rap as an irresponsible driver.
If you have reason to believe that you were unfairly ticketed, you should contest the ticket in court. Once you convincingly present your arguments, the court may overturn the ticket and reinstate your previous license points.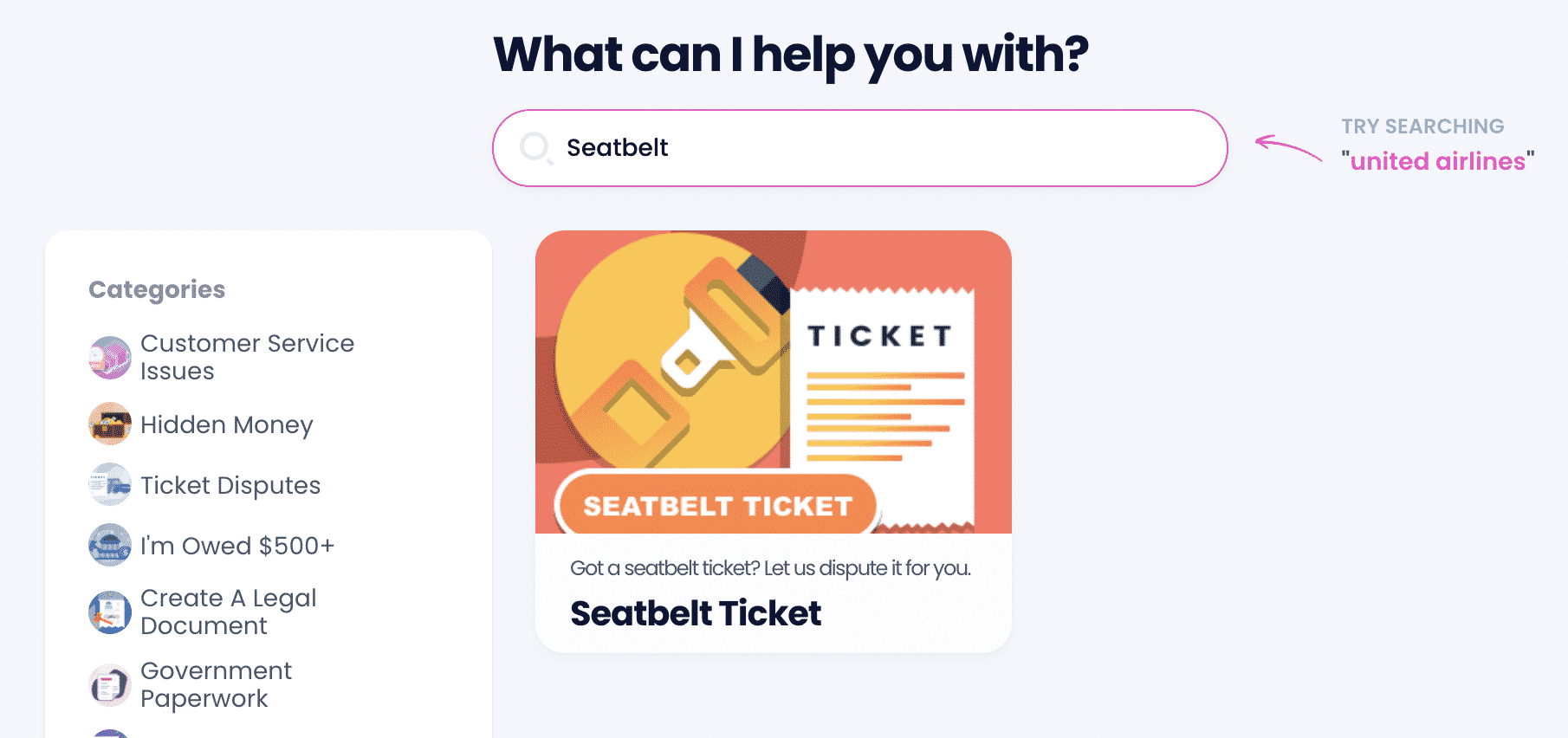 Court proceedings can take a lot of time, mental energy, and financial resources, so many innocent drivers shy away from challenging a ticket. To help you get the justice you deserve, DoNotPay offers a Seatbelt Ticket product!
to appeal your ticket in the blink of an eye!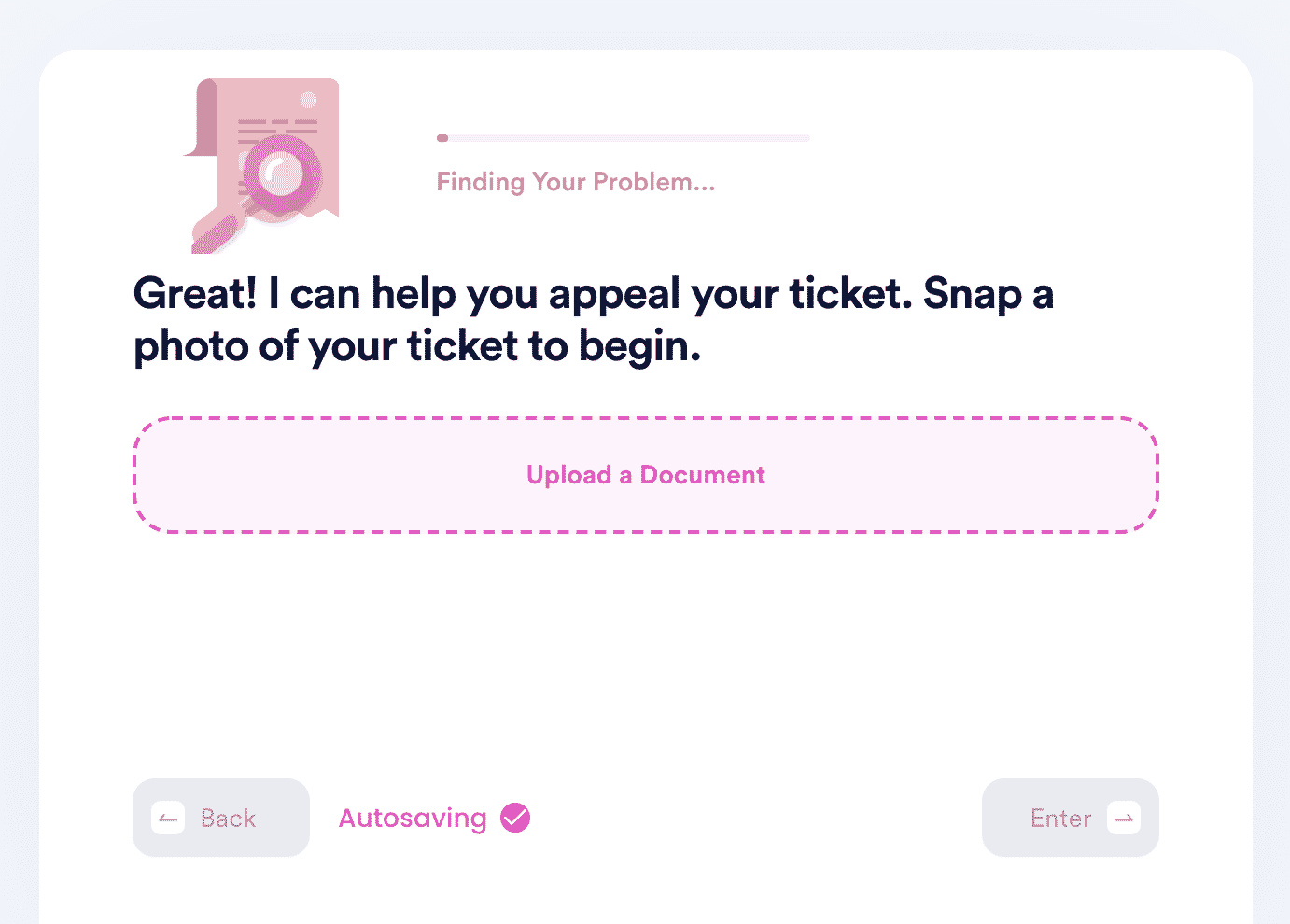 How To Appeal a Ticket With DoNotPay
DoNotPay offers a user-friendly interface enabling you to appeal seatbelt tickets in a structured manner. All you have to do is answer the following questions:
Who received the seatbelt ticket—a driver, a passenger, or a child?
What argument are you going to use?
Don't use weak arguments or personal opinions on the disadvantages of wearing a seatbelt because they don't work in court. Instead, use robust defense to prove:
You followed the seatbelt laws
You had a reason for not following them
Here are some examples of strong arguments, but use them only if they are true:
"My child suffers from a medical condition that prevents them from wearing a seatbelt"
"My child's booster seat malfunctioned mid-journey"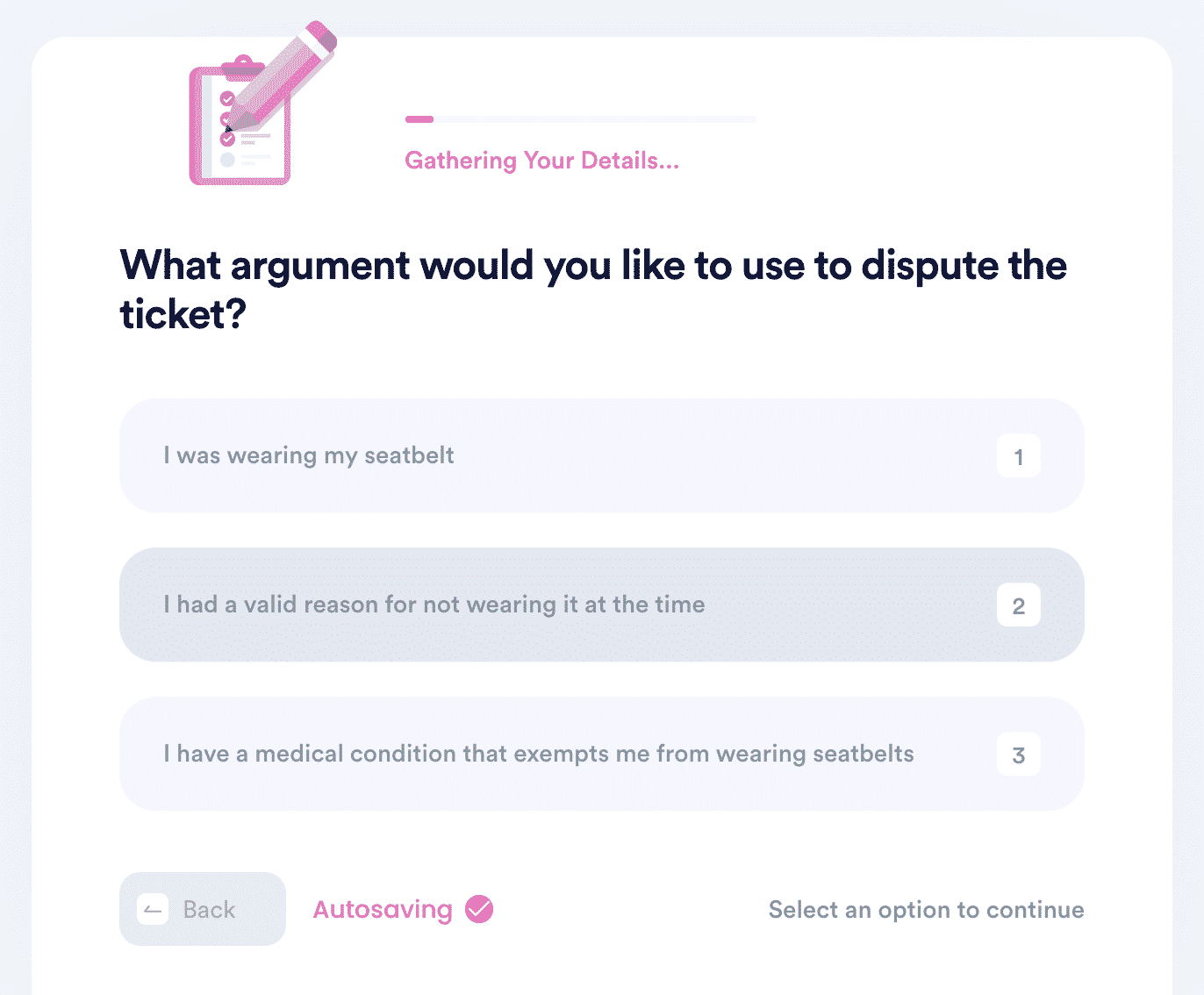 If you already have an argument ready, and:
Access our Seatbelt Ticket product
Upload a photo of the seatbelt ticket
Fill out our chatbot's questionnaire
Add evidence to support your argument (optional)
We will prepare an appeal letter specific to your case and mail it to the authorities.
Georgia's Recommended Best Practices for Child Passengers
Georgia laws offer recommendations for the safety of underage passengers—check them out below:
Keep your child in a customized booster seat for as long as possible
Don't let your child use standard seatbelts or sit in the front seat until they are 13
Avoid using second-hand booster seats
Consider using a high-back model booster seat if your car is missing a headrest
Opt for rear-facing child seats for your kids whenever possible
What's Next?
Once you complete the task at hand, you don't have to stop there—we offer a myriad of products that can relieve you of the stress that comes with dealing with admin and legal hurdles.
DoNotPay can assist you in drawing up a divorce settlement agreement, child travel consent form, power of attorney, and other legal documents, contacting government representatives, getting tourist visas, fighting workplace discrimination, getting a burner number, appealing banned accounts, getting access to public records, scheduling a DMV appointment, and much more.
Tackle Any Energy-Draining Task With DoNotPay
With DoNotPay by your side, you don't have to worry about how you'll cover your utility bills at the end of the month—we'll provide swift assistance as soon as you sign up!
Wondering what else our app is capable of? Check out how we can: