Getting Acquainted With the Virginia Seatbelt Laws
Many drivers in Virginia tend to forget about the basic seatbelt rules when operating their vehicles. Such reckless acts usually result in high fines and tiresome court proceedings, while more serious consequences include severe injuries or even death. Compliance with the proposed regulations can save thousands of lives a year, which is why everyone should know the ins and outs of the local rules.
What do the Virginia seatbelt laws dictate? What child seatbelt regulations does the Old Dominion define? How much does a seatbelt ticket cost, and how can you get it dismissed yourself or using DoNotPay? We cover these and many more questions and answers in this easy-to-follow manual!
A Quick Overview of the Virginia Seatbelt Laws
Seatbelt regulations in Virginia are defined by Section §46.2-1094 of the Code of Virginia. To help you understand them, we made a concise scheme with the most important questions and answers related to this law:
Criteria
Details
Who must have their seatbelt on in a vehicle in Virginia?
Seatbelt use is required for:

Drivers
Front seat passengers older than 16

Backseat passengers don't have to wear safety belts, but they are advised to do it for security reasons

Who gets ticketed if one or multiple passengers in the vehicle aren't buckled up?
Driver, unless the passenger(s) is/are above the age of 16
Is a seatbelt rule violation a primary or secondary offense in Virginia?

For adults above the age of 18, it's a secondary offense. The police can ticket them for not wearing a seatbelt only if they commit other traffic offenses
For drivers and passengers below 18, it's a primary offense. It means that they can get ticketed for failing to wear a safety belt without committing any other type of offense

Does not wearing a seatbelt count as a crime in Virginia?
No—it counts as an infraction
Is a seatbelt ticket a moving violation?
No
Can you get additional demerit points on your driving record after getting a seatbelt citation?
No
Do your car insurance rates increase or change if you get a seatbelt fine?
No
Who Is Exempt From the Seatbelt Laws in Virginia?
The statute determines several exceptions to the seatbelt rules in Virginia. You can be excused from having your safety belt on if:
A particular medical condition doesn't let you use it properly—in such a case, you must have a signed written statement from your physician anytime you are riding/operating a vehicle
You are a:

Garbage collector
Utility meter reader
Rural mail carrier or USPS deliverer on duty
Rural newspaper route carrier or bundle hauler
Driver or passenger in a taxicab
Commercial or municipal vehicle operator who leaves their car frequently
Law enforcement officer transporting offenders or driving in other specific circumstances that make wearing a seatbelt impractical
What About the Virginia Child Seatbelt Laws?
The most significant child seatbelt requirements are stated in Chapter 10, Article 13 of the Code of Virginia. Check out the list below for more details:
It's not permitted to drive children in the rear cargo area of the vehicle.
How Much Do You Have To Pay for a Seatbelt Ticket in Virginia?
If the police officer pulls you over for not having your safety belt on, you will receive a $25 ticket. The fines are twice as high—$50—if you violate child restraint rules. The good news is that this type of violation doesn't entail any court expenses if it's your first offense. All subsequent violations bring even higher costs, and the same happens if you don't pay the fine on time.
How Does DoNotPay Help You Fight a Seatbelt Citation From Any Location?
Appealing a seatbelt ticket can be tricky since it entails various tasks, such as:
With DoNotPay, this lengthy procedure becomes a breeze! All we need from you is a few clicks and some responses to our chatbot's questions. Upon getting the necessary info, we will create a unique appeal letter and forward it to the chosen authorities in no time! The best part is—you get your letter wherever you are, as everything is done electronically!
Here's what the process entails:
Pick the Seatbelt Ticket feature
Provide us with the photo of your ticket
Tell us more about your case and choose the argument you want to use for the defense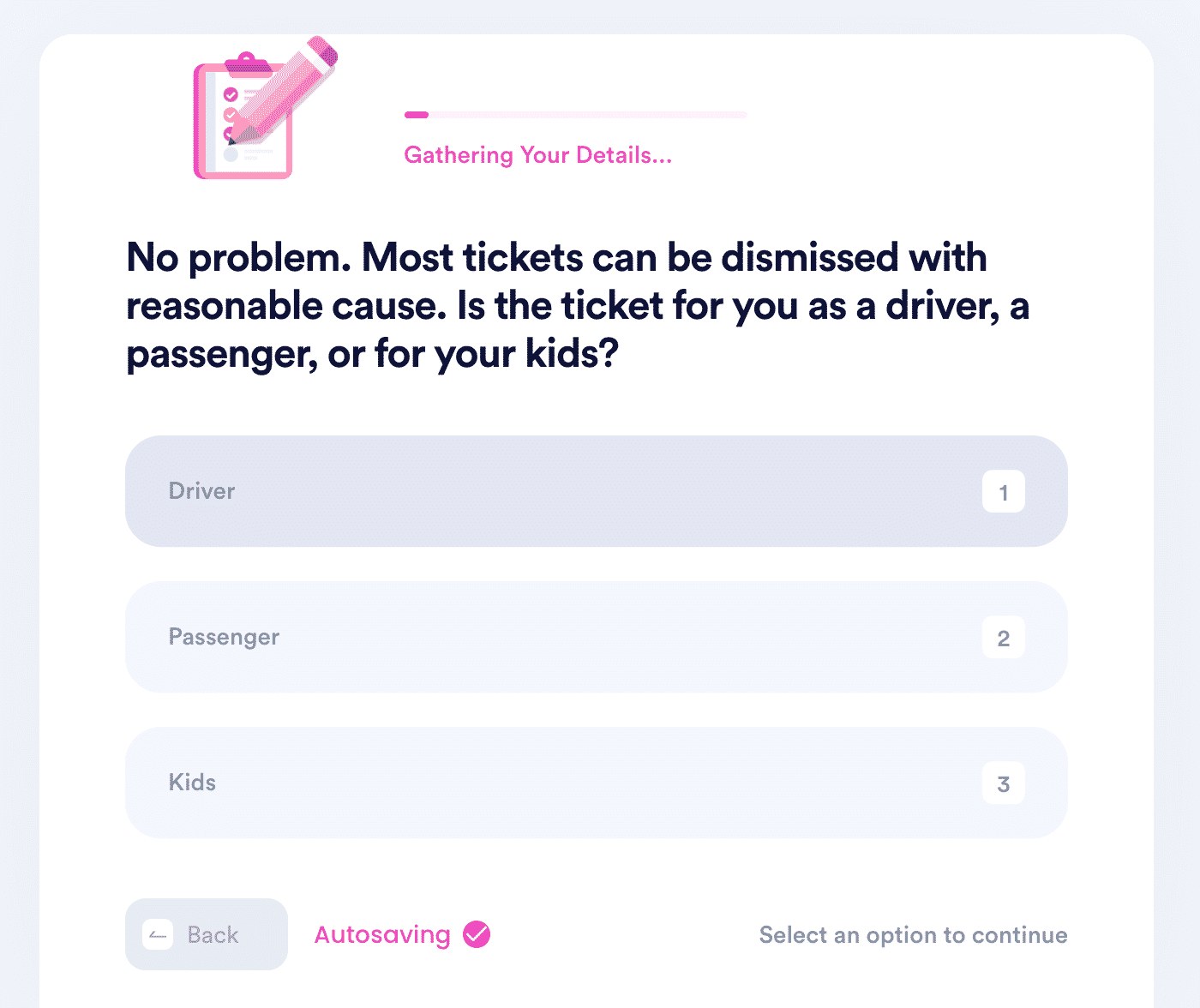 The table below contains the guides you can use to figure out how seatbelt laws in other states work. Use them if you plan to travel to:
DoNotPay Offers More Assistance!
Our app boasts many features that can make your life easier.
Do you need help searching for unclaimed money or covering bills? Are you looking for clinical trials you can sign up for to earn some extra money? We can help you out in a flash!
Other tasks we can streamline for you are the following:
Forget Hiring a Lawyer—Use DoNotPay Instead
You don't want to spend a fortune on lawyer fees? No problem! DoNotPay—the world's first robot lawyer—is here to assist you! With our help, you'll be able to file complaints, sue anyone in small claims court, handle stalking and harassment, get crime victims' compensation, and draft numerous documents, including:
If you need to get a document notarized, you can also count on our help. We'll connect you with an online notary who will notarize your document in a flash.