Deciphering the TN Seatbelt Laws
The Tennessee Department of Safety and Homeland Security reported that in 2020, there were 175,063 car accidents, out of which 5,735 resulted in fatalities or serious injuries. The latter number could've been lower if everyone had their seatbelts on.
A safety belt can save your life or help you avoid spending months in a hospital. Learn about TN seatbelt laws, and you can prevent devastating consequences. Buckling up will also save you money since not complying with these laws comes with a fine.
Use our guide to collect information on:
Seatbelt regulations
Child restraint rules
Cost of a seatbelt ticket
What Are the Seatbelt Laws in Tennessee?
The law in Tennessee says that drivers and front-seat passengers must be properly buckled up while the vehicle is in forward motion—or they'll be fined. Both the lap and shoulder belts need to be in place.
The seatbelt law is primary, so the law enforcement officers have the right to pull you over for a failure to wear a seatbelt without any other cause.
Tennessee Seatbelt Law for Backseat Passengers
Adult backseat passengers aren't required to use a safety belt, but it is recommended that they do so. Wearing a seatbelt in the back can reduce injuries during a car crash.
If the backseat occupants are 17 years old or younger, they must have a seatbelt on. Not abiding by this law will result in a fine.
Child Seatbelt Laws in Tennessee
Drivers are responsible for ensuring that children younger than 16 are properly restrained. In case the parents or legal guardians are present—even if they're not driving—they'll need to pay the fine for non-compliance.
All children who are eight years and younger and shorter than 57 inches can only sit in the back of the vehicle. The restraint system must meet the federal motor vehicle safety standards, or it won't be valid.
To avoid the ticket for breaking child seatbelt laws, follow these restraint instructions:
| Child's Age | Required Weight/Height | Appropriate Restraint System |
| --- | --- | --- |
| Under one | Under 20 pounds | Rear-facing infant seat |
| One to three | Over 20 pounds | Forward-facing safety seat |
| Four to eight | Under 57 inches | Booster seat |
| Eight to 18 | At least four feet and nine inches | Regular seatbelt |
Tennessee Seatbelt Law Exemptions
The law does exempt the following people from wearing a seatbelt:
Vehicle occupants with a medical certificate from a licensed physician about a condition that prevents them from using a safety belt
Mechanics or salespeople working for an automobile dealer while they test-drive a vehicle
Rural letter carriers during their work hours
Utility workers as well as water, gas, and electric meter readers while they operate a vehicle under 40 mph or when they reenter it frequently
Newspaper delivery people
How Much You'll Need To Pay for Violating TN Seatbelt Laws?
If you break any seatbelt law in Tennessee, you'll need to pay up. The fines are as follows:
| Seatbelt Violation | Cost |
| --- | --- |
| Not wearing a seatbelt—first offense | $25 |
| Not wearing a seatbelt—subsequent offenses | $50 |
| Failing to properly restraint child passengers | $50 |
Endangering children by not placing them in an appropriate car seat or a seatbelt can have another repercussion. The state may also demand that you attend a class about the risks of not restraining child passengers.
Will the Violation Go on Your Driving Record?
The State of Tennessee uses a point system to keep an eye on the drivers' moving traffic violations. When you collect a certain number of points, your license can be suspended or revoked.
Not wearing a seatbelt doesn't fall under the moving violation category, so you won't get any demerit points. This offense also won't affect your insurance rates.
What Are Your Options if You Break the TN Seatbelt Law?
If you get a seatbelt in the Volunteer State, here's what you can do:
Pay your fine in the court that has jurisdiction over your offense
Don't pay for the ticket, and deal with an increased fine caused by a civil penalty, litigation taxes, court costs, and similar later
Go to court and contest the ticket you received unfairly
The latter is applicable when the officer didn't notice that you had the seatbelt on or you had a valid reason not to wear it.
Building your argument so it convinces the judge of your innocence isn't easy. You have the right to do it yourself, but some hire lawyers—which can ultimately cost more than the ticket.
Do you want to skip the hassle of forming your defense? , and take a cost-efficient shortcut to a convincing ticket appeal!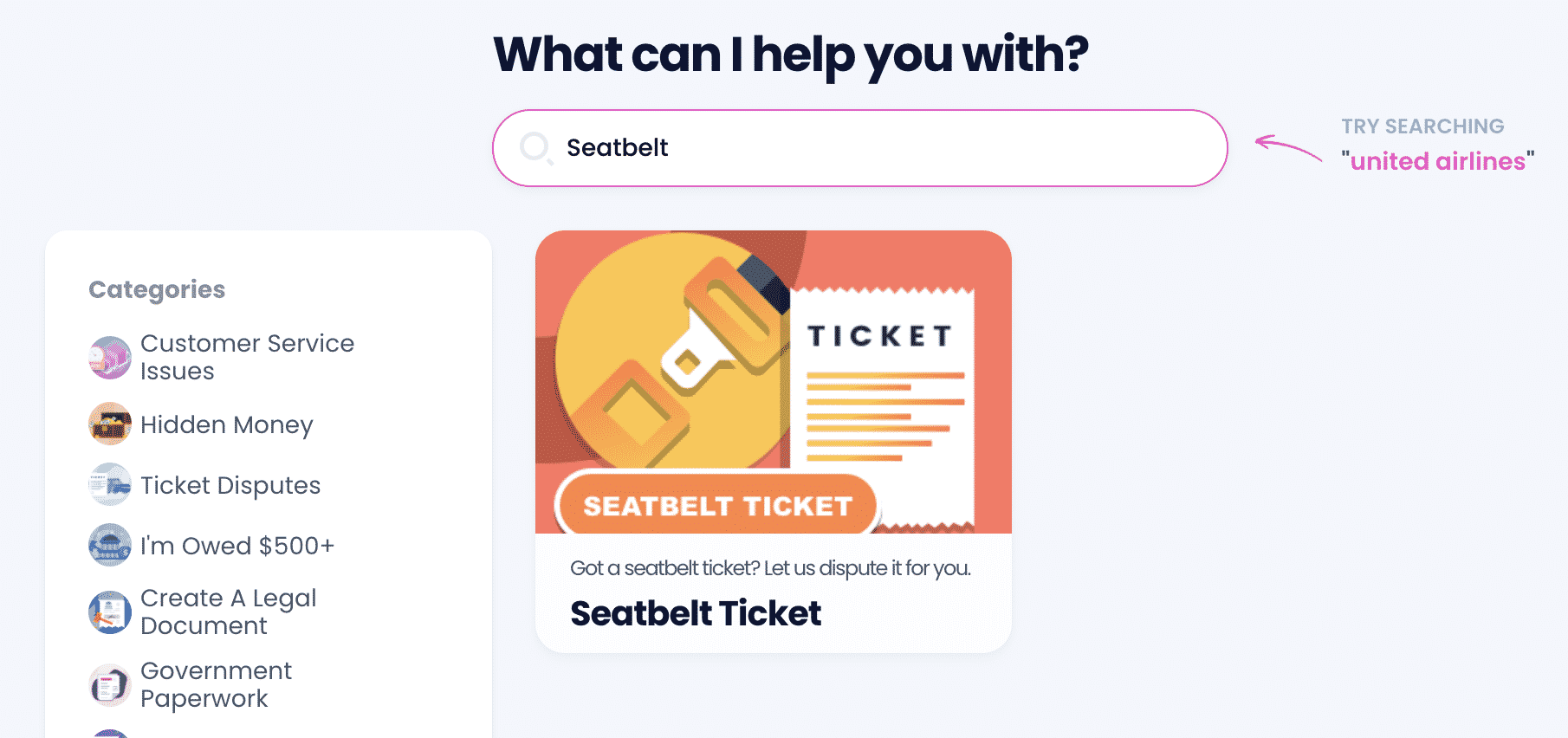 Overturn Unfair Tickets With DoNotPay—Fast and Easy!
Our nifty app can put together a strong appeal letter in less than three minutes. It only takes a click here and there, and you'll finish the whole process without stress or hassle.
Take four simple steps to get your appeal ready:
Search for the Seatbelt Ticket tool
Upload a picture of your citation
Tell us about:

Who got the ticket
What argument you have
When the ticket was issued
Whether you have any evidence to support your argument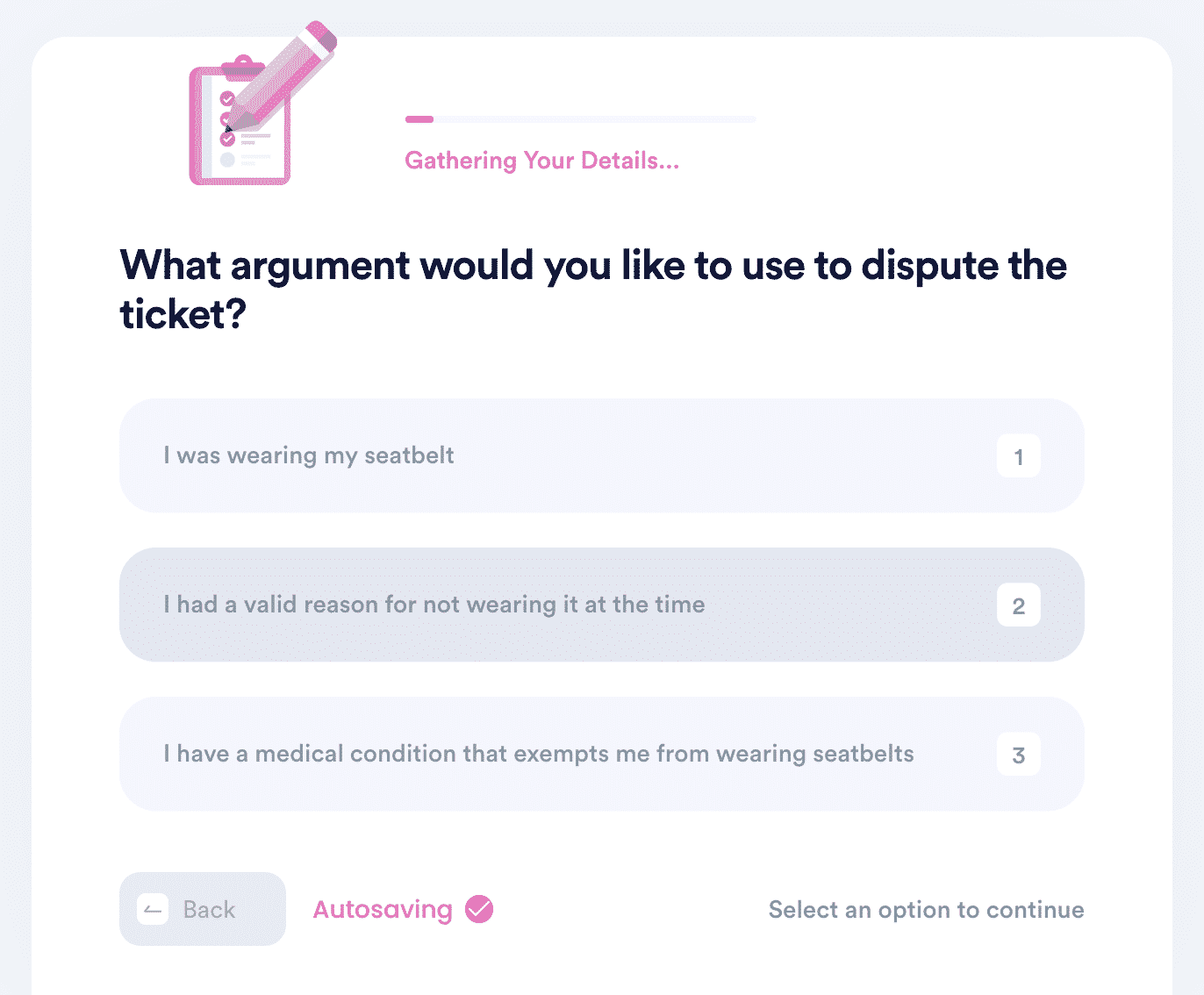 Based on your answers, we'll personalize the appeal and mail it to TN authorities in your stead. DoNotPay's assistance doesn't end here. Whenever you hit the road, you can turn to our state-specific guides for a bird's-eye view of the seatbelt laws.
Revise the safety regulations in Utah, Texas, or any other state here:
Make Your Money Troubles Go Away
If you want to join free trials and not worry about automatic renewals, our app is what you need. With DoNotPay's virtual credit card, you'll be able to avoid charges and keep your personal details to yourself.
We can also help you get a refund or request a cancellation.
Getting your money back is our field of expertise—Use DoNotPay to:
No Task Is Too Difficult for DoNotPay
Signing up for our app brings you an AI-powered assistant. Check out the benefits of having a DoNotPay account in the table below: