What You Need To Know About the Ohio Seatbelt Law
Did you know that, on average, more than 60% of vehicle occupants die in car crashes if not properly restrained? Seatbelts can save lives, and the awareness of this fact could be better in Ohio. The percentage of drivers and passengers who wear a safety belt in this state is lower than the national average.
What can Ohio residents and travelers do about it? Learn more about the Ohio seatbelt law. Knowing when to buckle up can save you from deadly consequences and help you avoid fines.
Our simple guide will uncover the following:
What the seatbelt law in Ohio is
What other penalties come with the ticket
How you can dispute the ticket
What Is the Seatbelt Law in Ohio?
In the State of Ohio, drivers and front-seat passengers must be buckled up at all times. The use of seatbelts became mandatory in the Buckeye State back in 1986. The Ohio Safety Belt Coalition—a union of several organizations—pressured the state's legislature until they approved the Mandatory Safety Belt Usage Law.
The police officer can't pull you over just for not wearing a safety belt because the law is secondary. You need to make a primary traffic offense—such as speeding—for them to stop you and issue a ticket. This may be one of the reasons why Ohio has a lower seatbelt usage.
Seatbelt Laws for Back Seat in Ohio
Adult backseat passengers don't need to wear seatbelts. If the vehicle occupant is between four and 15 years, they must be buckled up in any seat—including the rear ones. In case an underaged passenger isn't wearing a seatbelt in the back, the driver will be fined.
Seatbelt Laws for Children in Ohio
When it comes to child seatbelt and car seat laws, this is what is required from child passengers:
Infants and toddlers under four years old and weighing less than 40 pounds must be in a car seat that meets the federal motor vehicle safety standards
Children under the age of eight who are less than four feet and nine inches tall must use a booster seat
Under the age of 13, children should be sitting in the back seat
Children ages eight to 15 must have a safety belt or a child safety seat in both front and back
Not abiding by the child seatbelt law usually results in higher fines, and the drivers are responsible for covering them.
How Much Is the Ohio Seatbelt Fine?
If you get caught without a seatbelt, you will need to pay a fine—which is:
$30 for the driver
$20 for the passenger
The ticket can go up to $75 per occurrence if the violation is repeated.
Do Seatbelt Tickets in Ohio Go on Your Driving Record?
Most traffic offenses in Ohio are reported to the Ohio Bureau of Motor Vehicles (BMV) and result in a specific number of penalty points being added to your driving record—if the offense is a moving violation.
A seatbelt ticket is a non-moving violation, and it won't be reported to the BMV or insurance companies. This means that you won't get demerit points, and the violation won't bump up your insurance rate.
What To Do When You Break the Seatbelt Laws in Ohio
When you receive a seatbelt ticket in Ohio, you can choose between these options:
Pay the fine
Request a mitigation hearing, and ask for:

Reducing the fine
Getting a payment plan
Paying the fine through community service

Ask for a contested hearing
If you decide to ignore the ticket, penalties will pile up. Unless you want to pay the higher price for this violation, you should go for one of the three choices.
The first two options mean that you will plead guilty. The only difference is that the second one gives you more opportunities if you don't have the money at the moment. Note that the court can reject your request, and you might still need to pay the fine in full.
If the officer issued the ticket unfairly or in error, you can request a contested hearing. In this case, you'll go to court and try to get your ticket dismissed.
You must have a solid foundation for making this request—such as:
Showing reasonable doubt—The law enforcement officer didn't notice that you were wearing a seatbelt
Building due diligence defense—You had a valid reason for not being buckled up, for example, driving in reverse or having a medical exemption certificate
You might think that fighting a seatbelt ticket will be overwhelming—it won't if you use DoNotPay.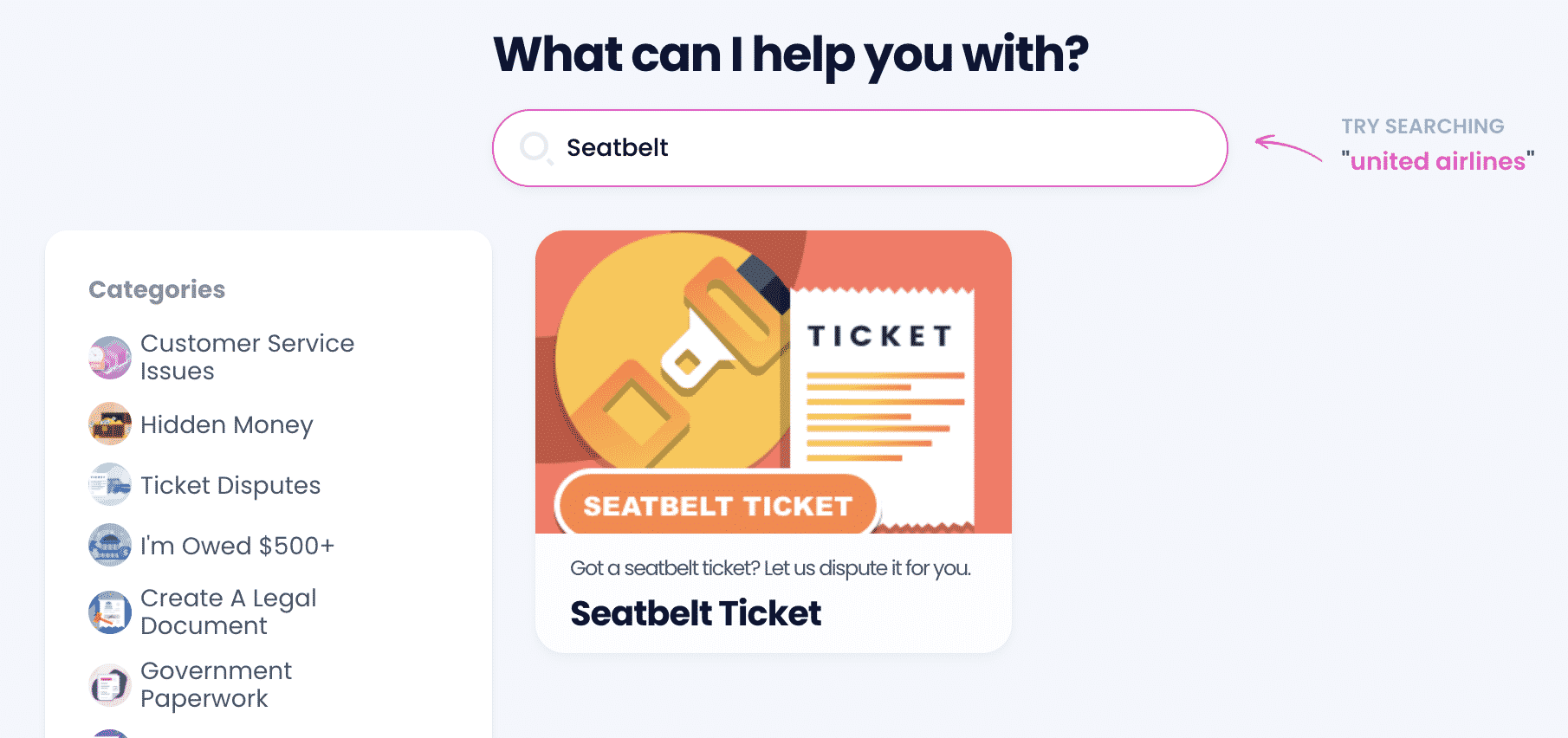 Fight the Unfair Ticket With DoNotPay's Help
Our AI-powered app will compose a powerful letter of appeal, so you don't need to spend money on lawyers. The letter will outline your specific situation and present your reason for dismissal in a convincing manner. We'll also send it to local authorities in your stead!
To use the app, you only have to open an account and:
Enter Seatbelt Ticket in the search bar
Provide us with a photo of your ticket
Answer our chatbots question about your case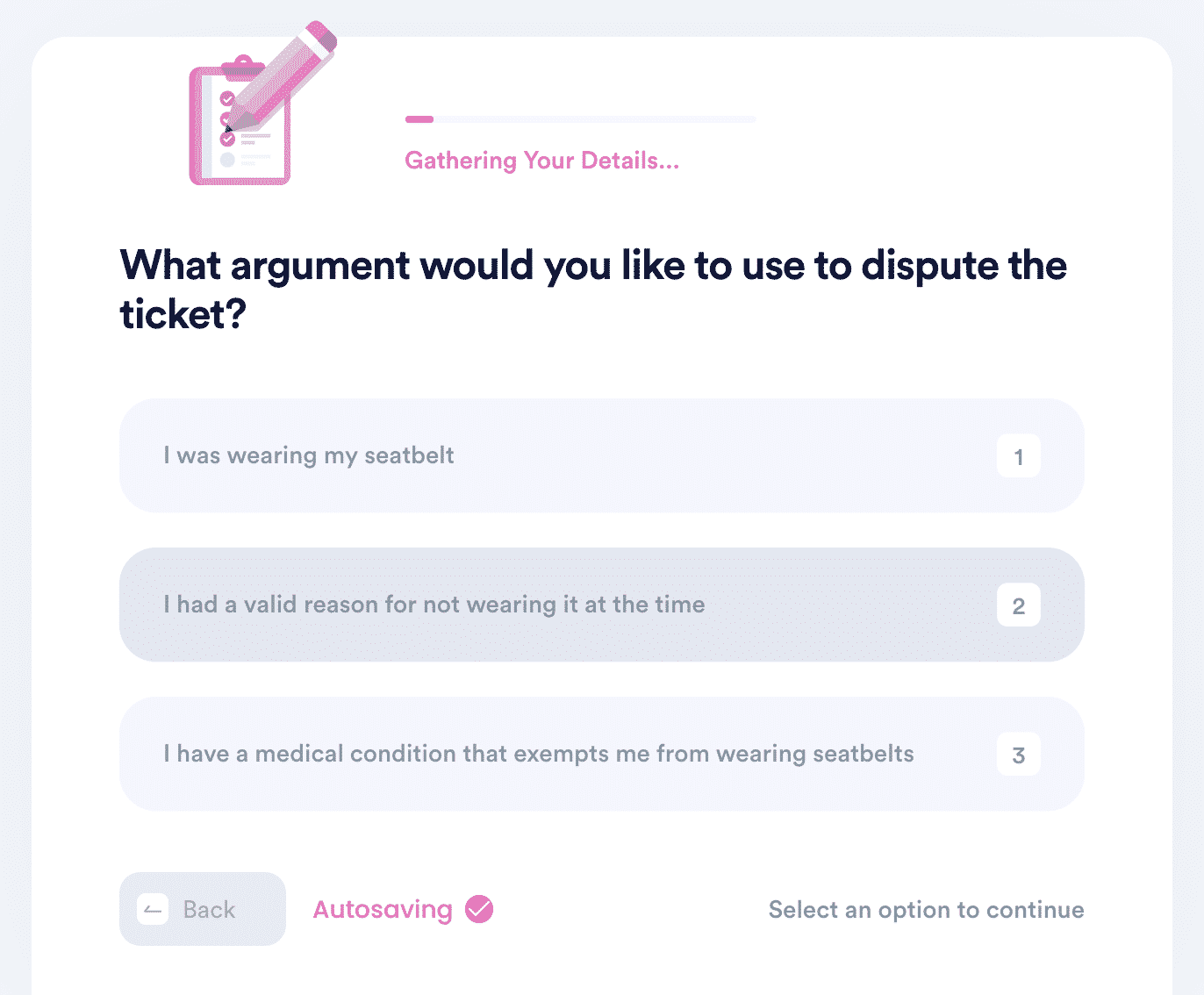 The seatbelt rules in California or Florida don't need to be the same as the ones in Ohio. If you want to learn about the regulations in any other place, you can find our helpful guides in the table below:
DoNotPay's Assistance at Your Fingertips
DoNotPay is all about easy solutions. Turn to our app when you need to get rid of unwanted services, block spam emails and text spam, and overturn unpaid parking tickets. We can also assist you in registering on platforms without disclosing your number and signing up for free trials using our virtual credit card.
With our app, you'll forget about old-fashioned ways of completing certain tasks. Let us help you send faxes online, mail letters, reach customer service, and get in touch with an incarcerated loved one.
DoNotPay Has More To Offer
Our app boasts a wide range of products—from filing a warranty claim, requesting a refund, and booking a DMV appointment to getting a document notarized, filing financial aid appeal letters, and fighting discrimination at work.
For DoNotPay users, no problem is too difficult to solve. Here are only some of the tasks our app can help you complete: