The Ins and Outs of Wisconsin Seatbelt Laws for Child Passengers
Keeping children safe from unpredictable traffic accidents is prioritized by the road and transportation departments of every state. In 2018, 33% of the children involved in car crashes were found to be unbuckled, which is why strict laws such as the Wisconsin seatbelt laws for child passengers are important.
The general seatbelt laws state that any driver or passenger in the vehicle must wear seatbelts. Failure to do so is considered a moving violation and can lead to getting demerit points which can affect your insurance.
Find out everything you need to know about Wisconsin seatbelt laws for children in this guide and see how you can dismiss seatbelt tickets using DoNotPay.
What To Know About the Wisconsin Child Seatbelt Laws
Research shows that child car seats can reduce the risk of serious injury by 71–82%, while booster seats decrease it by 45%. It is also recommended that children under the age of 13 ride in the backseat of the car, and any child under 12 must be buckled in.
Check the requirements for restraining a child passenger in Wisconsin in the following table:
Age
Until What Weight
Description
Up to age one
At least 20 pounds

Children should be buckled into rear-facing car seats
Car seats must be placed in the backseat of the vehicle

Until age four
At least 40 pounds

Children should ride in a front-facing car seat until they outgrow it
The car seat must have appropriate harnesses according to the child's height and weight

Up to eight years old or 4' 9'' tall
80 pounds

Children should be in booster seats until they are tall enough to sit without slouching
The seatbelt must fit snugly around the child's waist
Children who no longer fit into booster seats are required to ride in the backseat using a lap and shoulder belt until they are at least 13 years old.
Children who cannot be restrained due to physical or medical reasons are exempt from the seatbelt laws with proper certification or proof.
Drivers and parents must keep car seats away from the airbag deployment points because airbags can injure or suffocate children by trapping the car seats upon impact.
Seatbelt Laws for Children Riding in Public Transport in Wisconsin
Public transportation vehicles, such as buses, trains, or taxis, are not required to carry car seats or follow any of the child seatbelt laws. Parents are advised to bring their own booster or car seats and ensure their children are properly seated. Parents who fail to restrain their children properly could be fined.
What Is the Penalty for Breaking Child Seatbelt Laws in Wisconsin?
If you are pulled over for not having a child passenger in the proper restraint system but have violated no other laws, you will have to pay a $10 fine, while no points will be added to your license. In case you are traveling with a child aged between four and eight, the penalty may increase to $25. You may be charged $30—$75 if the unrestrained child is four years old or younger.
For unrestrained children below 15 years of age, the driver is ticketed.
What Happens if You Don't Pay a Seatbelt Ticket?
If you receive a seatbelt ticket in Wisconsin, you can do one of the following:
Pay the fines
Contest the ticket
Failure to do either can lead to a court summons. You will have to pay a late fee for not paying on time, and no response can get your license suspended.
Repeatedly failing to pay or contest seatbelt tickets will add demerit points to your driving license.
How To Dispute a Seatbelt Ticket in Wisconsin
To have a seatbelt ticket dismissed in Wisconsin, you should do the following:
Reach out to the court in person or via mail to file a "not guilty" plea before the payment deadline mentioned on your ticket
Meet up with a prosecutor before the trial to discuss your options
Have the first hearing with a judge
You have the option to either appoint an attorney or represent yourself. Even if you win the dispute and no longer have to pay the seatbelt ticket, you might still incur additional charges, such as court fees.
Deal With Seatbelt Tickets With the Help of DoNotPay
Contesting a seatbelt ticket is a hassle, and it requires you to invest a lot of time and energy.
If you believe you've received a seatbelt ticket by mistake, you can save money and time by getting it dismissed using DoNotPay!
Log in to our AI-powered app and:
Locate the Seatbelt Ticket feature
Type in a few details about the ticket
Provide photo evidence, if possible
We will generate an appeal letter on your behalf and send it over to the ticket authorities!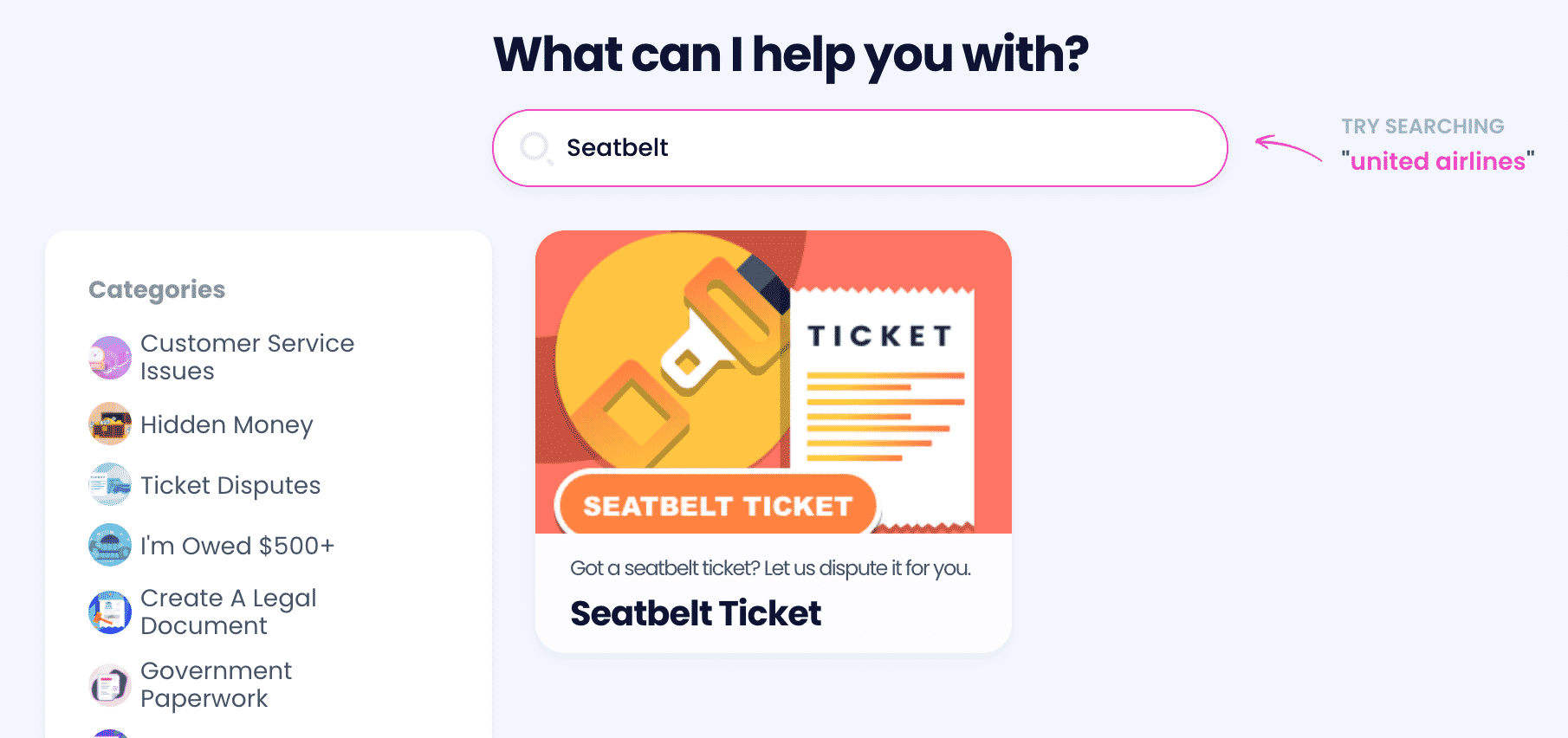 Learn About Other Child Seatbelt Laws Across the U.S.
We can help you fight seatbelt tickets in any U.S. state. You can also turn to us for help if you need to figure out how child seatbelt laws work outside Wisconsin. Here are some of the states you can learn about with the help of our guides:
Save Money With the Help of DoNotPay
Are you tired of losing money on useless memberships and forgotten subscriptions? Our app can help you cancel subscriptions or memberships in a snap. Have some questions for the customer service? Use DoNotPay to jump the phone queue.
If you want to sign up for a free trial but don't want to risk being charged, get our virtual credit card. Thanks to this card, you'll enjoy any free trial stress-free. It will also save you from receiving spam emails.
In case you're also struggling to claim a warranty or insurance, we can assist you with this too. Rely on DoNotPay to solve any issue regarding purchased products—whether you need to return an item, file a chargeback request, or get a late delivery refund.
If you're dealing with a serious problem, don't bother wasting your money on lawyers—our AI-powered app can help you file a complaint, appeal a banned account, sue anyone in small claims court, and draw up various legal documents!
DoNotPay Also Helps You Earn Money
Our app is an expert at saving money, but we can also assist you in earning some. You can use DoNotPay to find unclaimed funds under your name, sign up for paid clinical trials, and get victims' compensation. If you want to redeem your gift cards for cash, enter numerous sweepstakes, and get compensated for a delayed flight, count on our help!