The Ins and Outs of the Iowa Seatbelt Laws
Iowa's seatbelt usage is beyond the national average, with a rate of ​​95.2%. Despite that, the government is going strong with road safety campaigns. Just in 2020, in 2,988 crashes in this state, 167 people were injured because they were unbelted.
What can motivate more people to spare a second and lock in the buckle is getting to know the Iowa seatbelt laws. When you know what the cost and driving record repercussions of a ticket are, you'll be more likely to play by the rules.
Our guide will also uncover what you need to do to contest a wrongfully issued ticket on a minimal budget.
What You Need To Know About the Seatbelt Laws in Iowa
The law in Iowa dictates that all front-seat occupants must have a seatbelt on. The rules apply to resident and out-of-state vehicles. If you don't wear a seatbelt properly—having the belt across your lap and strap over your shoulder—you will be ticketed.
Young drivers with a restricted license can't have more passengers than the number of seatbelts.
Since 1986, Iowa has had a primary safety belt law enforcement. The police officers in the state can stop you for not wearing a seatbelt and slap you with a ticket.
There are several exceptions as to who must buckle up:
Passengers on a bus
Drivers and front-seat occupants engaged in work that requires frequent getting in and out of the vehicle—and when the speed doesn't exceed 25 mph between the stops
Occupants of a motor vehicle that is manufactured before 1966
Front-seat passengers and children being transported in an authorized emergency vehicle
Children riding in the backseat of motor homes
Iowa Seatbelt Law for Backseat Passengers
Rear seatbelts can reduce the chance of fatal injuries by 60%. In Iowa, buckling up in the back is only a recommendation as adult passengers aren't required to do so.
Passengers under the age of 18 do need to have a seatbelt on regardless of which seat they occupy.
Iowa Child Seatbelt Laws
Iowa ranks number four in child deaths in car crashes. These devastating consequences can be prevented if children are restrained according to the law.
What are the children safety belt and car seat laws in the Hawkeye State? The table below outlines them:
| Age | Car Safety System |
| --- | --- |
| Under the age of one—who weigh less than 20 pounds | Rear-facing car seat |
| One to six | Car seat or booster seat |
| Six to 11 | Child restraint system or seatbelt |
Children's height and weight need to correspond with car seat manufacturer's recommendations.
General advice on keeping children safe during the ride is:
Use the appropriate car seat system as long as possible—until the child outgrows it
Children should ride in the back seat until the age of 13 at least
Use both the lap and shoulder belt when a child reaches the demanded height for regular safety belts—which is around four feet and nine inches
How Much Does a Seatbelt Ticket Cost in Iowa?
If you violate the safety belt or safety harness law, you are guilty of a misdemeanor and will be fined as follows:
| Violation | Fine | Surcharge | Court Cost | Minimal Total Cost |
| --- | --- | --- | --- | --- |
| Adults seatbelt law | $50 | $17.50 | $60 | $127.50 |
| Child seatbelt law | $100 | $35 | $60 | $195 |
Drivers are responsible for their and minors' violations, while adult passengers need to cover their own fines.
Do Iowa Seatbelt Tickets Go on Your Driving Record?
A conviction for not wearing a seatbelt in Iowa isn't considered a moving violation. Breaking this law will go on your driving record, but it will not count toward a license suspension.
Iowa's demerit point system doesn't account for seatbelt violation, so the ticket won't increase your insurance rate.
What Happens When You Ignore the Ticket?
Not paying the fine can only increase the cost of breaking the seatbelt law as additional fees will apply. When the court debt becomes delinquent, you won't be able to renew your driver's license or motor vehicle registration.
Can You Contest the Citation?
If you believe that the ticket was unwarranted, you can go to court and try to get it dismissed. The first step is to develop a strong argument that gives you a reasonable cause for contesting. You can build your defense by claiming that:
You were wearing a seatbelt and the officer made an error—a reasonable cause
You were unbelted due to a legally acceptable reason, such as driving in reverse—a due diligence defense
You don't need to pay hundreds of dollars for a lawyer, nor do you need to overturn the ticket on your own. , and you'll get a convincing letter of appeal automatically.
DoNotPay Will Help You Keep Your Record Clean
Our user-friendly interface makes a few-minute-long ticket appeal possible. We'll generate the letter based on the information you provide us with and send it to the local authorities in no time.
The process is beyond simple—you only need to:
Select the Seatbelt Ticket tool
Give us a photo of your ticket
Answer our chatbot's questions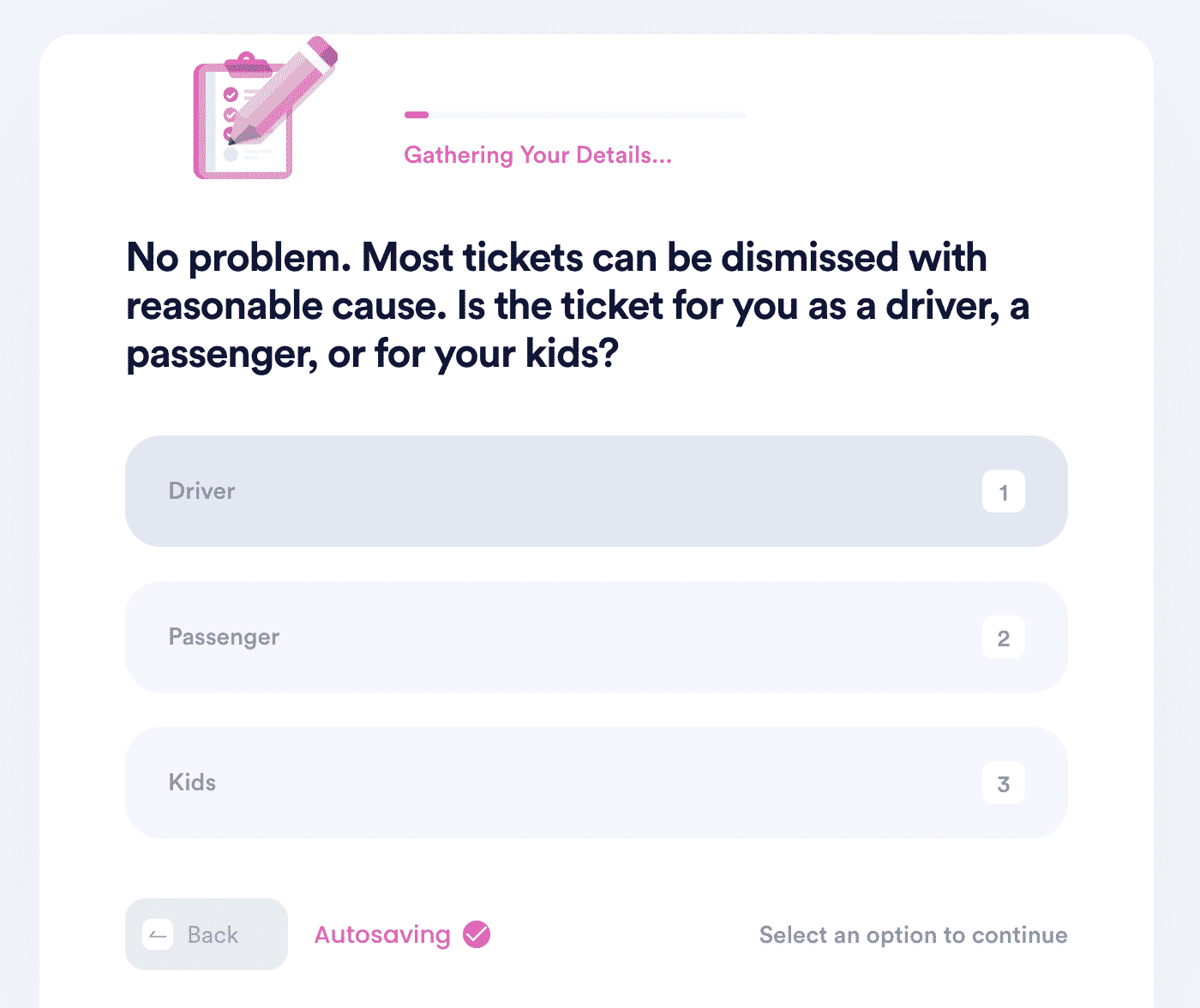 Going to the neighboring Minnesota or Wisconsin? Get prepared with our state-specific guides, and travel stress-free:
Make Your Money Troubles Go Away
If you want to join free trials and not worry about automatic renewals, our app is what you need. With DoNotPay's virtual credit card, you'll be able to avoid charges and keep your personal details to yourself.
We can also help you get a refund or request a cancellation.
Getting your money back is our field of expertise—Use DoNotPay to:
No Task Is Too Difficult for DoNotPay
Signing up for our app brings you an AI-powered assistant. Check out the benefits of having a DoNotPay account in the table below: