All You Should Know About Florida Child Seatbelt Laws
Anyone who has a young child should be aware of car seat regulations. Whether you reside in Florida or are passing through, you must adhere to the Florida child seatbelt laws. If you find Florida child restraint laws a bit confusing, check out this easy-to-read guide. We will break down the essential points of the Florida child seatbelt regulations and make sure your child is safe and buckled up according to law!
What Is the Florida Seatbelt Law for Children?
Car seats, booster seats, and seatbelts reduce the risk of severe injury and can save children's lives in car accidents. For these reasons, the usage of child restraint systems is required in the state of Florida.
The Florida Department of Highway Safety and Motor Vehicles (FLHSMV) sets rules governing car seat usage in Florida, depending on the child's age. The current ones state that:
All children who are five years old or younger must be properly restrained in a federally approved and crash-tested child restraint device no matter where they are seated
Children who are three years old and younger must be secured in a separate carrier or a vehicle's built-in child safety seat
Kids between the ages of four and five must be securely restrained in a separate car seat, an integrated child safety seat, or a booster seat
Children aged six to 17 must be properly secured with a seatbelt
Unfortunately, Florida law does not specify the height and weight each type of car seat should be used for.
Are There Any Exemptions to Child Seatbelt Laws in Florida?
There are exceptions regarding booster seats in case of medical emergencies and for children with medical conditions. If a child is unable to use a car seat due to a medical issue, you must obtain proof from a health care professional.
What if You Drive Someone Else's Child?
As the driver, it is your job to obey the law and ensure the safety of the children you are driving. If you are driving someone else's child, they must be restrained in a car seat if they are under three years of age. According to the law, you are not required to provide a booster seat for them if they are three or older.
What Are the Consequences of Breaking the Child Restraint Law in Florida?
Breaking the Florida child seatbelt law will cost you $60.00 and three points on your driver's license. Attending a child restraint safety program may keep you from getting points on your license, but only at the discretion of a judge in the county where the infraction occurred. Failing to buckle up is considered a non-moving violation in Florida, so the best way to know if a seatbelt violation will affect your insurance is to call your insurance company.
Remember that the fines and license points are the least severe consequences you may face if you violate a child seatbelt law. By not using the appropriate child safety system inside a vehicle, a parent is placing their child at risk of injury or death in the event of an accident.
How To Keep Your Child Safe in a Car Seat
The state law outlines minimum requirements you have to meet to avoid getting a ticket. Keep in mind that following them is not always enough to keep your child completely safe in a vehicle.
It is essential to put your child in an age-, size-, and weight-appropriate restraint. The National Highway Traffic Association (NHTSA) made car seat recommendations based on the child's age and size, such as to:
Use full car seats until the child is four years old
Utilize booster seats if a child is between eight and twelve years old or until it fits in a seatbelt properly
The following points can help you establish if your child is ready to switch from a booster seat to a seatbelt:
Your child is at least 4'9" and weighs more than 80 pounds
The shoulder belt lays across the chest rather than the neck
The lap belt lays across the upper thighs rather than the stomach
Your child's entire back is touching the back seat
Can the Police Pull You Over for Failing To Buckle Up?
Florida used to be a secondary enforcement state, meaning the police couldn't stop you for not wearing a seatbelt—you had to be pulled over for another traffic offense to get a penalty. Since 2009, Florida has been a primary enforcement state, meaning the police have the authority to pull you over and issue a citation specifically for failing to buckle up.
Can You Dispute a Seatbelt Ticket?
If you don't want to pay for your seatbelt ticket, you can try to get it dismissed in court. That may work only if you have a credible explanation for not restraining your child in a car seat, booster seat, or with a seatbelt. Your arguments may be based on one of the exemptions, or you can go for a due diligence defense.
If you need help building a case, don't waste your money on lawyers. and get a quicker and more affordable solution!
How To Dispute a Ticket With DoNotPay
Disputing a seatbelt ticket requires you to present your arguments in a convincing and straightforward way. If the process makes you uneasy, DoNotpay can help! Our app will use the details of your case to generate a convincing appeal letter and allow you to contest the citation from the comfort of your home!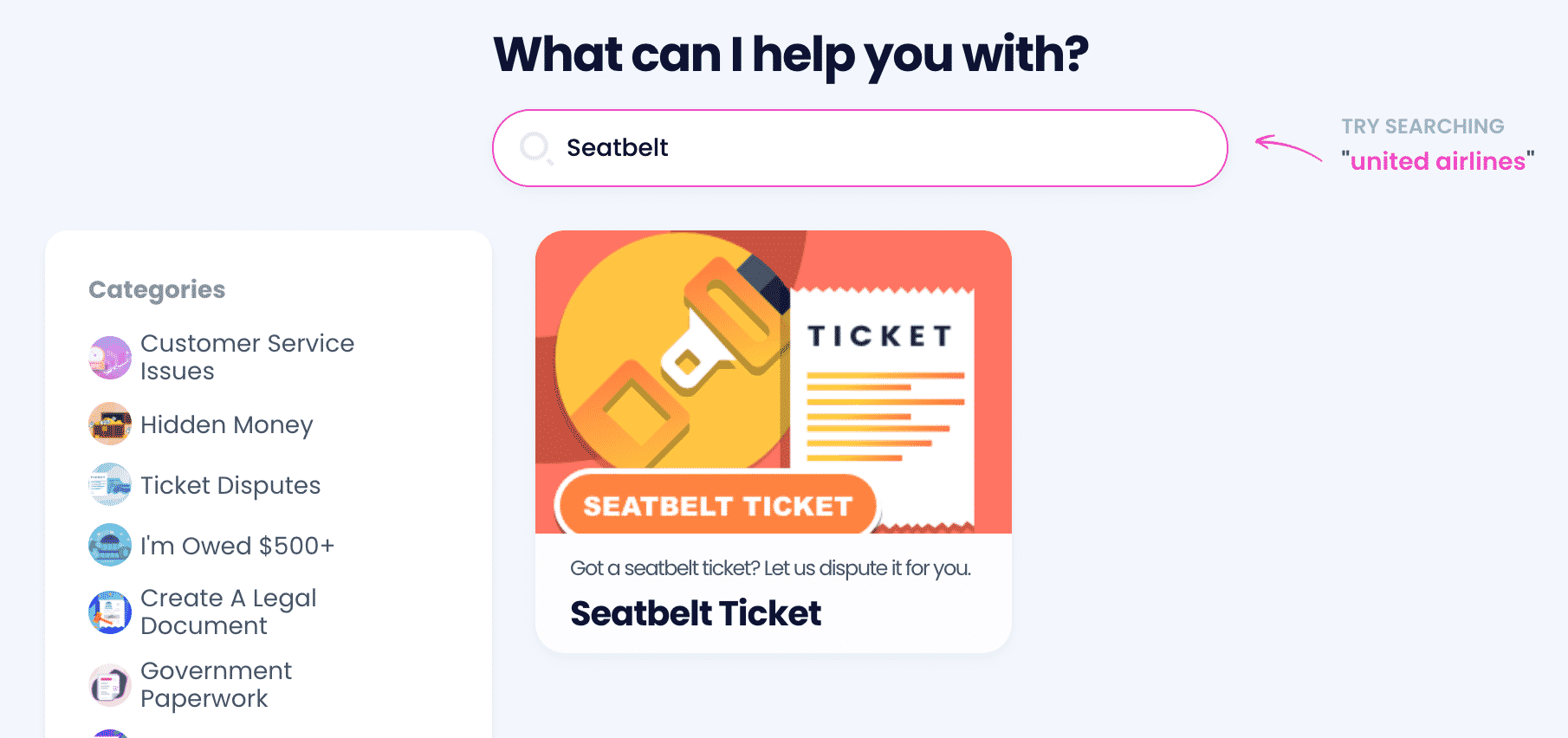 To be able to create an appeal letter with DoNotPay, you'll need to first. After logging in, take these steps:
Find the Seatbelt Ticket product
Take a photo of your seatbelt ticket and upload it
Tell us who made the violation and which argument you want to use to overturn the ticket
Once you complete the steps, we will generate the letter and send it to the authorities on your behalf!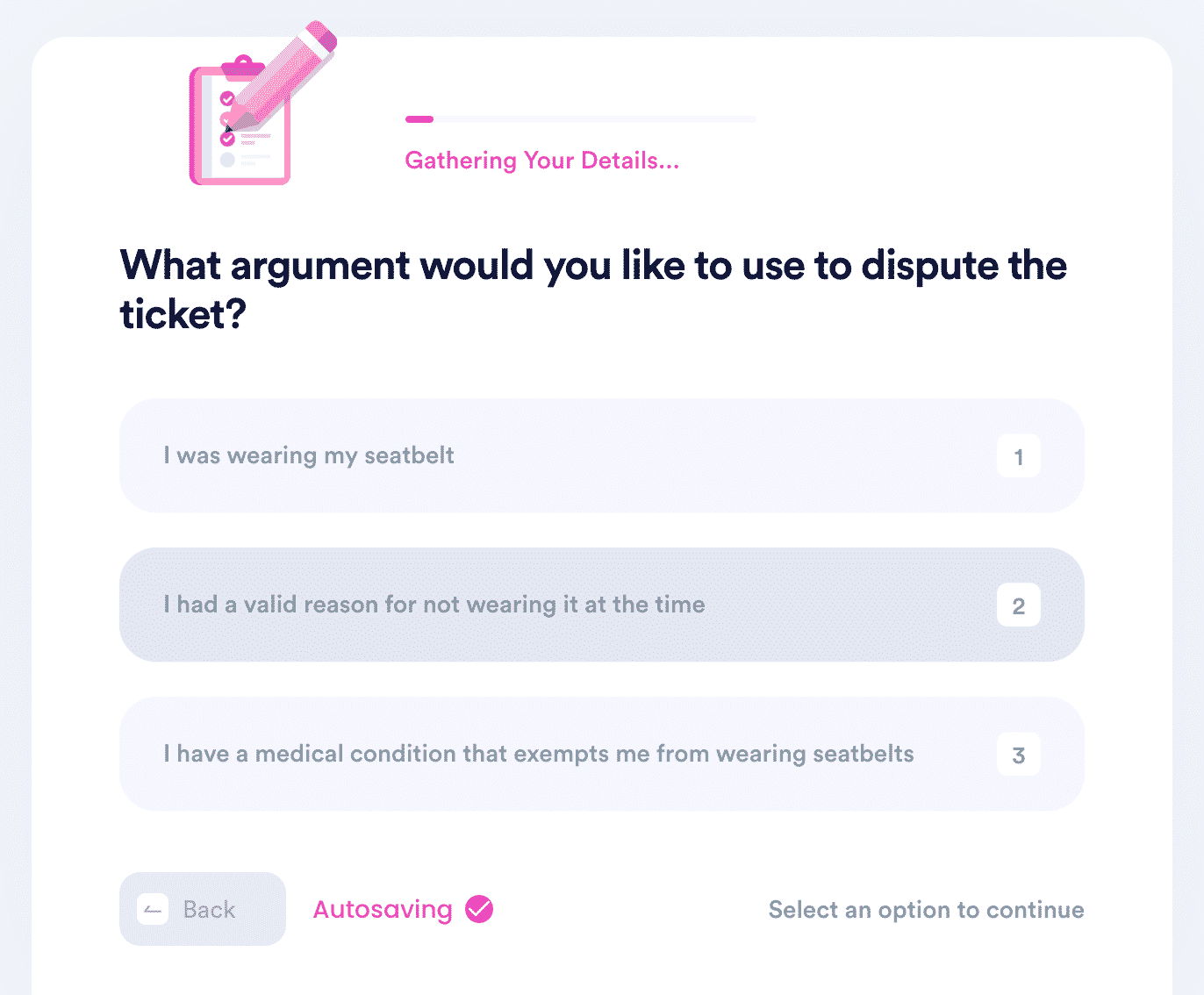 Keep up with the latest seatbelt regulations in other U.S. states with the help of our easy-to-read guides:
Struggling Financially? DoNotPay Can Help You Out!
If you're on a tight budget and have trouble covering your bills, there are a few things we can do for you. DoNotPay is a great tool to both earn and save money.
If you or a family member is a student, you can use our app to search and apply for scholarships and request a college fee waiver. In case your financial aid application is rejected or the university offers little, we can help you file an appeal. Education can be expensive on all levels, so you may consider homeschooling your child.
Is your property tax bill through the roof? Discover ways to lower your property taxes with DoNotPay.
When you're strapped for cash, you can enter sweepstakes, get gift card cash back, or sign up for clinical trials in your area.
What Else Can You Expect From DoNotPay?
DoNotPay is a versatile app, helping users handle tasks and issues while saving time and money.
With our help, you can prepare for various government tests, contact embassies and consulates, appeal banned accounts, and send online faxes within minutes.
Count on DoNotPay when you need to mail letters, apply for tourist visas, or file anonymous HR complaints.
Fighting workplace discrimination and dealing with annoying neighbors will also be much easier with the world's first robot lawyer by your side.