Get the Scoop on Wyoming Seatbelt Laws Here!
Whether you live in the Cowboy State or are visiting, you will be subject to its safety laws. This is why you should get familiar with Wyoming seatbelt laws as soon as possible. In this article, you'll learn about child safety regulations, seatbelt citation costs, and repercussions for not paying them.
What Does the Wyoming Seatbelt Law Say?
The Wyoming seatbelt law states that every driver and passenger of a motor vehicle must wear a seatbelt. If a passenger is younger than 12, the driver must require them to wear a seatbelt while the vehicle is in motion on public streets and highways.
Wyoming is a secondary enforcement state, which means that a police officer may not pull you over for not wearing a seatbelt. The police officer can stop you for speeding, running a stop sign, or any other primary violation and issue a seatbelt ticket if they notice you aren't wearing your seatbelt—as a secondary offense.
There are some exemptions to the seatbelt law in Wyoming:
Anyone who has a doctor's note claiming that its inadvisable to wear a seatbelt
Any occupant of a vehicle that isn't required to be equipped with safety belts under federal law
A postal carrier who is performing their duties
Drivers and passengers of vehicles that were manufactured without seatbelts
What Does the Wyoming Seatbelt Law Say About Children?
The Wyoming seatbelt law includes three subsections about children safety seat and seatbelt regulations:
Infants and toddlers
Children under the age of nine
Children between nine and 17
Wyoming Seatbelt Law for Infants and Toddlers
Children under 12 months who weigh less than 20 pounds must be restrained in a children's car seat facing the back of the car. You should be careful not to position a rear-facing child seat in front of an airbag.
Wyoming Seatbelt Law for Children Under Nine
Children who are younger than nine must be placed in a harness or a booster seat. The car seat must not be placed in the front of the car. Even though Wyoming law requires the children's seats to be properly placed, it doesn't specify what type of seat you should use.
If all back seats are occupied, you can place the harness or booster seat in the front. Some vehicles are exempt from this law, including:
School buses
Public transit vehicles
Motor vehicles fabricated without seatbelts
Children who are approximately 4 feet and 9 inches tall don't have to sit in a children's car seat.
Wyoming Seatbelt for Children Older Than Nine and Younger Than 17
Children between nine and 17 years must wear seatbelts at all times. Seatbelts have to be adjusted and fastened when a child is driving or riding in a car. If they are caught without a seatbelt, the child might be issued a fine of up to $25. Even though it's mandatory for a child between nine and 17 to wear a seatbelt at all times, you, as the driver, won't get any demerit points on your driving record if they aren't.
Is Not Wearing a Seatbelt a Moving Violation in Wyoming?
No, not wearing a seatbelt in the State of Wyoming isn't a moving violation. This means that breaking the seatbelt law won't result in the suspension of your driver's license. It also won't affect your insurance. The only legal consequence of not wearing a seatbelt in Wyoming is a ticket.
How Much Is a Seatbelt Ticket in Wyoming?
Take a look at the following table to learn how much not wearing a seatbelt might end up costing you:
| Who | Fee |
| --- | --- |
| Driver | $25 |
| Passenger | $10 (for each one who isn't buckled up) |
Not paying a seatbelt ticket in Wyoming can have serious consequences—you might get your license suspended, and the court might issue a warrant for your arrest.
Can You Dispute Your Seatbelt Citation?
It is possible to get a seatbelt ticket dismissed based on two arguments. They are as follows:
Reasonable doubt—By using this argument, you're implying that the law enforcement officer who pulled you over was wrong and that you were actually wearing your seatbelt
Due diligence defense—If you weren't wearing a seatbelt, you'll have to argue your case based on the due diligence defense, meaning you have a valid reason for not wearing a seatbelt, such as:

You were driving in reverse
There was an emergency
You have a medical condition that makes it inadvisable for you to wear a seatbelt
If you sign up for DoNotPay, you won't have to dispute your ticket by yourself—our app will do all the work for you.
Appeal Your Seatbelt Ticket With DoNotPay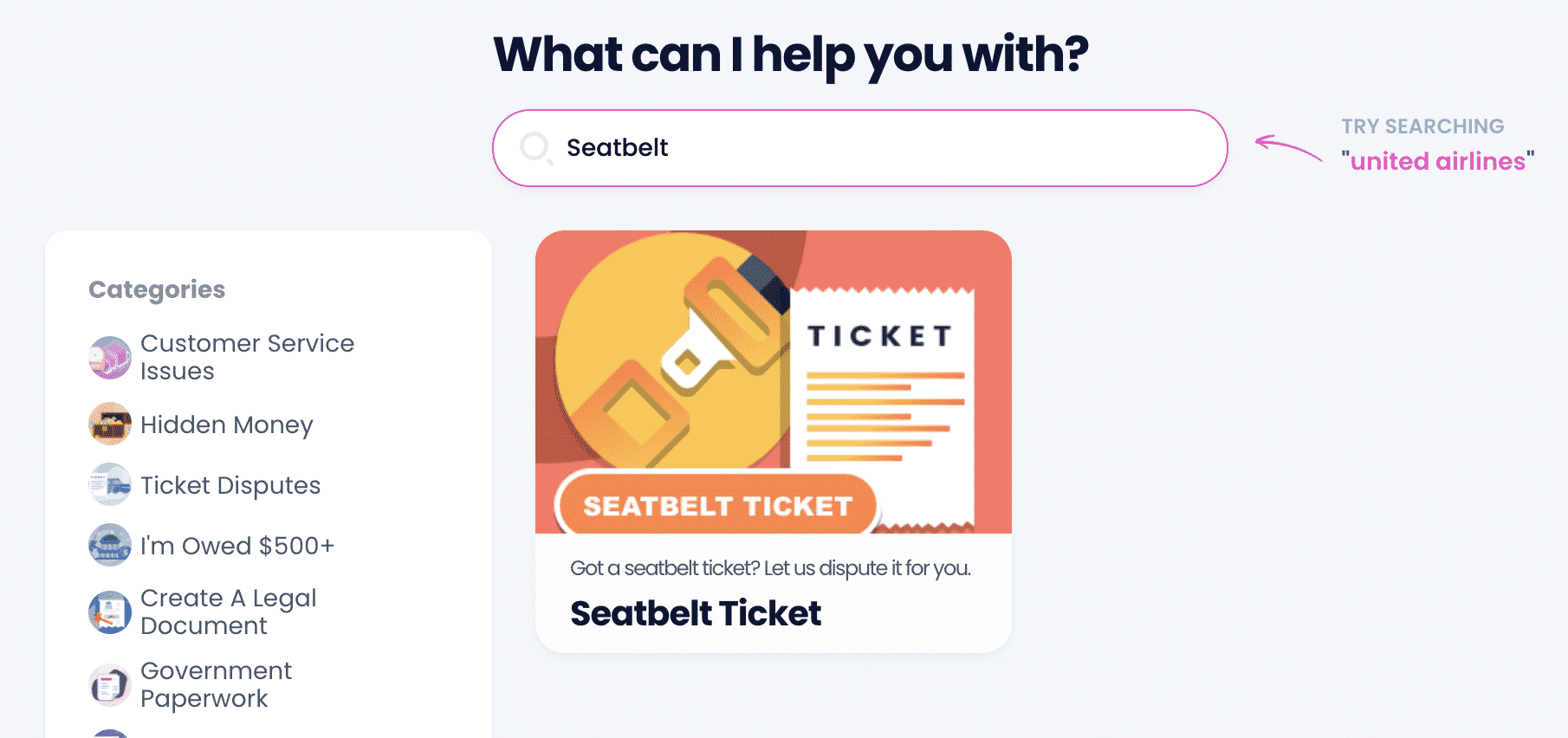 If you want to get rid of your ticket without going to court, you should register for DoNotPay. We will create an appeal letter and mail it to the authorities on your behalf. All you need to do is answer a few questions so we can personalize your letter.
Follow the steps below to create the appeal letter in a few minutes:
Open the Seatbelt Ticket product
Snap a photo of your ticket
Inform us about who got the ticket—the driver or passenger
Tell us more about the situation and specify which argument you want to use to dispute your citation
Once you complete the steps, DoNotPay will generate your letter immediately!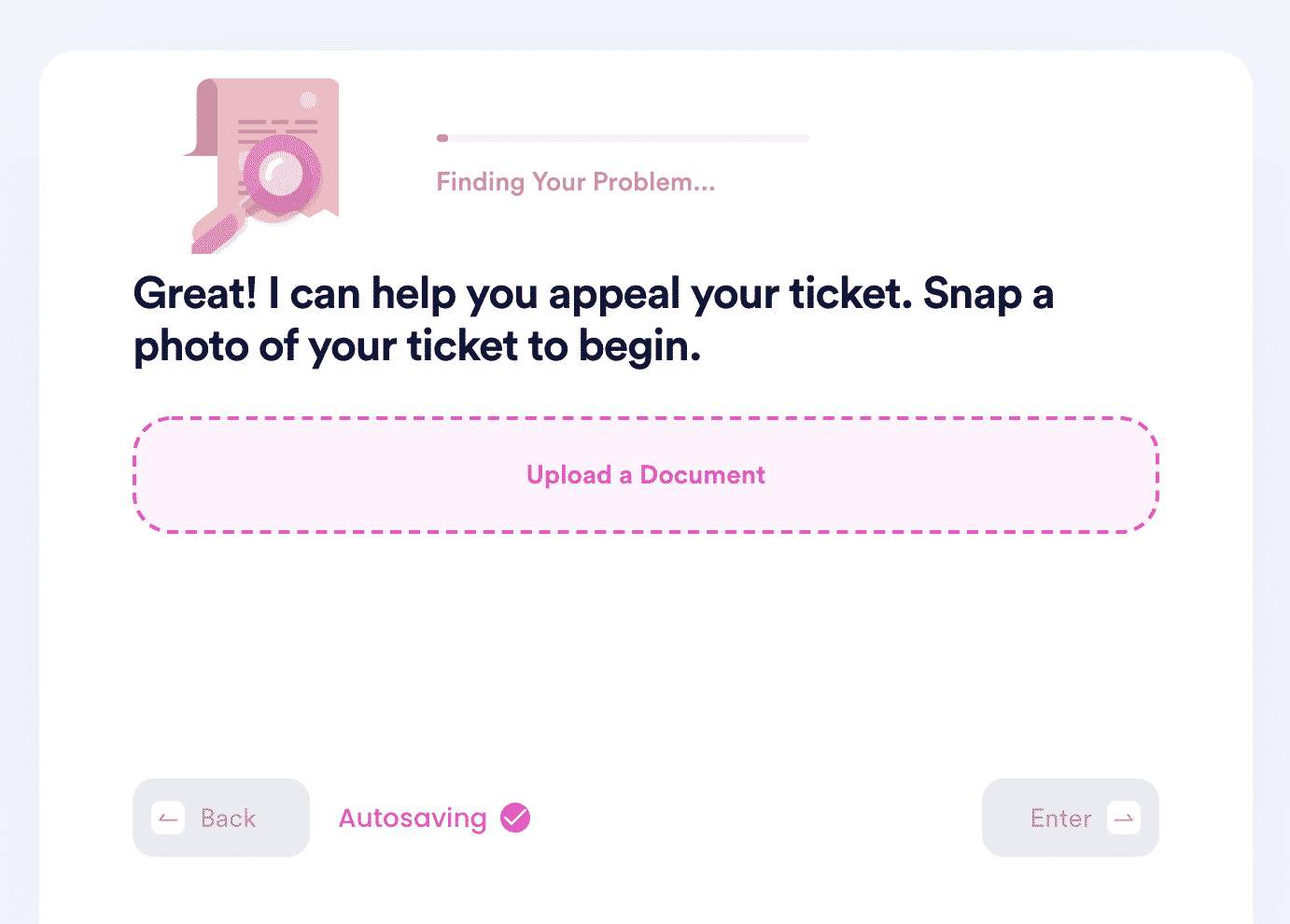 DoNotPay Turns Any Tiring Task Into a Piece of Cake
Are you tired of dealing with bureaucratic or legal matters on your own? You no longer have to—as soon as you subscribe to DoNotPay, we'll take any exhausting task off your plate.
Our app is capable of drawing up legal documents—including marital settlement agreements, child travel consent forms, powers of attorney, defamation demand letters, and affidavits to homeschool—getting them notarized remotely, filing complaints against companies, suing any individual or corporation in small claims court, sending FOIA requests, and so much more.
The World's First Robot Lawyer Offers So Much More
DoNotPay's capabilities don't end there—we can also: