All You Need To Know About the Louisiana Seatbelt Law
Wearing a seatbelt can not only help you avoid seatbelt citations but can also save your life. To ensure your and your passengers' safety, you should always comply with the local seatbelt laws.
In this article, you will learn all about the Louisiana seatbelt law, including how much a seatbelt ticket costs, whether you'll get points for violating the law, and if you can end up in court.
What Are the Seatbelt Laws in Louisiana?
According to the seatbelt laws in Louisiana, every driver and front-seat passenger must wear a seatbelt when the vehicle is moving forward. This law applies to all passenger cars, vans, and trucks that weigh 10,000 pounds or less.
Louisiana is a primary enforcement state, which means that a police officer can pull you over for not wearing a seatbelt.
Even though not wearing a seatbelt is a moving violation in Louisiana, the citations won't go on the driver's record, which means it can't affect your insurance.
This law doesn't apply to:
USPS rural letter carriers while performing their duties
Vehicles manufactured before July 1981
Drivers or passengers who have a medical condition that prevents them from putting the seatbelt on
Louisiana Child Seatbelt Laws
Louisiana child seatbelt law states that every vehicle transporting a child (anyone younger than 18) must be equipped with a child safety system. To ensure that your child is safe, you should follow these guidelines:
Children younger than two must be restrained in a rear-facing child restraint system until they reach the weight or height limit set by the car seat manufacturer
Passengers who are two or older and have outgrown the rear-facing car seat must be restrained in a forward-facing restraint system with a harness until they reach the weight and height limit
Kids who are at least four and have outgrown the forward-facing child restraint system must be restrained in a belt-positioning child booster seat
Passengers who are at least nine and have outgrown the height or weight limits of a child booster seat must be restrained with a regular safety belt
Children younger than 13 can ride only in the back seat of the vehicle
How Much Is a Seatbelt Ticket in Louisiana?
The cost of seatbelt tickets in Louisiana can differ depending on whether you've violated the regular or child seatbelt law. When you violate the regular seatbelt law, you can expect the following fines:
| Offense | Cost |
| --- | --- |
| First | $25 (including court costs) |
| Second | $50 (including court costs) |
| Third and every subsequent offense | $50 plus court costs |
If you violate the child car safety law, here's what you can expect to pay:
| Offense | Cost |
| --- | --- |
| First | $100 |
| Second | $250 to $500 |
| Third or any subsequent offense | $500 plus court costs |
What Happens if You Don't Pay a Seatbelt Ticket?
Here's what can happen if you don't pay your seatbelt ticket on time:
The fine may increase
Your license might get suspended
The court might issue a warrant for your arrest
Can You Overturn a Seatbelt Ticket?
There are two ways you can get your seatbelt ticket dismissed:
Citing reasonable doubt
Building due diligence defense
Citing Reasonable Doubt
You can cite reasonable doubt if the police officer issued a ticket unfairly. Use this argument only if you did, in fact, wear your seatbelt. For example, if the color of your clothes was the same as the color of your seatbelt, which created confusion.
Building Due Diligence Defense
Taking due diligence defense means that you admit to not wearing a seatbelt, but you have a valid reason for it. Some of the top excuses are:
You were driving in reverse
Your child unbuckled the seatbelt, and you didn't notice
You were wearing the seatbelt while driving, but you unfastened it when the officer pulled you over
Building a strong case isn't easy. You can hire an attorney to handle your seatbelt ticket, but it might cost you more than the ticket itself. If you're looking for a more affordable option, you should .
How Can DoNotPay Help With Your Louisiana Seatbelt Ticket?
Our AI-powered app can create a strong appeal letter that will help you overturn your seatbelt citation. You only need to answer a few questions about the situation, and we'll use the data you provide to draft your appeal letter. Once we draw it up, we'll send the letter to the Louisiana seatbelt ticket authorities.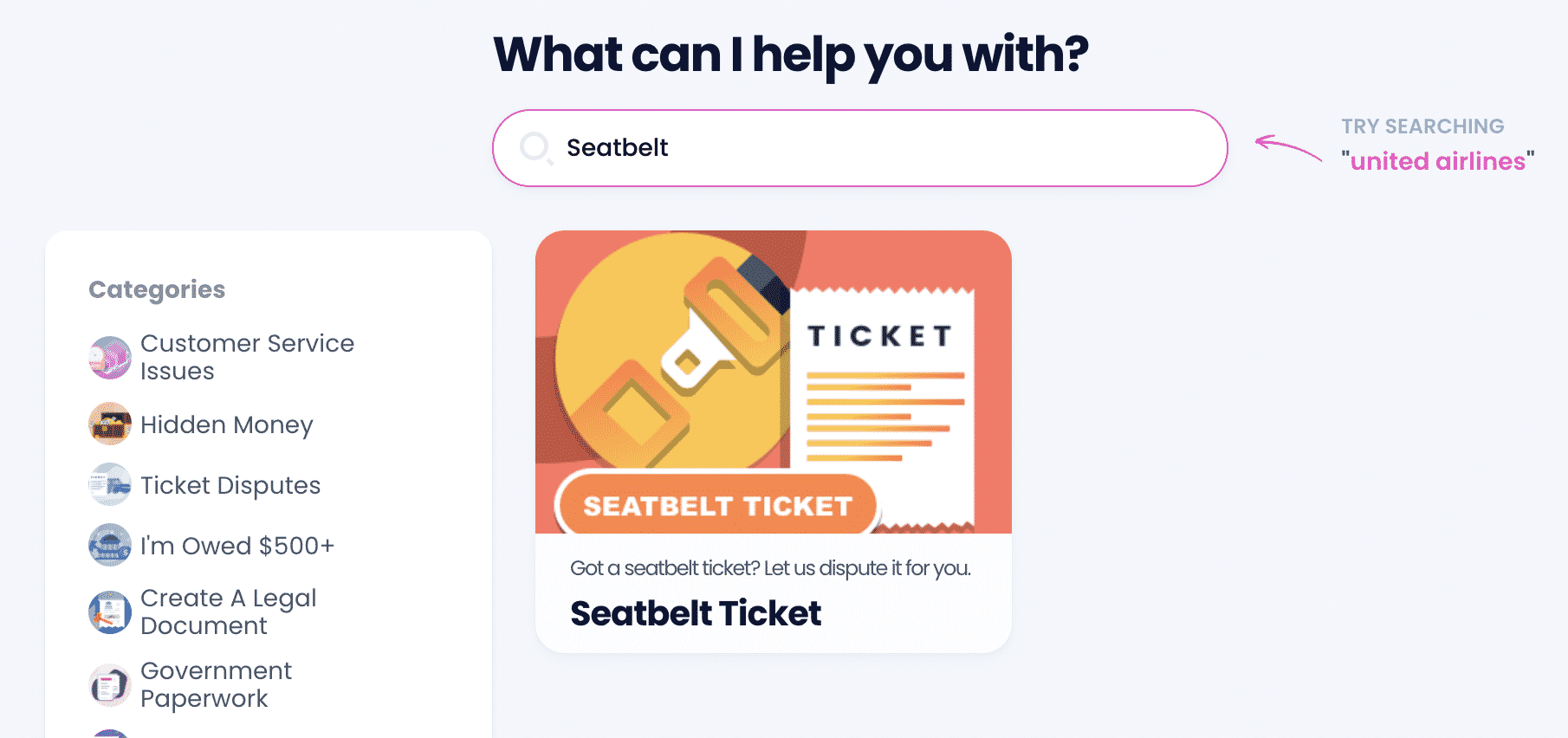 Here are the steps you'll need to follow:
and find the Seatbelt Ticket feature
Upload the photo of your citation
Complete a questionnaire to provide information that we'll use to personalize your letter
Tell us which argument you'd like us to use
Once we receive your responses to the questionnaire, we'll prepare a fully customized appeal letter!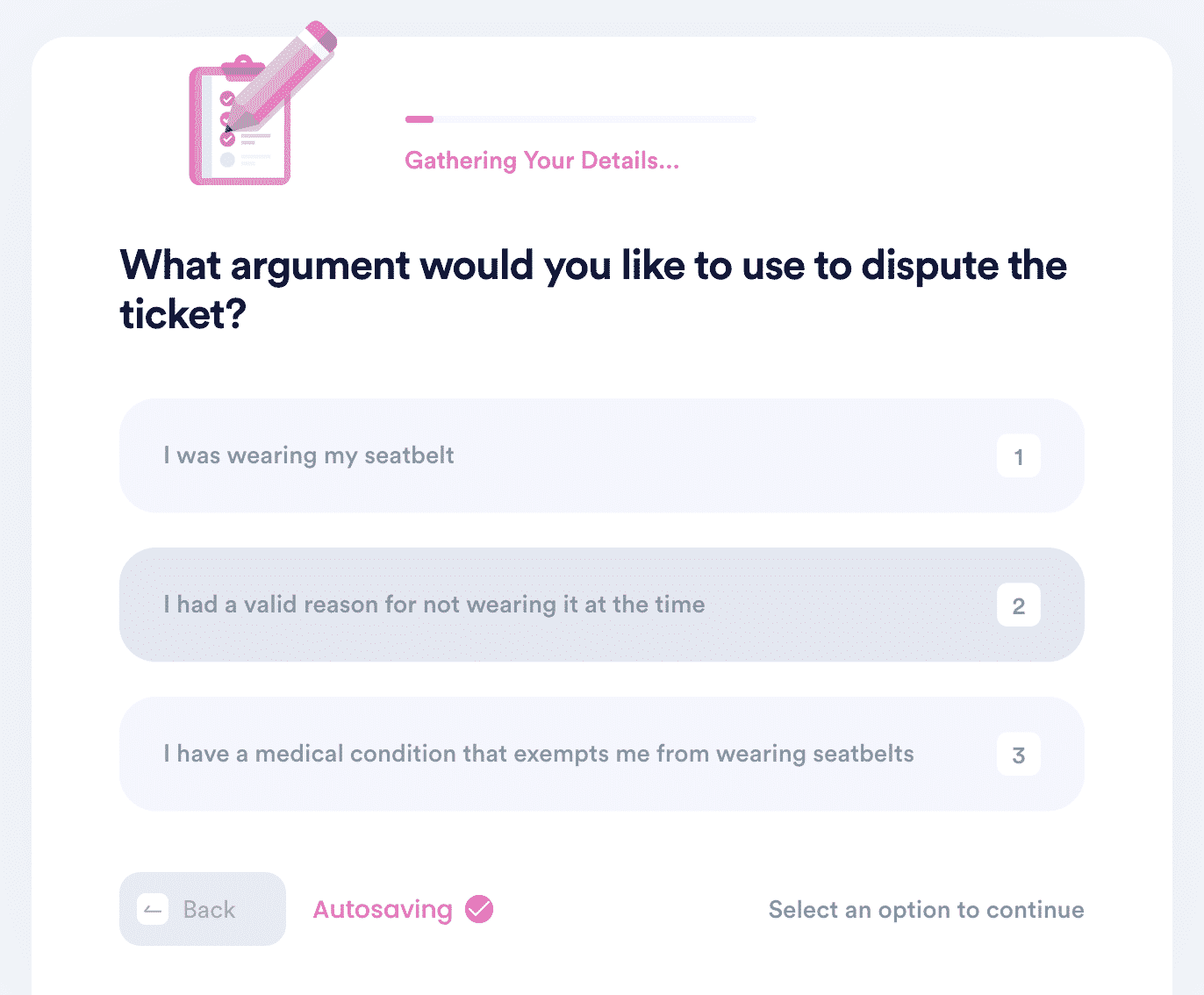 Say Goodbye to Boring Tasks
When a task takes up too much time, you may give up or procrastinate incessantly. We have a solution—use DoNotPay to manage numerous administrative or bureaucratic errands.
No more waiting in neverending DMV lines or staying hours on the phone waiting for a customer service rep to pick up. You can even skip going to the post office. We can help you send letters and even online faxes in a flash. If what you're sending needs to be notarized, use our app to schedule an appointment with an online notary.
Traveling soon? Get your passport photos ready, apply for a tourist visa, contact embassies, and draw up a child travel consent form—all within the same app.
What Else the World's First Robot Lawyer Can Do for You
When you need legal assistance but you can't afford to hire a lawyer, rely on DoNotPay. With our legal expertise, we can help you do the following: