A Breakdown of the West Virginia Child Seatbelt Laws
The West Virginia state government takes child passenger safety seriously. If you are driving a child on the state's roadways, there are laws that you need to obey. Violating them can lead to child seatbelt tickets. Depending on the level of offense, you may even end up in court.
This guide will help you understand the West Virginia child seatbelt laws and the consequences of violating them. If you have been issued a seatbelt ticket, we will show you how to get it dismissed effortlessly with DoNotPay.
What Are the West Virginia Child Seatbelt Laws?
Child passenger laws in West Virginia are primary enforcement laws. If officers suspect that you haven't buckled your child correctly, they can pull you over and issue a citation without any other traffic violations.
Below is the overview of the West Virginia child seatbelt laws:
| Child's Age | Child Passenger Laws |
| --- | --- |
| Under eight years | The child must be properly restrained in federally-approved child safety seats, including car booster seats |
| Eight to 18 years | Minors of this age can be secured using the regular car safety belt |
| Under eight years, but with a height of four feet and nine inches | A child passenger can be allowed to use the standard safety belt in this case |
The state also recommends the following:
Children under the age of two should use rear-facing safety seats
A rear-facing child car seat should not be secured in the front passenger seat of a vehicle with an active airbag
Children can ride facing forward in a five-point harness starting at the age of two
A booster seat can be used when the child is around four years old and weighs about 40 pounds
Booster seats should be used until the child reaches the age of eight or is at least four feet and nine inches tall
Children should ride in the rear seat until they are 13 years old
What Is the Cost of a Child Seatbelt Ticket in West Virginia?
Like in many states, the driver is responsible for ensuring that any child passenger is properly secured and in the correct restraint system. In hired cars, the driver is exempt from this law. Violating the West Virginia child seatbelt laws means you are guilty of a misdemeanor, and you can be fined from $10 to $20 if convicted.
Can You Get DMV Demerit Points or Insurance Premiums Raised Because of a Seatbelt Ticket?
WV's Department of Motor Vehicles (DMV) uses a driving record point system. Currently, you cannot get demerit points for seatbelt tickets in this state.
In some states, child seatbelt tickets can get you demerit points and even affect your insurance premiums. Check our guides below on child seatbelt laws in other states:
What Happens if You Don't Pay a Seatbelt Ticket?
If you fail to appear in court or don't pay a seatbelt ticket, the court informs the Department of Motor Vehicles. The DMV suspends your driving license until you provide evidence of obeying the citation and paying all applicable fines.
Always check the ticket with great care to determine the amount, deadlines, and possible penalties to avoid license suspensions.
How To Fight a Child Seatbelt Ticket
Drafting a good argument to beat a seatbelt ticket is not easy if you are doing it on your own. If you'd like to give it a try, use these tips:
Argue based on reasonable doubt—This means that you had secured the child correctly and that the ticket was a mistake. Only use this method when the officer doesn't pull you over to confirm
Show due diligence—This works if you hadn't secured the child and you have valid reasons, for instance:

An emergency situation
Child's medical condition
Your child's size
To give yourself better chances of a successful ticket dispute, use a proven system. contests traffic tickets regularly, and we know what works.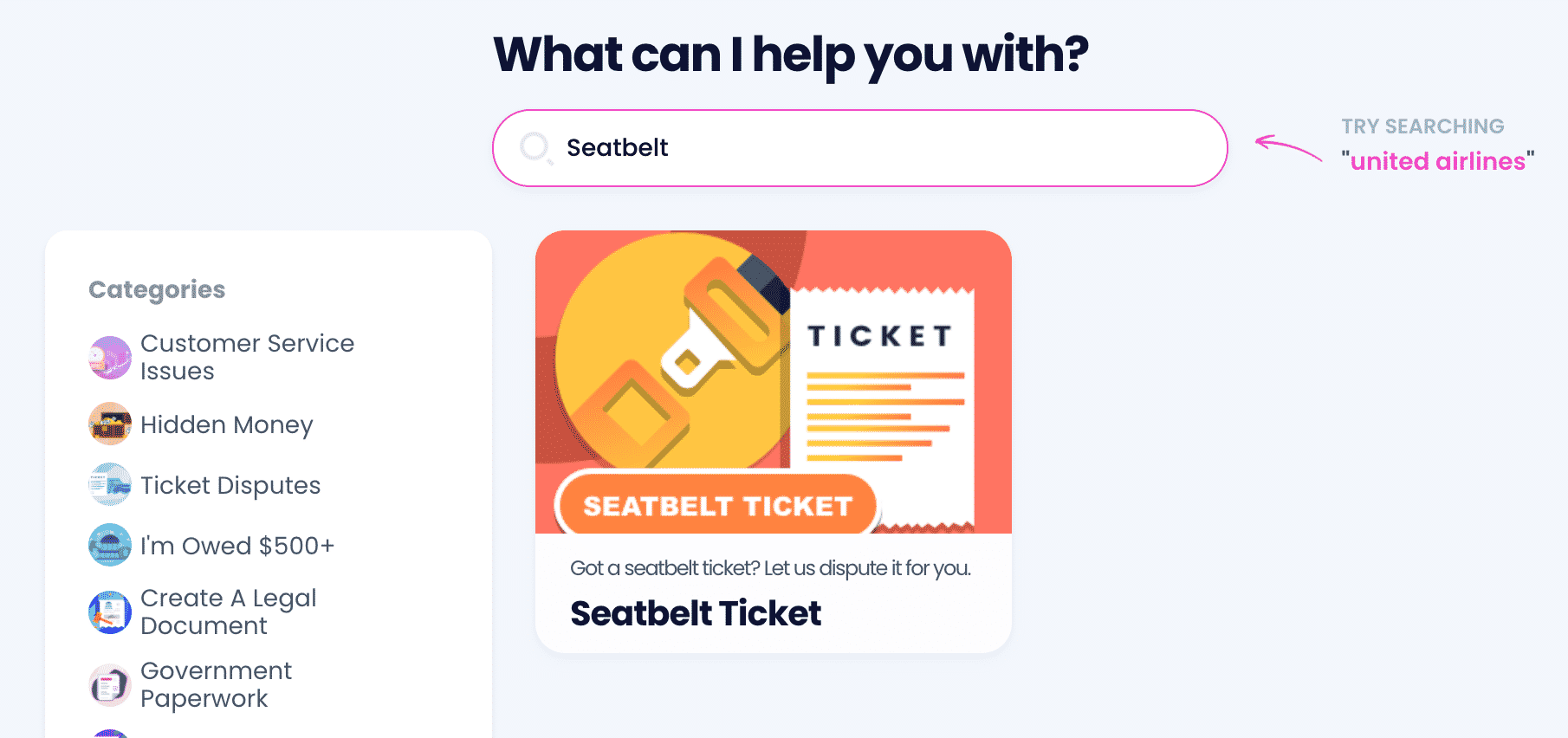 Appeal Seatbelt Tickets Using DoNotPay
Fighting your seatbelt ticket can help you avoid:
Court appearances
License suspension
Increased insurance premiums
Other penalties
The trick to getting a ticket dismissed is to present a good argument. This can be a headache if you aren't used to it, but that's why we are here. We can generate a custom appeal letter and send it to the relevant authorities for you in a few minutes. Here is how our process works:
and search for Seatbelt Ticket
Tell us the kind of argument you prefer—you actually had secured the child or had a valid reason for not using a restraint system
Give us more information and upload a photo of your ticket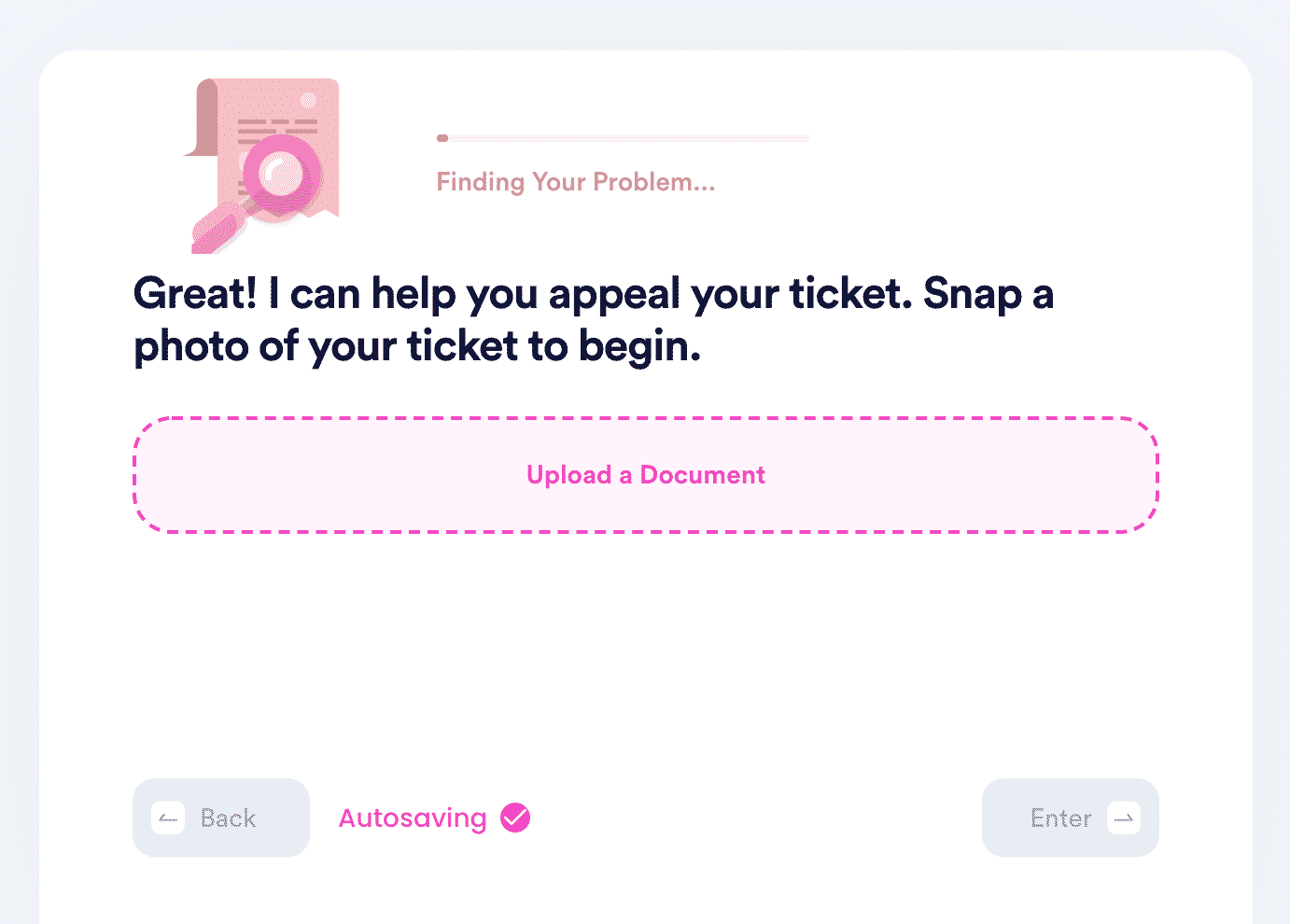 We will take it from there and hopefully get your seatbelt ticket dismissed.
Don't risk a seatbelt ticket when traveling—check out our guides on general seatbelt laws in other states:
DoNotPay's Assistance at Your Fingertips
DoNotPay is all about easy solutions. Turn to our app when you need to get rid of unwanted services, block spam emails and text spam, and overturn unpaid parking tickets. We can also assist you in registering on platforms without disclosing your number and signing up for free trials using our virtual credit card.
With our app, you'll forget about old-fashioned ways of completing certain tasks. Let us help you send faxes online, mail letters, reach customer service, and get in touch with an incarcerated loved one.
DoNotPay Has More To Offer
Our app boasts a wide range of products—from filing a warranty claim, requesting a refund, and booking a DMV appointment to getting a document notarized, filing financial aid appeal letters, and fighting discrimination at work.
For DoNotPay users, no problem is too difficult to solve. Here are only some of the tasks our app can help you complete: