A Key to Understanding the Seatbelt Laws in Illinois
Since the first Illinois seatbelt law came into effect in 1985, safety belt usage has increased from 15.9% to 94.3%. Despite this encouraging fact, many drivers still don't know how to use restraint systems properly or believe they don't need them if the vehicle has airbags. For this reason, being aware of the local seatbelt laws and violation consequences is a must for each Illinois driver or passenger.
The primary goal of this concise manual is to introduce you to the seatbelt laws in Illinois and help you understand them better. It offers the answers to the most common questions, such as:
Illinois Seatbelt Laws Untangled
As per Section 12.603 of the Illinois Compiled Statutes, drivers and passengers in Illinois above the age of eight must wear a safety belt whenever the vehicle is in motion. The vehicle operator must ensure that every passenger complies with this rule.
Failing to meet the seatbelt requirements is considered a primary offense. It means that the police have the right to stop the vehicle if they realize one or multiple passengers don't have their safety belts on.
If such a violation happens in Illinois, it counts as a non-moving one and doesn't add demerit points to your driver's license. You also don't need to worry about the fine affecting your car insurance. Your rates won't increase like they would if you committed a moving violation.
Exemptions From the Seatbelt Laws in Illinois
The regulations from Section 12.603 don't apply to the following groups of people:
Drivers or passengers who ride/operate:

Mopeds
Motorcycles
Authorized emergency vehicles
Motor vehicle models manufactured before 1965
Vehicles that aren't required to have seatbelts installed

People driving in reverse
Rural letter deliverers, including USPS carriers
Backseat passengers riding a taxicab
Persons who leave and enter the car frequently to deliver goods and don't move faster than 15 mph
Drivers or passengers with specific health conditions and written statements from certified physicians as evidence
Illinois Child Seatbelt Laws in Brief
All kids below eight must be protected by a suitable child safety restraint system—usually a car seat. A perfect seat for your child should:
Fit your child's height/weight
Fit your vehicle
Be installed according to the manufacturer's instructions
Babies and toddlers under the age of two must be placed in rear-facing seats. This law doesn't apply to children shorter than 40 inches or weighing more than 40 pounds.
Once they outgrow rear-facing seats, kids between two and four years old can switch to forward-facing ones with an internal harness system. When they reach the maximum height or weight proposed by the manufacturer or turn four, they are usually ready for a booster seat.
Children above the age of eight can start using safety belts as soon as they outgrow their booster seats.
How Much Is a Seatbelt Ticket in Illinois?
Regular seatbelt tickets in Illinois start at $25 but can increase depending on the particular situation or violation level. If you violate the children's safety regulations for the first time, you must pay a $75 fine. If it happens again, you will be subject to a $200 fine for each subsequent offense and additional court fees.
How To Fight an Illinois Seatbelt Citation
Do you want to convince the court that you aren't guilty or explain why you violated the local seatbelt rules? If yes, you can use one of the following methods to get your ticket waived:
Buy and install a proper child restraint system—If you get a ticket because you didn't have a suitable car seat for your child, the judge will probably dismiss your fine if you acquire it before the court hearing
Hire a lawyer and let them argue the case for you—Professionals will know how to help you convince the authorities that they should reduce or dismiss your fine. The main disadvantage of this option is that it's too expensive
Write an appeal letter to the local ticket authorities—Compose an appeal letter offering a valid excuse for not buckling up. If you don't know how to do it yourself, you can subscribe to DoNotPay and have it done by our app in less than five minutes
DoNotPay Brings Top-Level Appeal Letters
Appealing an unfair seatbelt ticket doesn't have to be difficult or tiresome as DoNotPay can do it for you! Our AI-powered system features a chatbot collecting all relevant case facts and creating a personalized claim right in front of your eyes.
You don't need to worry about the originality or content of your claim. We will ensure it contains all the relevant details and even send it to the right department on your behalf!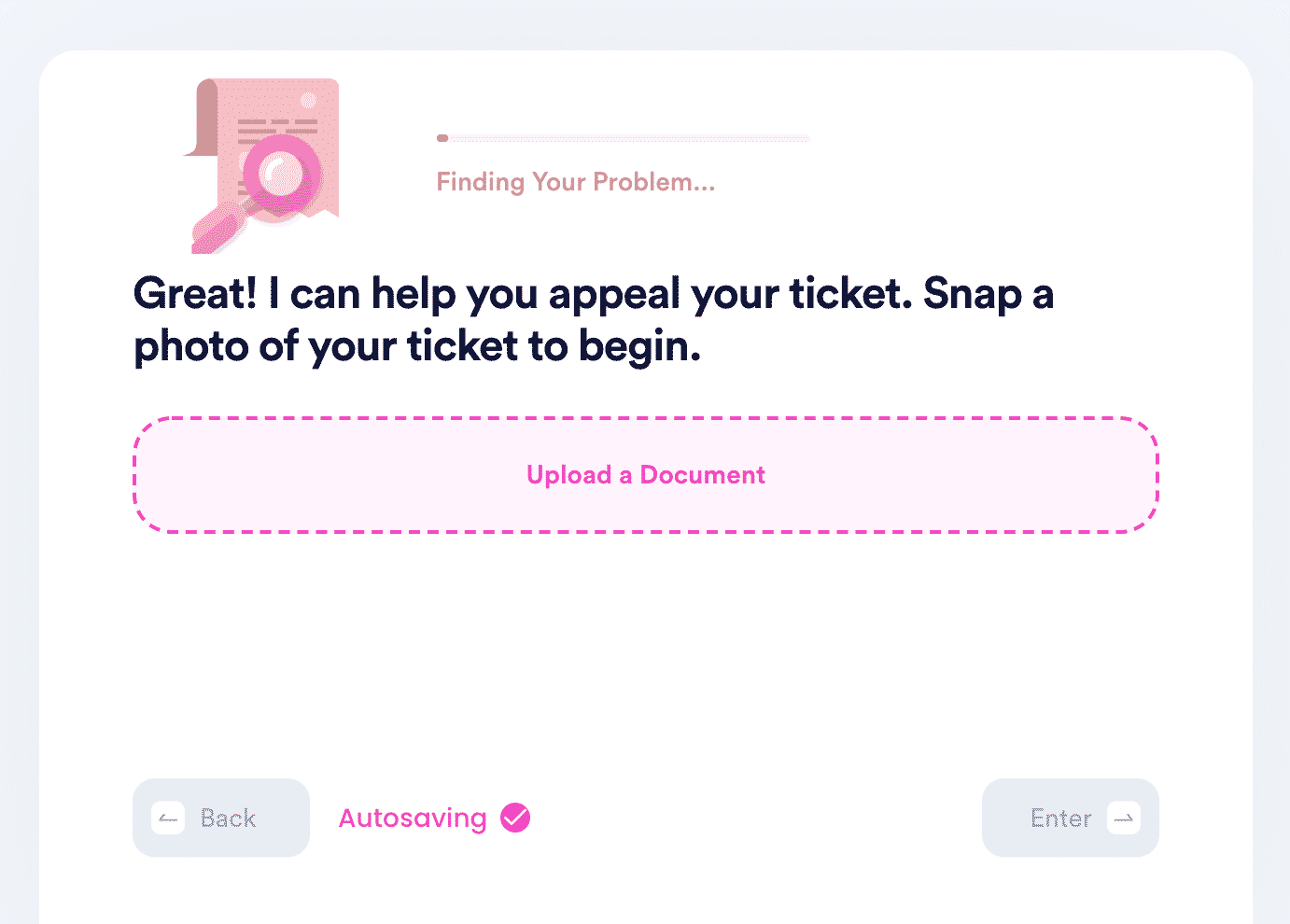 Here's what to do:
Sign up for DoNotPay and log in to your account
Find the Seatbelt Ticket product in our app
Attach the picture of your ticket
Tell us more about your case and choose what argument you want to stick to
Do you want to untangle other state-specific seatbelt laws? There's no better way to do it than by checking out our knowledge base and other handy guides we offer! Find them in the following table: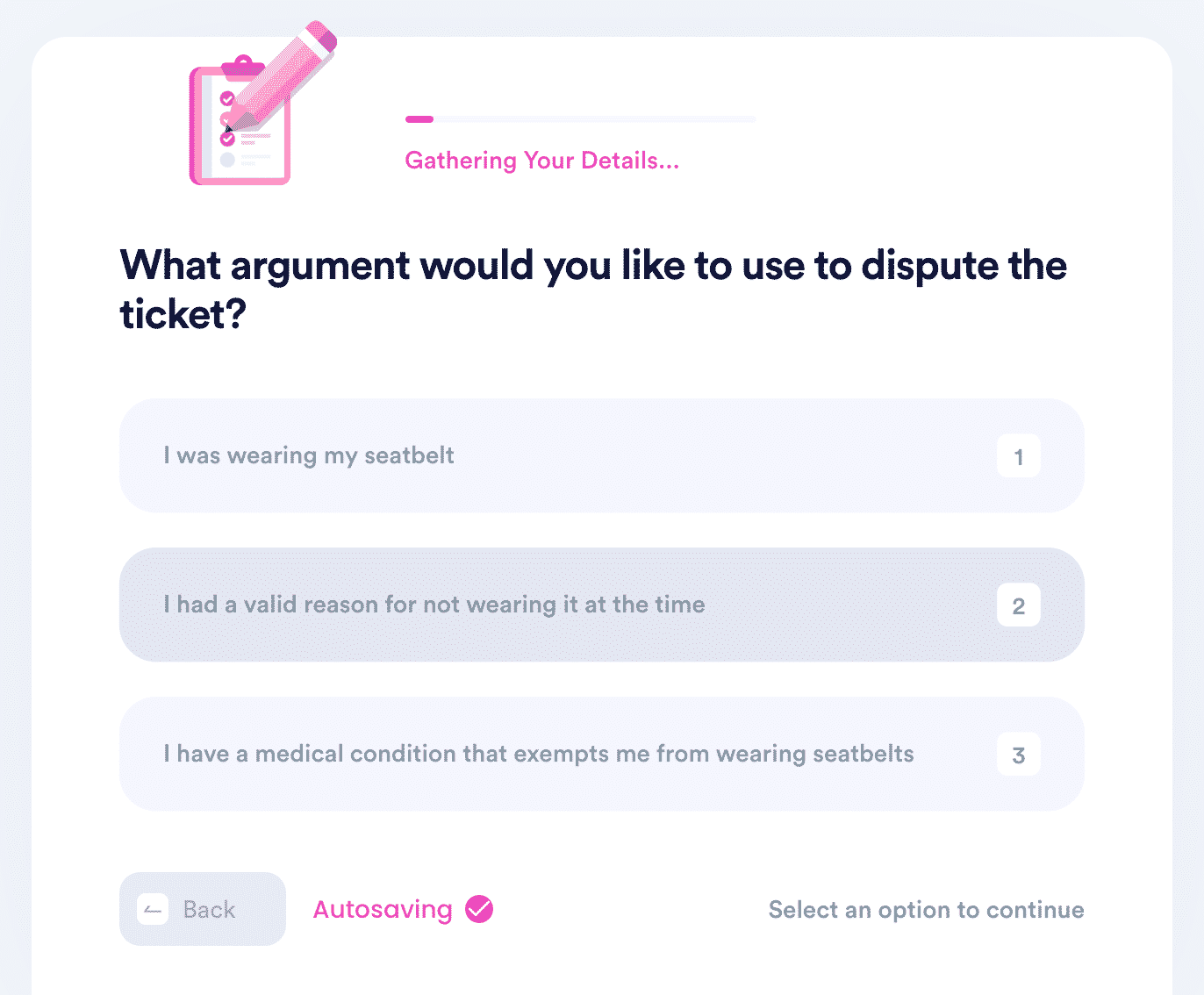 Rely on DoNotPay and Get Rid of Administrative Issues
Are you tired of returning items, canceling subscriptions, fighting parking tickets, and mailing letters? We can help you fast-track all these tasks and more! Do you need help reaching customer service, fighting workplace discrimination, submitting defamation demand letters, or filing HR complaints? Use DoNotPay and solve any issue without a hitch.
Feel free to also use our app to study for government tests, apply for scholarships, appeal low financial aid offers, and request college fee waivers.
Do you need help paying bills? DoNotPay can assist you in lowering your property taxes, getting gift card cash back, entering sweepstakes and giveaways, and getting refunds.
With us, you'll be able to both earn and save money!
Say Goodbye to Spammers With DoNotPay's Assistance
Getting spammed on the daily? Our app can put an end to this annoying issue! Block spam emails, text messages, and robocalls in a few clicks. We can even help you deal with stalking and harassment.
Thanks to our Burner Phone product, you'll get a temporary phone number that you can submit when registering on different platforms and protect your privacy.
Another way to keep your privacy intact is using DoNotPay's virtual credit card. Signing up for free trials without hidden charges and revealing your contact details has never been easier!