A Complete Guide to the NC Seatbelt Law
Wearing seatbelts can save lives—that's why all the states in the U.S., except for New Hampshire, have laws that regulate it. If you live in North Carolina or are visiting, you should familiarize yourself with the NC seatbelt law so you wouldn't get a ticket and end up in court.
If you already got a seatbelt ticket, you're in the right place because we can help you get it dismissed.
What Are the Seatbelt Laws in North Carolina?
The NC seatbelt law requires all occupants of noncommercial vehicles, including those in the backseat, to wear a seatbelt when the vehicle is in forward motion on a street or highway. This rule applies to all passengers who are 16 or older. The NC Child Passenger Safety Law covers children who are younger than 16.
Even though North Carolina is a primary enforcement state, this rule doesn't apply to rear seat occupants. The law states that a police officer may not pull over a vehicle if they suspect that the backseat passengers aren't wearing seatbelts because this is categorized as a secondary violation
North Carolina seatbelt law applies to vans, SUVs, light trucks made after 1971, and all vehicles made after 1967.
What Are the Exemptions to NC Seatbelt Laws?
There are some exemptions to the North Carolina seatbelt law, and you can check them out below:
Drivers of a noncommercial vehicle with a medical condition or phobia don't have to wear a seatbelt
Letter carriers and newspaper carriers who are performing their duties aren't required to buckle up
Drivers of delivery vehicles that frequently stop don't need to wear a seatbelt if the speed between stops doesn't exceed 20 mph
Backseat occupants of a motor home don't need to wear a seatbelt
Occupants of vehicles that have farm license plates and are used for agricultural purposes and in intrastate commerce don't need to buckle up
Passengers who are in custody in the back seat of law enforcement vehicles
Occupants of garbage or recycling trucks during collection
Who Is Responsible for Ensuring That the Seatbelt Is On?
Ensuring that all passengers wear seatbelts falls on the driver if the occupants are children under 16. All passengers who are 16 or older are responsible for themselves.
According to seatbelt laws for kids, the driver must ensure that all children are properly restrained whether they're in the children's car seat or not. The car seat must be properly used according to the manufacturer's instructions.
How Much Does a Seatbelt Ticket Cost in NC?
Consult the table below to see how much a seatbelt ticket costs in North Carolina:
Who
Cost
Drivers and front-seat passengers—16 years or older

Penalty—$25.50
Court fees—$153.50

Rear seat occupants—16 years or older

Penalty—$10
No court fees
How Can You Dispute a Seatbelt Ticket?
You can contest your seatbelt ticket based on two arguments:
Reasonable doubt—You can dispute your seatbelt ticket by arguing that you were wearing your seatbelt and that the law enforcement officer made a mistake
Due diligence defense—If you choose a due diligence defense argument, you'll need to provide a valid reason for not wearing a seatbelt. Some of the reasons may be:

A medical condition that prevented you from wearing a seatbelt—you'll need to provide a doctor's note
You were driving in reverse
You had an emergency
Since not wearing a seatbelt isn't a moving violation in NC, you won't get points, but it might affect your insurance. Not paying your ticket shouldn't be an option because consequences can be serious—from suffering extra charges to getting your license suspended.
If you want to contest your seatbelt ticket in the easiest way, you should register for DoNotPay!
How To Appeal Your Seatbelt Ticket With DoNotPay
You can avoid court, lawyer, and citation costs if you appeal your seatbelt ticket with DoNotPay. Our platform offers an easy way out! You'll only need to complete a simple questionnaire, and we'll create an appeal letter that will help you overturn your seatbelt citation.
What you need to do is register for DoNotPay and follow the steps below:
Find the Seatbelt Ticket product
Upload a photo of your citation
Tell us who got the ticket
Provide more information about the event and tell us which argument you'd like to use
We will create a personalized appeal letter as soon as you complete the steps and send it to the authorities.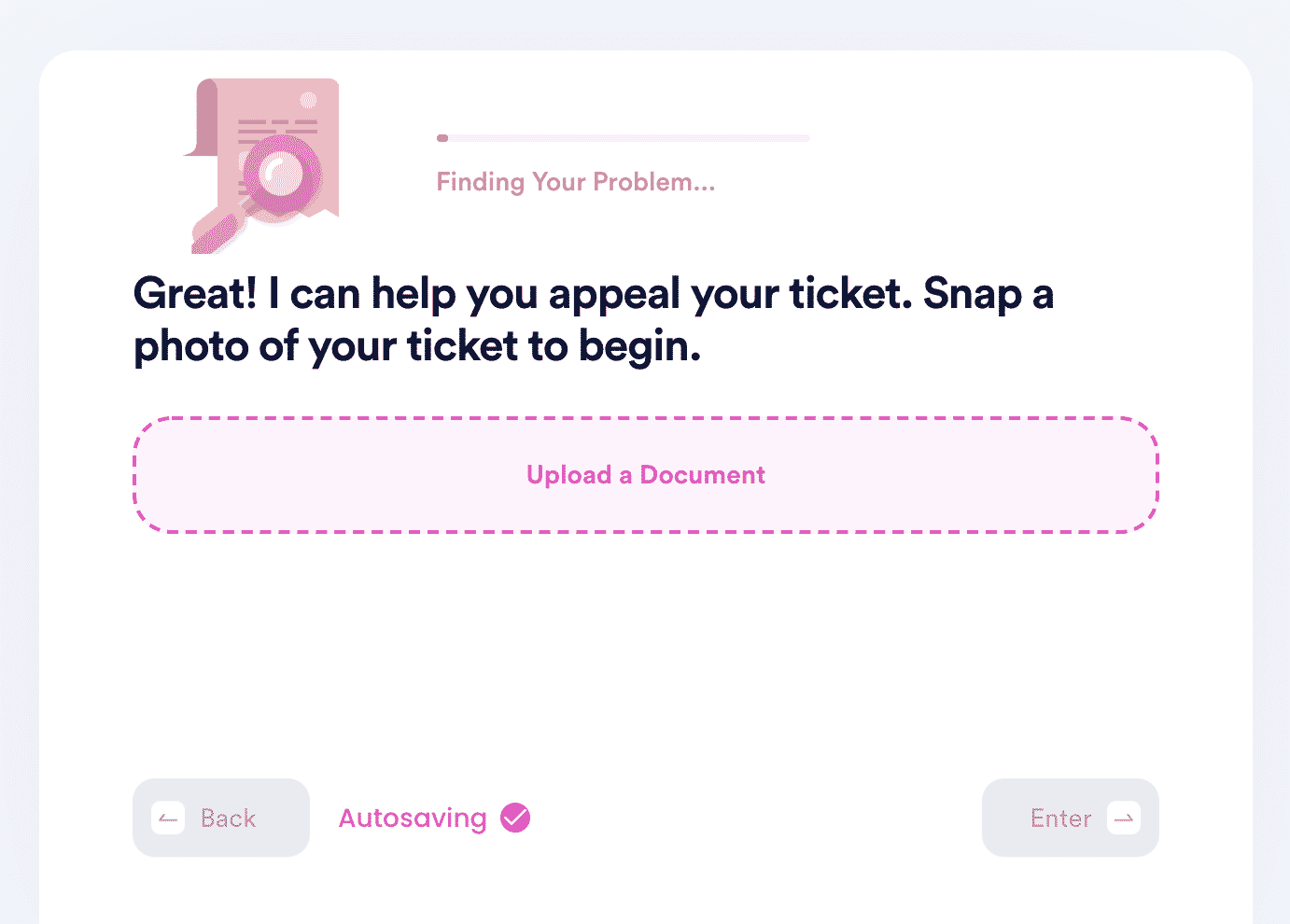 DoNotPay can answer various questions regarding seatbelt regulations, such as:
DoNotPay Turns Any Tiring Task Into a Piece of Cake
Are you tired of dealing with bureaucratic or legal matters on your own? You no longer have to—as soon as you subscribe to DoNotPay, we'll take any exhausting task off your plate.
Our app is capable of drawing up legal documents—including marital settlement agreements, child travel consent forms, powers of attorney, defamation demand letters, and affidavits to homeschool—getting them notarized remotely, filing complaints against companies, suing any individual or corporation in small claims court, sending FOIA requests, and so much more.
The World's First Robot Lawyer Offers So Much More
DoNotPay's capabilities don't end there—we can also: