Your Go-To Guide to the WV Seatbelt Law
West Virginia's seatbelt usage rate has been on an upward trajectory. In 2012, the rate was below average with 84%, and in 2019, it exceeded many other states with 90.2% of occupants buckling up.
If you aren't sure about the safety belt rules, now is the time to learn all about them. Getting to know the WV seatbelt law can help you to:
Lower the chances of getting serious injuries during a car crash
Avoid paying the fine
Prevent reduction of the damages collected due to a car crash based on "safety belt defense"
Use our guide to find out what the laws are. If you've ended up with a ticket, we'll also help you overturn it without hassle.
What Are the West Virginia Seatbelt Laws?
A police officer can issue a seatbelt ticket in West Virginia if the driver or front or backseat passengers aren't wearing safety belts. Every motor vehicle occupant under the age of 18 must be buckled up regardless of where he or she sits.
West Virginia is one of the 20 states that have primary enforcement for all occupants. The police officer can stop you and issue a seatbelt ticket even if you don't make any other traffic violations.
WV Child Seatbelt Laws
Without proper safety restraints, children can suffer difficult or fatal injuries in car crashes. The seatbelt laws for children demand that they are protected in case of an accident in the following ways:
| Age of the Child | Car Safety System You Must Use |
| --- | --- |
| Under two | Rear-facing car seat |
| Two to four | Front-facing child seat |
| Under eight | Booster seat |
You should follow the weight and height restrictions on the car seat manuals to make sure that your children are using a restraint system that can keep them safe.
Want to get more details on the child seatbelt laws? Head to our guide about the child safety regulations in West Virginia.
How Much Will Breaking the WC Seatbelt Laws Cost You?
Violating a seatbelt law in WV is considered a misdemeanor and comes with a fine of $25. Any person of age who breaks the regulations will be responsible for paying for the ticket. If there is an unrestrained child in the vehicle, the driver will be ticketed. There are no other court costs or additional fees besides the base fine.
The ticket in West Virginia isn't as high as in some other states—and you can make the comparison by checking out our cost-specific seatbelt ticket guides for:
Will the Ticket Make a Mark on Your Driving Record?
When being unbelted is a moving violation, the driver usually gets demerit points. This also affects the insurance rate as the insurers base their offer on the driver's probability to cause or take part in an accident.
In West Virginia, not wearing a seatbelt isn't a moving violation. This means that no points will end up on your driver's record, and your insurance rate won't change even if you violate this law.
What Are Your Options When You Get a Seatbelt Ticket in WV?
After the officer hands you the ticket, you have three options:
Pay the ticket
Ignore the citation
Get your ticket dismissed
If you are guilty and you know it, you can pay the fine and move on. Disregarding the fine comes with additional fees, and you might even lose your license for some time.
There are instances when officers make a mistake and overlook the seatbelt. They can also issue a ticket despite the driver's or passenger's valid reason for not wearing it. In these cases, you can go to court and overturn the citation.
Arm yourself with an uncontestable defense, and you won't need to lose a single dollar. Explaining to the court why you deserve exoneration can be challenging. Need help? Use our nifty app, and you'll get a personalized letter of appeal before you know it!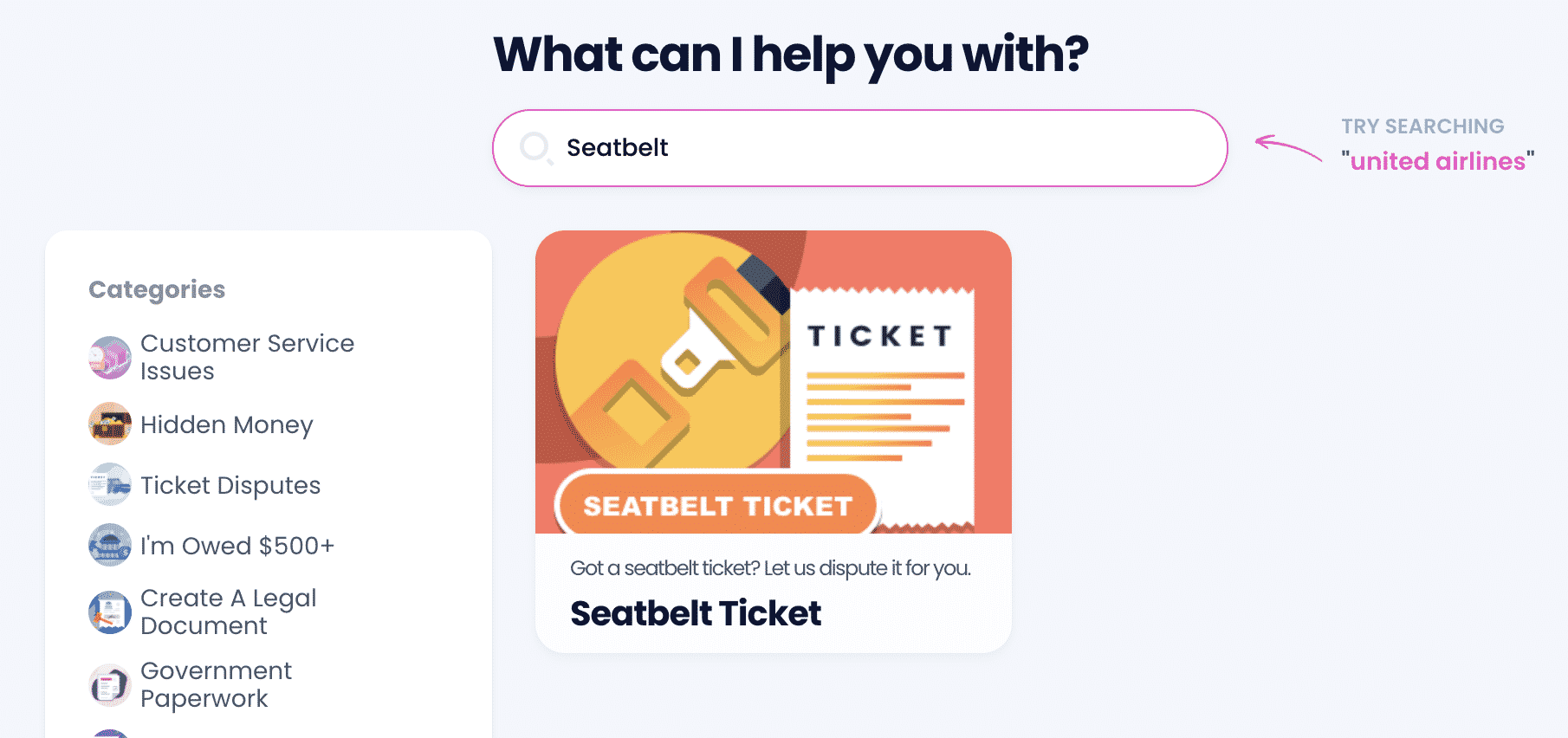 DoNotPay Will Help You Appeal in the Blink of an Eye
DoNotPay is an AI-powered app that can generate a tailor-made ticket appeal in less than three minutes. Provide us with an overview of the event, and we'll reciprocate with a convincing letter. We'll also mail it to WV authorities on your behalf.
How to get started? Follow these instructions:
Pick the Seatbelt Ticket tool among our numerous products
Upload a photo of your ticket
Fill out the questionnaire about the event—who got the ticket, what argument you want to use, and similar
The letter will be ready in no time!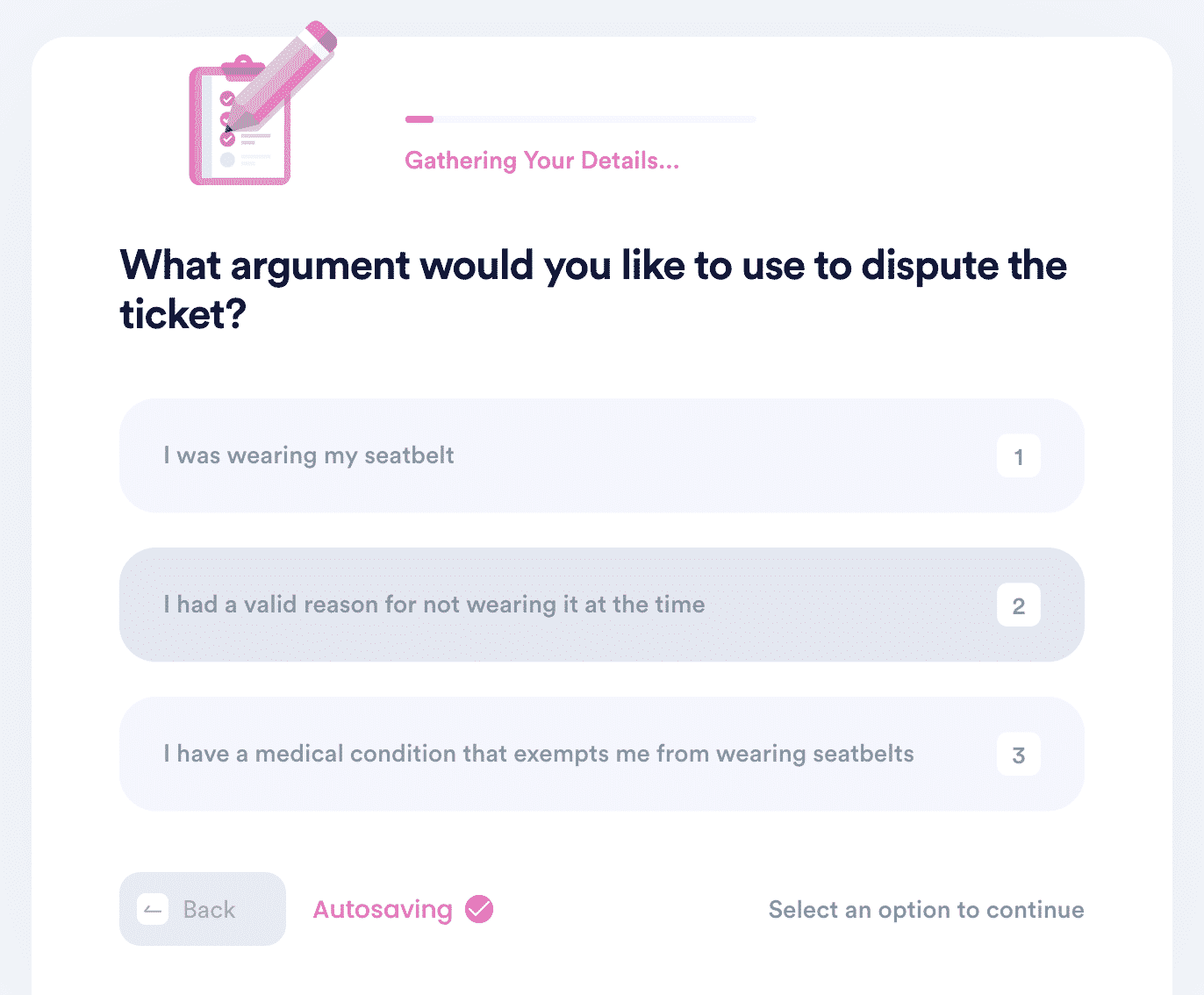 Better Be Safe Than Sorry—Learn About Seatbelt Laws With DoNotPay
Keeping up with different seatbelt regulations across all U.S. states is not easy. The rules that apply in WV may not be the same as the ones in California or Vermont.
What can help you get to know the laws are our simple state-specific guides on seatbelt regulations. Find the place you'll drive to in the table below for a quick rundown:
Make Your Money Troubles Go Away
If you want to join free trials and not worry about automatic renewals, our app is what you need. With DoNotPay's virtual credit card, you'll be able to avoid charges and keep your personal details to yourself.
We can also help you get a refund or request a cancellation.
Getting your money back is our field of expertise—Use DoNotPay to:
No Task Is Too Difficult for DoNotPay
Signing up for our app brings you an AI-powered assistant. Check out the benefits of having a DoNotPay account in the table below:
| Solve an Issue | Complete a Task |
| --- | --- |
| | |