The Vermont Seatbelt Law in a Nutshell
Despite the fact that seatbelt use in Vermont is 88.8%, far too many people in this state die as a result of being unrestrained in a car accident. Wearing a seatbelt is one of the most effective strategies to avoid a fatal outcome and serious injury in the event of a collision.
Whether you are a frequent traveler on Vermont roadways or just passing through, you should get familiar with the Vermont seatbelt laws. Our easy-to-read guide will explain the basics, answering the following questions:
Who must wear a seatbelt in VT?
What are child passenger safety laws in Vermont?
How much does a seatbelt ticket cost?
Do seatbelt tickets go on your record?
How can you dispute a seatbelt ticket?
Seatbelt Laws in Vermont—What You Need To Know
Everyone in the vehicle must wear seatbelts properly, regardless of their age or where they are sitting. The seatbelt law in the Green Mountain State doesn't allow medical exemptions.
The state of Vermont uses a mix of primary and secondary seatbelt laws.
Primary Seatbelt Laws
Vermont has a primary seatbelt law for drivers and passengers under the age of 18.
Primary seat belt laws allow police officers to pull you over and issue a citation for a seatbelt violation. Primary laws often result in a greater percentage of seat belt use than secondary ones.
Secondary Seatbelt Laws
If a driver or other passengers over 18 fail to wear their seatbelt in Vermont, they can be fined only if a police officer observes another citable offense first.
These types of laws allow officers to fine you only if they pulled you over for other reasons, such as speeding or failing to stop at a railroad crossing.
Child Passenger Safety Laws in Vermont
Children seatbelt laws in Vermont vary depending on the children's age and weight.
All children:
Under the age of one or weighing less than 20 pounds, regardless of age, must be securely restrained in a rear-facing position in a federally approved child passenger restraint system. It must not be installed in front of an active airbag
Between one and eight years of age and weighing more than 20 pounds must be restrained in a child passenger restraint system—either convertible or booster seat
Between eight and 15 must be restrained in a safety belt system or a child passenger restraint system
How Much Does a Seatbelt Ticket Cost in Vermont?
A violation of a car seat law in Vermont will result in a fine that increases with each successive offense:
First violation—$25
Second violation—$50
Third and subsequent violations—$100
Do Seatbelt Tickets in Vermont Go on Your Driving Record?
Not wearing a seatbelt isn't a moving violation in Vermont, so no points will be added to your driver's license. Your insurance rates will not be increased either.
Keep in mind that the citations will still show up on your driving record.
How Can You Dispute a Seatbelt Ticket?
Rather than pleading guilty and paying the fine, you can contest the ticket. The court may dismiss it if you do one of the following:
Establish a due diligence defense
Create reasonable doubt
Regardless of the method you choose, drafting an appeal letter isn't easy for someone who's never done it. The good news is—we can help. All you need to do is sign up for our service.
Establishing a Due Diligence Defense
In your appeal letter, you must state that you know how important it is to wear a seatbelt at all times and that you normally always wear it. Your argument may be that:
You were driving in reverse and unbuckled your seatbelt. You forgot to buckle up after that
Your seatbelt warning buzzer stopped working, so you forgot to fasten your seatbelt
Creating a Reasonable Doubt
Reasonable doubt requires a compelling explanation for why the police officer mistook you for not being buckled up while you, in fact, were. Possible explanations may be:
Your seatbelt is the same color as your jacket, so it's not visible from afar
You unbuckled your seatbelt to reach for something
You unbuckled your seatbelt because you were preparing to get out of the car
How To Appeal a Seatbelt Ticket With DoNotPay
Our nifty app analyzes the info you provide about your case, drafts a personalized appeal letter, and sends it to relevant authorities in minutes! DoNotPay allows you to save a sizable sum of money you would otherwise spend on hiring a lawyer.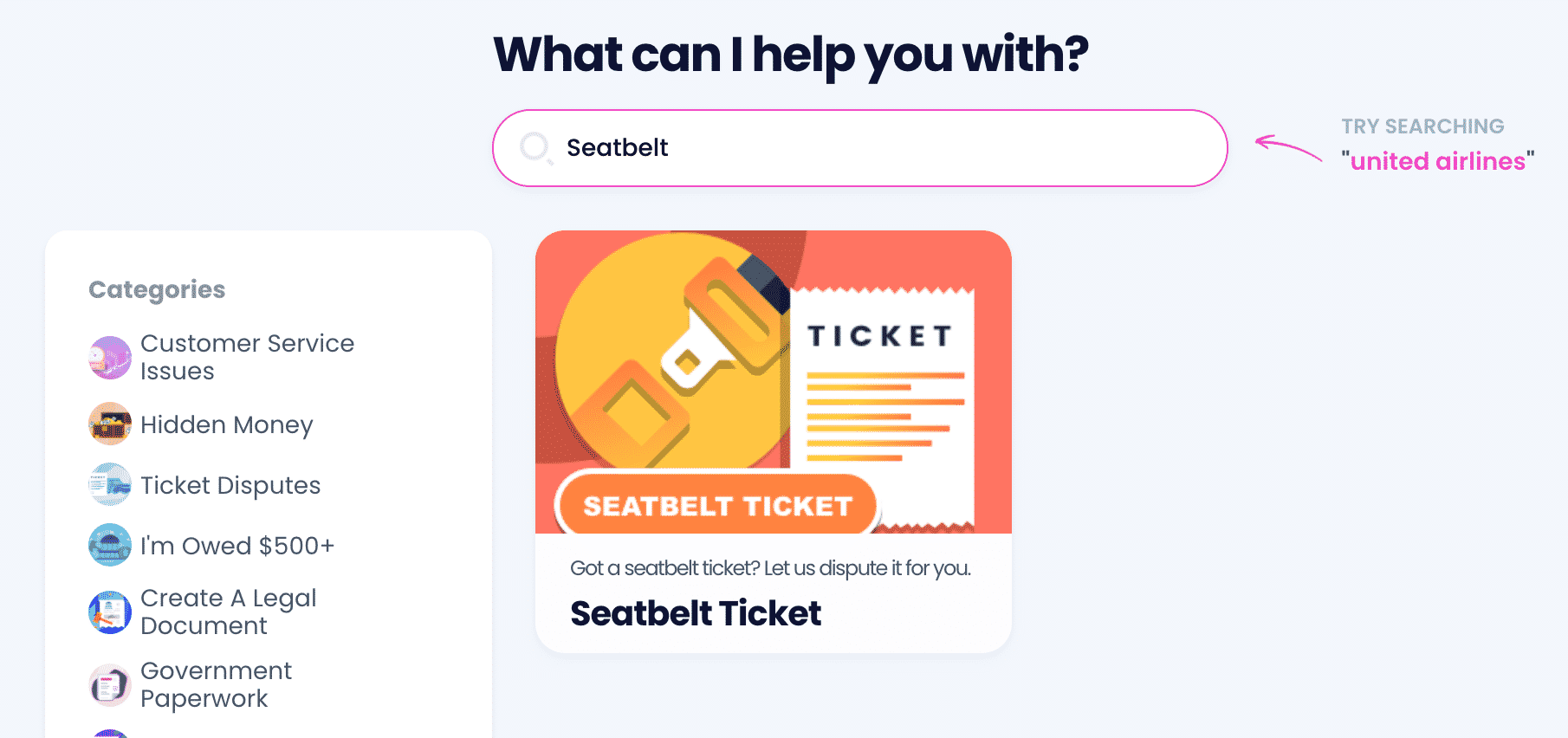 Here's what you should do after logging in to your DoNotPay account:
Find the Seatbelt Ticket product
Provide us with the info about:

Situation you faced
Person who violated the seatbelt law
Argument you want to use for fighting the ticket

Take a photo of your seatbelt ticket and upload it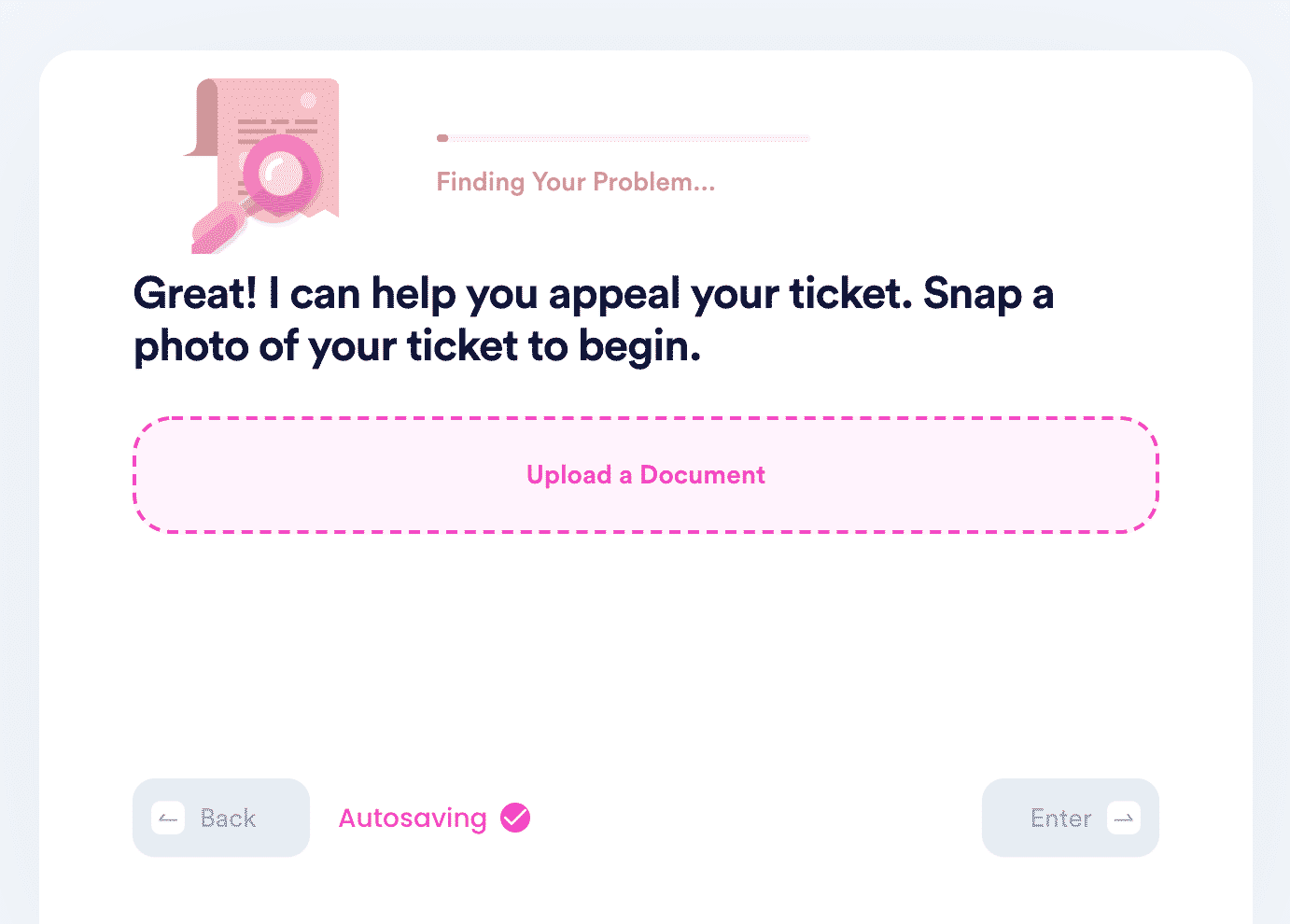 If you plan on traveling out of Vermont soon, make sure you check out our state-specific guides listed in the table below:
Struggling Financially? DoNotPay Can Help You Out!
If you're on a tight budget and have trouble covering your bills, there are a few things we can do for you. DoNotPay is a great tool to both earn and save money.
If you or a family member is a student, you can use our app to search and apply for scholarships and request a college fee waiver. In case your financial aid application is rejected or the university offers little, we can help you file an appeal. Education can be expensive on all levels, so you may consider homeschooling your child.
Is your property tax bill through the roof? Discover ways to lower your property taxes with DoNotPay.
When you're strapped for cash, you can enter sweepstakes, get gift card cash back, or sign up for clinical trials in your area.
What Else Can You Expect From DoNotPay?
DoNotPay is a versatile app, helping users handle tasks and issues while saving time and money.
With our help, you can prepare for various government tests, contact embassies and consulates, appeal banned accounts, and send online faxes within minutes.
Count on DoNotPay when you need to mail letters, apply for tourist visas, or file anonymous HR complaints.
Fighting workplace discrimination and dealing with annoying neighbors will also be much easier with the world's first robot lawyer by your side.