Michigan Seatbelt Law From A to Z
Driving without a seatbelt can have serious consequences—you may die or be seriously injured in a car crash. In Michigan, 38% of people who died in a car accident were not wearing a seatbelt. That's why it's important to buckle up.
Another not so devastating consequence of not wearing a seatbelt is getting a ticket. If you want to keep yourself safe and avoid a ticket, you should stay well informed. This guide will provide all the information about Michigan seatbelt law so you can easily comply with it.
Michigan Seatbelt Laws—The Basics
Not wearing a seatbelt in Michigan is a primary offense which means that a police officer can pull over a vehicle only based on a driver or passenger's failure to buckle up—there doesn't have to be another traffic violation.
Michigan seatbelt laws differ depending on whether someone is a:
Front-seat occupant
Rear-seat passenger
Michigan Seatbelt Law for Front-Seat Occupants
Michigan seatbelt law states that any driver and passenger riding in the front seat must wear a properly fastened safety belt while a motor vehicle is in motion. Children under 13 shouldn't sit in the front seat.
Michigan Seatbelt Law—Backseat Passengers
The Michigan seatbelt law is slightly different for backseat occupants. It states that people who are 16 and older don't need to wear seatbelts in the back. It is highly advisable for them to buckle up, though.
Child Seatbelt Law in Michigan
The law regarding children's safety is more strict. Check out the table below to see a brief overview of Michigan's child passenger safety law by age:
| Age | Description |
| --- | --- |
| Infants and kids under four | All children younger than four must be restrained in a forward- or rear-facing car seat in the back of the vehicle. If all the rear seats are occupied by other children, you may put your child in the front seat as long as the airbag is deactivated |
| Between four and seven | Children who are shorter than four feet and nine inches must be positioned in a car or booster seat in the back of the vehicle |
| Between eight and 15 | Children aged eight to 15 must wear seatbelts both in the front and the back of the vehicle |
Michigan Seatbelt Law Exemptions
The Michigan seatbelt law doesn't apply to a driver or a passenger of any of the following:
Bus
Motorcycle
Moped
Motor vehicle manufactured before January 1st, 1965
It also doesn't apply to:
A driver or a passenger who has a medical condition (confirmed by a doctor's note) that prevents them from wearing a seatbelt
A USPS rural mail carrier who is performing duty and needs to make frequent stops
How Much Is a Seatbelt Ticket in Michigan?
If you fail to comply with Michigan seatbelt laws, you can expect to pay $65 for a seatbelt offense. This fine consists of the following:
$25 for the civil fine and court costs
$40 for justice system assessment
Breaking the child car seat laws will result in you having to pay all of the above, except for the civil fine, which can't exceed $10.
The good news is that no points will be added to your driver's license since a seatbelt ticket is a non-moving violation in Michigan. This also means that your insurance rates won't increase.
If you don't pay your ticket or attend court on time, your penalties will increase and start piling up.
How To Get Out of a Michigan Seatbelt Law Fine
You can dispute seatbelt citations. It is a complex procedure as you need to choose the right argument and present evidence for it.
Two ways you can contest a seatbelt ticket are as follows:
Showing reasonable doubt—Use this argument only if the ticket was issued to you unfairly, meaning that the police officer was wrong and that you were actually wearing your seatbelt
Building due diligence defense—Due diligence defense means that you admit to not wearing a seatbelt but have a valid reason for it. Some of the excuses you can use are:

You were driving in reverse
You had your seatbelt on while driving but unbuckled it when the police officer pulled you over
Your child unbuckled the seatbelt without you noticing
You didn't realize your seatbelt was broken
You don't have to fight your ticket on your own—our app will do it for you. If you , you'll get a convincing appeal letter that should help you contest your citation.
How Can DoNotPay Help With Your Ticket?
DoNotPay is the world's first robot lawyer that has the feature you need! Our Seatbelt Ticket feature can create a fully personalized appeal letter to get your ticket dismissed. After we ask you a few questions, we'll use the information you provided to create the letter in minutes!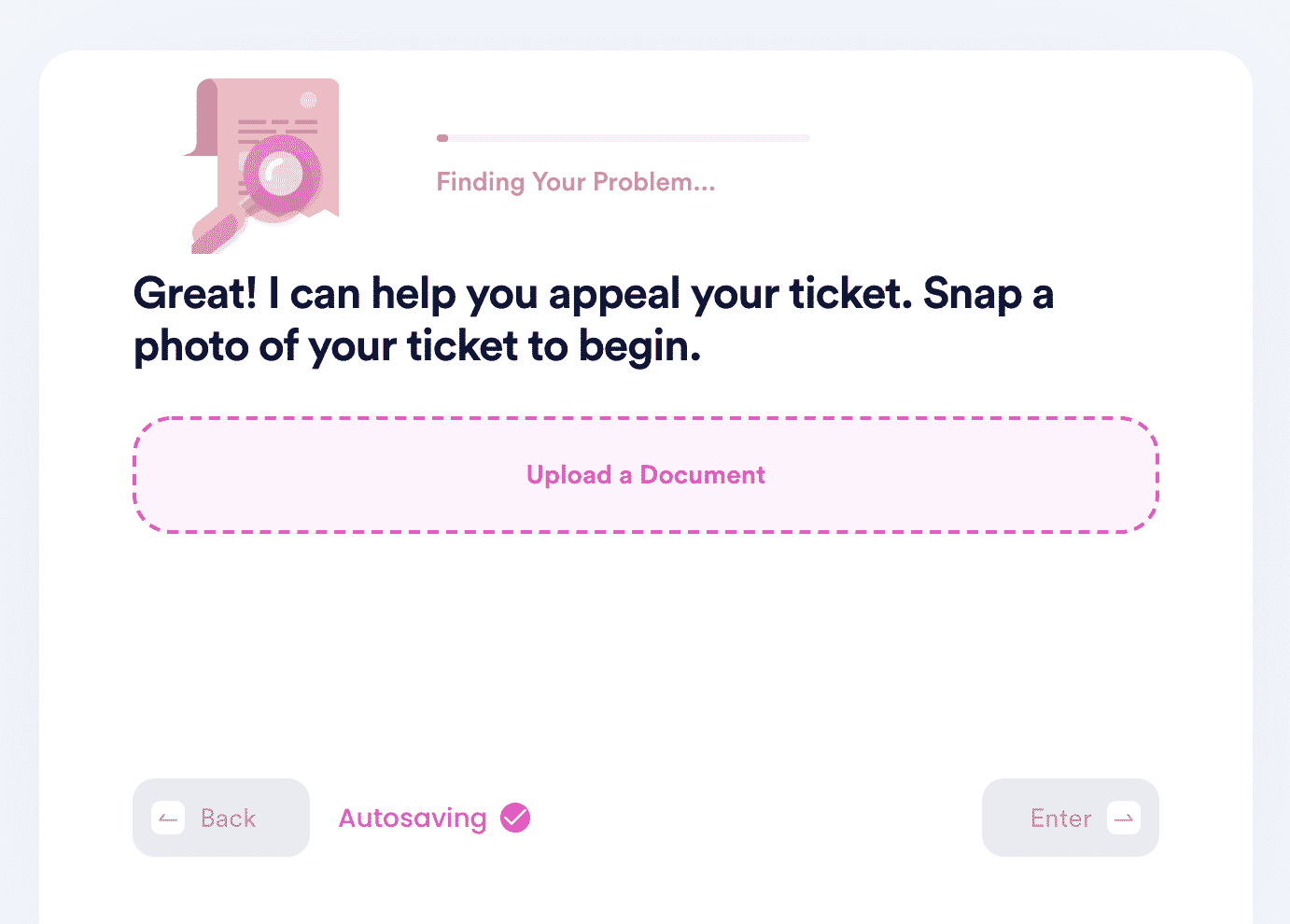 Appeal your ticket now by following these steps:
and find the Seatbelt Ticket product
Upload a picture of your seatbelt citation
Answer several questions, such as who got the ticket—the driver, a passenger, or a kid
Tell us which argument you wish to use
Our app will draft your letter and send it to the Michigan authorities.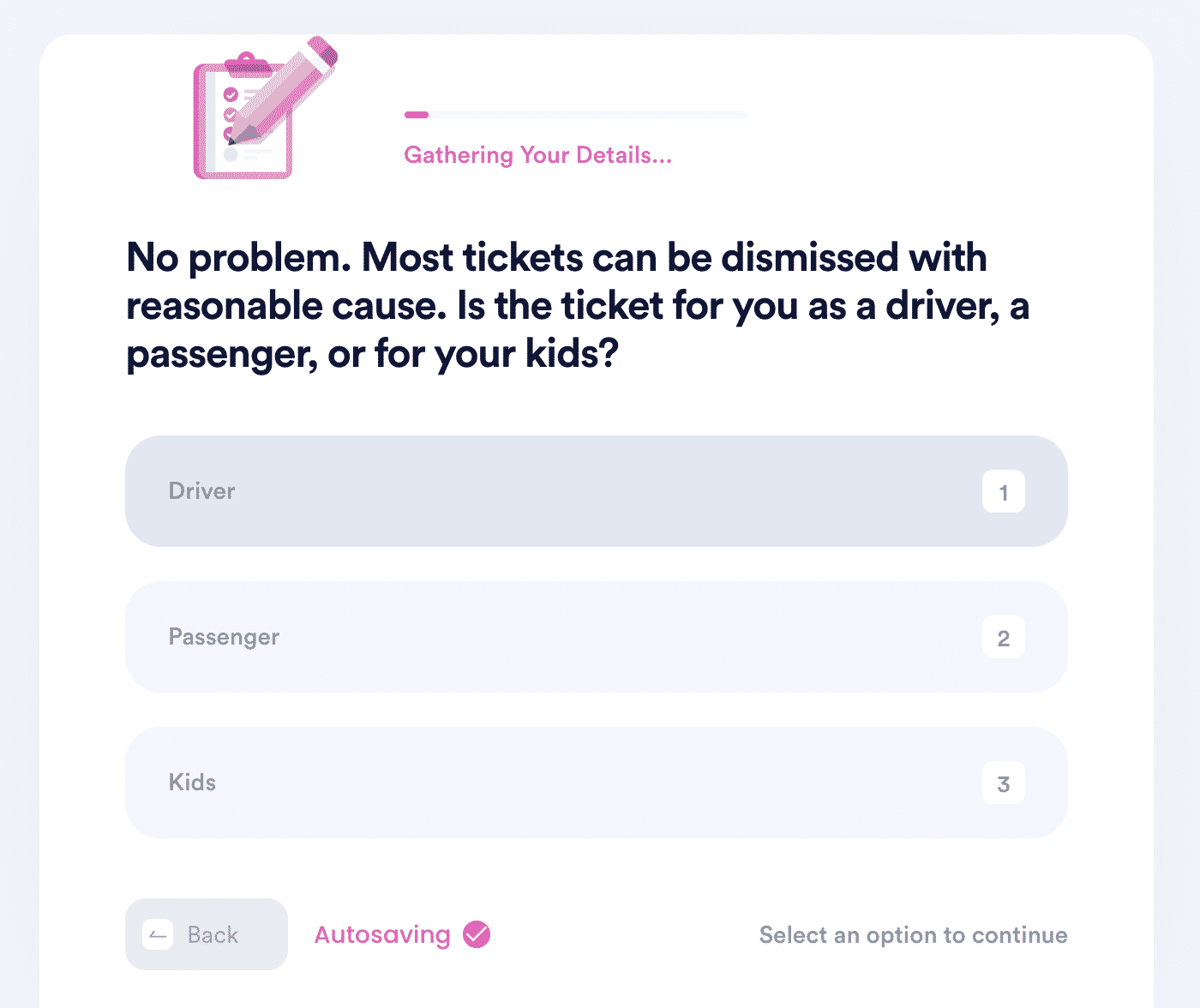 Fight Corporate Greed With DoNotPay
Greedy companies may take advantage of your time and money, but you shouldn't take it lying down. DoNotPay is here to help you get what you're owed and protect yourself!
Once you sign up for DoNotPay, you'll be able to get free trials and not worry about automatic renewals. When you don't want to disclose your personal info, use DoNotPay's virtual credit card and receive a randomly generated name, email address, and credit card details.
Tired of spending hours and even days requesting a refund or cancellation? Our AI-powered app completes the tasks within minutes.
In case you're not satisfied with an item or it was delivered late, we can help you return it for an exchange or refund. We can also fast-track claiming your warranty or insurance.
Strapped for Cash? Earn Some Money With the Help of Our App!
You may need help paying your bills, getting what you're owed, or earning some extra money. Whatever the case, DoNotPay is your go-to.
With our help, you can fight your parking tickets, request a college fee waiver, reduce your property taxes, and enter giveaways. You may even have some money lying around. Don't hesitate to search for unclaimed money under your name or redeem used gift cards.