All You Should Know About Kansas Seatbelt Laws
Wearing a seatbelt can reduce one's risk of death by 45% and cut the risk of severe injury by 50%. This statistic is still not enough to convince some drivers to buckle up. According to the 2020 KDOT Seatbelt Survey, 85% of Kansans wear their seatbelts, which is 5% less than the national average.
You may not be able to change other drivers' ways, but you can keep yourself and your passengers safe by buckling up. Our easy-to-read guide will tell you everything about the Kansas seatbelt laws and the consequences of not respecting them.
The Basics of the Kansas Seatbelt Law
Each occupant of a passenger car constructed according to federal motor vehicle safety standard no. 208 who is at least 14 years old must wear a properly secured safety belt while the passenger car is in motion. According to the seatbelt law, a passenger car is:
A motor vehicle, built or assembled after January 1, 1968
A motor vehicle, manufactured or assembled before 1968, coming with a safety belt system and motive power designed for carrying ten passengers max
In Kansas, seatbelt laws are:
Primary for:

Drivers and front-seat passengers
All passengers under 18 in all seats

Secondary for rear-seat passengers aged 18 and over
Primary Enforcement Seatbelt Laws
Primary seatbelt laws allow police officers to stop a vehicle if a driver or passenger is not wearing a seatbelt.
Secondary Enforcement Seatbelt Laws
Secondary seatbelt laws imply that the police can't stop you solely for not wearing a belt. They must have some other reason for stopping you (for example, speeding) before issuing a citation for a seatbelt violation.
What Are the Consequences of Failing To Buckle Up in Kansas?
If a police officer pulls you over for not wearing a seatbelt or discovers you're not wearing one after stopping the vehicle for another traffic offense, you will be issued a citation. If you are a driver or front-seat passenger—18 or older—you'll need to pay a $30 fine. Occupants aged from 14 to 17 will have to pay a $60 fine.
Keep in mind that seatbelt violations in Kansas will not be reported to the department of revenue, and they can't be used to determine damages or negligence in case of an accident.
Are There Any Exemptions to Seatbelt Laws in Kansas?
There are some exemptions to the Kansas seatbelt law. People who are not obliged to wear a seatbelt are:
Carriers of the U.S. mail while on duty
Newspaper delivery persons while on duty
Occupants or passengers who have a written statement from a licensed physician that they can't wear a seatbelt for medical reasons
What Is the Kansas Child Passenger Safety Act?
According to the Kansas Child Passenger Safety Act, children under the age of 18 must be properly secured in all vehicles, regardless of where they are seated. For more details, check out the table below:
| Children | Safety Device |
| --- | --- |
| Under the age of one | Rear-facing child safety seat |
| Ages one to three | Rear-facing child safety seat or forward-facing car seat with a harness (depending on the weight and height) |
| Ages four to seven, unless they weigh more than 80 and are taller than four feet nine inches | Booster seat |
| Aged eight to thirteen | Booster seat or seatbelt (depending on the weight and height) |
The driver is responsible for ensuring that each kid is properly restrained by utilizing a child restraint system that complies with the Federal Motor Vehicle Safety Standard. Any violation of the Child Passenger Safety Act costs around $60 plus court expenses.
Is a Seatbelt Ticket a Moving Violation in Kansas?
Seatbelt tickets are considered a non-moving violation in Kansas, which means no points will be added to your driving record. The seatbelt law violation won't affect your insurance rates either.
Can You Dispute a Seatbelt Ticket?
You can dispute your seatbelt ticket if you don't think it was issued fairly. To get it dismissed by the court, you must cite one of the following arguments:
Due diligence defense—Admit that you weren't wearing a safety belt, but state that you had a good reason for doing so
Reasonable doubt—Use this approach if you want to show that you were wearing a seatbelt and that the police made a mistake
Making sure your arguments are credible and convincing is crucial in this situation. If you don't feel confident about appealing the citation yourself, the best solution is to sign up for DoNotPay—we will generate a perfect appeal letter for you in minutes!
Let DoNotPay Write an Appeal Letter for You in No Time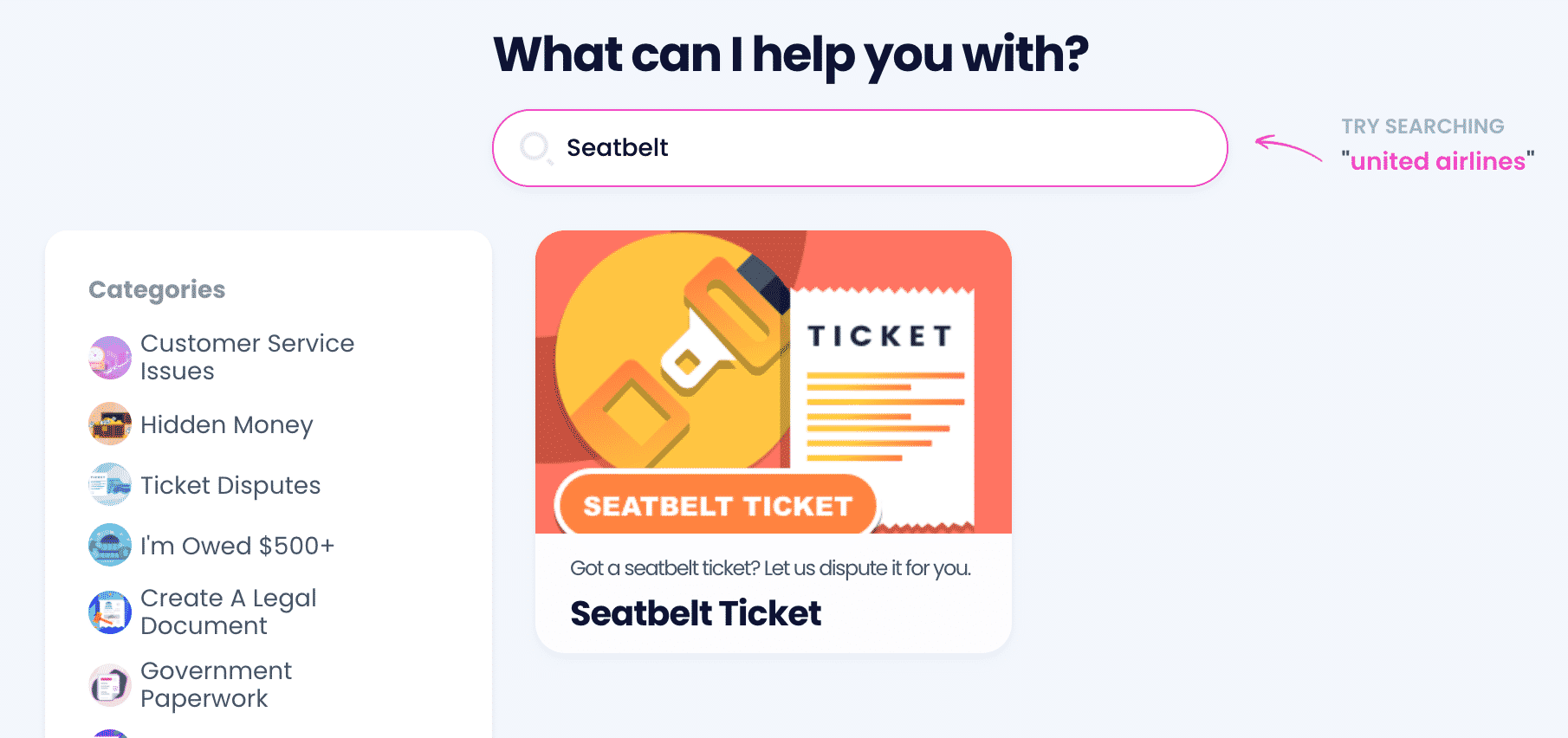 The appeal letter generated by our nifty app will describe the situation in detail and present your arguments for dismissal in a convincing way. We'll also send it to relevant authorities in your stead! All that's left for you to do is:
Find the Seatbelt Ticket feature
Snap a photo of the ticket
Answer a few questions from our chatbot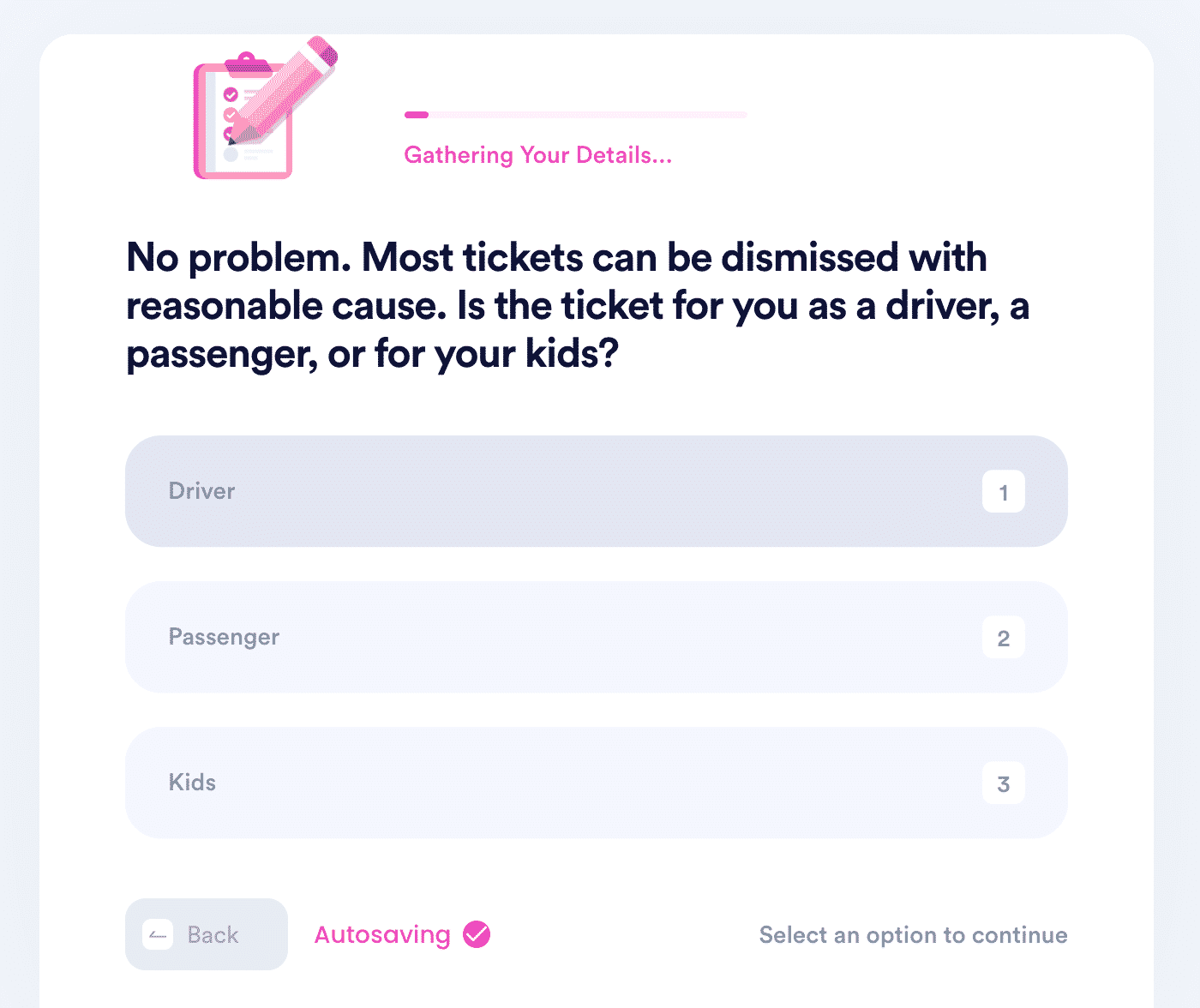 If you travel frequently, you may want to learn about seatbelt laws in other U.S. states. Our guides from the table below can help you with that:
Struggling Financially? DoNotPay Can Help You Out!
If you're on a tight budget and have trouble covering your bills, there are a few things we can do for you. DoNotPay is a great tool to both earn and save money.
If you or a family member is a student, you can use our app to search and apply for scholarships and request a college fee waiver. In case your financial aid application is rejected or the university offers little, we can help you file an appeal. Education can be expensive on all levels, so you may consider homeschooling your child.
Is your property tax bill through the roof? Discover ways to lower your property taxes with DoNotPay.
When you're strapped for cash, you can enter sweepstakes, get gift card cash back, or sign up for clinical trials in your area.
What Else Can You Expect From DoNotPay?
DoNotPay is a versatile app, helping users handle tasks and issues while saving time and money.
With our help, you can prepare for various government tests, contact embassies and consulates, appeal banned accounts, and send online faxes within minutes.
Count on DoNotPay when you need to mail letters, apply for tourist visas, or file anonymous HR complaints.
Fighting workplace discrimination and dealing with annoying neighbors will also be much easier with the world's first robot lawyer by your side.