A Complete Guide to the South Dakota Seatbelt Law
The primary motivation for wearing a seatbelt is keeping yourself safe in case of a car crash. There is also a secondary motivator—avoiding hefty fines for breaking the seatbelt law.
Whether you are a regular on the South Dakota roads or only passing through, you need to respect the State's regulations. Our simple guide will reveal the essentials of South Dakota seatbelt laws—such as:
What the rules are
How much the ticket costs
What happens with your driving record and insurance rate if you get a ticket
How you can fight the fine if you get it
What Is the Seatbelt Law in South Dakota?
In South Dakota, you must have a properly fastened seatbelt if you are a driver or front seat occupant. Drivers are required to make sure that every front seat passenger older than five years of age and younger than 18 has a seatbelt on. If not, the driver will be ticketed for underage passengers who aren't bucked up.
South Dakota seatbelt usage rate is 88%, which is far behind the national rates that go up to 91%. States with primary enforcement have a much higher percentage compared to the ones where it is a secondary law—the group where South Dakota belongs to. In this state, the police officer can't pull you over to issue you a citation for not wearing a seatbelt unless you've made another traffic violation—such as speeding.
South Dakota Seatbelt Laws for Children
When it comes to seatbelt laws for children in South Dakota, this is what you must know:
All occupants who are 17 years of age or under must wear a seatbelt
Children under five years of age who weigh less than 40 pounds must use an approved child safety seat
Not restraining children according to the law is a primary offense—the officer can stop the driver without any other violation
Children who are 12 years old or younger should ride in the back seat
Best practice recommendations for safety seats are as follows:
| Age | Restraint System |
| --- | --- |
| Under one | Rear-facing car seat |
| 1–3 | Rear-facing car seat or—when a child outgrows it—forward-facing car seat with a harness |
| 4–7 | Forward-facing car seat or booster seat when the child is big enough |
| 8–12 | Booster seat or regular seatbelt—when a child reaches ​​around four feet and nine inches |
SD Seatbelt Law Exceptions
There are certain exceptions in South Dakota seatbelt law allowing vehicle drivers or occupants not to wear the safety belt—including:
Having a written doctor's statement that you can't wear a seatbelt due to a medical condition
Owning a vehicle manufactured before September 1973
Driving a vehicle that isn't equipped with seatbelts because the law didn't require them at the time it was manufactured
Being a United States Postal Service rural mail carrier—or any other person who delivers newspapers—engaged at the time on a delivery route
How Much Does a Seatbelt Ticket Cost in South Dakota?
The fee for not wearing a seatbelt is $25. The offense is not a moving violation, so the ticket isn't high.
What is more relevant are the consequences of not buckling up. The odds of getting fatal or more serious injuries are higher when you don't wear a safety belt during a crash.
Do Seatbelt Tickets Go on Your Driving Record?
The non-moving violations such as a seatbelt ticket aren't reported to the Department of Licensing (DOL). What this means is:
The rules are different if you disobey the child seatbelt law as that is considered a primary offense. In this case, you can get two demerit points, and it will show on your record.
What Happens if You Don't Pay Your Ticket?
When you get a seatbelt ticket, your options are:
Pay the fine
Fight the ticket
If you are 100% guilty, you should pay your dues and move on. Deciding to ignore it can only result in additional fees.
In case you believe you were unjustly ticketed, you should get your ticket dismissed. Why give your money away if you have a plausible reason for fighting the ticket—such as you unbuckled because you were driving in reverse.
If the thought of hiring a lawyer and going to court is preventing you from starting the process, there is a solution—use the DoNotPay app.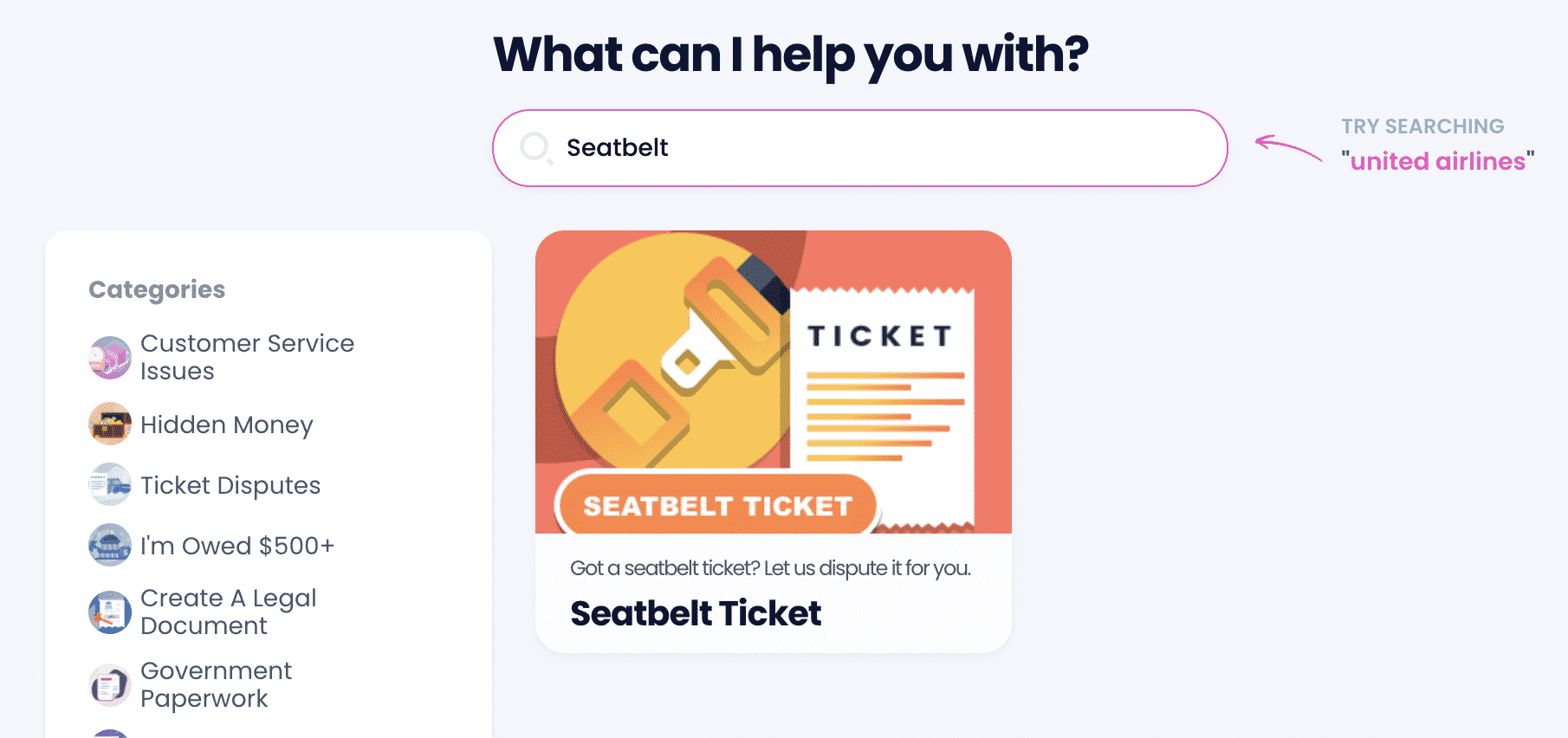 Kick the Ticket With DoNotPay!
Our AI-powered app can craft formal and convincing appeal letters for seatbelt tickets. You'll need to answer a few basic questions about your violation, and we'll build your case around it.
Once we draft the letter, we'll even send it to the authorities, so you don't have to deal with that.
Want to experience DoNotPay's speed and effectiveness? Follow these steps:
Open a DoNotPay account and log in
Locate the Seatbelt Ticket feature
Upload a photo of your ticket
Fill out the questionnaire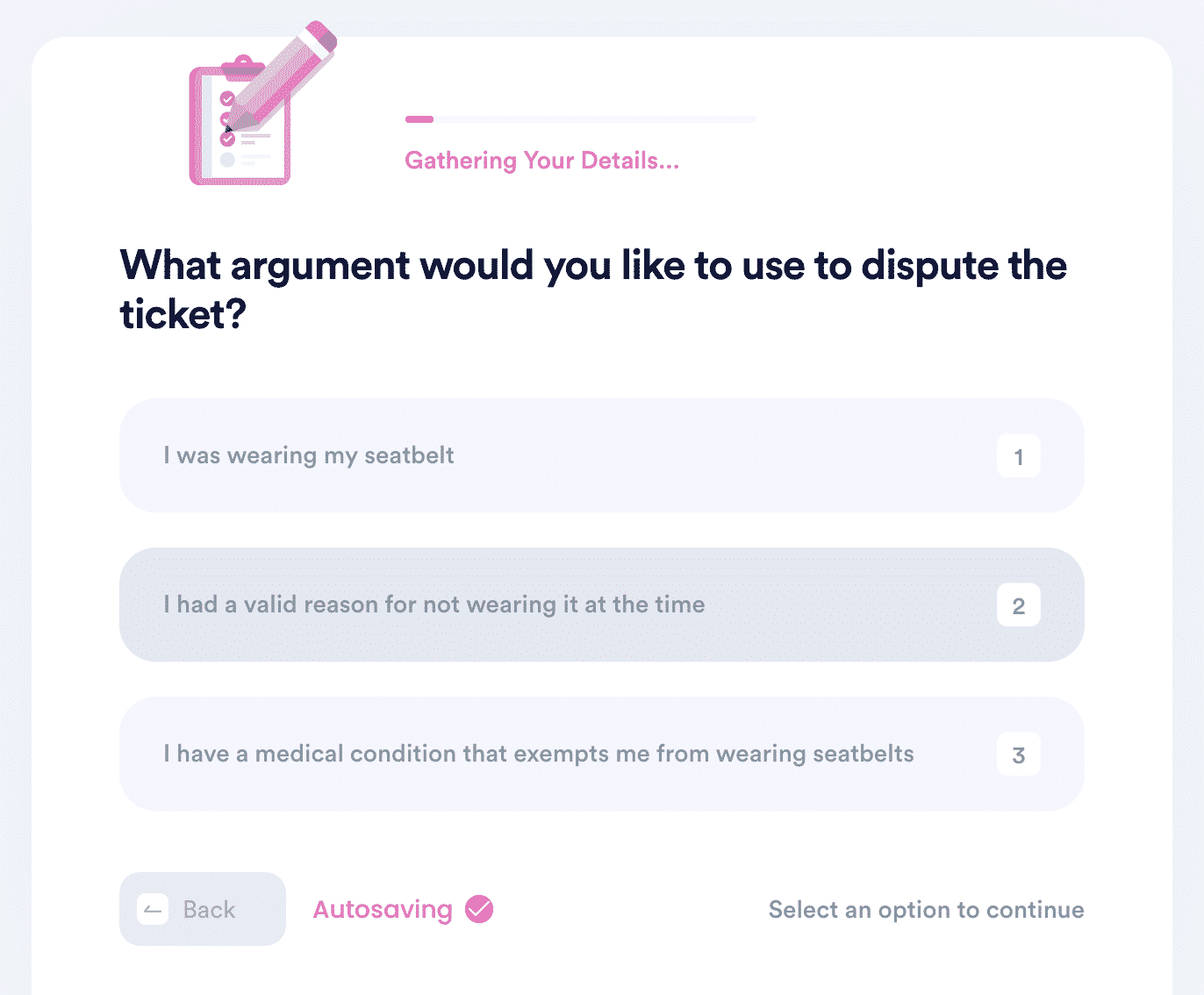 We can also help you learn all about seatbelt laws in different states. Whether you are headed to New York or California, our guides will let you know about the local rules—check them out here:
Anything Else You Need?
DoNotPay offers an exhaustive range of products and services for one low monthly fee. You can take full advantage of our offer once you resolve the issue at hand.
Our app can both save you money and help you earn it—sign up to appeal parking tickets, get assistance with utility bills, get compensation from airlines, request a refund, have your college application fees waived, find your missing money, reduce property taxes, enter any sweepstake, or send a financial aid appeal letter to any school.
We can also turn your gift card balance into cash, help you apply for scholarships, and assist you in getting compensation as a victim of crime.
There's Even More to Our Offer
The world's first robot lawyer can turn any nightmarish admin or legal procedure into a piece of cake. Look into our knowledge base to find out how to send a letter of warning to your bad neighbor, submit an anonymous complaint to your HR, fight workplace discrimination, get access to public records, deal with a stalker or harasser, put an end to robocalls, and file a complaint with any company.