Get the Scoop on Nebraska Seatbelt Laws
If you're planning to travel to Nebraska or you live there, you should get familiar with the state's traffic laws so that you can stay safe and avoid hefty citations. In this article, we will give you the rundown on the Nebraska seatbelt laws and explain whether you'll get points on your record if you get a ticket for disobeying them.
If you already got a ticket, you shouldn't fret and reach for the wallet so fast—DoNotPay will show you how you can get it dismissed.
What Are the Seatbelt Laws in Nebraska?
Nebraska seatbelt law states that all front-seat occupants must wear seatbelts. If the vehicle is driven by a novice or a holder of a provisional operator's permit, all passengers have to buckle up. Vehicles excluded from this law are buses, mopeds, motorcycles, and farm tractors.
Failing to wear a seatbelt might affect your insurance—even though it's not a moving violation in Nebraska—because insurance companies consider driving without a seatbelt reckless.
Nebraska is a secondary enforcement state, which means that a law enforcement officer may not pull you over for just not wearing a seatbelt. The only way you can get a seatbelt citation is if you're stopped for another offense, such as speeding or running a red light or a stop sign.
If you end up getting a fine for not wearing a seatbelt, you'll have to pay $25.
Nebraska Child Seatbelt Laws
Laws that regulate child seatbelt and safety seat use in Nebraska are much more strict and meticulous than those for adults. You can find a brief overview in the table below:
| The Law | Explanation |
| --- | --- |
| Rear-facing car seat law | All children under two must be placed in a rear-facing seat until they outgrow them by reaching a weight limit that the seat manufacturer sets |
| Forward-facing car seat law | Children who reach the weight and height limit can be placed in a forward-facing seat |
| Booster seat law | Children under eight who have outgrown a forward-facing car seat must be restrained in a booster seat |
| Front seat law | All children under the age of 18 must ride in the back seat |
What Are the Exemptions to Nebraska Seatbelt Laws?
Some people are exempt from wearing seatbelts, for example:
Anyone who has a medical condition (and a written doctor's note confirming it) preventing them from putting on a seatbelt
Letter carriers of USPS performing their duties
Emergency medical care service members
Can You Fight a Seatbelt Citation in Nebraska?
You may fight your ticket in Nebraska or ask the court to reduce your fine. You should respond to your ticket within 15 days of receiving it so you don't suffer the consequences in the form of additional penalties, such as a license suspension. To fight your ticket, you'll need to plead not guilty in court.
You can dispute your seatbelt ticket based on two arguments:
Reasonable doubt
Due diligence defense
Showing Reasonable Doubt
To fight your seatbelt citation based on reasonable doubt, you'll need to state that the officer who pulled you over was wrong and that you were wearing a seatbelt. Here are some of the excuses you may use:
You removed your seatbelt once the police officer stopped you
The officer didn't notice you were wearing a seatbelt because it matched the color of your clothes
You unbuckled your seatbelt because you were reaching for something
Taking Due Diligence Defense
By taking due diligence defense, you are arguing that you had a good reason for not buckling up, such as:
You were driving in reverse
A child removed a seatbelt, and you didn't notice
You had some kind of emergency
Your seatbelt was faulty, and you were driving to get it fixed
Nebraska isn't clear on what can happen if you don't pay for your ticket. That's why you shouldn't risk it—contest your seatbelt citation instead of ignoring it. If you don't want to go through the complicated process of disputing your seatbelt ticket yourself, you can rely on DoNotPay. We will draft an appeal letter for you in a snap.
How To Appeal a Seatbelt Ticket via DoNotPay
DoNotPay has a product that helps you dispute your seatbelt ticket in the least complicated way. You only need to answer a few questions so we can personalize your appeal letter—we'll do everything else on your behalf.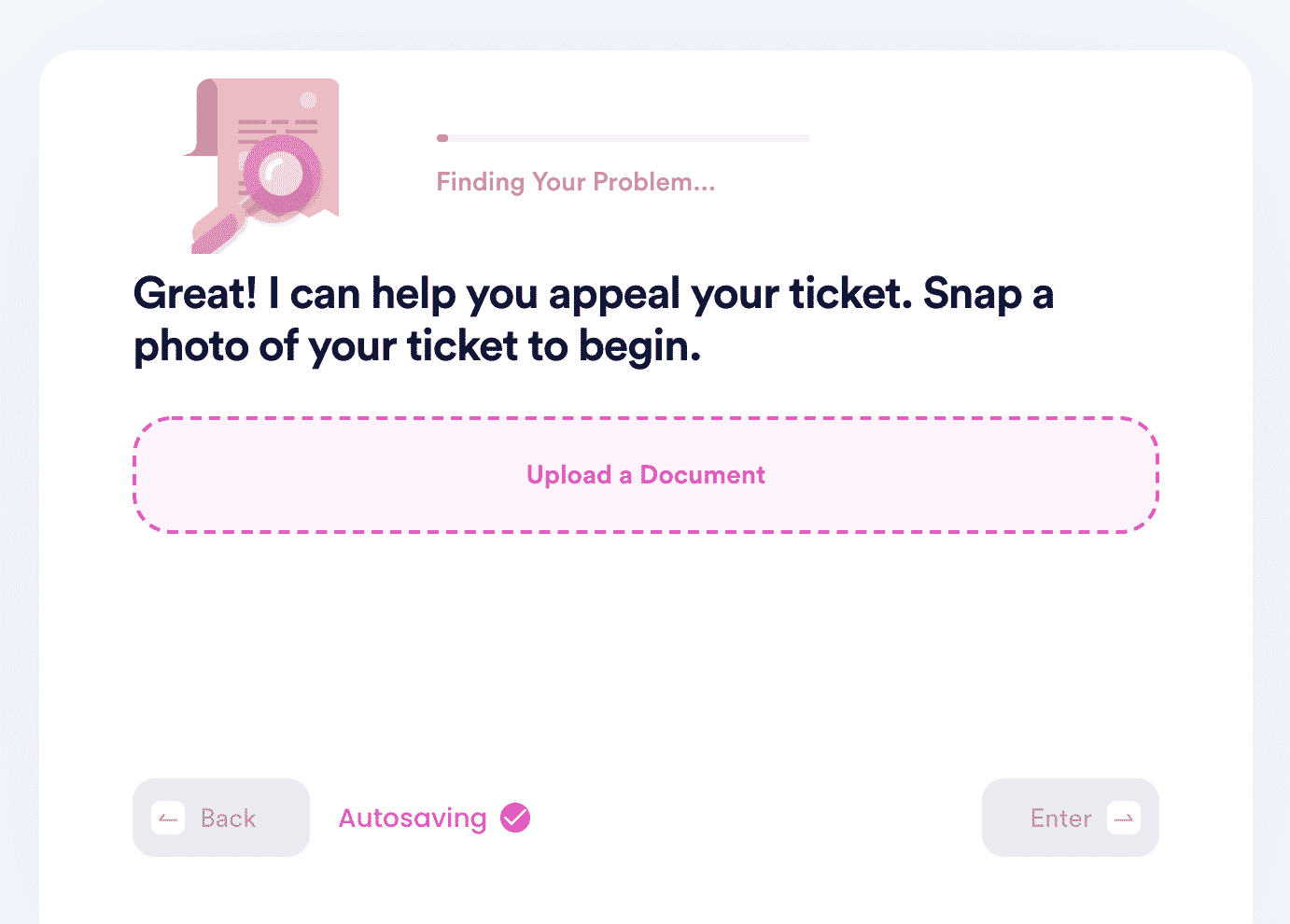 Access DoNotPay and follow the steps below to start the process:
Open the Seatbelt Ticket product
Upload a photo of your citation
Inform us about who got the ticket—the driver, passenger, or a child
Provide details about the event and tell us which argument you'd like to use
Using the provided details, DoNotPay will generate a customized appeal letter and send it to the authorities.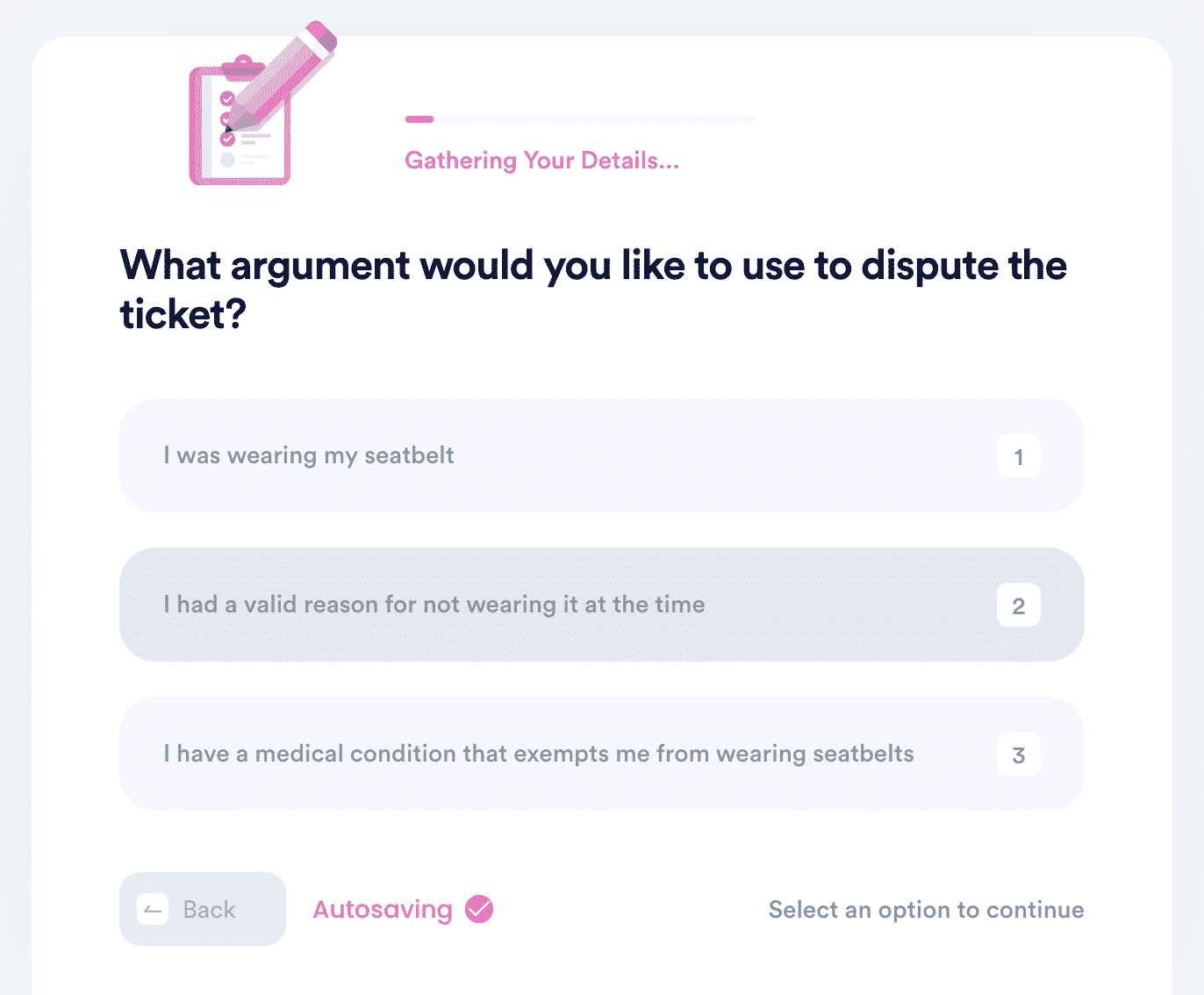 Do you want to learn more about seatbelt regulations? Visit our knowledge base to learn about:
DoNotPay Turns Any Tiring Task Into a Piece of Cake
Are you tired of dealing with bureaucratic or legal matters on your own? You no longer have to—as soon as you subscribe to DoNotPay, we'll take any exhausting task off your plate.
Our app is capable of drawing up legal documents—including marital settlement agreements, child travel consent forms, powers of attorney, defamation demand letters, and affidavits to homeschool—getting them notarized remotely, filing complaints against companies, suing any individual or corporation in small claims court, sending FOIA requests, and so much more.
The World's First Robot Lawyer Offers So Much More
DoNotPay's capabilities don't end there—we can also: