New York State Child Seatbelt Laws You Need To Know
Why do child seatbelt laws matter? Ensuring that children have a proper car seat or a seatbelt can reduce the:
Risk of fatal injuries for toddlers in car crashes by 47-54%
Need for hospitalization by 69% for children who are four years old or younger
If you want to keep your child safe on the hectic Big Apple roads, you should get to know the New York State child seatbelt laws. The regulations differ by state, so collecting specific information is important.
Our helpful guide will present:
Seatbelt laws you must know about
Fines that come with not respecting them
Ways of fighting the unjust ticket
What Is the New York State Seatbelt Law for Children?
The New York State seatbelt law requires parents and legal guardians to ensure the following measures of safety for children:
Safety restraint systems shouldn't be installed in the front seat
Safety seats, booster seats, and other restraints have to be attached to the vehicle seatbelt system
Child restraint systems need to meet the federal requirements and manufacturer's recommendations for the size and weight
All front seat passengers need to have a safety belt on
Children under the age of:

Four—must ride in car seats
Eight—must ride in child restraint systems (booster seats)
13—should ride in the back seat
16—must wear seatbelts in the front and back seat
What Kind of Children Restraint System You Must Use in NYS
To minimize potential injuries during car crashes, you need to know what the best type of protection is. When children reach a height of around four feet and nine inches, they can use a regular seatbelt. You should make sure that the child has both the lap and shoulder belt on and that they fit properly.
In terms of the kind of safety seat that you should use for your child, follow these rules:
Type of Car Seat
Regulations—Who Must Use Them and How
Infant seats

Infants weighing 22 pounds or less, who are 25 inches or less in length
Infant seats must face the rear of the motor vehicle
They mustn't be placed in the front seat

Convertible child safety seats

Infants or toddlers weighing 40 pounds or less
Infants should face the rear in these seats
Toddlers older than two years can face forward—only if they meet weight and height requirements

Booster seats

Children of four to eight years old, weighing 40 to 80 pounds, and aren't taller than four feet and nine inches
Children can use a booster seat until 12 years of age if they don't outgrow it
Note that even when the vehicle has a built-in car seat, you should check whether it follows federal safety protocols.
Governor's Traffic Safety Committee (GTSC) Programs and Initiatives in NYS
To ensure children's safety on the roads, the State of New York has several ​​GTSC programs and initiatives:
| Name of the Program or Initiative | Brief Explanation |
| --- | --- |
| New York State Child Passenger Safety Advisory Board | Promotes children's safety and assists people in becoming a child passenger safety technician |
| Child Passenger Safety Program | Provides training designed to share information on how to use the child restraint systems properly |
| Fitting Stations and Car Seat Check Events | Offers free car seat inspections at fitting stations to help parents and legal guardians choose the proper car safety system |
| Child Passenger Safety Week | Promotes the importance of ensuring that children are secured in a suitable car seat or seatbelt |
Exceptions in NY State Seatbelt Laws for Children
In certain cases, seatbelts and restrained systems can be legally omitted. These exceptions include:
Having a physician's certification that a child has a medical problem preventing them from using restraint systems
Riding in an emergency vehicle or one that was manufactured before 1963
Having a receipt for a child seat that is purchased at that time and is about to be installed
The Fine for Breaking Child Seat Belt Laws in New York State
If you violate the NYS child seatbelt law, the penalties you can earn are:
Up to $50 for passengers over 16 years old
Up to $100 for children below 16 years old
Do Seatbelt Tickets Go on Your Driving Record?
New York is a primary enforcement state, which means that a police officer can issue a ticket for failing to wear a seatbelt only.
Not restraining children who are under 16 years old is a moving violation and can result in three driver demerit points. This violation will go on your record, which will affect your insurance rate.
Ignoring the ticket in NYS isn't the best idea as the authorities might issue a warrant for your arrest. You can also get to pay additional fees on top of the one for the seatbelt ticket.
Disputing the Ticket—Is It Possible?
If you have a valid reason for not ensuring your child's safety with a car seat or seatbelt, you can overturn the ticket in court. The argument can refer to one of the law exceptions, or you can resort to a due diligence defense. You can explain that your child unbuckled the seat, and you were looking for a suitable place to stop and put it on again.
Need help with building a strong defense case? You don't need to throw money on lawyers. instead! Our app can turn your situation into a convincing appeal letter in only a few minutes.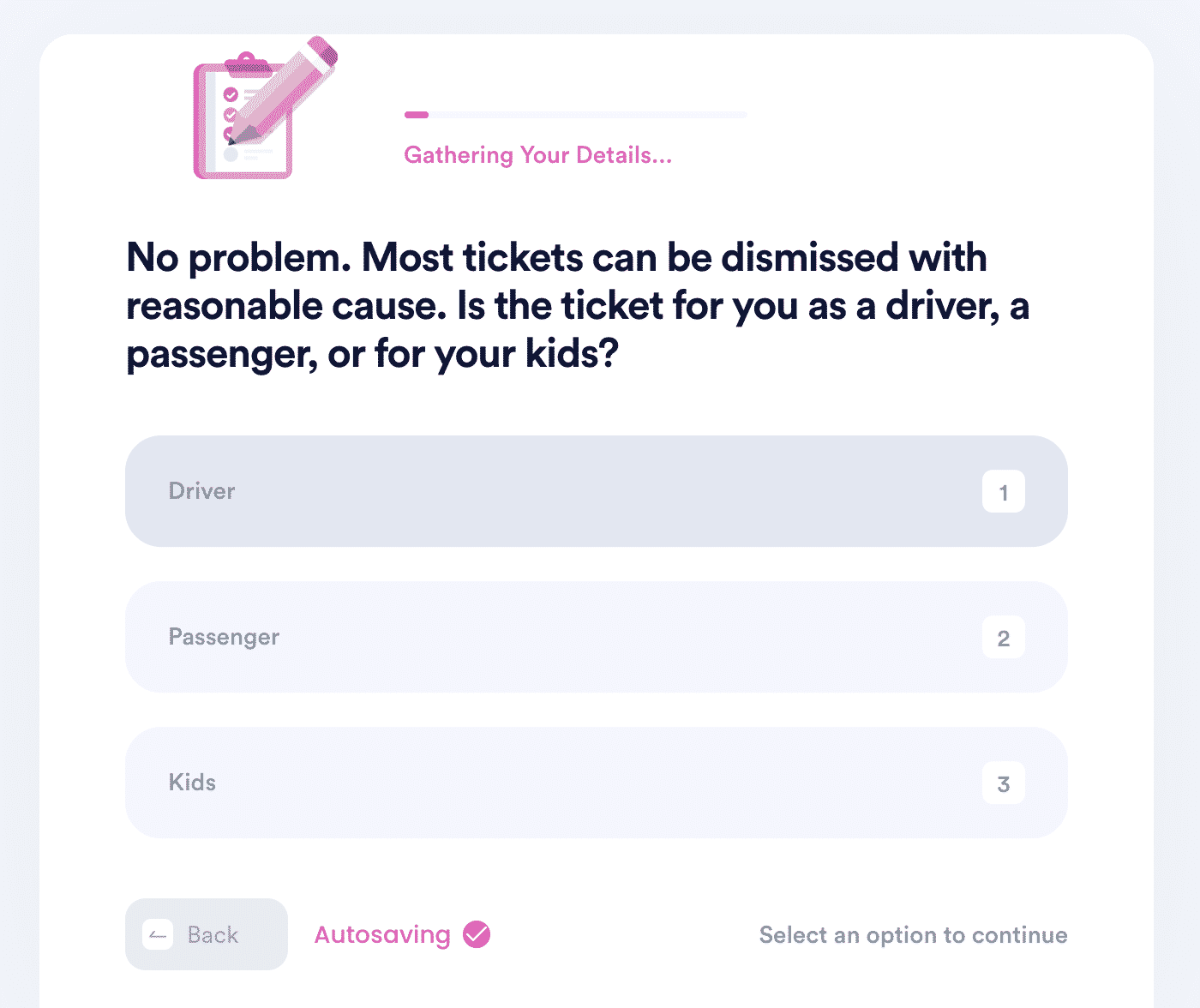 The Fastest, Cheapest, and Easiest Way of Fighting a Ticket
DoNotPay makes your ticket dispute a painless process. You only have to:
Open the app and
Choose the Seatbelt Ticket tool
Take a photo of the ticket
Answer our chatbot's questions about the violation
We'll generate the letter based on the information you provide and send it to the authorities in no time!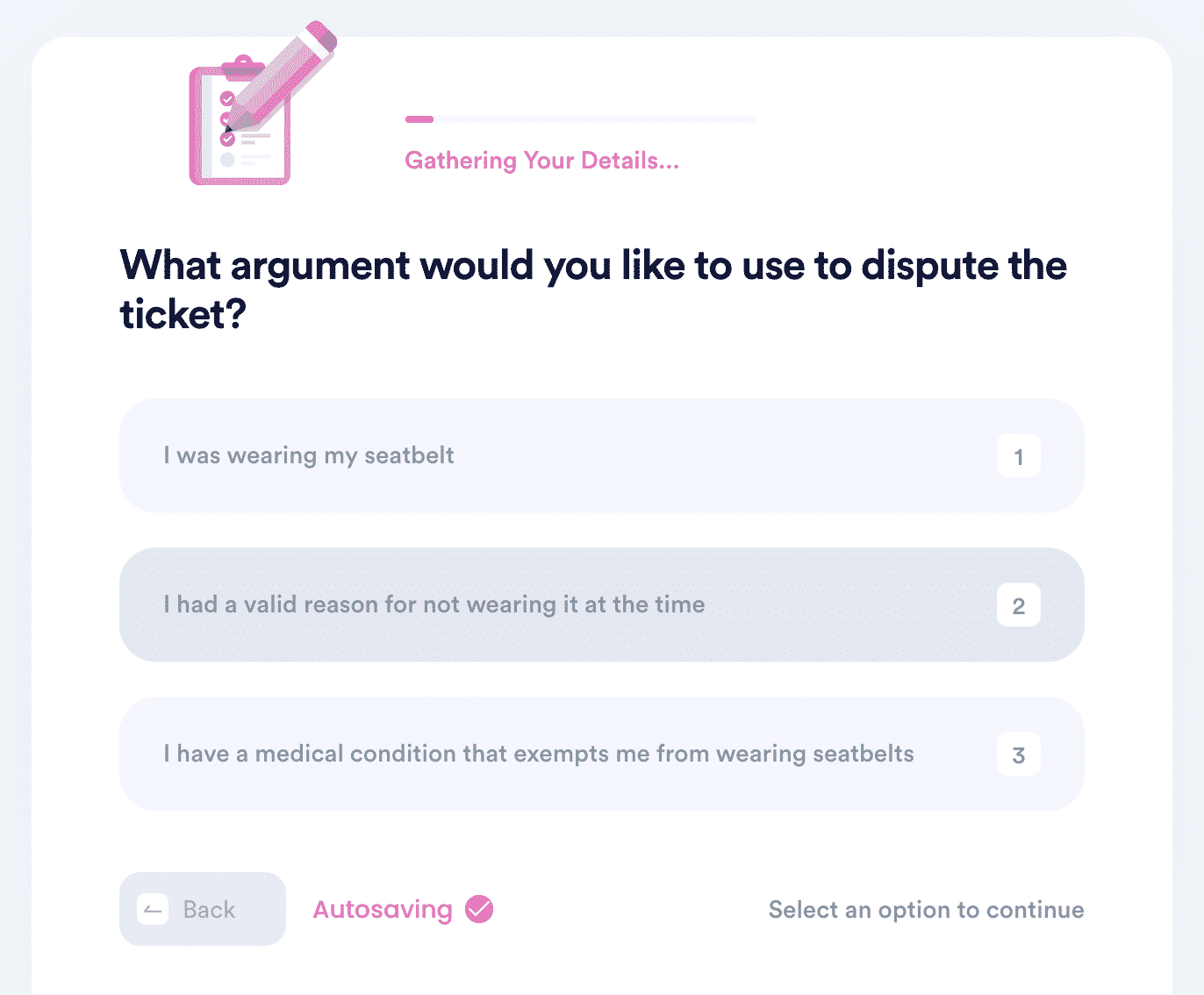 When you decide to hit the road and head to Maryland or Pennsylvania, DoNotPay will help you make safety preparations. Stay up to date will children seatbelt laws across all states with the help of our simple guides:
Anything Else You Need?
DoNotPay offers an exhaustive range of products and services for one low monthly fee. You can take full advantage of our offer once you resolve the issue at hand.
Our app can both save you money and help you earn it—sign up to appeal parking tickets, get assistance with utility bills, get compensation from airlines, request a refund, have your college application fees waived, find your missing money, reduce property taxes, enter any sweepstake, or send a financial aid appeal letter to any school.
We can also turn your gift card balance into cash, help you apply for scholarships, and assist you in getting compensation as a victim of crime.
There's Even More to Our Offer
The world's first robot lawyer can turn any nightmarish admin or legal procedure into a piece of cake. Look into our knowledge base to find out how to send a letter of warning to your bad neighbor, submit an anonymous complaint to your HR, fight workplace discrimination, get access to public records, deal with a stalker or harasser, put an end to robocalls, and file a complaint with any company.